Bursting with bright yellow blooms, these daffodils coloring pages will add some color to your life! They're the perfect way to unwind and celebrate the start of Spring.
If the daffodil is your favorite flower, you're in good company. The lovely daffodil is easily the cheeriest and friendliest spring flower. It emerges during the gray, dreary end of winter and its bright yellow blooms are like a ray of sunshine!
Daffodils Coloring Pages
If you love daffodils, check out this daffodil coloring book: it'll give you hours of relaxing coloring fun time.
These free printable flower coloring pages can be used in so many ways. Whether you just need something positive and beautiful to focus on or you're looking for a Spring activity to keep your kids occupied, you're in the right place. Below you'll find spring coloring sheets for kids and adults.
Daffodil coloring pages for kids
These simple flowers are perfect for kids of all ages. They can use their favorite colors to fill in these beautiful, blooming flowers. These would be perfect for keeping them busy during a long road trip, decorating for Easter, or just because!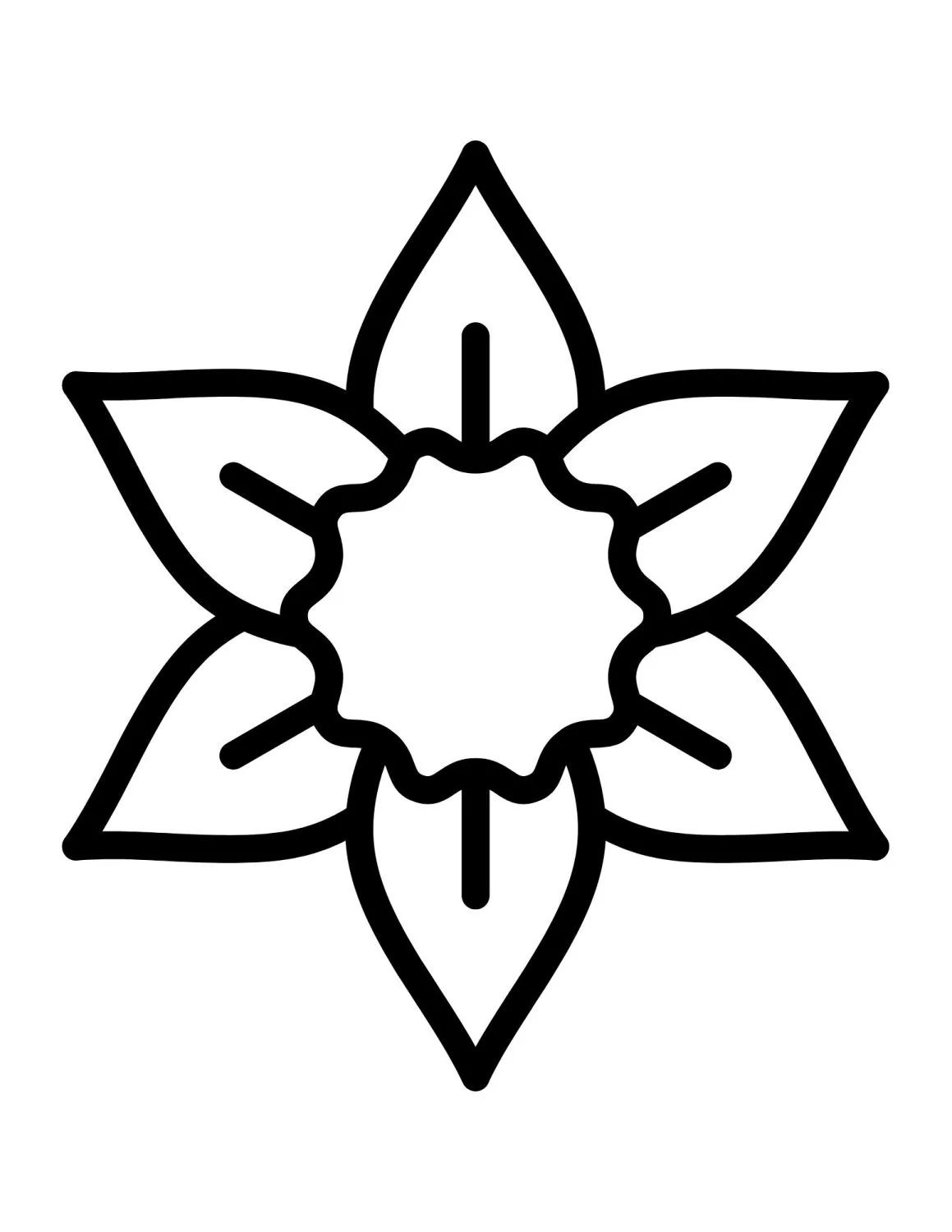 This is a really easy-to-color daffodil flower that even a toddler can color. Download a copy here.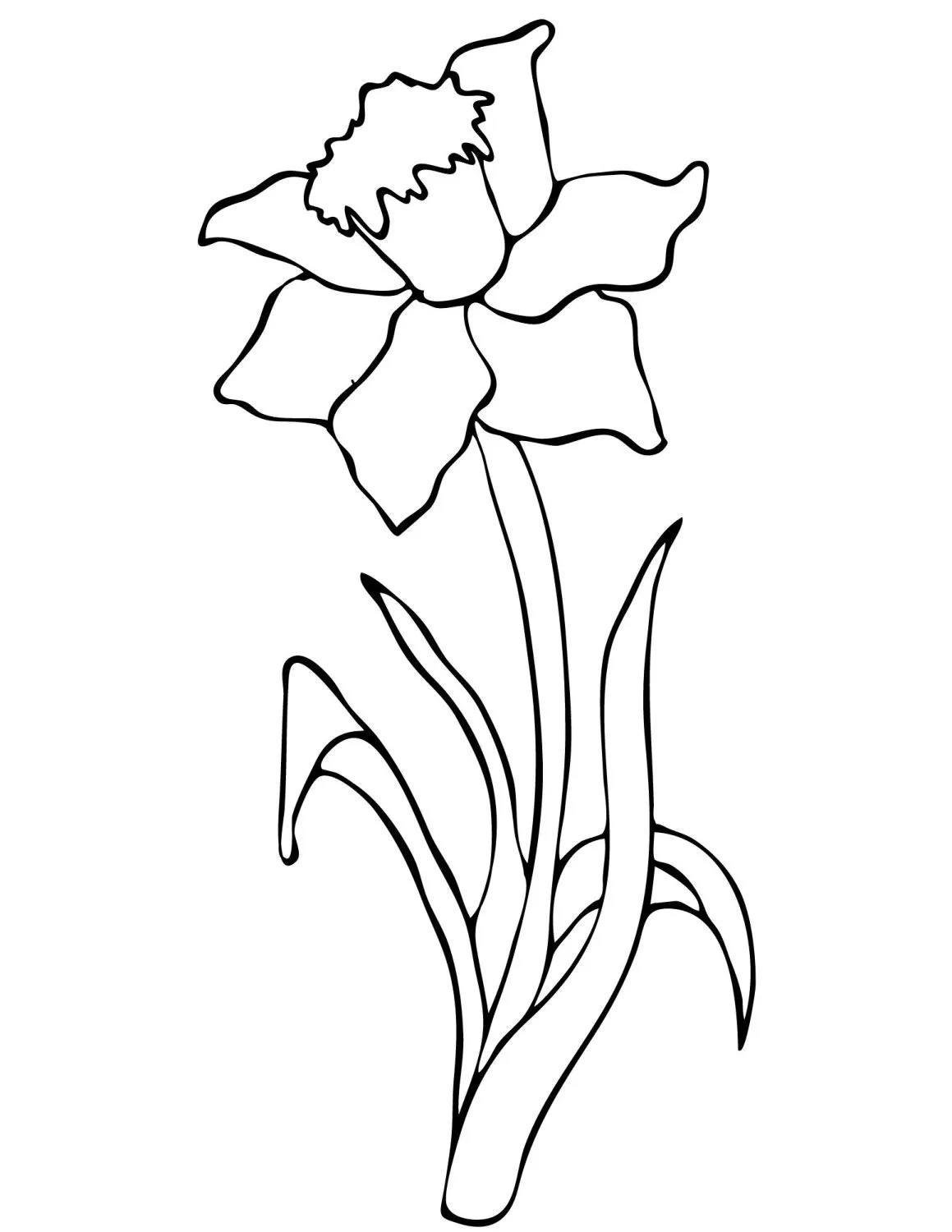 Another easy daffodil coloring page. This one has some white space and you might want to encourage your child to add some other spring flowers around the daffodil, such as red tulips, or blue pansies. Download this page here.
Daffodil adult coloring pages
With a little more challenging detail, these spring flowers are best suited for adults who need a moment of zen. They're also appropriate for older kids who can handle shading in fine details.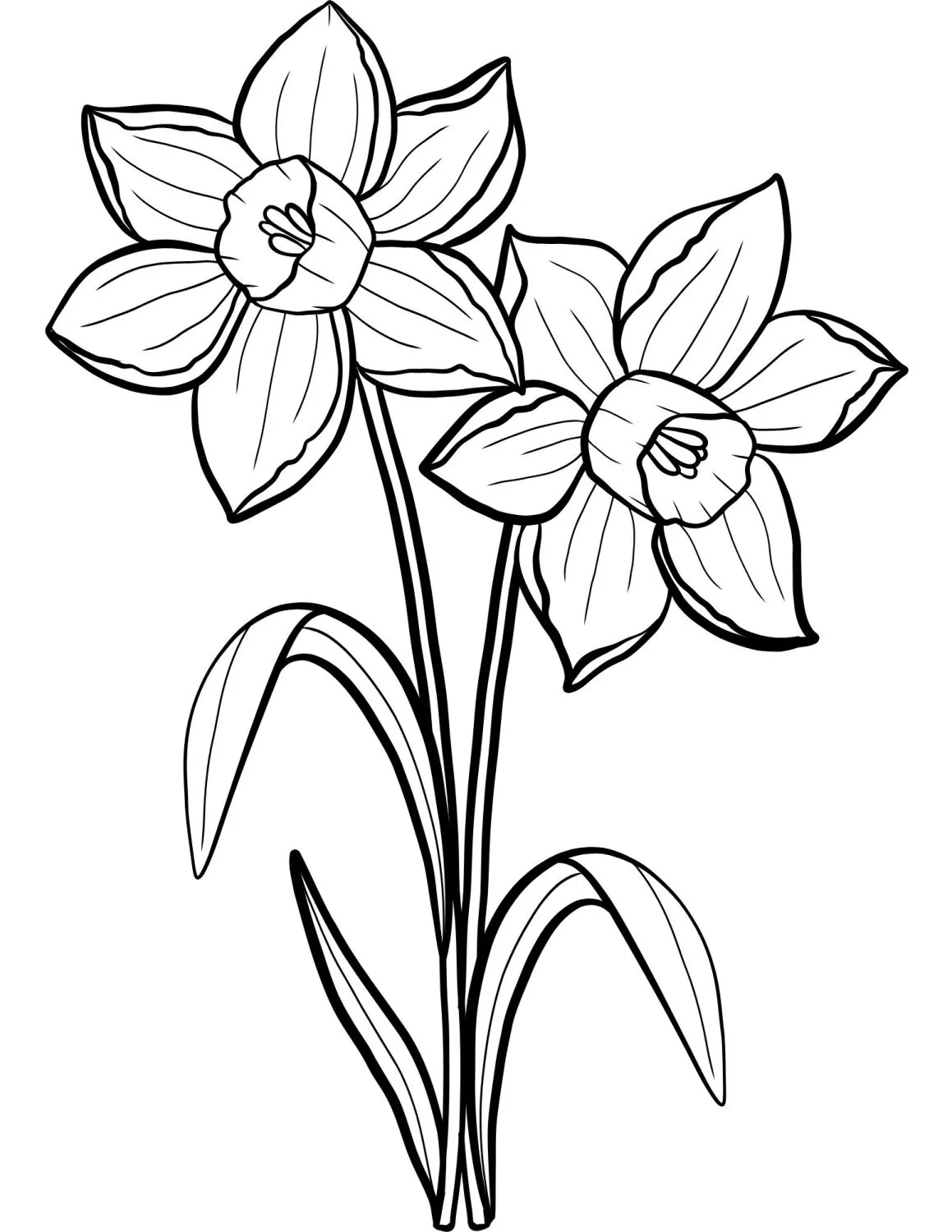 A bit more challenging, yet still easy, adults and older children will love these daffodils to color and add to. Download here.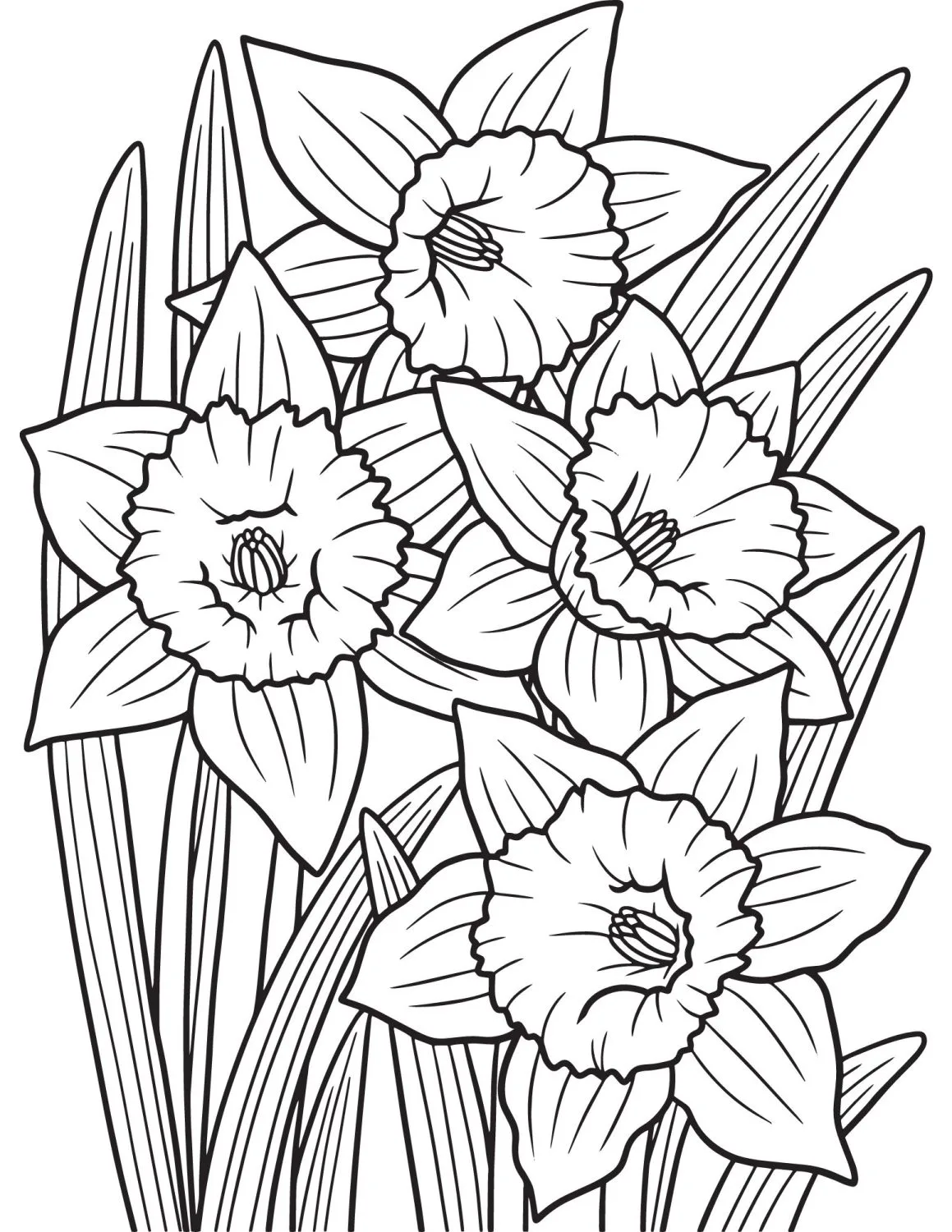 Here's a group of narcissus flowers with a bit more detail. Download it here.
Printing Suggestions
To make the most of your daffodils coloring page, choose the right type of paper for the job.
Print on regular paper if you plan to use crayons, colored pencils, markers, or gel pens
Use cardstock to work with oil pastels or watercolors
Did You Know? Fun Facts About Daffodils
Daffodils are the national flower of Wales. They are also one of the first flowers to bloom in the spring, symbolizing the renewal of life and the end of winter. Here are some yellow spring flowers you can add to your garden.
Daffodils are not just yellow. They come in a variety of colors, including white, pink, orange, and even green! There are over 13,000 registered varieties of daffodils, each with its unique characteristics.
Daffodils represent respect. They are often used in bouquets to show appreciation or admiration.
Daffodils are believed to bring good luck and prosperity. In some cultures, it's believed that planting daffodils in your garden or home will bring wealth and success. Here are some great companion plants for daffodils.
The scientific name for daffodils is Narcissus, after the Greek mythological figure Narcissus, who fell in love with his own reflection. In the story, Narcissus was transformed into a flower resembling a daffodil by the gods.
Daffodils can bloom for up to six weeks! A great spring flower for gardens and floral arrangements. What's even better is that daffodils make a great cut flower for spring bouquets and can last for several days in a vase, as long as they are kept in water and away from direct sunlight.
Pictures Of Daffodils For Inspiration
What a beautiful spring window box! I love the combination of daffodils, hyacinths, and pansies: they work so well together!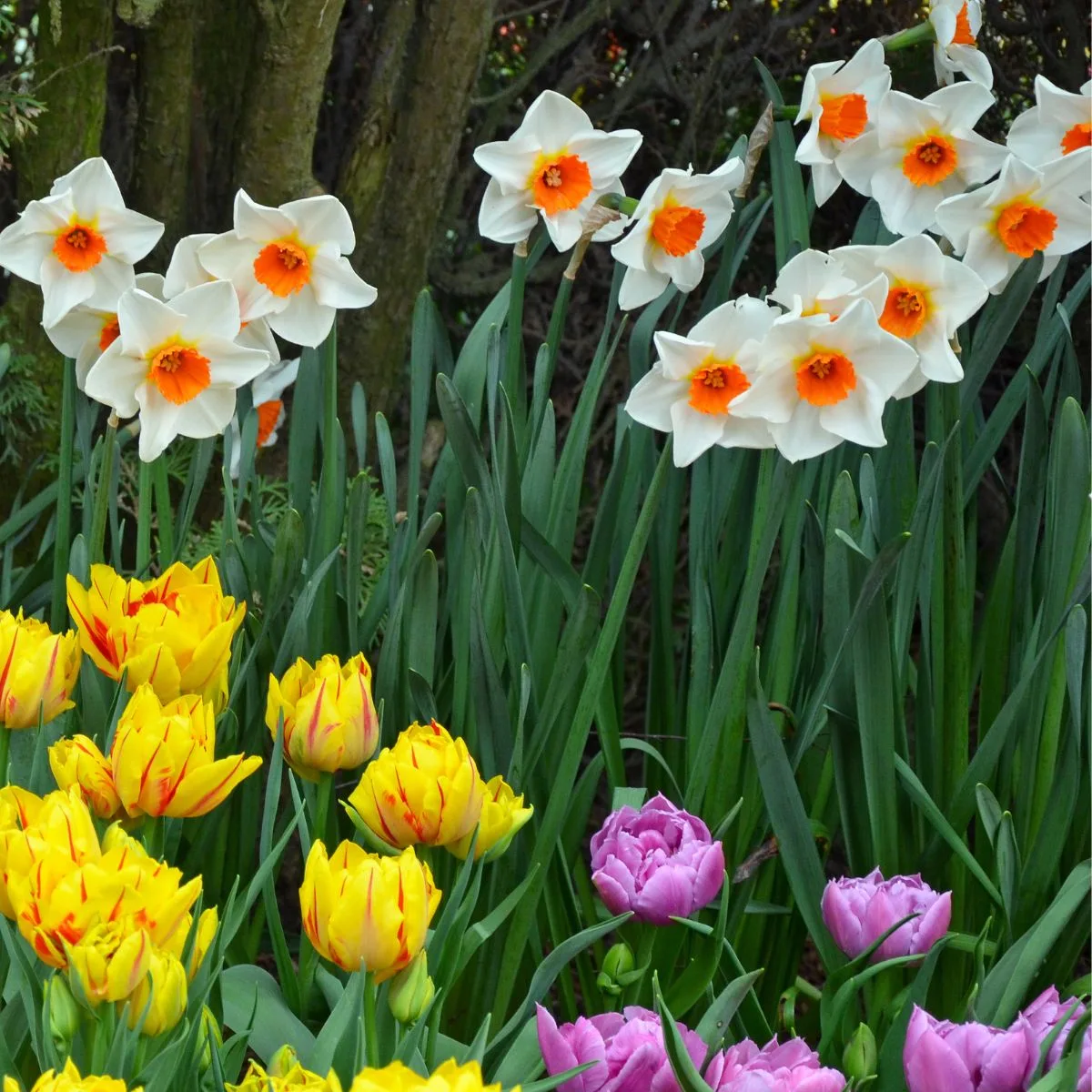 The bright orange centers of these white daffodils are so pretty! And, of course, the colorful tulips add a nice touch and make the perfect contrast.
I can only imagine a field of these pale daffodil flowers mixed with gorgeous pink-tipped tulips. STUNNING! If you take this as an inspiration for one of the above coloring pages, you can easily draw in some tulips.
Beautiful spring flowers: daffodils, mixed with grape hyacinth and dark red tulips.
More Free Flower Coloring Pages