A pop up gazebo can come in handy many times. Graduations, weddings and outdoor BBQ parties are good reasons to have a portable gazebo for the backyard to celebrate, regardless of the weather. Of course, so is going camping or to the beach 😉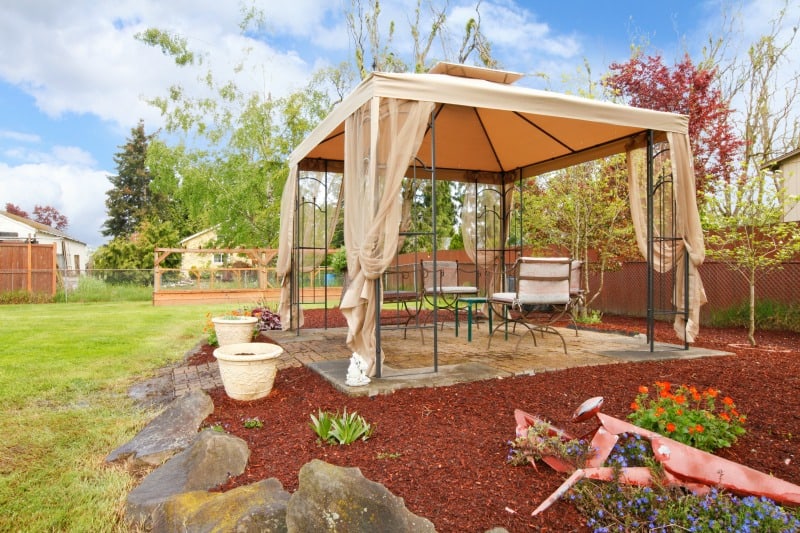 Pop up gazebos are made of light weight materials and offer shelter from the elements (rain or sun). They allow you to make memories with friends and family.
7 Reasons To Invest In a Pop Up Gazebo
There are many reasons why a pop-up gazebo is necessary for many outdoor activity. You may not realize all the ways a pop-up gazebo can enhance your outdoor activities, so here are a few ideas. I hope my ideas will spark other ways YOU can personally use this type of outdoor protection.
1. Graduations
Graduations are special. But rain sometimes happens! An enclosed pop-up gazebo is a great way to protect photos and other items of the graduate on display.
You can also put all the food inside the gazebo to help protect it from flies and other bugs.
2. Weddings
Because there are so many varieties and styles of pop-up gazebos, you'll be able to find one that's just right for your wedding.
Whether you want to use it for your ceremony, or place the wedding cake under a canopy style pop-up gazebo for added protection, there are many ways you can decorate it specifically for the theme and style of your wedding.
Outdoor Basic 10×20 Ft Pop up Canopy Party Wedding Gazebo Tent
Pop Up Patio Canopy Tent Heavy Duty Gazebo Pavilion
Foldable Popup Polyester Gazebo Canopy
3. Backyard BBQ
Don't let rain keep you from enjoying a delicious meal cooked on the grill. Having a pop-up canopy in your backyard can serve many purposes: from protecting your food to providing shade for you and your guests.
4. Lawn/deck/patio decor
A canopy style gazebo will enhance and add style to any lawn, deck or patio. Place your picnic table underneath for shade while eating or just hanging out.
MASTERCANOPY Patio Soft Top Gazebo 11.5×11.5 Round Post Gazebo Canopy Iron Shelter with Mosquito Netting and Privacy Wall, GHGN-001
5. Play area for small children
Set up toys, a playpen or small plastic swimming pool in an enclosed gazebo to help protect small children from the sun during the hot summer months.
Best Choice Products 10x10ft Portable Lightweight Pop Up Canopy Tent w/Side Walls and Carrying Bag
Impact Canopy 10×10 Pop Up Canopy Tent, Mesh Sidewalls, Screen Room, Steel Frame, Gazebo Enclosure, White
6.6′ x 9.2′ Outdoor Hexagon Canopy with Sidewalls Pop Up Instant Folding Portable Party Tent,Coffee Brown
Quictent 11×13 Garden Canopy Party Wedding Tent Gazebo with Nettings Mesh Sidewalls More Fresh Air and No Mosquitoes
6. Getaway
A canopy style gazebo or and enclosed pop-up can provide a nice little getaway right in your own backyard where you can escape with a good book or just your daydreams.
Take your gardening books and make plans for your garden. Add an outdoor sofa and a small wicker table and you got yourself a dream spot for the summer.
7. Beach
Because pop-up gazebos are portable and easy to set up, they're great for taking to the beach. They'll provide shade when you need to get out of the sun and are a great play place in the sand for kids.
As you can see, there are many, many uses for a pop-up gazebo. Not only will they enhance the look of your lawn, patio or deck, they provide protection from the sun, bugs and weather. Pop-up gazebos
are sturdy and water proof and will withstand the test of time. You'll enjoy your pop-up gazebo for years to come.