A patio is like an extra room of your house, serving as an outdoor living room, dining room, kitchen, and play room. If you live in a townhouse, it may even serve as your "yard"! And just like any other part of your home, you'll want to make the patio comfortable, beautiful, and functional. I've compiled the following list of patio garden ideas to help you turn the blank canvas of your patio into an outdoor living space full of the plants you love.
Patio Garden Ideas
1. Pick a theme
First, take some time to daydream. What does your dream patio look like? As you envision the perfect patio garden, keep in mind your personal tastes as well as the local climate and the growing conditions (amount of shade, type of soil, rainfall, etc.) surrounding your patio. Here are a few sample themes to get you started:
tropical
wildflower
herb
rose
rock/xeriscape
woodland
2. Choose a shape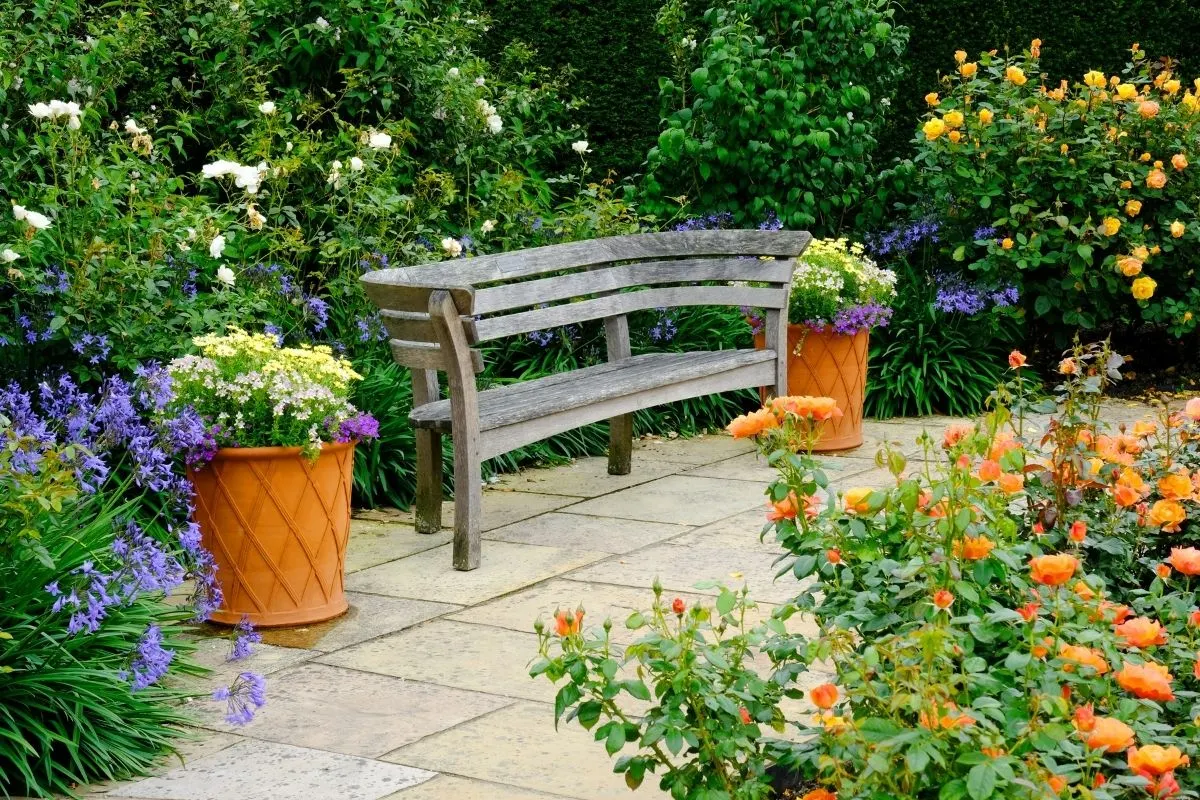 Once you've chosen a theme for your patio garden, consider its shape. You can go for the elegance of crisp, clean lines and sharp angles or opt for a more rounded, organic appearance. Consider the shape of your existing patio (if you have one), but note that you can incorporate curvy shapes even with a square patio, and vice versa!
3. Grow a privacy hedge
If you live in town, you may want some sort of a privacy screen enclosing your patio. A hedge can both block out the surrounding chaos and add lovely greenery to your outdoor space.
Even if you live in a rural area, bordering your patio with a hedge will help it feel more like a cozy room. And those who lack in-ground planting space can grow small trees or shrubs in large, rectangular containers. Depending on your theme, metal livestock troughs work great for this!
4. Soften edges with spillers and creepers
Use plants that spill and creep to soften hard edges around your patio. Place spillers where they can tumble over walls or containers, such as the large boxes holding your privacy hedge (see above).
Fill low-trafficked spaces between pavers and stones with creeping plants, like creeping thyme, to reduce weeds and create a lived-in cottage feel.
5. Think vertical
We often look at the ground when considering plant placement, but remember that you can utilize vertical growing space, too! Hang potted plants at various heights (ferns and other "spillers" are great for this) and incorporate a few potted trees.
Another benefit of the latter is that you can grow warm-climate trees like lemons even in cooler regions and bring them inside to overwinter. Living walls are also fun: grow vines up a trellis or fence, hang flat-backed planters on a wall, or create a vertical gardening space using an upright wooden pallet filled with soil.
6. Install a shady pergola
If your patio lacks shade, you can install an awning or umbrella or opt for a pergola. In addition to providing cool, dappled shade, a pergola really increases your vertical growing space by allowing you to utilize even the area directly above the patio.
More plants? Yes, please! Grow grapevines on top with climbing roses twining up the sides or plant some romantic wisteria dripping with airy blossoms.
7. Plant in raised beds
Raised beds are an excellent way to add more growing space to your patio. A raised bed garden can allow you to keep fresh culinary herbs close to the kitchen or grow vegetables even if your "yard" looks more like a concrete slab.
Raised beds also work well for flowers and enable you to keep contained plants that spread a little too eagerly. Plus, they keep your plants at an easily accessible height, reducing the need to bend and kneel.
8. Furniture can add a nice touch
No patio is complete without furniture! Add a table for dining or simply arrange a few comfortable chairs and benches for relaxing in your patio garden. If you're feeling creative, you can even make your own furniture.
Wooden pallets are a popular medium for DIY furniture, but you can also turn tree stumps into stools or stack cinderblocks into a range of shapes. You can even use the armrests of a cinderblock bench as planters and the holes in the front of the seat for storage.
9. Add some soothing sound
I find trickling water to be very calming, which can be especially important in urban areas where noise abounds. If you have the space, you might opt for a waterfall cascading into a fish pond (think aquatic plants!).
In smaller spaces, a fountain can be just as soothing, whether free-standing or installed on a wall. I also love the sound of wind chimes, and there are so many options with varying materials and sizes for a wide range of sounds.
Your lackluster patio might not look like much now, but you can transform it into an inviting outdoor living space with some creative thinking and, of course, a few well-placed plants. I hope these patio garden ideas have provided you with the inspiration you need to get started!