Imagine a clear blue sky and beautiful glass wind chimes hanging and swaying, catching the sunlight and playful breezes. When the wind whispers, these glass treasures move and make lovely sounds, like a song created just for you.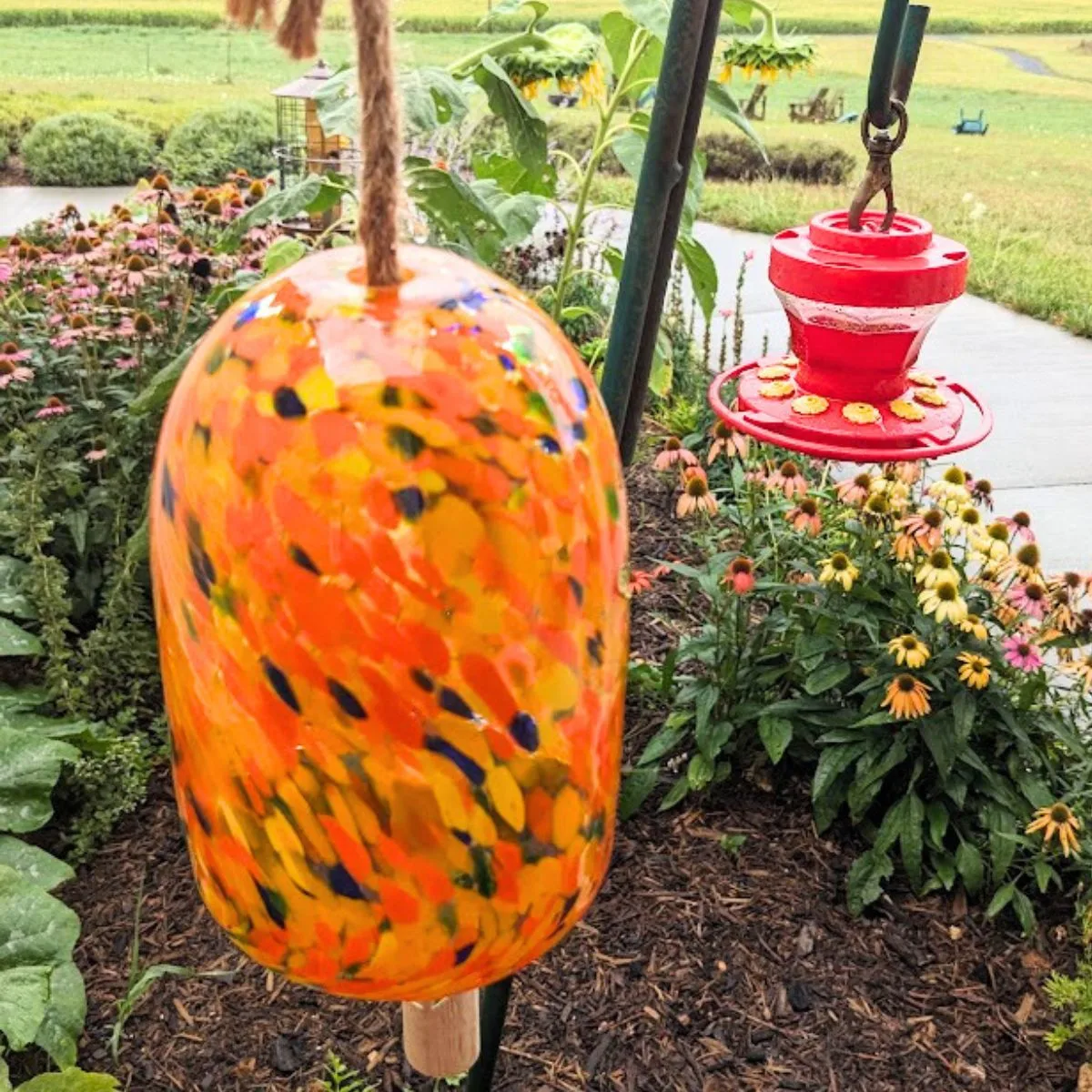 The colors from the glass shine everywhere, making the world colorful and happy. It's like nature and art coming together in a gentle dance.
With such an array of styles, from sea glass, stained glass, and Chinese or Japanese designs, there's something for everyone. Whether you want a classic look with blue glass balls or flat pieces adorned with birds and hummingbirds, the possibilities are limitless.
I recently received a gorgeous glass windchime from Sunydaze to review and I love it! I hung it next to the hummingbird feeder in front of my office window.
The colors of this bell-shaped wind chime are gorgeous: shades of orange with blue spots adding a pop of color throughout. It came assembled and ready to hang out of the box, so it took one minute to have it out and ready to enjoy.
They also have a blue version of this chime: just as pretty as mine!
This gift inspired me to look into glass wind chimes, and WOW! there are so many options! Take a look and see which ones are your favorites!
1. Sea Glass Wind Chimes
Sea glass wind chimes will transport you to the beach with their pastel colors and the sound of gentle tinkling bells as the breeze carries through your garden or terrace.
You can buy an already-made chime from Amazon, buy a handmade one from Etsy, or DY it.
Look for unique pieces that are handmade using driftwood as a base and colorful sea glass pieces in shades of blues and greens. Or, create an eye-catching display with painted sea glass wind chimes featuring unique designs that reflect your style.
2. Stained Glass Wind Chimes
Stunning stained glass pieces hang together to create a beautiful, calming noise whenever the wind blows.
Choose bright, bold, or soft, warm colors, depending on your style.
3. Chinese Glass Wind Chimes
Made from hand-crafted materials, Chinese glass wind chimes offer a visually pleasing design that adds grace to any outdoor area: hang them on the porch, balcony, or flower garden.
4. Japanese Glass Wind Chimes
Discover the captivating beauty of Japanese glass wind chimes in your outdoor décor for a unique and mesmerizing art form.
The vibrant colors and intricate shapes of Japanese glass create a magical ambiance that will draw the eye to your garden oasis.
Hang them on trees or fences for a peaceful melody when the wind blows, or keep them indoors as decorative pieces year-round.
5. Glass Ball Wind Chimes
Add a mesmerizing touch to your yard with one of these glass bowl chimes. The one above was crafted with pearlized hand blown glass and metal and is powered by an energy-efficient solar LED light.
This exquisite hanging wind chime produces relaxing sounds with every gentle breeze, and adds vibrant color to your garden, lawn, backyard, patio, front porch, or pathway area.
6. Glass Bead Wind Chimes
Making your own glass bead chime is easy and fun! Here are five steps to get you started:
Gather materials like fishing lines, beads, and other decorative charms.
Pick out an eye-catching arrangement of beads and charms that captures your style.
Measure and tie each bead into place with the fishing line.
Attach all pieces to create the perfect design for your wind chime.
Add colorful accents like ribbons or feathers for extra flair!
7. Clear Glass Wind Chimes
These clear glass chimes are adorable! Hang one in an open window for a pleasant surprise as the breeze passes through and winds up playing your own personal melody. Hang multiple pieces for a complete symphony that brings joy and relaxation whenever the wind blows.
8. Blown Glass Wind Chimes
The beauty of blown glass wind chimes is that you can create custom designs to express your unique style. Crafting these decorative pieces requires skill and patience, but the result will make it worth it.
9. Blue Glass Wind Chimes
Hang up a beautiful blue-hued wind chime on the porch or in the garden to add a touch of tranquility and beauty to your outdoor space.
Choose between light blues, dark blues, or even cobalt shades that will bring a new level of vibrancy to your yard.
10. Glass Bird Wind Chimes
Whether you're looking to bring joy into someone else's space or add a bit of cheer to your own, this unique piece of art will bring happiness wherever it may go. It makes a beautiful gift for a bird lover 🙂
If you love bird wind chimes, here are a few more:
11. Glass Hummingbird Wind Chimes
A glass hummingbird wind chime is perfect for anyone who loves nature and wants to add an artistic touch to their home! These little hummers light up at night, a pleasure to look at.
Here's another gorgeous glass hummingbird chime.
Final Thoughts
Whether you choose one of the classic designs, such as sea or stained glass, or something more exotic, like Chinese or Japanese glass, you'll be amazed at the beauty these beautiful wind chimes can bring.
Perhaps you'd prefer something bright and colorful, like a blue glass ball chime or an intricate flat glass design. Whatever style you choose, your backyard (or front yard) will be filled with beautiful music lasting for many years!
Adriana Copaceanu is a passionate nature lover living in the country on her dream property where she grows vegetables, lavender, and wildflowers that she shares with the wildlife they attract. When she's not in the garden, she loves spending time with her chickens and planning her next nature project.