As hard as we try to preserve the rich summer harvest, the winter months can be hard for a gardener who loves eating fresh. An indoor winter vegetable garden will allow you to extend the growing season and offer you some freshly grown vegetables throughout the winter months.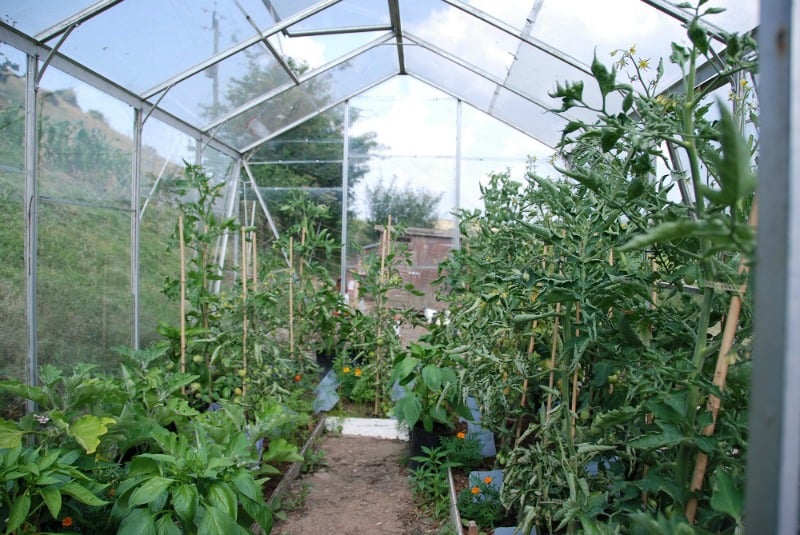 If you have a greenhouse salads are a great choice for winter garden; but without providing some heat, very little else will grow.
This is when an indoor winter vegetable garden "comes in". You already have the heat on in your home. Just choose a well lit room or south facing windowsill, and you can grow quite a few vegetables.
Indoor Winter Vegetable Garden Plants
Lettuce varieties such as lambs lettuce, and other leaves like mizuna and baby spinach make a great addition to salads.
True spinach much prefers to be out of strong sun so will do very well as will pak choi, which is a great winter vegetable for stir fry dishes.
Dwarf French beans will look very attractive in an indoor vegetable garden, and to have some flowering plants in the house when the rest of the garden is hibernating is really refreshing.
Herbs do really well inside, especially if you bring in an already grown plant. Here are some of my favorite herbs to bring inside: parsley, mint, basil, cilantro and chives. YUM!
Why not try carrots? While large carrots may require pots that are a bit on the big side, shorter baby type varieties could be grown in reasonably smaller containers.
For a real treat a little later in the winter try some first early potatoes in your winter vegetable garden. If you do, you will be one of the first people in the year to have baby new potatoes.
Festive Certified Organic Heirloom Vegetable Garden Seed Kit
EarthPods Indoor & Outdoor Organic Plant Food Fertilizer Capsule Spikes
Led Plant Grow Light Bulb Lamp for Vegetable Indoor  Garden
Add An Indoor Vertical Wall Garden
If you don't have a specific room that could accommodate an indoor garden, lot of room, don't get discouraged. You can always plant an edible wall, also called a living wall. Pick a wall in your home (kitchen, maybe?) that gets a lot of sunlight and install a vertical garden planter.
Plant some lettuce, spinach, scallions and garlic, as well as some of your favorite herbs, and you'll have fresh veggies and herbs for your meals.
INDOOR Waterproof Vertical Living Green Wall Planter
Vertical Garden with Full Spectrum Growth Lamp
Self-Watering Vertical Wall Garden Planters
Starting Seeds In The Winter For Your Vegetable Garden
Starting in February, and all the way to April you can sow plants such as tomatoes, peppers and eggplants in your windowsills. They need a long season to fruit well, so starting them indoors at the end of winter will really help them get going.
Black Beauty Eggplant Seeds
Sweet Million Cherry Tomato
Organic Rainbow Mix Pepper
Of course, you could also create an indoor winter vegetable garden in a heated greenhouse. Lots of possibilities!
Want to see an indoor garden live? Check this out! WOW!!!