Winter garden plants are a great way to add color and life to your garden in the cold winter months. Adding the right crops to your winter vegetable garden will keep you nourished even in the coldest months of the year. So, check out my favorite winter vegetables and flowers that can handle cold weather.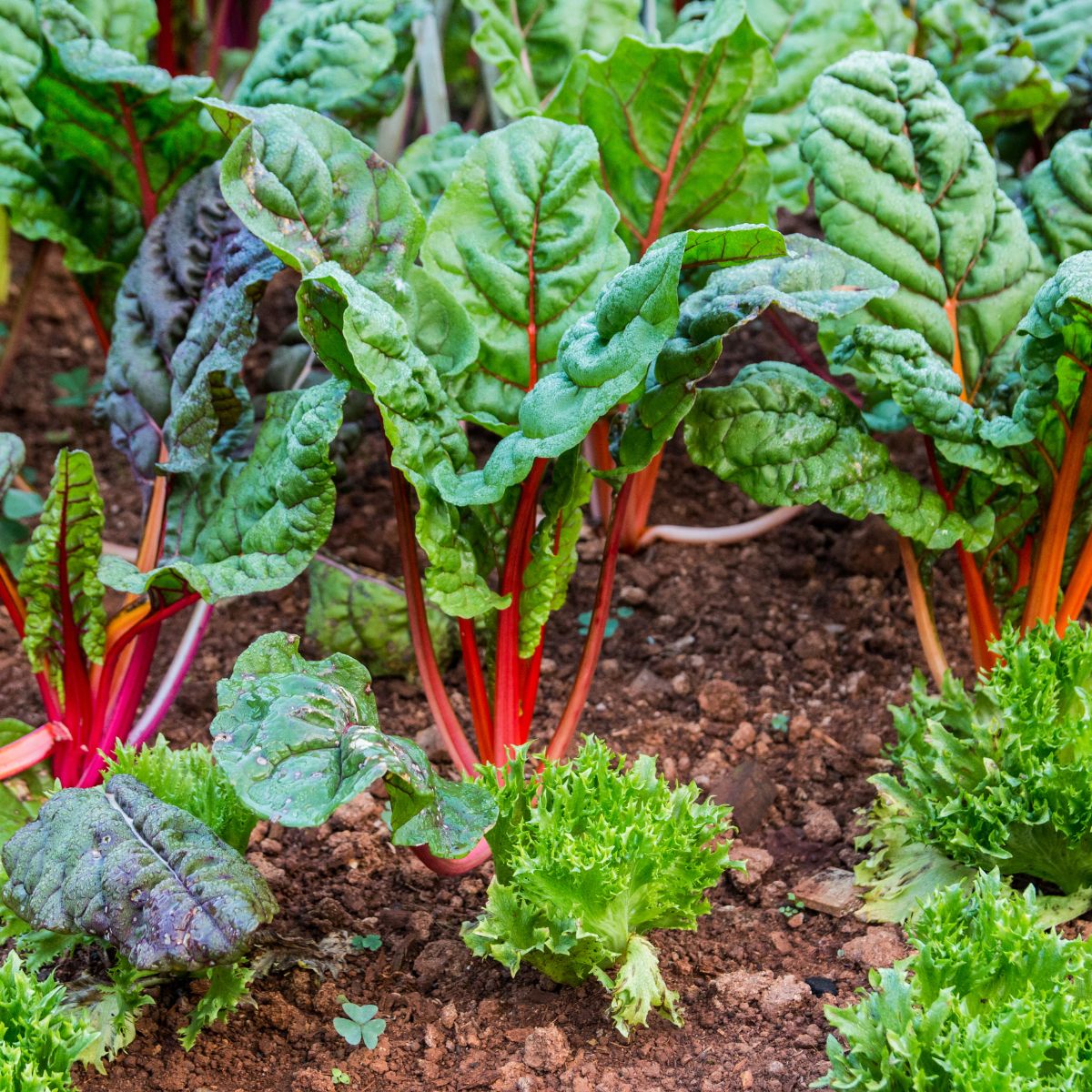 Can I Really Grow A Winter Garden?
The trick to winter gardening is simply extending your fall garden as long as you can. You're not trying to recreate the conditions of summer with high temperatures and long daylight; you're simply trying to keep the plants from dying or going dormant.
To do this, you'll need to use different materials and structures to insulate your garden against the cold.
Common winter garden season extenders
Floating row cover
Cold frames
Mulch
Unheated greenhouse
Low tunnels
Winter gardening in mild climates
For milder climates like USDA Hardiness Zones 9 and above, you can continue your fall garden indefinitely.
Try to prioritize cold-season crops that can regrow after harvesting to avoid trying to grow plants from seeds.
For example, it will be easier your for existing kale plant to stay alive during a temperate winter whereas your newly planted bed of salad greens will need a lot more energy to germinate, break through the soil, grow its first leaves then its second leaves, etc.
Winter gardening in colder climates
For cold climates (zones 1-5), you will have a harder time keeping the plants alive and will definitely want to use season extenders. In this situation, it makes more sense to create a larger structure, like a low tunnel or greenhouse, that will be able to offer greater insulation.
The Best Winter Garden Plants for Your Backyard Garden
In this section, I'll break down the best vegetables to grow in your winter garden. Bear in mind that your success may vary depending on your USDA Hardiness zone, the quality of your soil, the plant varieties you use, and whether or not you use a season extender.
However, these plants are all known for their cold tolerance and have been grown traditionally in the winter. These are some great options to start you growing in the cold season!
1. Kale
There's a reason why kale is at the top of this list. It germinates quickly, grows for a long time, and is even frost-tolerant!
When all of the rest of your plants succumb to the cold, your kale plants will likely still be chugging along (although slowly). You'll be able to harvest smaller-sized kale leaves for months after your other crops die for the winter.
In warmer regions, you'll be able to pick kale from an outdoor garden until after a hard freeze or two. Even if they freeze, the kale plants can often recover and continue producing.
In the spring, the kale will start to grow again and will even produce edible kale flowers you can eat like broccoli!
Collard greens are in the same family as kale and can be grown under similar conditions, too.
2. Swiss chard
Swiss chard is ideal for a winter vegetable garden. Once your plants are established from your spring or summer planting, you'll be able to continue harvesting them well into the winter.
They can tolerate colder temperatures including some freezes, although they aren't quite as cold-hardy as kale. Once fully frozen, the chard leaves take on a darker color and begin to break down.
Try covering your swiss chard bed with a floating row cover to keep them growing as long as possible.
Try one of these 15 swiss chard recipes.
3. Bitter greens
Did you know there is an entire family of greens traditionally grown during the winter?
Bitter greens including radicchio, endive, and escarole are part of the Chicory family. They are traditionally cultivated in northern Italy where they are harvested after the first frost, which sweetens them.
Fortunately, greens in the radicchio family are also incredibly easy to grow and can be held in your garden beds well into the winter.
4. Salad greens
Salad mixes are a great addition to your winter garden, although you need to be wary of frost dates. Delicate lettuces typically cannot withstand harsh freezing conditions but thrive during the spring and fall.
Try growing salad greens in a greenhouse or cold frame where they can escape the coldest temperatures.
5. Asian greens
Many Asian greens grow really quickly and can tolerate cooler conditions. Try growing baby bok choy or tatsoi as they are typically harvested at a smaller size and are more likely to size up before the cold winter weather sets in.
6. Root crops
Did you know that many people store their root vegetables, including carrots and beets, in their gardens during the winter?
Although the plants stop growing due to the cold temperatures and lack of daylight, the roots can be kept in the soil until you need them! The greens will die off, but you can harvest the roots as needed.
For easy accessibility and to protect your harvest, either mulch your garden bed or use row covers. Be sure to harvest them all before spring or the plants will try to regrow.
Here's a list of 15 root vegetables with pictures.
7. Brussels sprouts
One of the most classic cold-season crops, Brussels sprouts take on a mild sweetness after the first frost. They're perfect for roasting on cold winter nights.
Since these plants require a long growing season, be sure to start your seeds in late summer or early autumn.
8. Garlic
Many growers plant garlic in the fall as the plants will have a longer window of time to grow and they won't have to worry about poor spring planting conditions.
If you're opting to grow garlic in the colder months, try planting around October directly in your garden bed. Consider mulching the plants to protect the stems from harsh freezes.
9. Leeks
Leeks are classic winter garden vegetables! Most people overwinter leeks. They require a very long window of time to grow from seed to harvest.
Many people will need to plant their leeks in late spring or early summer and allow them to continue growing throughout the winter. Harvest them around midwinter or the next spring when the stalks are thick.
With proper insulation, leeks can tolerate conditions well below freezing. Be sure to mulch them or mound up the soil around the stalks to prevent them from freezing.
Here's how to grow leeks.
10. Green onions
Green onions are any gardener's friend. They grow quickly and can be tucked into any garden bed or container (learn about growing onions).
Plant your green onion sets at the end of summer or early fall to give them time to start growing their green stalks. In the winter, the goal is to keep those stalks alive so you can harvest them as needed.
To do this, cover your green onion patch with a floating row cover or another season extender. Continue harvesting as needed for your recipes.
11. Parsley
Although the most delicate herbs die off in the cold months, parsley is a great one to keep in your garden year-round.
In the winter, parsley plants will slow their growth, but you can continue to harvest from them lightly especially if you keep them under a row cover.
This is such a nice way to add a fresh flavor, especially in the colder winter months!
Your parsley will start to regrow in the spring before it eventually goes to seed. With such a nice long growing season, parsley surely deserves some space in your garden.
Winter Flowering Plants
While the above are the best cold-weather vegetables, there are some winter flowers that might just put a smile on your face during those harsh winter days. If you want some blooms in your winter garden, plant a few of these:
Black tulips
Camellias
Cyclamens
Daffodils
English primroses
Hellebores
Pieris
Snowdrops
Winter aconite
Winter jasmine
Winterberries
Witch hazel
Winter heath
Winter-flowering cherry tree
Ultimately, the best winter garden plants will depend on your garden. If you really want to increase your food supply or speed up your first harvest in spring, it's a good idea to tuck some cold-weather crops in the ground while your summer garden is still growing.
Worst case scenario, you can also try playing with growing some leafy greens and green onions on your kitchen counter!