Do you use wood for heating? Or, maybe like the atmosphere your fireplace creates? Here's how to build a firewood shed to keep your wood dry.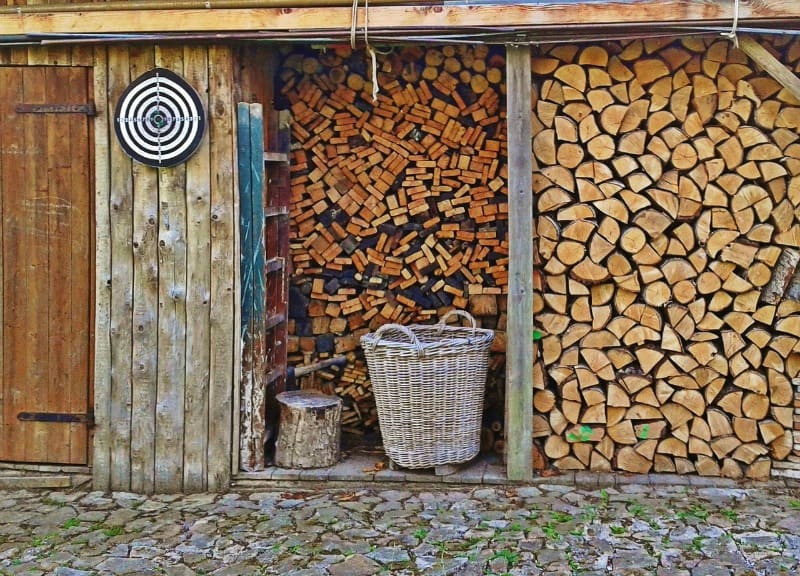 If you heat your home with firewood or use a fireplace, you need to learn how to build a firewood shed to keep your wood dry.
Where Should You Build Your Firewood Shed?
While you might want to have a storage shed by your garden to keep your gardening tools organized an handy, the firewood shed needs to be in close proximity of your house. This way it will be simple to retrieve the wood when you need it.
In my opinion, the best shed for storing firewood would be a lean-to type of shed built right by your backdoor (or side-door, whichever is closest to your wood stove).
How To Build A Firewood Shed
Before you start building your firewood storage, make sure that you have the proper permits.
You can find some excellent plans for firewood sheds online. Furthermore, you can find a great variety of books with plans for building all types of sheds including firewood sheds. Here are some book ideas for you.
DIY Shed Plans: Step-by-Step Guide With Pictures On How To Build Your Own Roomy Shed: (Shed Plan Book, How To Build A Shed) ((Plans For Building A Shed, Woodworking Project Plans))
DIY Mini Shed: Illustrated Tutorial On Building Small But Roomy Shed In Only $40: (Shed Plan Book, How To Build A Shed) (Plans For Building A Shed, Woodworking Project Plans) (Volume 1)
Shed Plans: 10 Storage Shed Plans with Simple Tips on How to Build a Shed: (Plans For Building A Shed, Woodworking Books) (Sheds And Barns)
Having a well stocked firewood shed will come in handy when the colder months come.
Here are a few things to keep in mind when building a firewood shed:
start with an elevated floor: this is going to be a huge help in keeping your wood dry
put up three sides, similar to a lean-to shed
be sure that the open side of the shed is facing away from wind, rain and snow. This will help keep  the airflow going and your wood dry
your shed roof must be slanted to allow rain and snow to fall off the roof and not drip in and soak your wood
make sure that all the ground surrounding your firewood shed slants away from the shed. This way no water will collect underneath your shed and affect the wood
This shed doesn't need to be anything fancy: just a covered structure that will protect your wood and keep it nicely stacked and easily accessible.
With a properly built firewood shed you won't need to worry about your wood getting wet.
Would you like to landscape around your firewood shed? Check out these landscaping ideas for sheds.
Alternative To A Firewood Shed
What if you need something now and don't have the time to build a storage shed for your fire wood? You could get a firewood rack you can keep by the door, under a canopy. Or get a covered wood rack.
I did a bit of research and found some that people really love! Take a look and see if they might work for you too!
Classic Accessories 52-068-020401-00 Log Rack Cover, Black, 4-Feet
Panacea 15203 Deluxe Outdoor Log Rack, Black, 4-Feet
SONGMICS Heavy Duty Log Rack Cover Waterproof Firewood Cover 4ft UGLC48M
I really like the look of these wood racks. And they should be easy to stack up.
Wonder how to easily move your wood logs from the holding rack into your home? Check out this cool rolling caddy! Or, you can try one of these log tote bag carriers.
I hope you know how to build a firewood shed now and enjoy warmth by the fire with your family every day this winter 🙂