Imagine a nice sunny morning, toast, fresh out of the toaster, and when you open the fridge and BAM! Homemade blackberry jam is right there waiting for you! With this easy sugar-free blackberry jam recipe, that little daydream can be a reality.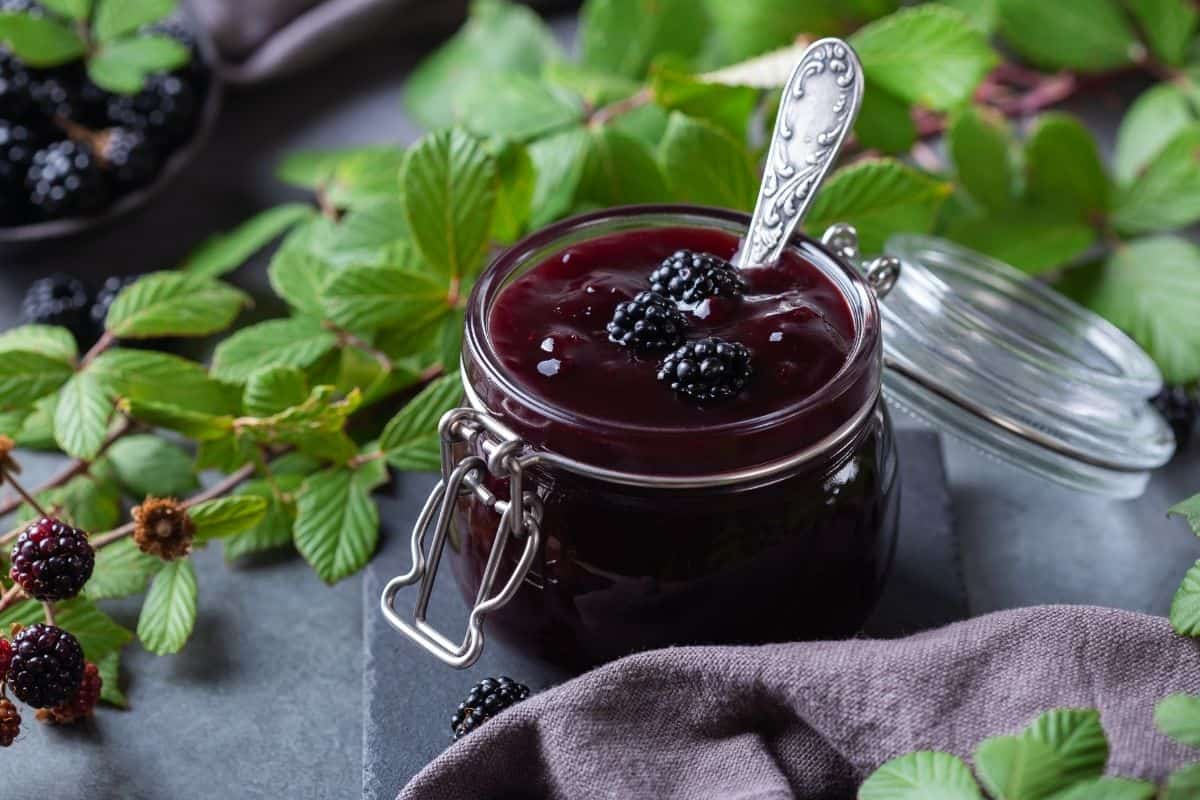 What you'll need
Large Heavy-Based Saucepan
Medium Bowl
Spatula or Wooden Spoon
Jam Jars
Potato Masher (or similar)
Measuring Cups
Canning Funnel (optional)
Thermometer
Saucer (optional)
Sieve or Jelly Bag (optional)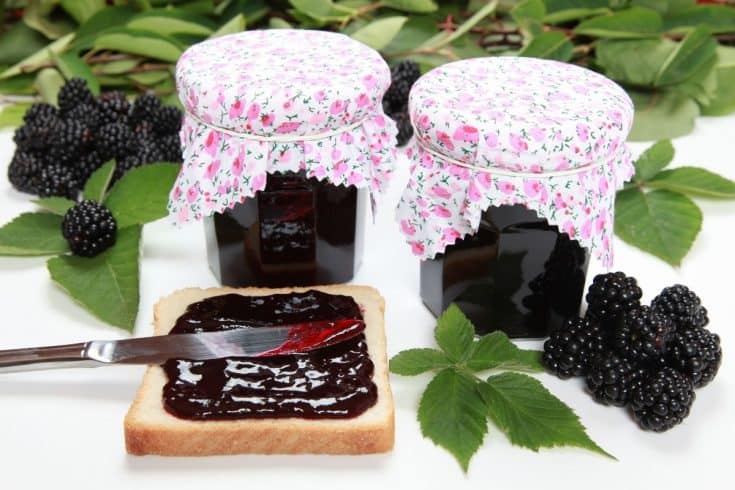 Yield:

40 servings
Homemade Blackberry Jam
Additional Time:
10 minutes
There are a variety of ways to make this recipe: pectin-free, sugar included, different types of blackberries… the list goes on. Be sure to read through the variations so that you can find the right version of this homemade blackberry jam for you! This recipe was made with fresh blackberries and Splenda sugar substitute.
Ingredients
2.2 pounds of blackberries
12 ounces of Splenda
2 tablespoons of pectin
1 lemon, juiced (1/4 cup of bottled juice)
Instructions
1. Using the potato masher or similar mashing tool, start by lightly mashing the blackberries into a bowl or the pan.
Note: If you plan to use the saucer method for testing the setting point, it is a good idea to put the saucer in the fridge at this point before cooking the jam.
2. In the large, heavy-based saucepan, add the Splenda, blackberries, lemon juice, and pectin. Heat on a low-medium setting, stirring constantly to dissolve the sugar.
3. Bring the mixture to a rolling boil (that can't be stirred down) at high heat. Let sit for 5 minutes at this temperature without stirring. Use a wooden spoon to check if the jam is sticking to the bottom of the pan. If it is, then stir a few times and lower the heat slightly.
4. To check and see if the jam has reached its setting point, use a thermometer. The temperature needs to be 105ºC or 220º F.
Note: You can also check the setting point with a saucer test. After five minutes, place a spoonful on the saucer and wait 30 seconds. Gently press with your finger, and if it wrinkles (even a little wrinkle), it will set.
5. Skim off any excess foam from the top for a nice clean jam. Adding a small amount of butter and stirring can help disperse the foam, but is not required.
6. Remove the jam from the heat and let cool for 10 to 15 minutes. This gives the blackberries time to settle in without sinking to the bottom.
7. While you wait for the jam to cool, sterilize the jam jars and place them in the oven for 10 minutes at 160ºC/325ºF. This will allow the jars to completely dry.
8. Place the jars onto a heat-proof surface.
9. Transfer the jam into the jars. This is easier with a canning funnel, but one is not required.
10. Wipe any spillage and seal the jars. If you want to properly 'can' the jam, make sure not to touch the lip or the inside of the lid.
Storing homemade sugar free blackberry jam
Homemade blackberry jam can last in the fridge for 3 weeks or 6 months in the freezer. This is the best option if you intend to use your jam fairly quickly. If you want to store it for longer, using a proper canning method can help keep your blackberry jam for up to 2 years.
Homemade blackberry jam variations and notes
For more bits of blackberries in the jam, place the berries and the sugar (or sugar substitute) in a bowl for a few hours or overnight. The berries will macerate, and the sugar dissolves, leading to less cooking time so the berries remain more intact throughout the process.
For fewer seeds in your homemade blackberry jam, mash the berries and add the lemon juice to the pan. Then let it simmer for a few minutes, and press the fruit through a sieve or jelly bag into a bowl. You can then add the seeds back in by spoonfuls or remove the seeds entirely.
To make a sugar-free blackberry jelly, simply use only blackberry juice instead of the fruit and lemon juice. For sugar-free blackberry preserves, do not mash the blackberries. Instead of keeping them whole.
The sugar-free nature of this recipe will make for a somewhat softer setup, hence the inclusion of pectin. To make this homemade blackberry jam with sugar, simply switch out the Splenda for white sugar.
If you want to remove the pectin, you may, but it will make for a softer setup. Take the lemon peels and pips and add them to the jam. Make sure to discard them before canning.
Jam sugar is perhaps not the greatest substitute for the sugar and pectin version. If using it, make sure to only use a percentage as the pectin may be too high for the berries to handle. Then use the rest of the portion with sugar or sugar substitute.
For more jelly-making tips, you might want to read Jam Session: A Fruit-Preserving Handbook by Joyce Goldstein.
And if you still have blackberries after making jam, try this blackberry drop dumplings recipe.
FAQ
Is blackberry jam tart?
No. On the contrary, it is sweet! Blackberries themselves are sweet and juicy fruits and adding lemon juice does not detract from that. Given that this is a sugar-free blackberry jam recipe, it won't be as sweet as using white sugar, but it isn't tart either.
How long is blackberry jam good for?
Blackberry jam can hold for up to three weeks in the fridge or six months in the freezer. If you use a proper canning technique (like the hot water bath method), blackberry jam can last for up to two years in a cool, dry place.
Is blackberry jam/jelly easy to make?
Yes! It takes less than half an hour and only requires four ingredients. It is a great jam to try out if you are new to making jams and jellies from scratch.
Do the blackberries have to be fresh?
No, frozen blackberries can serve in a pinch. However, fresh blackberries have a richer flavor and are less watery. Fresh blackberries also hold up a little better to make preserves.
Is blackberry jam/jelly/preserves gluten-free?
Yes! While pectin is a binding agent, it does not contain gluten. In fact, pectin is the substitute binder from gluten used in gluten-free foods!