Nothing beats the summer heat like blackberry dumplings – and these are sure to be a hit with every member of your family. Sweet and juicy, these blackberry drop dumplings make for a great homemade treat, and once you try them, they'll be a dessert staple on your kitchen table!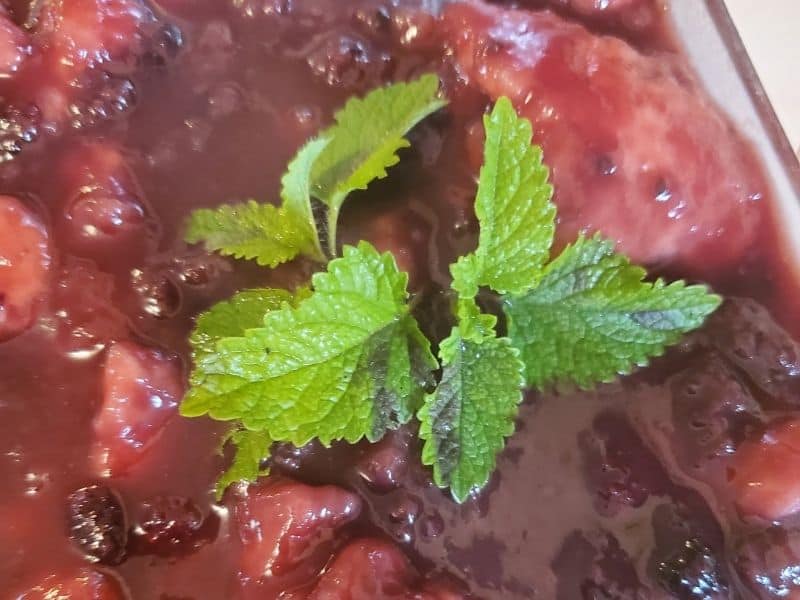 Love dumplings? Become a dumpling master with help from a top chef.
What you'll need:
large pot or saucepan (with lid)
medium bowl
small bowl
whisk
measuring cups
stove
spoon
fork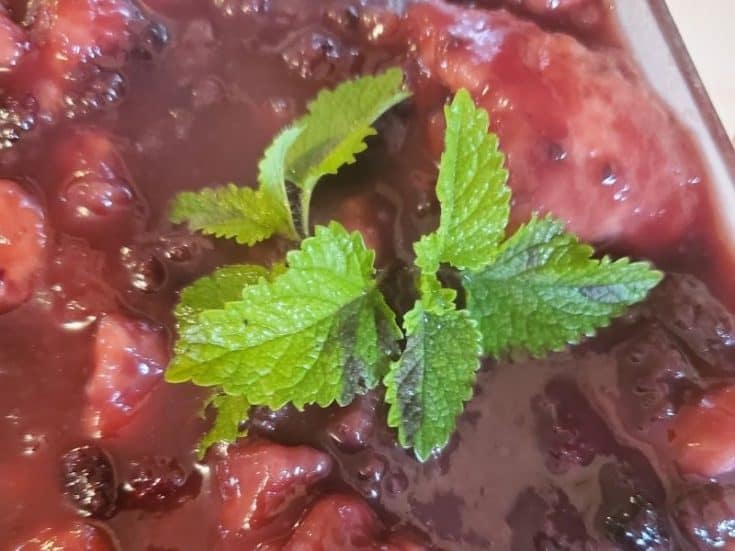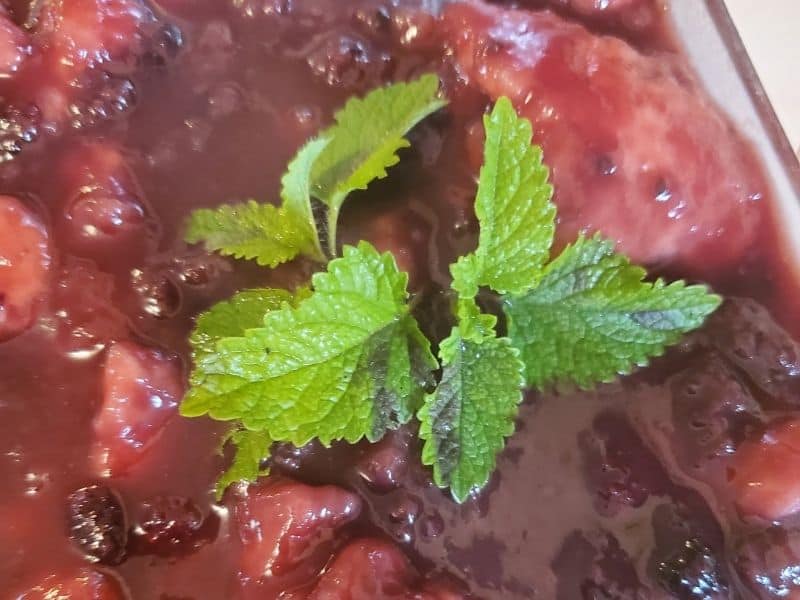 Yield:

10
Blackberry Drop Dumplings Recipe
This stove-top blackberry drop dumpling recipe from scratch uses fresh blackberries, but frozen work as well. The end result is delicious, easy, and quick blackberry dumplings that are sure to win over even the pickiest of dessert eaters!
Ingredients
For the dumplings:
2 cups all-purpose flour
2 teaspoons baking powder
1 teaspoon salt
⅓ cup shortening
½ cup milk
For the blackberry sauce:
5 cups ripe blackberries
2 cups water
1 cup sugar
Pinch of cinnamon
To finish:
Vanilla Ice Cream
Whipped Cream or Cool Whip
Garnishes (Optional):
Heavy Whipping Cream - pour on top of blackberry dumplings
Mint Sprig - one sprig of mint on top of the final dish
Instructions
Combine blackberries, water, cinnamon, and sugar into the large pot or saucepan for the blackberry sauce. Mix together and bring to a boil over medium heat. Boil for 1 to 2 minutes, and then turn off the heat.
In the medium bowl, whisk the dry ingredients: flour, sugar, salt, and baking powder.
In the small bowl, whisk the wet ingredients: milk, butter, egg, and vanilla.
Combine wet and dry ingredients in the medium bowl by pouring the wet mixture in the center of the dry ingredients. Mix until there is a wet, sticky dough for the dumplings. Be careful not to overmix the dough.
Let dough rest for 5 minutes and return blackberry sauce to a boil under medium heat.
Drop large spoonfuls of dough into simmering blackberry sauce. Make sure the dough is side by side and not on top of each other for even cooking.
Place the lid on the pan and turn heat down to low. Let sit for 15 minutes covered. Do not lift the lid during these 15 minutes.
Check dumplings after 15 minutes by cutting into one with a fork. The center should be fluffy and no longer sticky.
Remove the pan from heat. Flip each dumpling over gently. The top sides of the dumplings will soak up the juice and flavor from the sauce. Let sit for 5 minutes.
Serve hot over vanilla ice cream or whipped cream/cool whip.
Notes
If there are leftovers, you can refrigerate your blackberry drop dumplings. However, these are best the day they are made.
Homemade blackberry dumplings variations
To make these blackberry dumplings sugar-free, simply substitute Splenda or another alternative sweetener at a one-to-one ratio. Yay! No math!
If you want to skip making the dough for the dumplings, you can make blackberry dumplings using Bisquick or with cut-up Pillsbury canned biscuits. These variations can make for easy blackberry dumplings.
To make rollout blackberry dumplings, simply roll out your dough until 1 inch thick and pinch off pieces and add to the blackberry sauce.
While you're enjoying blackberries this season, pick some leaves and dry them for making blackberry tea later on. And if you have a lot of blackberries, try this blackberry jam.
FAQ:
Are blackberry dumplings tart?
Nope! Blackberry drop dumplings are sweet and juicy, especially when served with cold vanilla ice cream or cool whip.
Is there sugar in blackberry dumplings?
Yes, there is sugar in blackberry dumplings. However, you can change this recipe by substituting Splenda or any other sugar alternative to be sugar-free blackberry dumplings.
Can you roll out blackberry dumplings?
Yes, there is a rollout variation of blackberry dumplings. There are no major changes to the recipe in terms of dough making. You would instead roll out the dough until it is 1 inch thick and pinch off the dough to add.
Are blackberry dumplings easy?
Yes! This is an easy blackberry dumpling recipe. If you are a beginner, the only room for error would be to overmix the dough. Remember to make sure to stop mixing when the dough is wet and sticky.
Do the blackberries have to be fresh?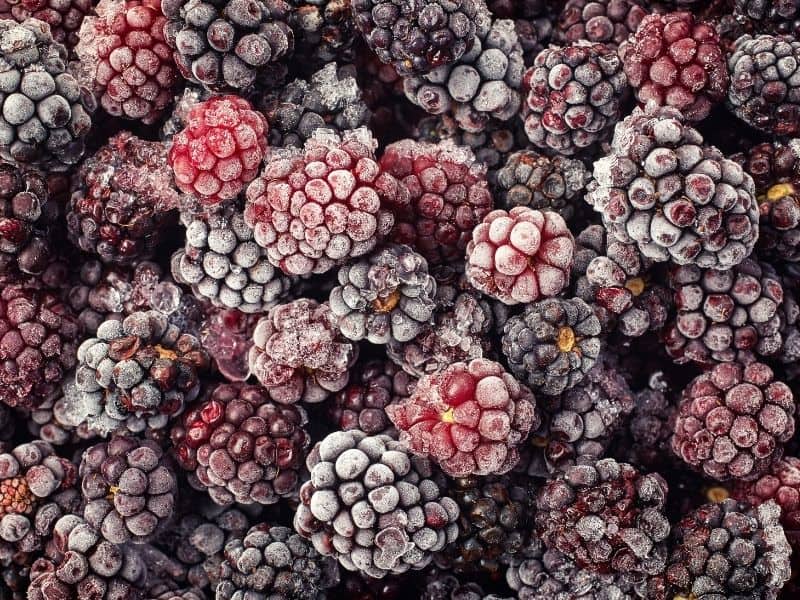 No, frozen blackberries can serve in a pinch. However, fresh blackberries have a richer flavor and are less watery.
How long does it take to make blackberry dumplings?
Blackberry dumplings take about 30 minutes total when made from scratch. It is pretty quick to make blackberry dumplings. If you are in a time crunch, the pre-made dough will save you some time in cooking.
What goes best with blackberry dumplings?
There are a lot of things that can be paired with blackberry dumplings. A common staple is to serve them with either vanilla ice cream or whipped cream/cool whip. However, you can add heavy whipping cream over the top or a sprig of mint if you are looking to add something a little more.
Are blackberry dumplings gluten-free?
Not with the original recipe, but there are options to make blackberry dumplings gluten-free by substituting flour out for an alternative flour like almond or rice flour. If you have gluten allergies or are celiac, it is best to make the dough yourself to keep any threat of cross-contamination away.
What other fruits can be used for fruit dumplings?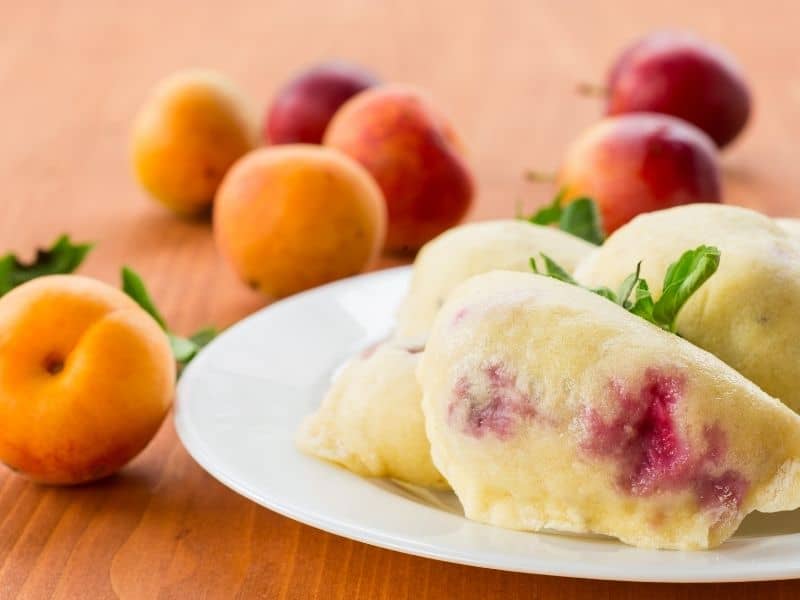 Any kind of berry is great for fruit dumplings, so try blueberries, strawberries, raspberries, and any combination of berries. Of course, you can use other fruits as well: peaches, cherries, and even lemons. Have fun trying a new fruit dumpling every week.