Blueberry tea is a great drink to have when you want something light and refreshing. It has a deep, rich flavor that blends well with citrus fruits like oranges and grapefruit for the perfect afternoon pick-me-up. Blueberries are also loaded with antioxidants which help fight free radicals in your body – making blueberry tea one of the healthiest drinks out there! Want an easy blueberry tea recipe?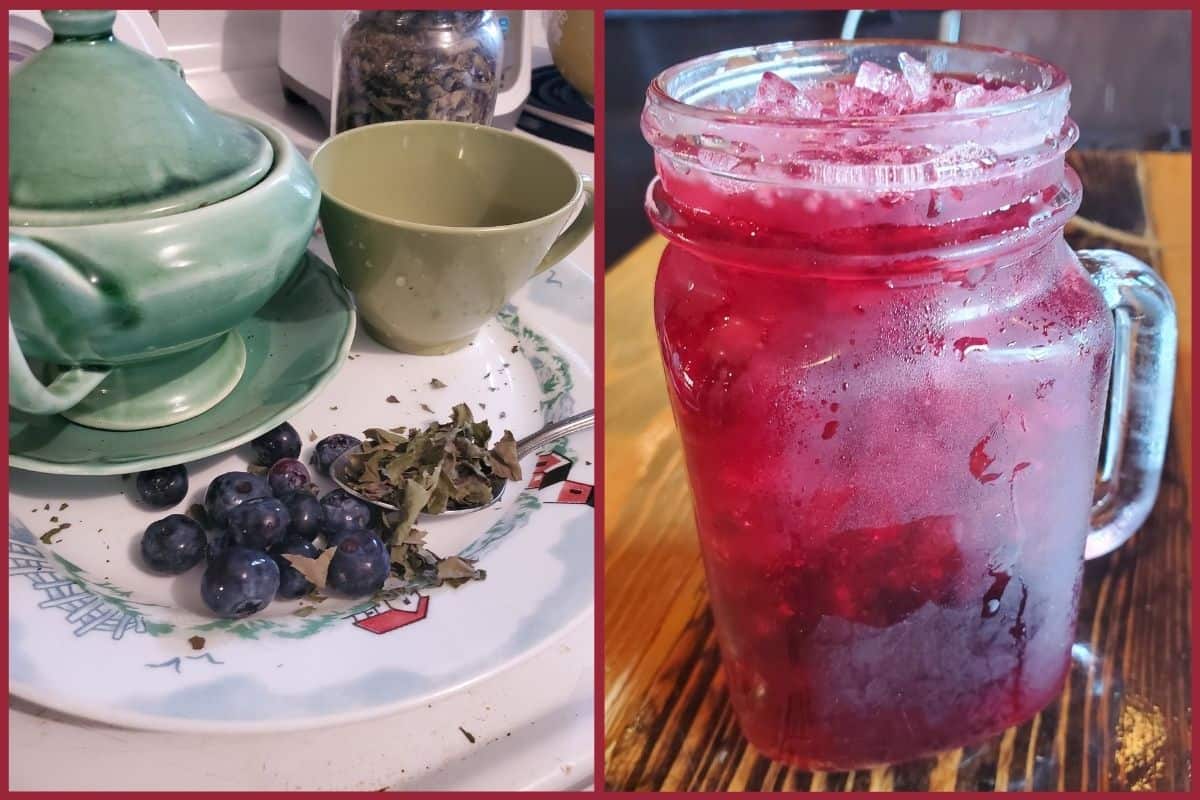 Originally from North America, blueberries were introduced to European countries over a hundred years ago. This introduction has made blueberries popular throughout most of the world.
What You Need To Make Blueberry Tea
Blueberries or blueberry leaves (dried)
Hot water
Sweeteners such as sugar or honey
A saucepan
Tea strainer or if you prefer it, a tea infuser to skip the straining.
How To Make Blueberry Tea
Blueberry tea can be made from leaves, berries, or from a combination of both.
To make tea from the blueberry leaves, first, dry the leaves while the blueberries are in season. Then steep the dry leaves for about 15 minutes in hot water.
If you'd rather make tea from the blueberry fruit, choose a cup of fresh, frozen, or dried blueberries and add 2 cups of boiling water on top. Cover and leave them to steep for about 10 minutes, then strain before drinking.
How to make blueberry leaf tea
If you grow your own blueberries or forage them in the wild, gather some leaves and dry them to use in teas later. As a word of caution, ensure the leaves you collect are blueberry leaves since there are other berry leaves that look similar to blueberry leaves that can be dangerous to consume. Or, you can buy some online or from your favorite health food store.
Pour 2 cups of water into the saucepan and allow it to come to a rolling boil.
Put the dried leaves (2 tablespoons) in the hot water and lower the flame to allow it to simmer.
Allow the tea to steep for 10-15 minutes
Strain the tea after it has finished steeping
Add the optional ingredients
Serve hot or over ice, with a wedge of lemon. Enjoy!
Love berry teas? Try this blackberry leaf tea.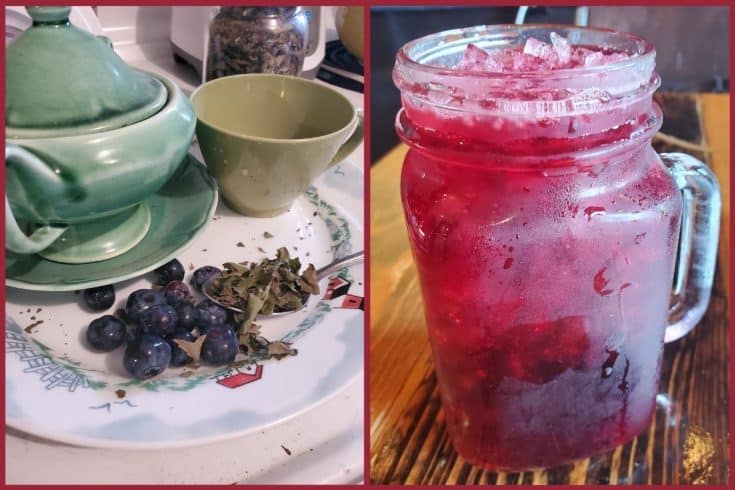 Yield:

2 cups
Refreshing Blueberry Tea Recipe
Cook Time:
15 minutes
10 seconds
Total Time:
15 minutes
10 seconds
Here is a simple way to give your body the extra boost and refreshment with some blueberry tea. This blueberry tea recipe is simple, yet delicious and refreshing.
Ingredients
10-12 fresh or frozen blueberries
2-3 teaspoons dried blueberry leaves
2 cups of filtered water
1 teaspoon honey or sugar (optional)
1 tablespoon of cream (optional)
Instructions
When making tea with fresh fruit, ensure to wash them thoroughly. Avoid using any shriveled berries.
Pour the 2 cups of water in the saucepan or teakettle. Allow water to come to a rolling boil.
For 10-15 minutes, allow berries to steep in the hot water.
Now you can add the optional ingredients of honey, cream, or sugar.
For extra boost use a black or green tea bag.
Notes
Serve over ice or as a hot beverage.
Enjoy your freshly brewed blueberry tea. This tea also makes an excellent beverage to serve at parties!
Potential adverse effects of blueberry tea
Although blueberry tea is extremely healthy, there is a possibility of adverse side effects (albeit rare). People who have suffered these side effects, mostly complain about reactions that are gastrointestinal or allergic. Below is a shortlist of some of the issued people have complained of suffering from:
Issues of the stomach: Blueberry tea can sometimes create indigestion or upset stomach. These symptoms occur if one drinks too much blueberry tea. Other symptoms may be diarrhea or nausea. Keep your daily consumption of tea to 3 cups or less. As long as you drink it moderately, these symptoms should not appear.
Allergic reactions: Although it is rare to have an allergy to blueberries, it does happen. The signs and symptoms of having a reaction due to allergies are swelling in the gums, tongue, or lips. Also, irritated skin, such as itchiness, swelling, or redness can occur. Stop drinking the tea immediately should you develop any of these allergy signs or symptoms.
During pregnancy: As with any new regimen, if you are trying something new when pregnant or breastfeeding, consult your doctor first.
FAQs about blueberries
This section is a compilation of some frequently asked questions found about blueberries.
Is blueberry tea good for you?
Drinking blueberry tea can be beneficial to one's cardiovascular health. Blueberries have a lot of potassium content, and they act as a vasodilator, lowering blood pressure. It can also guard against the chance of having a heart attack, stroke, or atherosclerosis. In addition, blueberries are extremely concentrated with proanthocyanidins. Therefore, drinking blueberry tea has been proven to significantly lower your chance of getting heart disease.
How many blueberries can you eat in a day?
When consuming fruits and vegetables, it is recommended to eat a minimum of 400 grams daily. This averages out to about 5 daily at 80 grams each.
Is it bad for you to eat too many blueberries?
As with anything, too much of a good thing can be bad for you. Consuming too many blueberries can have adverse side effects such as acid reflux, diarrhea, bloating, and heartburn.
What are the consequences of eating too many blueberries?
There are 3.6 grams of fiber in a cup of blueberries. When eating more than this, you can impede the intestines from absorbing the nutrients. This may create excessive flatulence, discomfort in the stomach, diarrhea, and bloating. As well as several other health issues.
What health benefits do blueberries offer?
Blueberries are excellent aid factors in the preservation of the health of one's cardiovascular system. You get many vitamins and nutrients in a single serving of these berries, such as potassium, folate, vitamin C, fiber, and vitamin B6. In addition, the health of your heart is supported by the phytonutrient content they contain. Also, because they contain zero cholesterol, they are great for the heart.