It's peach season and the perfect time to enjoy this healthy peach smoothie recipe! Smoothies are a good way to increase your fruit intake, they are easy to make, and offer a wide variety of nutrients in an enjoyable refreshing drink.
Combined with various fruits, peaches can give you a healthy boost in a refreshing way during the hot summer months. They are plentiful during the mid-summer months and great to be used in smoothies, homemade desserts, and snacks due to their sweet flavor.
Of course, frozen peaches are found throughout the year and can also be used to make smoothies without losing the taste and nutrients of fresh peaches.
Peaches contain vital nutrients such as vitamins K And E, folate, niacin, iron, and more. They are also good for your skin, as they contain moderate amounts of antioxidants. This means that they help the skin recover from damage caused by pollution and exposure to the sun.
Got a lot of peaches? Here are 7 ways to preserve peaches for later.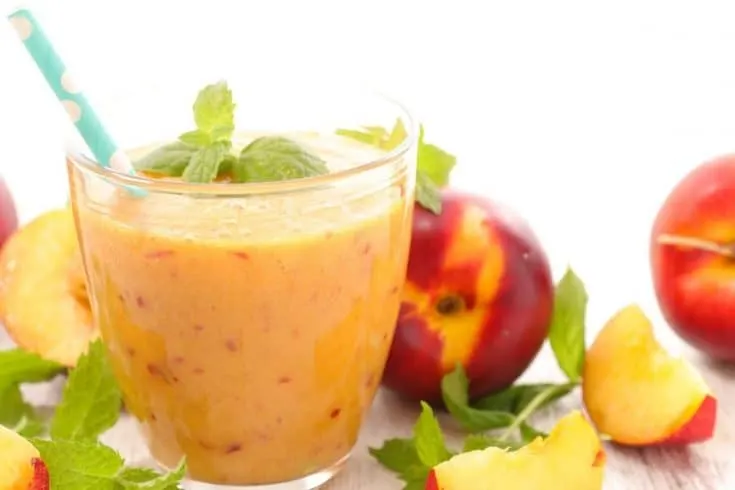 Yield:

3-4 servings
Healthy Peach Smoothie Recipe With Almond Milk
This peach smoothie recipe uses either fresh or frozen peaches to make this healthy smoothie that is a significant energy boost after that swim, run, or meeting. The recipe uses yogurt, almond milk, ice, and a bit of cinnamon. The almond milk helps to make this much lighter than a milkshake while still being cool and refreshing.
Ingredients
Yogurt – 5 ounces
Peaches – 1 ½ cups (fresh or frozen)
Crushed ice - ½ cup
Almond Milk – ¾ cup
Ground Cinnamon – ¼ teaspoon
Instructions
Clean, peel, and dice the peaches. It is essential to peel the peaches when using fresh peaches. And because peeling peaches is tedious, many prefer to use frozen peach fruit. They come peeled and can make the smoothie thicker. Frozen peaches are frozen at peak ripeness, meaning that they provide the best taste.
Place the yogurt, peaches, crushed ice cubes, almond milk, and cinnamon into the blender.
Blend everything until smooth; everything should be well mixed and blended in about 2 minutes.
Pour into glasses and garnish with fresh peaches if desired.
Notes
Garnish with fresh peach slices and a sprig of mint.
How to make this peach smoothie vegan
You can make this smoothie vegan by substituting the yogurt with a vegan yogurt of half a banana to maintain the same thickness without losing the flavor.
Almond milk can be substituted with other vegan milk substitutes, such as coconut milk, almond milk, or soy milk if you prefer different milk flavors. Almond milk is preferred, as it is creamier and sweeter than the other alternatives.
Some cool tips for making a better smoothie

A good blender

makes all the difference when making any smoothie. Invest in a good blender if you plan on making smoothies regularly. Good quality blenders will guarantee a smooth blend while also saving on time. This might mean purchasing a relatively expensive one, but the investment will be worthwhile in the long run. A good blender comes in handy for other recipes such as cakes, sauces, and soups.
You can substitute the almond milk in this recipe with any milk of your choice. The almond milk used in this recipe is refrigerated almond milk and not canned almond milk. The canned almond milk separates into liquid and fat, affecting the taste and texture of the smoothie.
Sugar can be added to this recipe to make it sweeter. However, to make sure that the recipe uses only nutritious ingredients, you can add in a sweet fruit of your choice instead. I love these pitted Medjool dates for a natural sweetener, but you can also use a banana or a ripe mango.
Another Scrumptious Healthy Peach Smoothie Recipe
Why not offer your guest a choice in flavors of peach smoothies? We are offering another recipe for you to serve during the peach season.
Yield:

3-4 servings
Peach Smoothie with Banana and Mango
This yummy peach smoothie with banana and mango recipe is made with frozen peaches, mango, and freshly-squeezed fruit juice for a sweet and healthy power drink. The recipe is as easy as preparing all the ingredients and tossing them into the blender until they are smooth.
Ingredients
1 1/2 cups peach nectar
1 banana halved
1 1/2 cups fresh or frozen peaches
1/2 cup frozen mango
3/4 cup Greek yogurt
1/3 cup crushed Ice
Instructions
Place all the ingredients into a blender.
Blend to your preferred consistency.
Pour into glasses and garnish with fresh peaches; mint leaves can be used as a garnish.
Notes
Adding in the mango gives the smoothie a sweet tropical twist. However, if you don't have mangoes or don't like them, you can omit them. The smoothie will be delicious with or without them.
Protein powder can be added to this recipe for those looking to boost its nutritional value. This can also be done by adding various fresh berries, such as strawberries or raspberries.
Making it vegan
You can easily make this smoothie vegan by replacing Greek yogurt with a few more bananas. Blend the frozen peaches, 2 bananas, ice cubes, and the rest of the ingredients without changing their measurements.
Flavor Variations
Here are some flavor ideas to avoid these recipes from becoming monotonous and boring:
Peach mint smoothie: Add in some mint leaves when blending for a minty taste to your smoothie.
Peach Basil Smoothie: Add basil leaves into the smoothie to give it a fresh, herbaceous kick. Basil flowers are great too, if oyu want a milder basil taste.
Smoothie storage
For best flavor and nutritional value, the smoothies should be eaten immediately after they are made. However, the smoothies can be stored for a maximum of 1 day in a jar with a lid in the refrigerator.
Due to the different ingredients, it is normal for the smoothie to separate. Just mix it thoroughly before serving. Refrigeration for more than one day is not advised, as the smoothie will lose its taste and, by then, most of its nutritional value.
FAQ
Some people will have some questions about preparing or serving these delicious smoothies. We have answered the three top questions below.
Is it necessary to peel peaches to make smoothies?
No, you don't have to peel it first, unless you are very sensitive to possible tiny pieces of peel. Once blended in the blender with the other ingredients, most people will not be able to notice the peel. It doesn't change the texture or taste.
Can you use water instead of milk in a smoothie?
Yes, you can use water instead of milk. Adding just a splash of liquid (you can use fruit juice), to the blender will help it to blend smoother. It just will not have a creamy texture without adding milk.
Can you use frozen peaches?
Yes, you can use frozen peaches. However, fresh is always best. Fresh fruits have a better texture and taste than frozen peaches. Frozen peaches can be used during the months that the fruit is not in season to give a great refreshing smoothie.
The best part about making any smoothie is getting as creative as possible with your ingredients. Therefore, the ingredients used in these recipes should not limit you from getting creative. You can add in nuts, other fruits, and even a few cookies.
In the end, you should have a sweet drink that is also nutritious and can be enjoyed by the whole family.