There's nothing quite like sitting outside in the summer with your friends and family, firing up the barbecue, and having a good old alfresco dinner party. You'll love sitting in one of these adorable garden stools.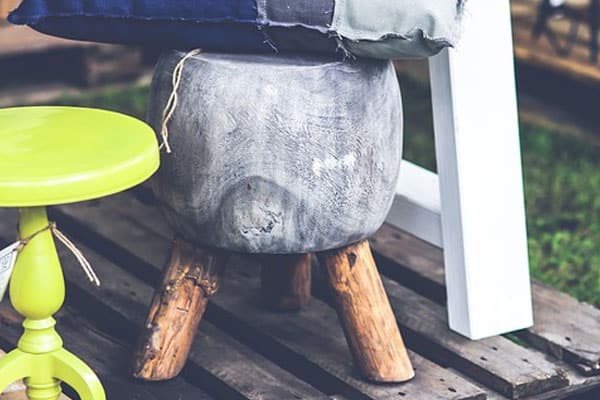 Gathering around your outdoor table and catching up with loved ones is an absolute joy, but sometimes there just aren't enough chairs to accommodate all the people you've got over!
Avoid this embarrassing scenario by having a stash of super stylish garden stools tucked away. Then everyone will have a place to sit without having to resort to hauling the chairs away from your kitchen table.
Adding a few garden stools to your collection of outdoor furniture provides you with a place to sit and relax on sunny days. And, of course, they can be used to stick your feet up from your chair on or as a side table to hold your nice, cold drink.
Garden stools come in lots of shapes, colors, sizes, and patterns. And while having choices is nice, it can also make finding the perfect chair for your garden, an overwhelming task.
That's why we've done all the hard work for you. Listed below are our top 5 favorite garden stools. Later on, you'll also find a list of important things to look out for before making your purchase. Get the right stool on your first try.
Garden Stool – Comparison Table
1
Patio Sense Maya Oval Rustic Garden Stool
2
Moroccan-Pattern Ceramic Garden Stool
3
Copper-Plated Drum Style Stool
4
Glazed Ceramic Decorative Garden Stool
5
Midnight Flower Ceramic Decorative Garden Stool
Our Favorite Garden Stool Review
Our Top Pick
Our rating:

Available in a range of colors and shapes to suit anybody's taste, these garden stools from Patio Sense are guaranteed to add a touch of style and sophistication to any garden. They are absolutely perfect to use as additional seating when entertaining.
Constructed using a variety of reclaimed woods, including pine, rubber-wood, and acacia, these garden stools are even eco-friendly, helping you reduce your carbon footprint and shop more consciously.
Kiln-dried and pressure-treated, the wood in these up-cycled stools is weatherproof and able to withstand rot and insect damage for years to come, making them amongst the most durable pieces of garden furniture available.
These garden chairs are perfect for both indoor and outdoor use. They also make fantastic side tables when needed. Incredibly easy to clean, they only require a quick wipe over with a wet cloth to look as good as new.
Available in a variety of shapes and colors

Constructed using reclaimed woods including acacia, pine, and rubberwood

Kiln dried and pressure treated to ensure amazing weather resistance and insect damage

Can be used outdoors and indoors, and are very low maintenance
Although sturdy, they are fairly light in weight. You'll need to shelter them from any strong winds to prevent them from blowing around your garden
Garden Stool – Buyer's Guide
Garden stools are a fantastic way to add a multipurpose piece of furniture to your existing outdoor set. Their portability also makes it easy to bring them indoors for extra seating as required.
However, as with all garden furniture, there are a few things you should consider before settling on your final purchase. We've outlined some of these below, and keeping these in mind will help you find the perfect garden stools for your individual needs.
Style
Safavieh Imperial Vine Ceramic Decorative Garden Stool
Safavieh Diamond Ceramic Decorative Garden Stool
Wild Elephant Drum Ceramic Garden Stool
Imax 13724 Hamako Ceramic Garden Stool
Accent Plus Colorful Floral Garden Stool
Safavieh Beijing Filigree Ceramic Decorative Garden Stool
Navy Blue Wise Old Owl Ceramic Garden Stool
Quality Outdoor Living – Bar Harbor Garden Stool, Tan Wicker
Round Scalloped Ceramic Garden Stool
The first thing you'll want to look for is a garden stool that matches the aesthetic of your existing furniture, and that complements the design of your garden.
If you've got fairly neutral tones running throughout your outdoor space, placing a brightly colored garden stool in amongst it will stick out like a sore thumb. Likewise, if you prefer bold, colorful furniture, a muted shade will look like it doesn't belong as a part of your set.
Remember, you may want to bring your stools inside over the winter months to use as an end table or as additional seating. Make sure the color and style will fit in with your interior design scheme.
With so many designs available, keep your home design in mind when buying a garden stool.
Material
The material that your garden stool is made from will ultimately determine how long it's going to last, so it's always worth checking durability.
Wooden garden stools are a great option, as they are sturdy and durable enough to leave outside most of the time. Give them a quick wood treatment each year to keep them in top shape.
Ceramic garden stools are also very durable, and don't require treatment in the way wood does. However, they are far more susceptible to breaking if you accidentally knock or drop them. If you forget them outside during winter, they could easily crack, as ice sets into any existing chips or dents.
Weight
Make sure you buy sturdy (and somewhat heavy) stools for your garden. Since they'll stay outdoors, the wind will blow them over is they are too light.
However, if you're planning on bringing your garden stool inside over winter, or move it around as you follow the sun around your garden during summer, it will need to be light enough to easily lift and carry without causing any potential strain. It's all about finding that perfect balance between sturdy and lightweight.
Also, whilst thinking about weight, it's a good idea to look at what weight the stool will be able to withstand itself. Placing anything too heavy on it could lead to damage and breakages. It's always worth researching and finding out before it's too late.