Many popular flowers begin with the letter P, and in fact, you can probably name a handful without thinking too hard. To provide you with a sampling of the abundance of pretty flowers that start with P, here is a list of 14 lovely specimens. Enjoy!
Annual Flowers that Start with P
1. Pansy (Viola sp.)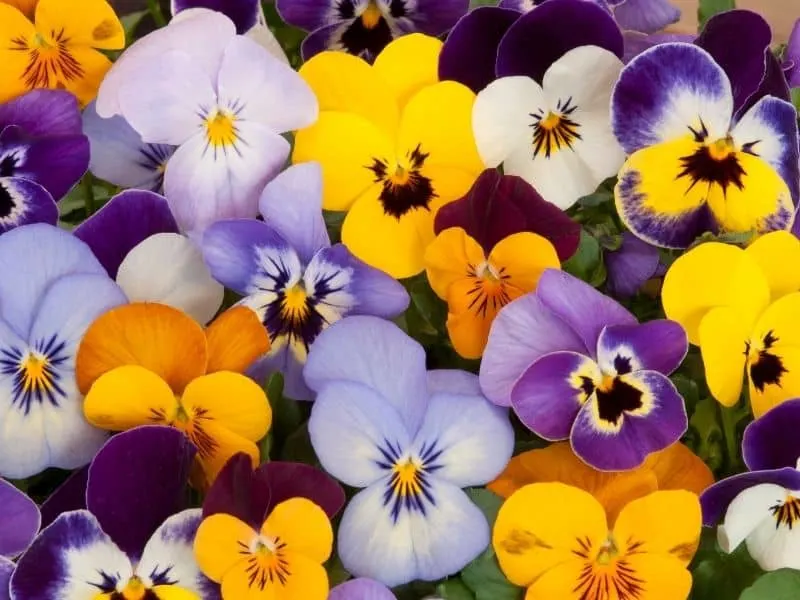 These colorful annuals are classics for a reason, with their cheerful, frilly faces decorating yards in both spring and fall.
Pansies will bloom happily in just about any growing zone and can be used in a range of applications, including lining borders, filling out flower beds, and growing in containers. Plus, the flowers are edible and make a fun addition to salads or even desserts!
Pansies thrive in full to part sun. When soil temperatures remain between 45 and 65 F throughout the winter, fall-planted pansies will continue to flower until spring.
2. Passionflower (Passiflora sp.)
The unique blossom of the tropical passionflower vine typically features five sepals and five petals fanned out to frame the corona, a fringe of threadlike outgrowths surrounding five stamens, and an ovary with three spreading styles. Depending on the species, the color can range from white or yellow to deep purple.
Surprisingly easy to grow, passionflower prefers well-draining soil and full sun. Once established, it will tolerate drought, and some species can thrive in light shade.
3. Petunia (Petunia sp.)
Plant mounding petunias in a bed for mountains of color, tuck rambling types in open spaces to act as a vibrant groundcover, or allow trailing varieties to spill over the edges of hanging baskets. Available in a range of colors and growing habits, these low-maintenance, deer-resistant plants can fit in just about anywhere and bloom all summer.
Petunias aren't terribly picky about their growing conditions, but they do appreciate rich, well-draining soil and full sun.
Related: Landscaping with petunias
4. Pimpernel (Anagallis sp.)
Native mostly to western Europe, this small herb typically grows low to the ground with red, pink, or blue flowers ranging from bell-shaped to almost flat. Unfortunately, some species have become invasive in North America, so check with your local extension office before planting.
An easygoing plant, pimpernel prefers full sun but tolerates a variety of soil types.
Perennial Flowers that Start with P
5. Pasque flower (Pulsatilla vulgaris)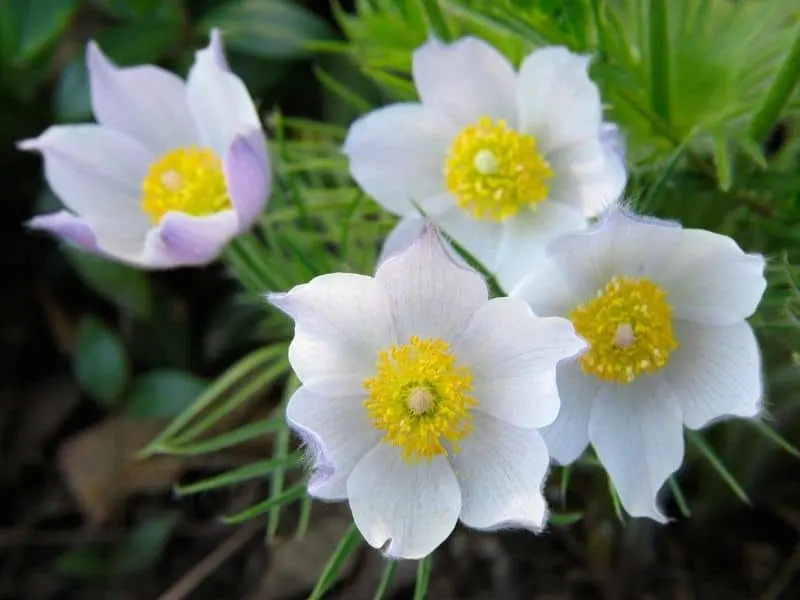 This early spring flower begins to bloom even before its feathery foliage has completely unfurled. Fun pom-pom seed heads follow the blue, red, or white blossoms of pasque flower, and the silvery leaves continue to provide interest until they succumb to the late summer heat.
Plant pasque flower in full to part sun and well-draining soil.
6. Penstemon (Penstemon sp.)
From tiny alpine penstemons to five-foot prairie penstemons and from white or yellow to vibrant red or blue, this North American native fits just about anywhere. All species of penstemon feature airy spires of tubular flowers that attract hummingbirds and butterflies.
Being hardy plants, most penstemons will thrive in poor, well-draining soil and full sun. They self-sow and make excellent cottage garden flowers.
7. Peony (Paeonia sp.)
The herbaceous garden peony emerges much like fingers of asparagus in the spring, growing quickly to become what appears to be a small shrub before bursting forth with its large, showy, fragrant blossoms.
Other types include the tree peony, intersectional (or Itoh) peony, and rock garden (or fern leaf) peony, all available in a range of colors.
Peonies thrive in well-draining soil and full sun but will tolerate some shade.
8. Periwinkle (Vinca sp.)
A vigorous spreader, periwinkle serves as an excellent groundcover with glossy evergreen leaves and blue, purple, or white flowers that bloom from spring into fall. Periwinkle can easily take over the garden in milder climates, so keep an eye on it and give it a good trim occasionally. And if the damage is already done, here's how to get rid of periwinkle.
These hardy plants thrive in almost any condition but prefer rich, evenly moist soil and partial shade.
9. Phlox (Phlox sp.)
From low-growing creeping phlox with its carpet of bright flowers to towering meadow phlox with large panicles of fragrant blossoms, this North American genus has a species for every garden. Phlox produces a bounty of summer blooms in shades of pink, red, purple, and white. Annual varieties are also available.
Plant phlox in a sunny location, like a border or rock garden, and provide with even moisture.
10. Pincushion flower (Scabiosa sp.)
Named for its blossoms, which resemble ruffled pincushions, pincushion flower blooms from spring until frost for continuous color in the garden or a reliable source of cut flowers. The varying species come in pink, purple, blue, and white and grow from six inches to three feet tall.
Pincushion flower is fairly drought tolerant and requires well-draining soil. Though it prefers full sun, it may tolerate light shade in the hot summers of southern areas.
11. Plantain lily (Hosta sp.)
More commonly known by its genus, hosta, this popular shade plant features attractive foliage that nearly outshines its tall stalks of white or purple, delicate flowers. Perfect for a woodland garden, shady border, or around the base of a tree, plantain lilies thrive in dappled to full shade, depending on the variety.
Besides shade, plantain lilies also need moist, rich, well-draining soil.
12. Poppy (Papaver sp.)
An excellent choice for wildflower meadows or cottage gardens, poppies are known for their bright red or orange, papery petals surrounding startling dark centers, though some varieties come in other hues. Most species bloom in the spring or early summer for a couple of weeks, often dying back in the heat of summer after reseeding.
Plant poppies in full sun and light, sandy soil.
13. Primrose (Primula sp.)
Primrose offers more than 400 species of cheerful flowers that bloom in early spring, and the clusters of blossoms come in a variety of hues, shapes, and sizes. Though technically a perennial, primrose will, unfortunately, burn up in hot, dry summers, causing it to often act like an annual.
Most primroses require consistently moist, but never wet, well-draining soil, but their sunlight requirements vary.
14. Protea (Protea cynaroides)
The large, spiky flowers of protea are both unusual and difficult to grow, though they're worth the effort. Native to Australia and South Africa, protea requires full sun, heat, and very well-draining soil. In fact, it will likely thrive in that dry, rocky corner of your garden where nothing else seems to grow, especially if the soil there is slightly acidic.
Protea flowers, when picked at full bloom, dry remarkably well for use in arrangements and wreaths.
I hope you have enjoyed browsing through these pretty flowers that start with P! Which ones will find a home in your garden?