While there's no doubt that the mere sight of sunshine-yellow Daffodil blooms is pure joy, their decaying foliage is an eye-sore that necessitates beautiful companion plants.
Companion plants for Daffodils include hyacinth, tulips, muscari, bluebells, iris, crocus, alliums, Virginia bluebells, forget-me-not, pasque flower, hellebore, rhododendron, brunnera, roses, amsonia, peonies, coral bells, echinacea, catmint, lilies, astilbe, hostas, and Japanese sedge.

Although it may appear as if you can simply pair Daffodils with any other plant, that is not the case as there are several important factors to consider.
The yellow flowers of narcissus, mix well with purple blooms, white flowers, and other spring blooming bulbs such as alliums, tulips, and Muscari, to create a great spring landscape. Add a few miniature daffodils to your mixture, and if you find them, add some pink daffodils (Amazon has pink daffodil seeds here). When planting spring bulbs, make sure you use a bulb planter to save your back.
So, here's what to do if you want to produce a spectacular spring garden!
Love daffodils? Here are some free printable daffodils coloring pages.
Daffodil Companion Planting Benefits
Companion planting has numerous great benefits as it maximizes your garden's space, enhances its beauty, promotes growth, and creates a variety of blooms at different times of the year.
Daffodils are a great addition to any garden as they provide an abundance of sunny-hued blooms in early spring for about six weeks when other flowering perennials and shrubs are yet to flower.
Also, their toxic bulbs deter pests like insects and rodents from destroying your garden, including rabbits and roaming deer.
However, their golden-yellow blooms eventually die back, and the bulbs start feeding on the plant's remaining green foliage in preparation for its dormant phase until the foliage turns an unsightly yellow mess which necessitates the need for companion plants. Here's what to do with daffodil leaves after they bloom.
The Best Daffodil Companion Plants
While there are many excellent companion plants for daffodils you can choose from, it's important to do a little planning in advance and decide whether you want an abundance of contrasting colors each spring or a sea of yellow blooms.
Other considerations include summertime annuals and perennials, including non-blooming plants that will provide lush contrasting foliage to make your flowers truly stand out.
So, without further ado, let's look at fabulous Daffodil companion plants to create your dream garden.
Spring-time daffodil companion plants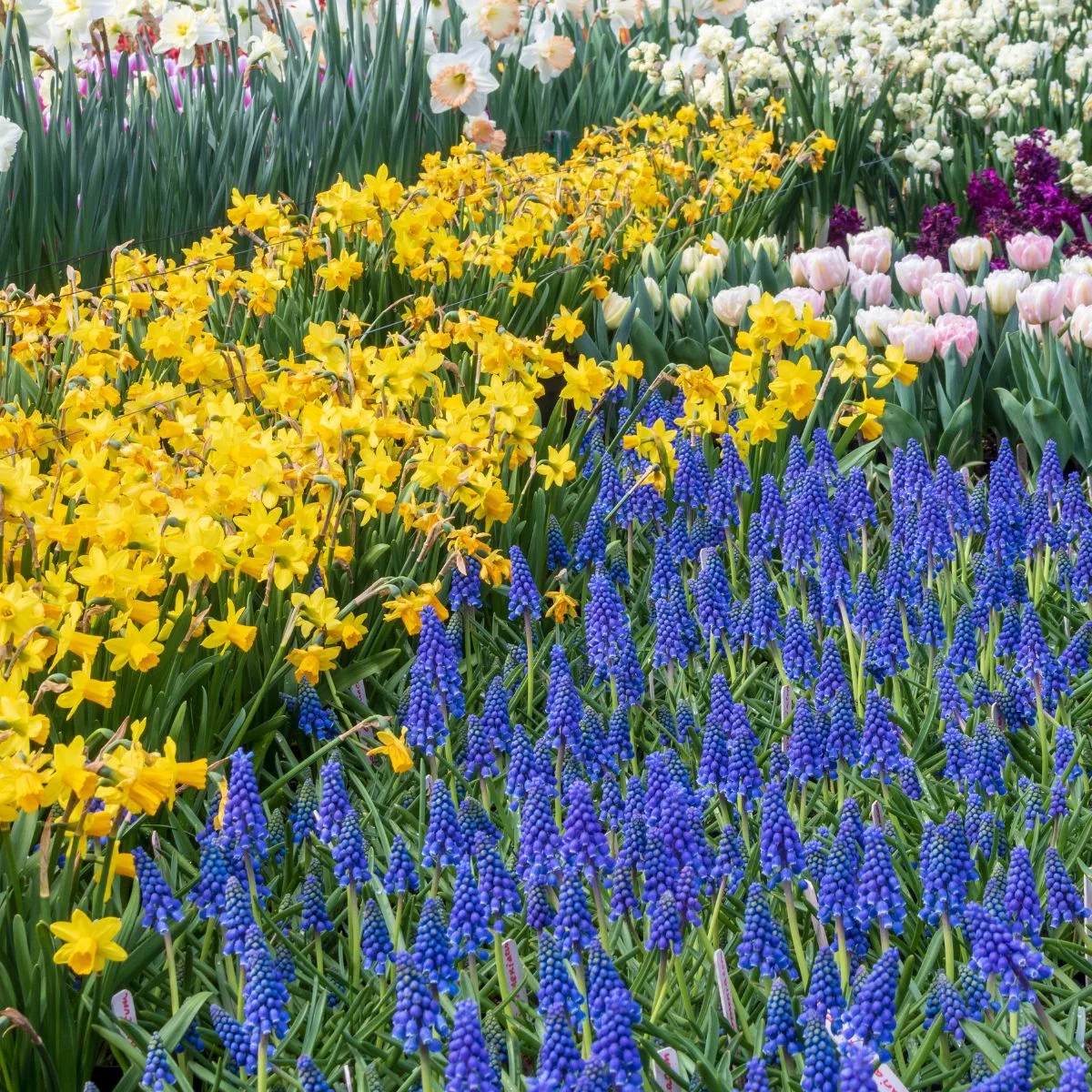 Consider planting the following spectacular plants with your Daffodils as they create a splendid array of contrasting colors each spring:
Tulips
Grape Hyacinth
Muscari
Bluebells
Iris
Crocus
Allium
Virginia bluebells
Forget-me-not
Pasque flower
Hellebore
Rhododendron
Brunnera
If you love a mass of flowers in different shades of yellow, here are a few to plant with your daffodils:
Daylilies
Black-eyed Susan
Ligularia
Coreopsis Primrose
The following plants bloom later in spring, so ensure that they are planted approximately 3-6 inches away from your daffodils:
Roses
Amsonia
Peonies
Coral Bells
Echinacea
Catmint
Lilies
Astilbe
The beauty of pairing springtime flowering plants with later blooming plants is that they will be budding and leafing while the daffodils are in full bloom and then cover up their wilting foliage when their flowering season is over later in spring.
Annual daffodil companion plants for summer
Lantana Camara is a spectacular tropical shrub that produces a variety of rainbow-colored blooms in purple, orange, white, red, and yellow, potentially simultaneously, each summer from July and well into autumn.
While this gorgeous shrub is sensitive to frost and is mostly cultivated as an annual plant, it can also be perennial if you reside in either a 10 or 11 US zone.
It's an ideal daffodil companion plant as it grows 3-4 feet tall and up to 3 feet wide, so it will easily cover any decaying daffodil foliage, and it is a hardy plant that does not require a lot of watering, so your daffodil bulbs won't rot during their dormant phase.
However, if you live in a completely frost-free area for the duration of the year, be mindful of the fact that lantanas tend to dominate other plants, and can be an invasive species, so they need to be kept in check.
Another great option is the zonal geranium or the Pelargonium x hortorum, a hardy tropical shrub that produces big clusters of gorgeous blooms in shades of red, purple, pink, white, or orange during summer.
Like the previously mentioned lantana, this drought-tolerant plant is cultivated as an annual plant species in frost-prone regions and as a perennial plant species in warmer climates, and it thrives in either full sun or partially shaded areas.
Perennial daffodil companion plants
Amsonia, Blue Ice (Blue Star) is a hardy companion plant for daffodils and can thrive in colder USDA zones ranging from 4-9. They produce gorgeous clumps of vividly blue flowers once the daffodil blooms have faded away.
Blue Ice can grow up to 1 and a half feet in length and width, so it can easily hide unsightly narcissus foliage, and its leaves are airy enough to let daffodils produce blooms each spring, so it's a fuss-free companion plant for years to come.
More importantly, its foliage turns an attractive golden color in the fall, so it's an aesthetically pleasing companion plant from spring to fall.
This gorgeous plant should ideally be planted in a sunny or partially shaded area in well-draining, fertile soil.
Another great perennial narcissus companion plant for colder climates is the Aruncus dioicus, commonly known as "Goats Beard," which can reach a height of 6 feet or 4 feet wide and produces nodding white-hued trails of flowers.
Goat's Beard, which should be planted in a partially shaded area, flowers from April to May and may overlap with late blooming Daffodils. Plant goat's beard behind jonquils as it is a large plant. Its white, eye-catching trailing flowers will take the focus away from decaying daffodil foliage.
Leafy companions for Narcissus
If you want a bit of greenery that will showcase pretty jonquils consider hostas, which feature stunning vividly green, heart-shaped broad foliage with snowy white edges, or darker blue-green leaves.
Their stunning leaves unfurl each spring when most spring flowers start dying, and these hardy plants thrive in USDA zones 3-9, even in full shade.
Another striking companion plant is the Carex morrowii, or the Ice Dance as it is commonly known, which features elongated dark green ornamental grass foliage with white-hued margins that droop elegantly over decaying Daffodil foliage in a heavily shaded garden area in USDA zones 5-9.
How To Plant Flowers On Top Of Daffodil Bulbs
If you have an established garden and are wondering whether you can plant other flowers above your Daffodils, the answer is yes, if you tread cautiously.
Spring flowers normally have bigger-sized bulbs, which are planted deeper in the soil. So, if you are careful, you can plant smaller annual plants around them or even on top of them. Just make sure that you don't accidentally dig too deeply, and damage the spring garden bulbs
Most importantly, consider your companion plants blooming periods so you can continuously have a spectacular array of showstopping, rainbow-colored flowers well into summer each year.
With so many gorgeous companion plants for Daffodils to choose from, deciding on only a few can be daunting. However, with a little planning and research, you can create an effortlessly magnificent garden for many seasons to come.
Adriana Copaceanu is a passionate nature lover living in the country on her dream property where she grows vegetables, lavender, and wildflowers that she shares with the wildlife they attract. When she's not in the garden, she loves spending time with her chickens and planning her next nature project.