Gardening is an amazing way to relax after a stressful day at work, but some of us don't have enough space for a garden. If you've been wishing for a garden of your own, and wondering where you'll be able to fit it in, you'll love today's idea for a backyard fence garden.
Last week, while scrolling through one of the gardening groups I visit on Facebook for inspiration, I came across pictures of an amazing vertical garden fueled by a hydroponic ebb and flow system, and let me tell, you: I've never seen such a lush, colorful and relaxing garden. Anyway, to make a long story short, I asked the poster (his name was Xela) if I could share his setup with my blog readers, and he gave me permission.
You are in for a real treat as you look at these gorgeous pictures from his vertical fence garden.
Reasons You Should Try A Backyard Fence Garden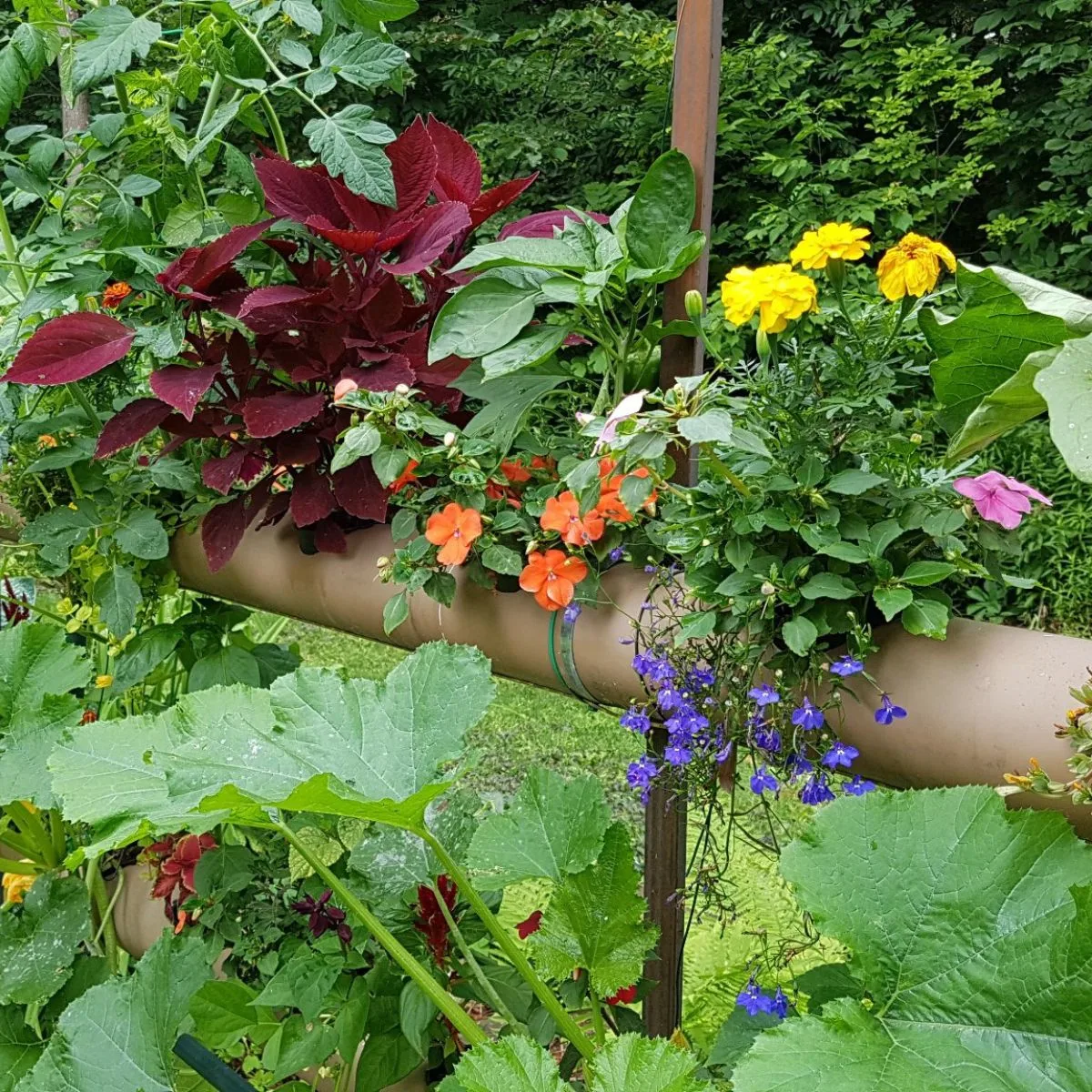 There are many reasons to try one of these outdoor vertical hydroponic gardens:
you have a small backyard and not enough room for a classic garden
want to create a living wall that not only provides food for you but also attracts pollinators
add beauty and color to a boring backyard
create a peaceful space for your family and friends to gather, relax and enjoy time together
This setup saves on water if resources are low as the water drains back into the reservoir for reuse again at the next watering cycle. You only have to top up once or twice a week depending on temperatures.
Xela's Hydroponic Fence Garden
Let's take a look at Xela's garden from the beginning.
Setting up the structure for a vertical garden
He started with a few sturdy poles and many feet of 4″ PVC pipes, where he cut out 3″ holes for his pots. Since it's a hydroponic garden, there's no soil involved: just water with the right amount of nutrients that gets pumped into the pipes and then drained back into a reservoir to be reused for the next watering cycle.
The pump is on 5 to 8 minutes once every hour during the day and is off at night. So on average just a little over 1 and 1/2 hours of running the pump during daylight hours. The system Xela uses is off-grid, running on solar power (battery) so it doesn't use household electricity.

This type of hydroponics is called ebb and flow, or flood and drain. Read more about the ebb and flow hydroponic system here.

Transfer of plants & vegetables
Once the structure and the hydroponic system are set up, it's time to add the plants. You can grow your plants from seed (you'll need to start a couple of months ahead of the planting time), or buy plants from your local nursery.
All the plants are placed in individual net pots that are filled with clay pellets which are then placed into cut holes in the pipes.
What plants can you add to this living wall? Pretty much anything you want: you'll just need to support some of the larger plants, so they stay on your wall and don't slide down and get destroyed. To do this, run some guide wires above your plants so you have a support area to secure your plants.
Here are some plants you'll see in Xela's garden:
several types of coleus
marigolds
impatient flowers
lobelia
dahlias
green beans
zucchini
pumpkin
cucumbers
peppers (bell and jalapenos)
tomatoes
sweet potato vines
ferns
and many more
Here's a list of the best hydroponic vegetables to grow.
The hard part of the setup is now over and time to just sit back and watch it grow. No weeding or watering every day: you only have to check the reservoir once or twice a week and add nutrients at the same time when topping up the reservoir).
Plants have a cute little visitor to the backyard fence garden!
More pictures from Xela's living wall
Xela practices companion planting to prevent pests and for a pleasing garden design.
What a gorgeous show of color! The green tomatoes next to the burgundy of the coleus make a huge statement. And the red ripe tomatoes feel at home amongst their colorful friends.
The mixture of colors and shapes in this garden snapshot is incredible! From bright yellow and orange marigolds to deep red coleus and white button dahlias, and the hanging greenery, there's so much to enjoy! And I love that he added a hummingbird feeder.
Plump green tomatoes and bright-colored green, cream, and pink coleus are a delight!
Some of these jalapenos are ready to pick and enjoy in a homemade hot sauce or salsa 🙂
Yum! Almost ready to pick and make my favorite crispy fried spiralized zucchini!
You can find Xela and more of his STUNNING garden pictures in his Inspirational Backyard Gardening Facebook Group.
Happy gardening!