Leeks are one of the few vegetables that can be harvested all the way through the winter, making it not only versatile, but valuable too. Here's how to grow leeks you can enjoy practically all year long.
Leeks are very easy to grow, and since they are a member of the allium family they can be used as a substitute for onions in many recipes.
How To Grow Leeks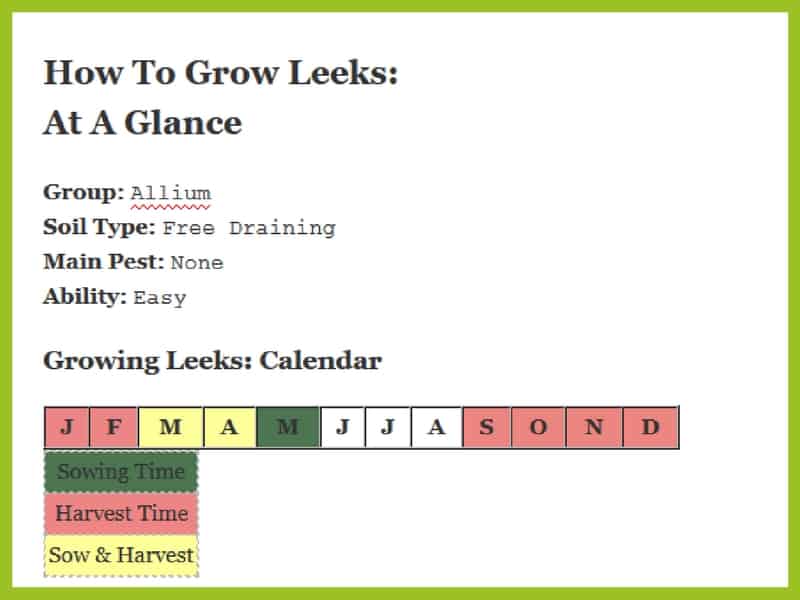 Prepare the soil for planting leeks
Leeks do not require much in the way of soil nutrition so manuring this part of the vegetable garden is not really worthwhile. It's best to dig the leek bed and add some garden compost and leaf mold. Adding some humus will assist drainage. They also like a dressing of Fish, Blood and Bone fertilizer.
How to grow leeks from seed
David's Garden Seeds Leek American Flag DSVLEE111 (White) 200 Heirloom Seeds
CERTIFIED ORGANIC SEEDS (Appr. 125) – Alto Leek – Leek Seeds, Open Pollinated – Non GMO, Non Hybrid Vegetable Seeds – USA
Leek Seeds – American Flag – Heirloom – Liliana's Garden
Sowing leeks couldn't be easier. Simply scatter some seeds in a 6″ pot filled with general purpose compost, water and keep under glass, either in the greenhouse or on a warm windowsill. Sow seeds in March to give the leeks a good start, but even May sown leeks will do well.
Below is a rare type of leek called Bleu De Solaise.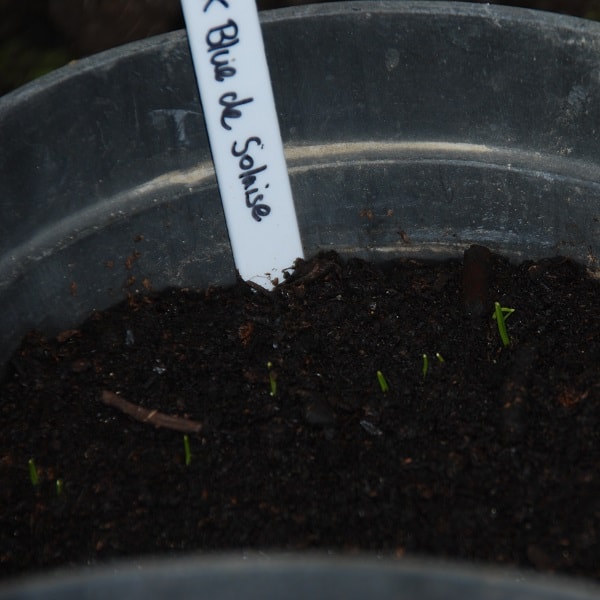 Once the leeks have nearly reached the thickness of a pencil, usually in June, prepare them for planting in your chosen bed by hardening them off. Do this by putting them outside during the day for a few days.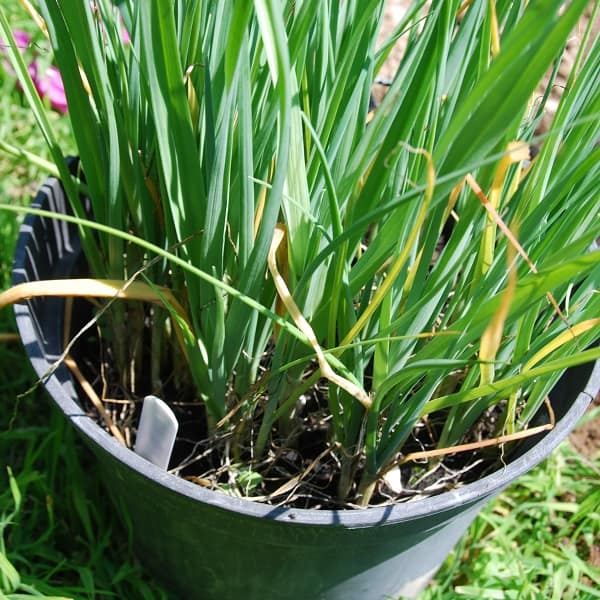 To separate each leek seedling you might find it helpful to soak the roots in water to untangle them. Use a bucket of water to help untangle roots.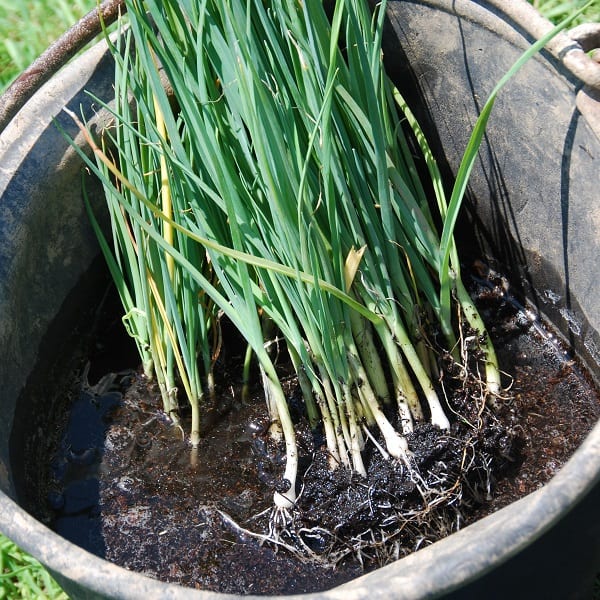 Separate each baby leek to plant out in the garden.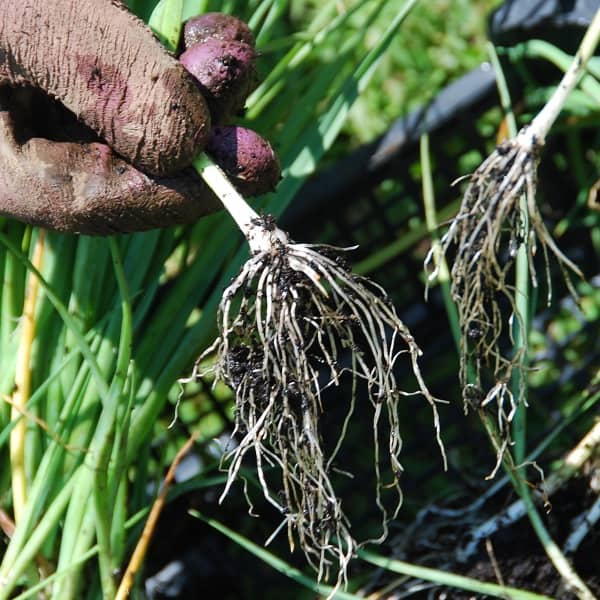 Some books will tell you to trim the leek root and stem, but I'd rather not. your choice.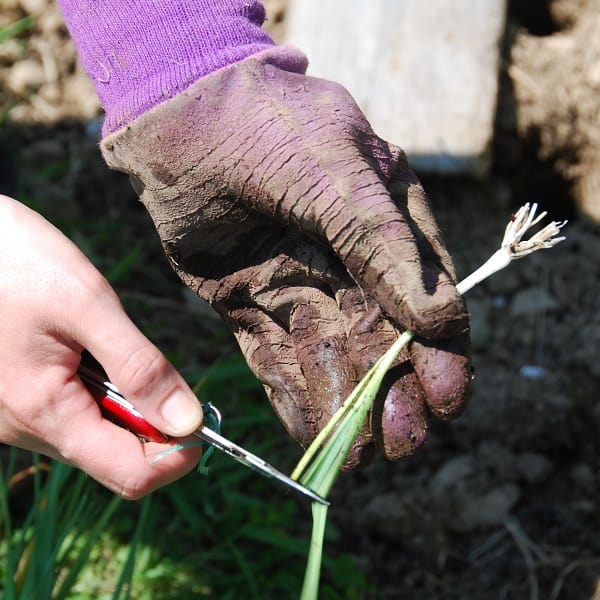 To plant the leeks outside once you separates the plants dig some holes 6″ deep and space leeks about 6″ apart. You can dig these holes with the handle of an old spade.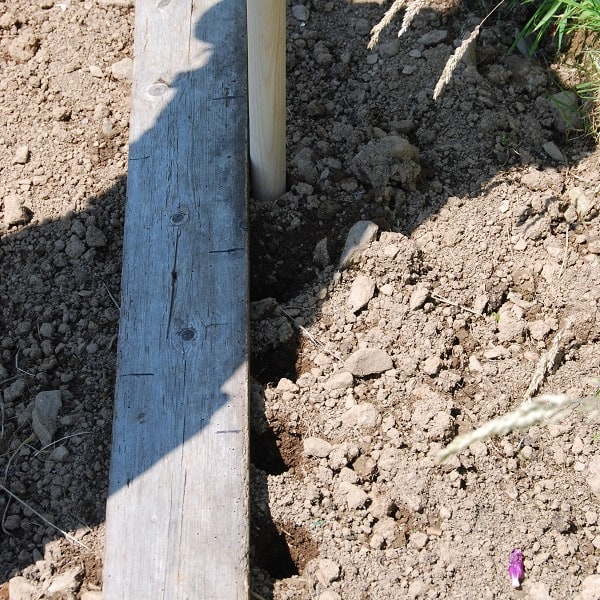 Do not fill hole with soil, just water them in.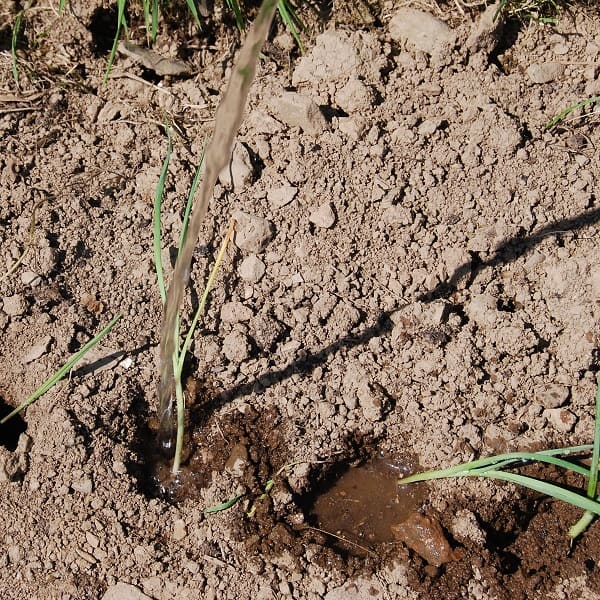 Tips for growing leeks
The secret to growing great leeks is keeping them weed free, as weeds will seriously stunt their growth. Unfortunately the only way to weed leeks is by hand as a hoe will cause more damage than the weeds.
If you are planting a lot of leeks, to help with weeding leave a larger gap every 4 to 6 rows so that you have somewhere to kneel down and get between the plants.
Make sure to water your leeks in dry periods.
The white part near the root of the leek is caused by blanching, and the more of the plant that is out of the sun, the larger the blanched part.
To achieve this some growers will draw up soil around the leeks as they grow, but if you are not careful you can easily get soil in the leaf tops which will end up being incorporated in the leek itself.
Another way of blanching would be wrapping the leek in a cardboard sleeve. A toilet roll cut length-ways held on with an elastic band works well 😉
Leek pests and diseases
Leeks are pretty much problem free, although one time we got our leeks trimmed right down to the ground by a rabbit. Mind you, this did not cause any loses as the leeks continued to grow.
Another possible problem is rust, which again is rare. If you are unlucky enough to get an outbreak of rust then unfortunately there is no cure, and you will need to buy a rust resistant variety next time around.
How to harvest leeks
Harvesting leeks can be done starting in September. Lifting leeks is easier if you lever them up with a fork. They are available right the way through the winter, although they can be difficult to harvest if the ground is frozen.
If you are expecting a cold snap, lift a dozen or so leeks and place them upright in one lightly filled hole, they will be much easier to harvest from there.
If you have sown too many leeks and you have a lot of leek seedlings, plant them back in a pot and use them instead of spring onions.
Cooking with leeks
Leeks are extremely versatile: they can be used as a substitute for onions and they work well in Asian cooking, in soups, and in more traditional dishes.
For the Welsh, the leek is the nations favorite, and St Davids Day would not be the same without the aroma of a Leek. It is a staple of the national soup called Cawl, and not many winter stews would make it to the table without a good helping of sliced leeks.
One all time favorite way to serve them is braised. Just soften the leeks in butter, add a dash of wine and reduce, then add cream and some grated cheese and bake in the oven.
Other ideas to use leeks would be Leek and Potato Soup (this is my favorite), Chicken and Leek Pie and of course Cock a Leekie.