Tomatoes love the summer heat! And if you planted a bit more than you can consume, you might wonder what to do with too many tomatoes.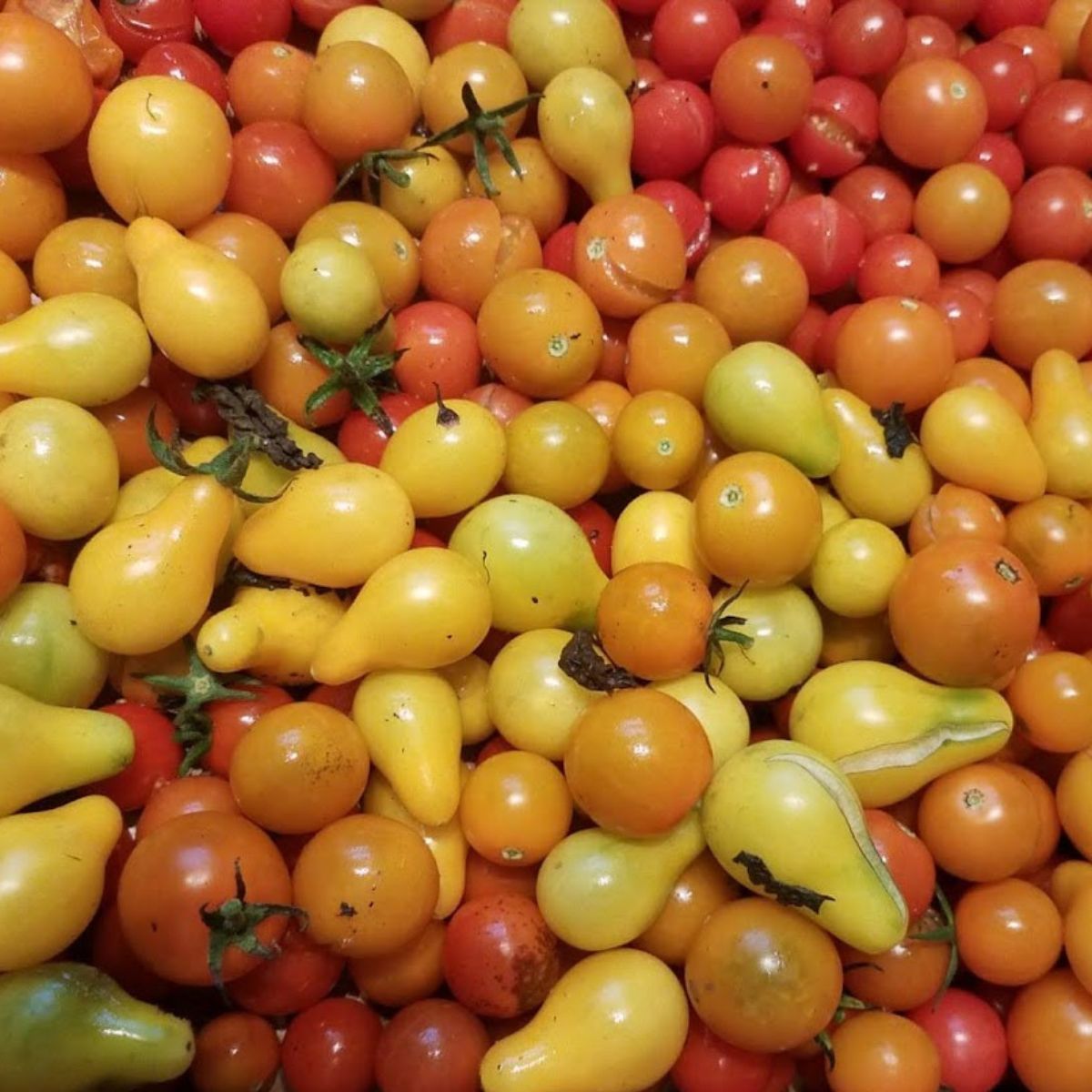 It's not hard to be overwhelmed with too many tomatoes this time of the year, especially if you planted more than you need. Ask me how I know 😉
We can never make up our minds about which tomatoes to get each year, and end up with way too many ripe tomatoes at once, almost every year. We got a few each of the following types of tomatoes:
sweet 100 cherry tomatoes (my all-time favorites)
Sungold (my new favorites: YUM!)
yellow pear-shaped tomatoes
beefsteak tomatoes
Mr. Stripey heirloom tomatoes
Roma tomatoes
plum tomatoes
mortgage lifter
several heirloom tomatoes: some yellow, some orange, and some striped (I love all of these because they have less acidity)
So come August, the tomato plants are heavy with fruit. When all of the green tomatoes are ripening, there are enough tomatoes to feed an army, so way too many for the 2 of us to eat them all.
But no worries: there are so many ways to prepare tomatoes, and what we can't eat now, we'll preserve for later.
20 Ways To Use Your Bumper Crop Of Too Many Tomatoes
Below you'll find many ways to use your ripe tomatoes. But what if you have a lot of green ones at the end of the season? Here are 19 ways to use green tomatoes.
1. Eat them fresh, straight from the vine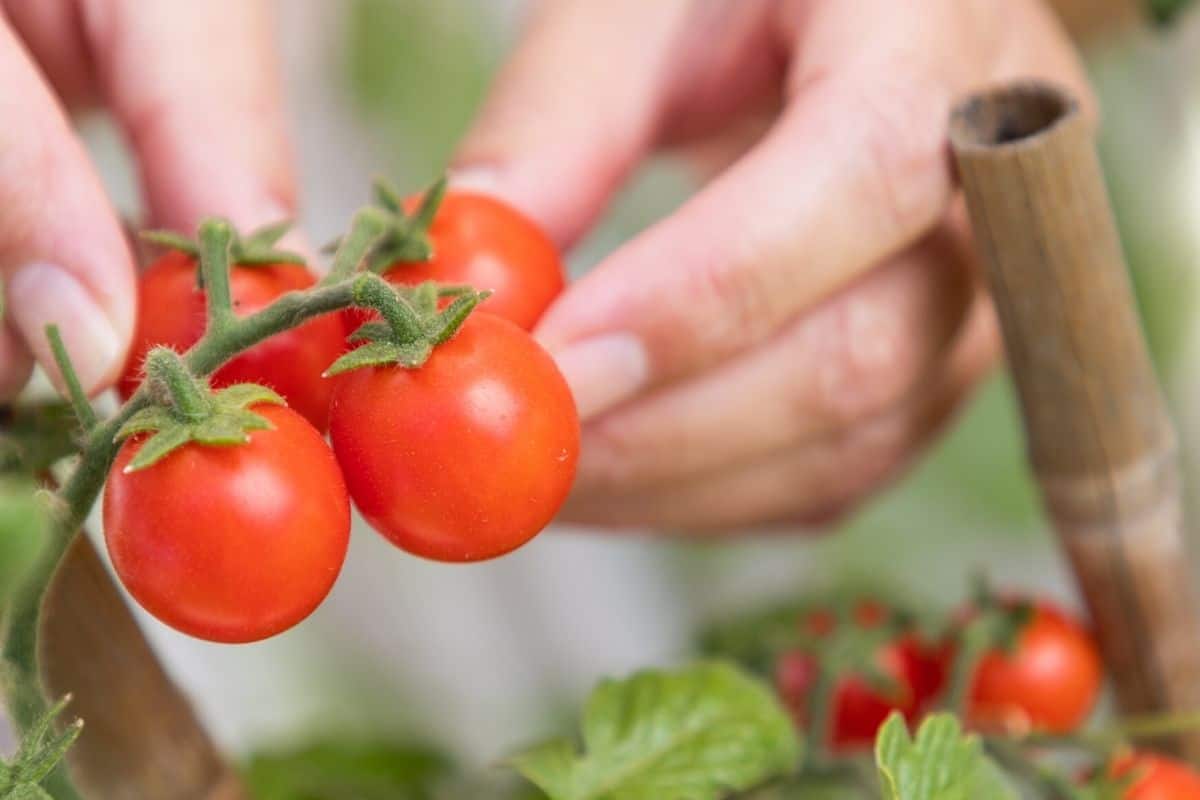 Eating fresh tomatoes straight from the vine is the best: sweet, juicy, and warmed up by the sun is one of my favorite ways to eat tomatoes.
I love getting "nature's candy" while working in the garden: a great way to get hydrated and nourished at the same time. A nice treat!
2. Make tomato salad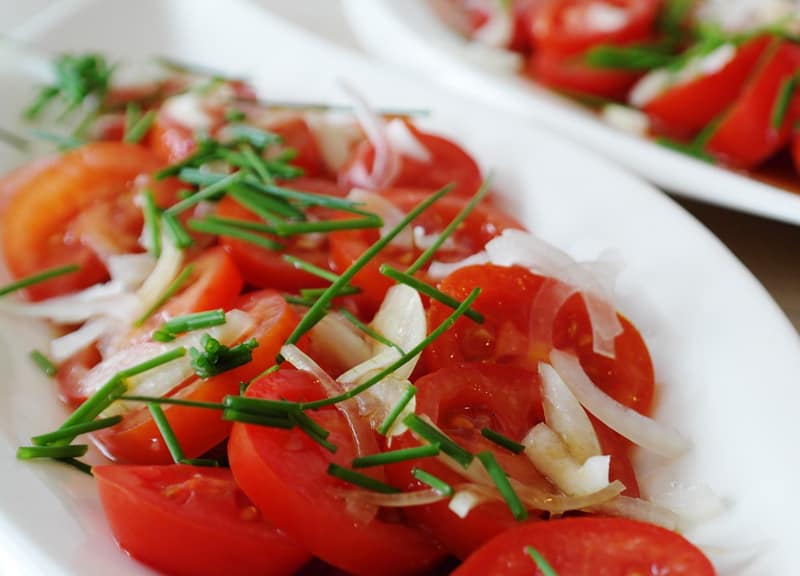 You can also make delicious salads, where you mix them up with cucumbers, onions, and some herbs. I love adding a bit of parsley and dill, but you can add other herbs too: thyme, basil, chives, or tarragon.
If you for more than one variety (and who doesn't?), mix them up for a salad that appeals to the eyes, not just your stomach.
Here's a collection of fresh tomato salad recipes you can try.
3. Tomato sandwiches are delicious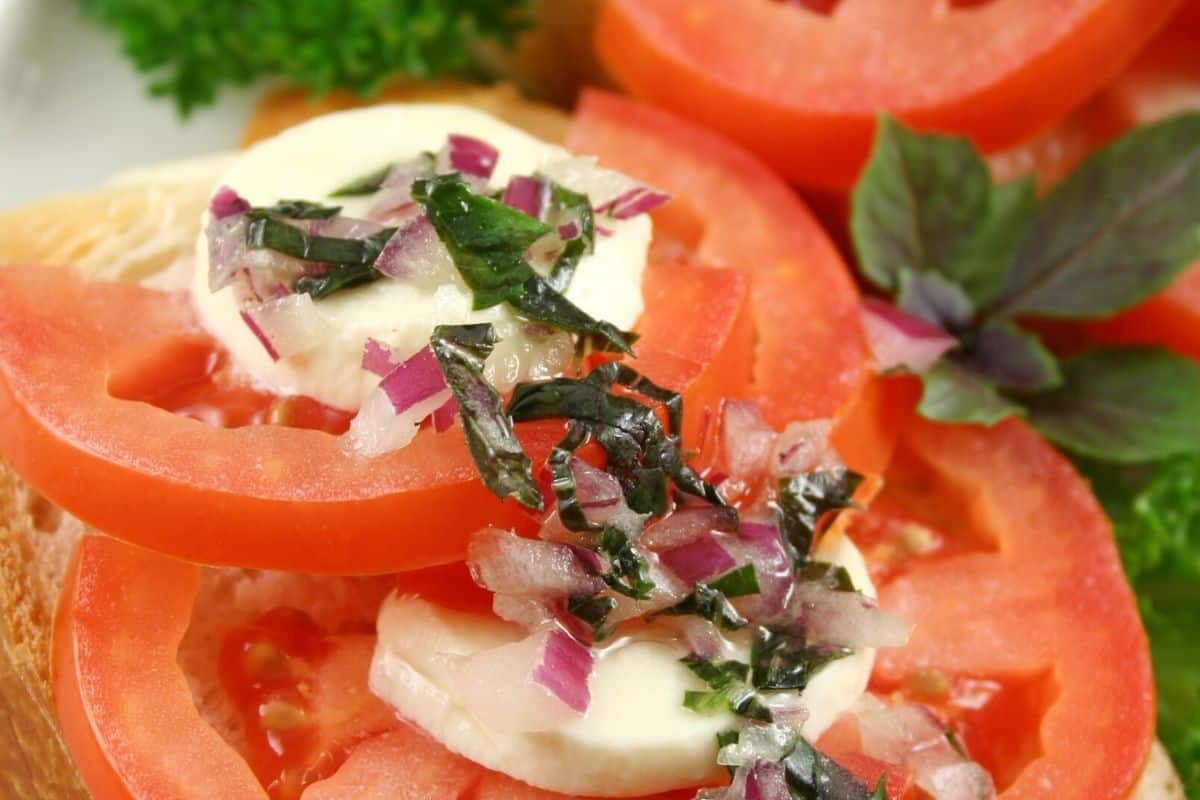 Summers are busy for us gardeners, so an easy to prepare lunch is important. Some of your meatier tomatoes are perfect for tomato sandwiches: just make sure to have some crusty bread on hand. Add some mayo, avocado, basil, and onions to your ripe tomatoes, and you got a delicious lunch in minutes.
If you like cheese, plop a slice on top of the tomato slices. Add a sunny-side-up egg too, while you're at it for a heartier meal. We raise chickens and love our organic eggs. If you'd like to get some chickens for eggs, these are the best laying hens.
4. Cook some homemade tomato soup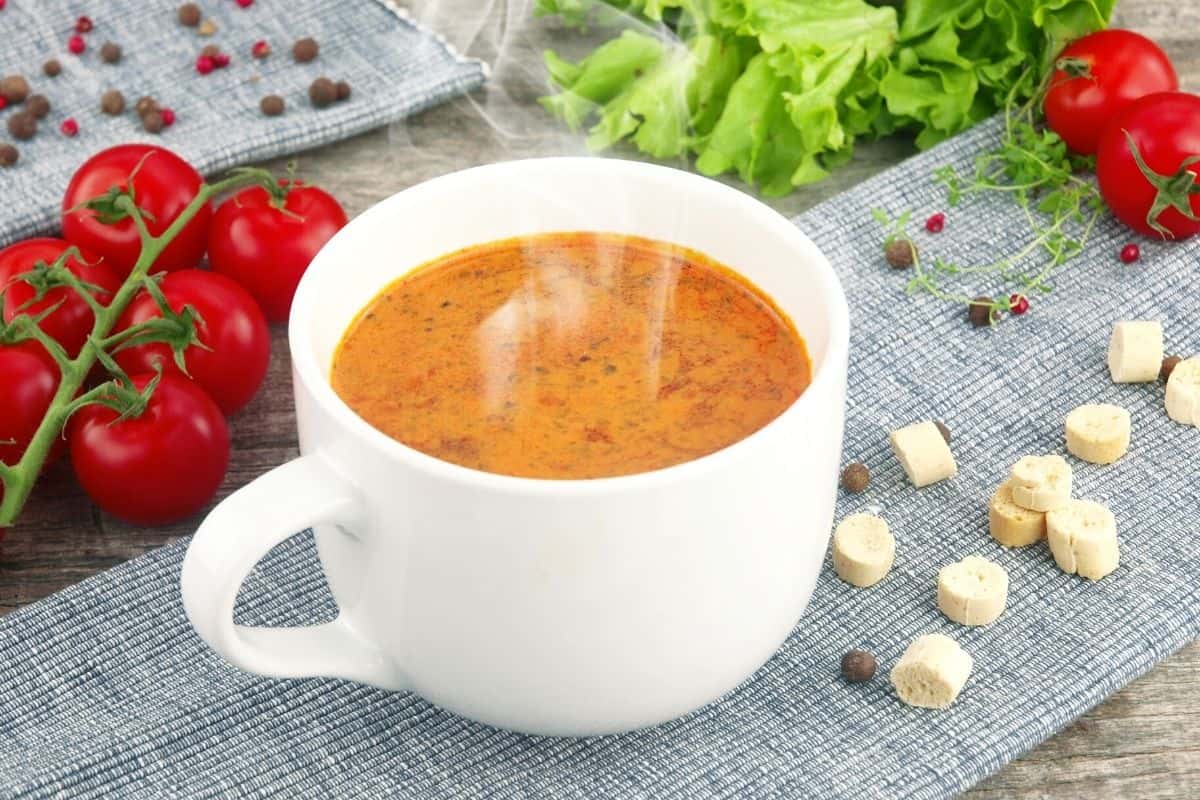 We LOVE creamy tomato soup! It's so easy to make: throw your veggies in the pot, roughly chopped, boil for about 20 minutes, and then give it a twirl in your food processor or blender: YUM!
Here are the ingredients I use:
tomatoes
onions
carrots
parsnip (optional, but if you have it, your soup will be sweeter and nuttier)
celery
potato
garlic
green pepper (this is a must-have for a good tomato soup!)
Raw tomato soup
Have you ever had raw creamy tomato soup? If you didn't, you're really missing out. It takes literally minutes to make (about 5 minutes), and it's deliciously refreshing.
Here's how to make it:
3 to 5 tomatoes (depending on their size)
1/2 red pepper
1 medium avocado
1 clove of garlic
pinch of dried oregano and basil
salt to taste
juice of a half lemon
Wash the tomatoes and pepper, roughly chop them and add them to your blender (I love my VitaMix). Add your salt and herbs and blend for about a minute.
Core and peel the avocado, and add to the blender. Add lemon juice, and blend for another 30 seconds.
Pour it into bowls and garnish with fresh basil or basil flowers for a more elegant look, or a couple of slices of avocado if you remember to save it. Serve right away (this is not a soup you want to save for later)!
You can always put your own spin on this soup: add some hot peppers to spice it up, make it without the lemon juice, or add different herbs for a different experience.
5. Juice them
Do you buy V8 at the store? Take a break from that in the summer and make your own tomato juice. It's simple to make: just wash your tomatoes, and throw them in the blender with some celery leaves, a bit of onion, salt, pepper, and a spicy pepper (if you like spicy) and blend for 30 seconds: done!
A great refreshing drink with your lunch or in the middle of the afternoon to cool you off.
6. Make fresh salsa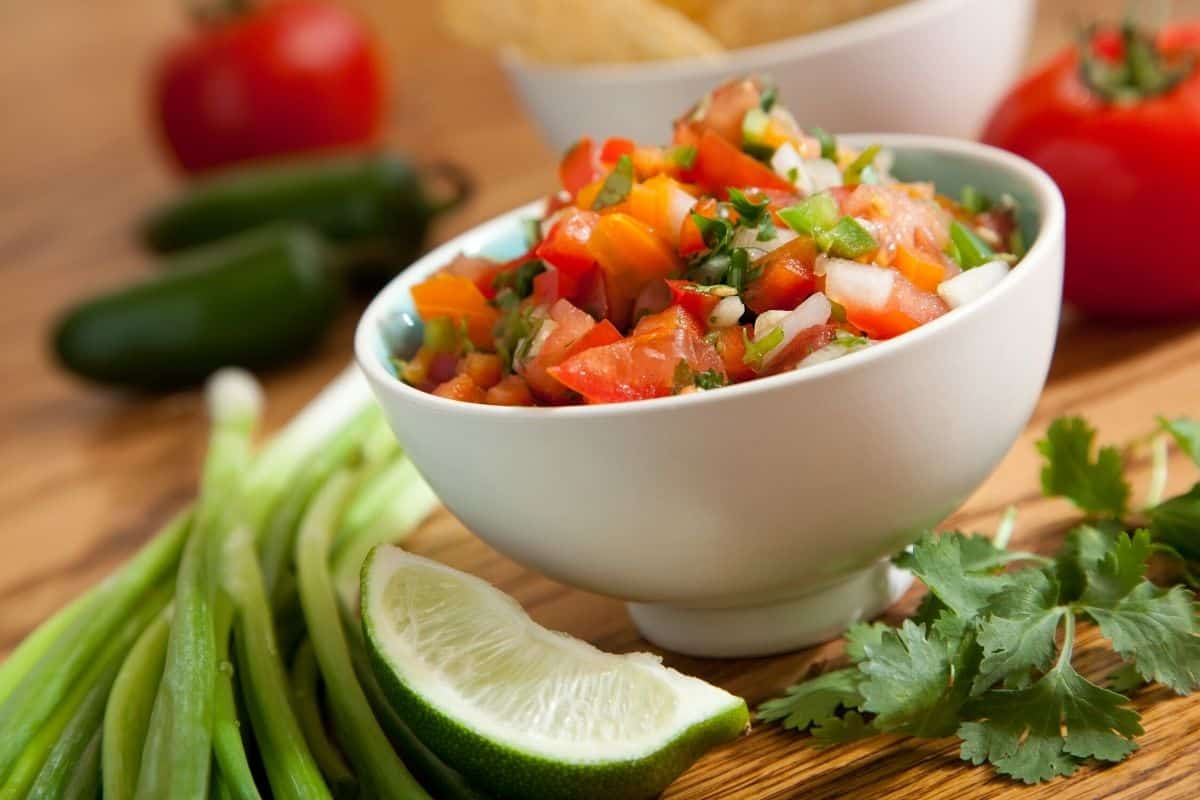 With just a few ingredients you're sure to have in your fridge or pantry, you can make a yummy fresh salsa. Eat it with chips, or on tacos. Mmmm… sounds so good!
7. Home-canned salsa
Fresh salsa is great, but so is cooked salsa. Make some and put it away for winter: you'll love it, not only with chips but also with warm homemade bread, pita, slathered on your fried eggs or baked fish, etc. Let your imagination run with it and try a few new things with your homemade salsa.
8. Make tomato sauce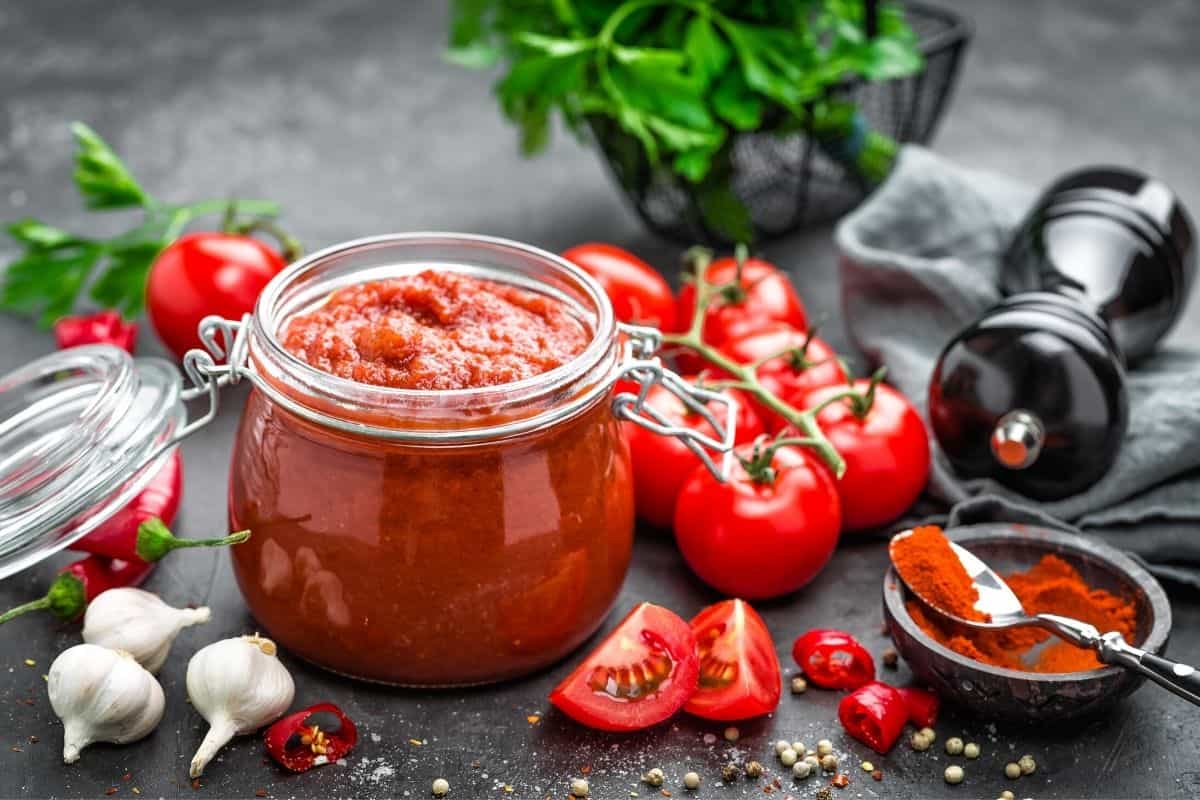 Tomato sauce is easy to make. Yes, it will take some time to cook it down, but it doesn't require too much work, especially if you get a tomato sauce machine. This machine will take the processing time down from hours to minutes, depending on the number of tomatoes you're using.
Here are some tomato sauce recipes for inspiration.
9. Homemade spaghetti sauce
Great to have on hand for those nights when time is short. This needs an afternoon to make, so plan for a weekend or an afternoon to make some for later.
And make sure you have plenty of jars (these 16 oz. ones are great!)for your sauce. Oh, and you need some lids too: get this pack of 150 and never be out again!
10. Grill them
Add some tomatoes to your grill when cooking dinner: they make a light, easy side dish with a lot of taste. Just add some olive oil, salt, pepper, and a couple of minced garlic cloves. Soo good!
11. Roast them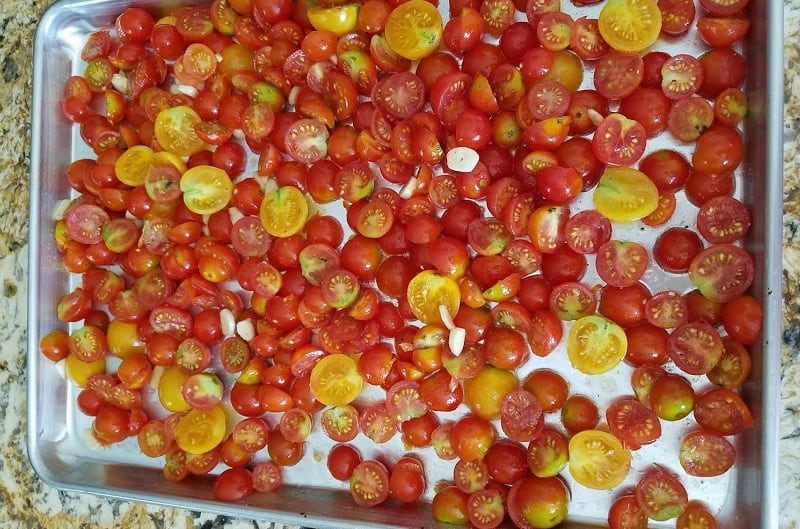 Roasted tomatoes, especially the cherry, grape, and pear-type tiny tomatoes make a really delicious side dish. I also use these roasted tomatoes to make roasted tomato soup. Just wash them, cut them in half, and arrange them in a single layer on a baking sheet with some minced garlic, kosher salt, pepper, and your favorite oil (I love avocado oil!).
I also add balsamic vinegar sometimes for a little kick.
12. Make stuffed tomatoes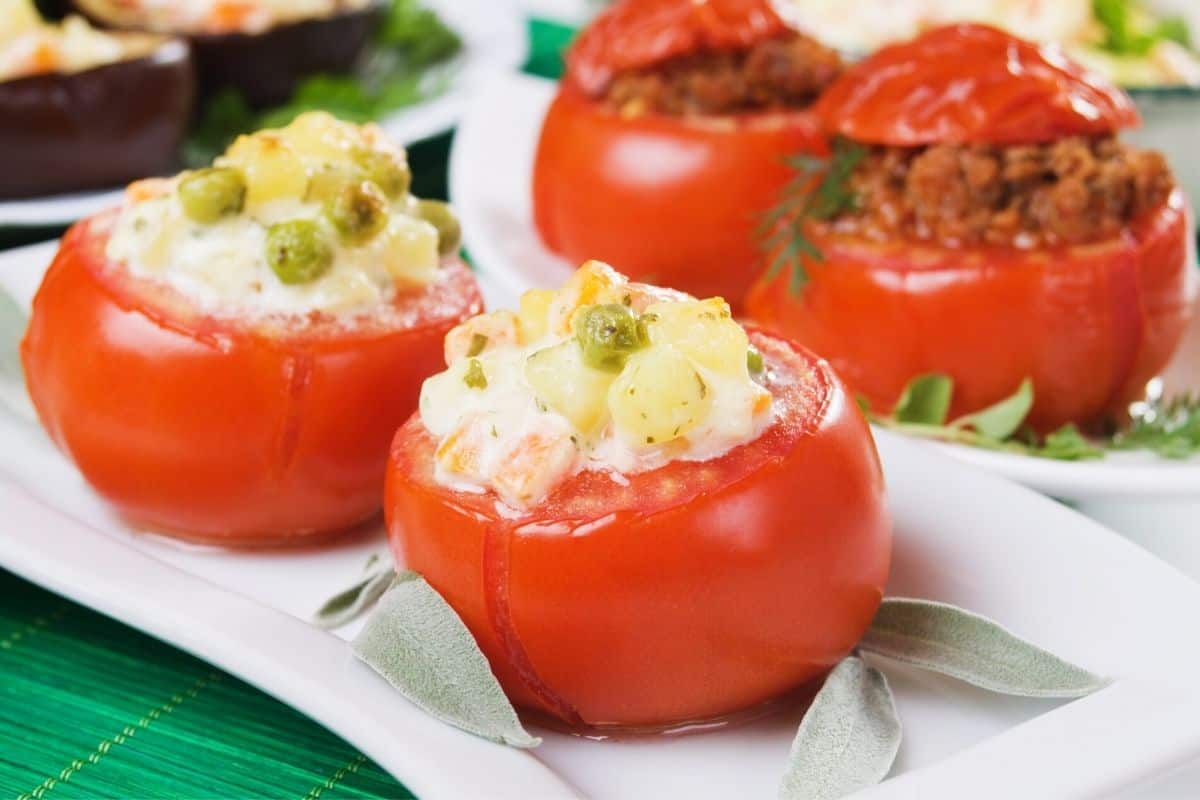 You can make stuffed tomatoes with raw tomatoes, or cook them.
For raw stuffed tomatoes, combine some thinly sliced onions with mozzarella cheese cubes, basil, sliced pitted olives, and olive oil, and fill your tomatoes.
For cooked stuffed tomatoes, fill them with a mixture of cheeses, basil, garlic, salt, pepper, and olive oil, and bake them at 425 for about 15 minutes.
Here's a stuffed tomato recipe to try.
13. Add some to homemade pizza
Homemade pizza is a family affair here. I make the dough and then everyone adds their own toppings. Tomatoes are soo good on pizza, paired with other veggies from the garden, such as red peppers, green bell peppers, red onion, fresh herbs, parmesan cheese, feta cheese, and more! Give it a try!
14. Tomato pie anyone?
I never thought of this until a few weeks ago when someone on one of the Facebook groups I frequent posted their tomato pie. It looked so good, I asked for the recipe. It's on my to-do list now.
15. Tomato tarts
Great for party appetizers, or for a family snack. Buy some puff pastry dough and make little tarts with your tomatoes. Here's an easy recipe.
16. Freeze them
Freezing tomatoes is the easiest way to preserve the fresh taste of tomatoes.
You can freeze tomatoes whole, sliced, diced, and juiced. Cherry tomatoes get washed and plopped into a freezer bag, and in the freezer they go!
My favorite way to freeze tomatoes is to clean and roughly cut them put them in my Vitamix and blend them for 5 seconds. Literally, that's all I do: just turn the blender on for a few seconds to make the tomatoes easier to fit in my containers.
Then I just pour the blended tomatoes into my freezer containers and take them to the freezer. I make the best tomato soup in the winter with these (recipe coming soon).
17. Dehydrate them
Do you buy sun-dried tomatoes? They are expensive and you can make your own by dehydrating tomatoes.
All you need to do is wash and slice them then line them up on a food dehydrator tray and let it do its job. Remove tomatoes from the dehydrator when all moisture is gone, and the tomatoes are still a bit flexible.
Pack them in a tightly sealed glass jar, and keep them in the fridge or freezer.
18. Make tomato jelly
I haven't personally tried this, but I hear so many good things about tomato jelly that it's now on my to-do list. I can't imagine how it tastes, and it seems a bit weird, but after all, tomatoes are a fruit, right?
If you make tomato jelly and have a favorite recipe, please share it below in the comments.
19. Make tomato powder
Since you have so many tomatoes, you're bound to have some tomato skin left from canning or freezing them. Don't throw those away! Instead, use them to make tomato powder. It's amazing how many ways you can use it: add to soups, sprinkle on your pizza, enhance veggie smoothies, and more.
Of course, you can make tomato powder from actual tomatoes too, not just from leftover skins.
20. Share them
If you have extra tomatoes, more than you know what to do with, share the extras with your neighbors, family, and friends. Or, take some to church, and give some to a local food bank. Spread a bit of cheer to those less fortunate if you have lots of tomatoes (and other fresh produce from your garden).
Bonus use for too many tomatoes
Did you know tomatoes are good for your skin? If you have oily skin or large pores, you might want to use a tomato mask. Don't leave the mask on too long, as tomatoes are acid and your skin might become sensitive.
But give tomatoes a try to cleanse your oily skin and nourish it.
I hope you got some ideas to your all those tomatoes your garden is producing. You can never have too many tomatoes if you know how to use them 😉
Oh, and if you handled too many tomatoes and your hands are showing it, you'll love these suggestions for cleaning stained hands.
And… while you're trying to use up all of these tomatoes, don't forget to save some tomato seeds for next season (save enough from all the tomato varieties you grew). Having your own tomato seed is much better than running after the specific types of tomatoes you want.
Tomato lovers need all the tomato kinds for a good bumper crop of tomatoes.