Creating a rose flower garden for your front yard will reward you with exceptional beauty and elegance, with its vibrant colors and fragrant scents that captivate the senses. It's no wonder that roses have captured the hearts of many gardening enthusiasts and flower lovers alike.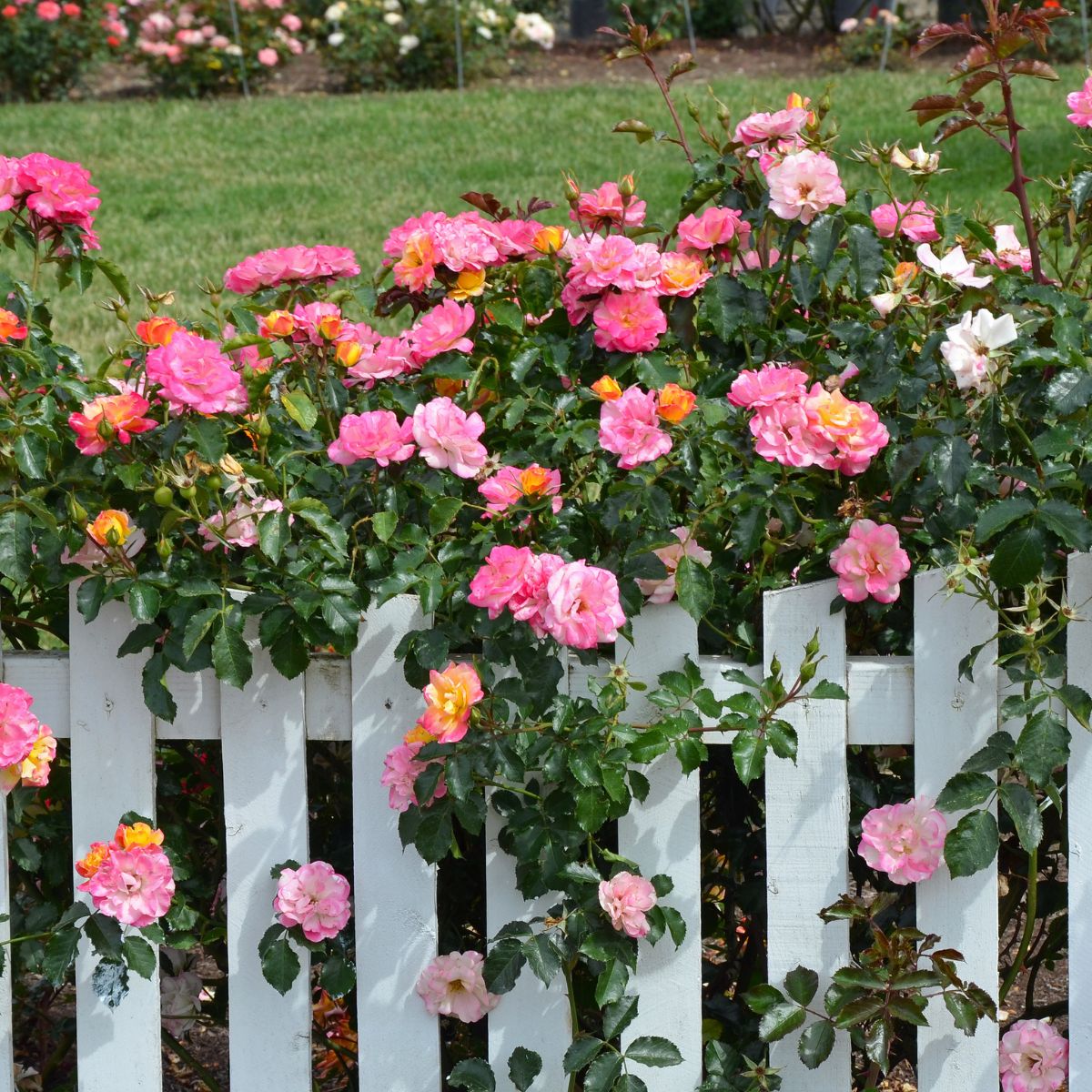 We'll look at the steps needed to create a spectacular rose garden, from choosing your roses to maintaining them throughout the season, and tips on dealing with common rose problems.
Whether you are a seasoned gardener or a beginner, a rose flower garden is an excellent addition to any outdoor space. In this article, we'll explore the joys of cultivating and maintaining a rose flower garden, and offer tips and tricks to help you create a stunning floral oasis that will leave you and your guests enchanted.
Best Rose Varieties For The Garden
Roses are renowned for their ravishing reds and soothing scents. Hundreds of varieties exist, from classic rose bushes to double roses with velvety petals. Every variety offers its own aesthetic appeal, making it a popular choice for gardeners looking to create an unforgettable flower garden.
The best way to start is by selecting the right type of roses for your climate and environment, taking into account not only the size and color of the flowers you want, but also how much sun or shade those plants will need, soil requirements, moisture levels, and other factors that can affect growth like fertilizing and disease prevention.
Here are some favorites:
1. Knock out roses
These roses are low maintenance, disease resistant, and bloom all season.
2. Hybrid tea roses
Featuring large, showy blooms that are often used as cut flowers, hybrid tea roses come in a wide range of colors and are a great choice for formal gardens. I LOVE the color of the above rose! It's called Remember Me® Hybrid Tea Rose.
Here are a few more hybrid rose options, because they are absolutely GORGEOUS!
3. Floribunda roses
These roses produce clusters of blooms and are ideal for adding color and fragrance to borders and beds, as they come in many colors.
4. Grandiflora roses
A hybrid of Hybrid Tea and Floribunda roses, these plants produce large blooms on long stems, making them great for cut flowers.
5. Climbing roses
Perfect for adding vertical interest to a garden, with their ability to climb walls, trellises, and arbors, you'll love one of these by your gate or front door.
6. Shrub roses
Aren't these charming? The rose above is called Leonardo Da Vinci® Shrub Rose and in my humble opinion are must plant in every rose garden!
7. English roses
These are a cross between old-fashioned and modern roses and are known for their full, fragrant blooms and strong disease resistance. They are a great choice for a cottage-style garden.
Best Time Of The Year To Plant Roses
For optimal growth and health, roses should be planted during the spring season after the last frost, or in the fall, at least six weeks prior to the first frost of the season.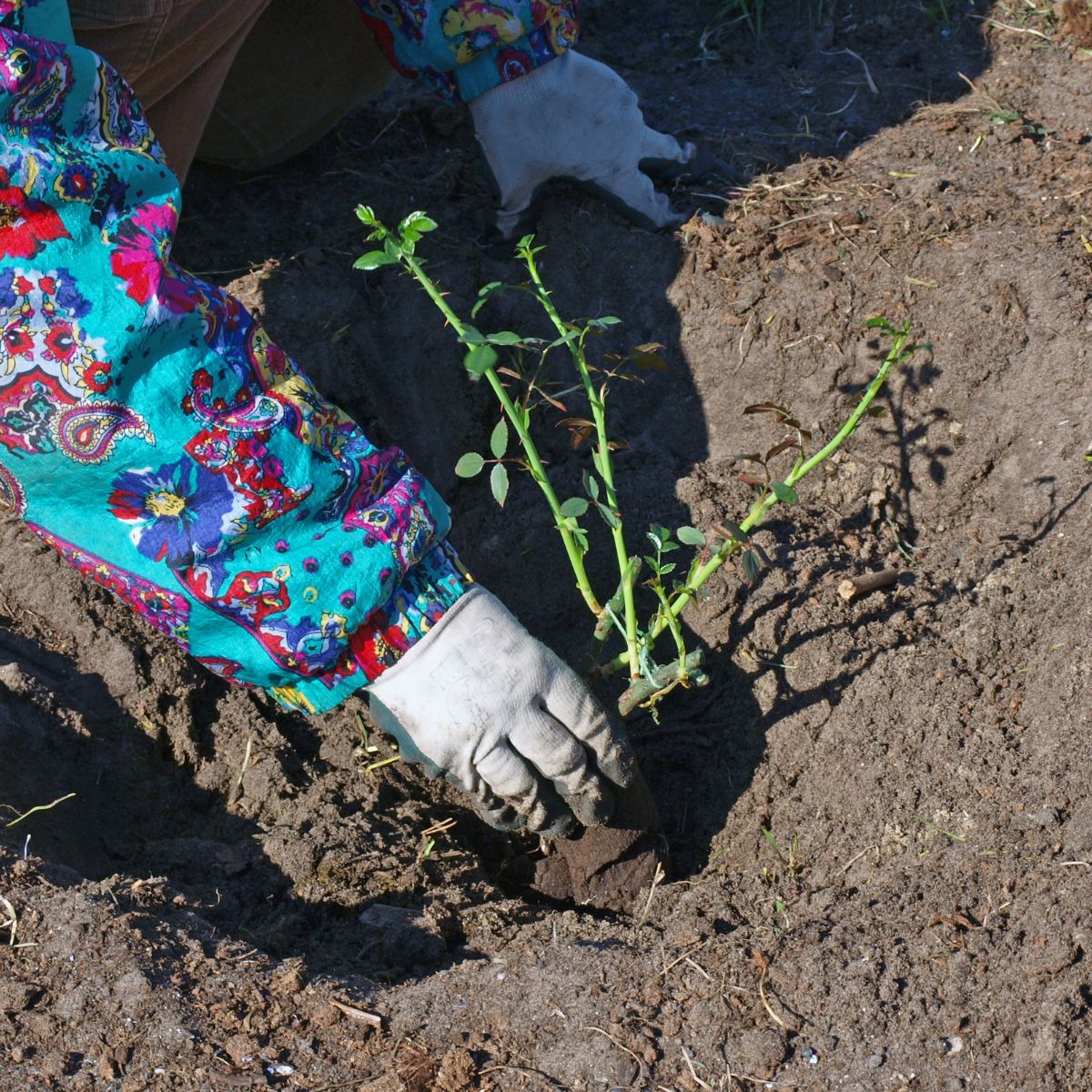 If planted in the fall, it is important to do so early enough for the roots to get established before the plants go dormant over the winter. This will allow the roots to absorb the necessary nutrients and moisture, and ensure that the plants are well-equipped to handle the harsh winter conditions. Adequate time for root establishment will also help the roses to grow stronger and produce more blooms the following season.
Rose Flower Garden Landscaping Ideas
Creating a rose flower garden is like painting an exquisite canvas of colors, textures, and aromas. With the right landscaping ideas, you can turn your outdoor space into a beautiful oasis for friends, family, and yourself to enjoy.
David Austin roses are some of the most popular varieties for cultivating a romantic English-style garden.
Climbing roses can add vertical interest along fences or walls while other smaller shrubs with deep green foliage act as wonderful companion plants that bring out the vivid hues in the blooms.
Formal rose garden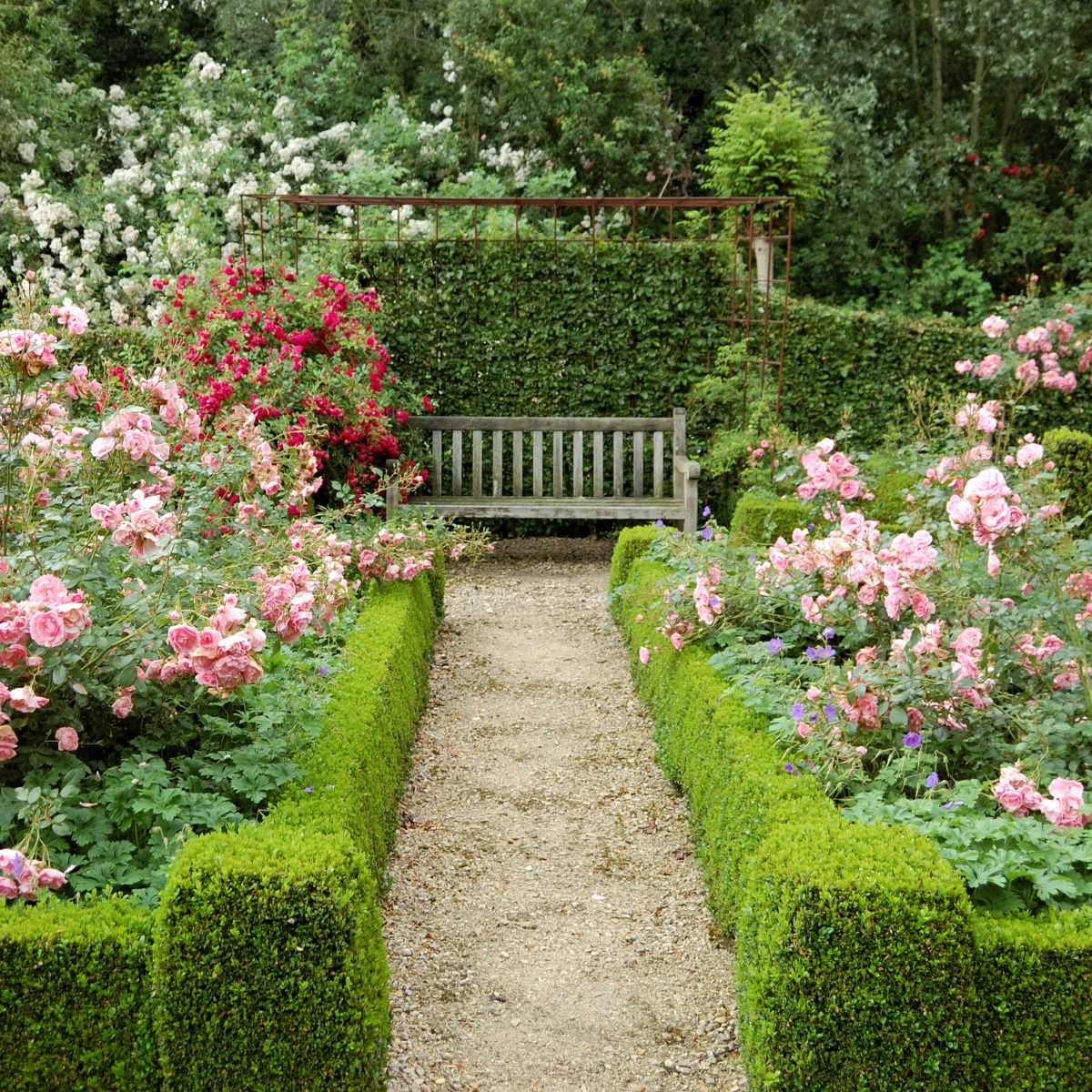 A formal rose garden is a classic design that features a symmetrical layout with neatly trimmed hedges and paths that intersect at right angles. The roses are often arranged in straight rows, and the overall effect is one of order and elegance.
Love hedges? Here's a list of the 15 best evergreen hedge plants you can add to your yard for privacy.
Cottage garden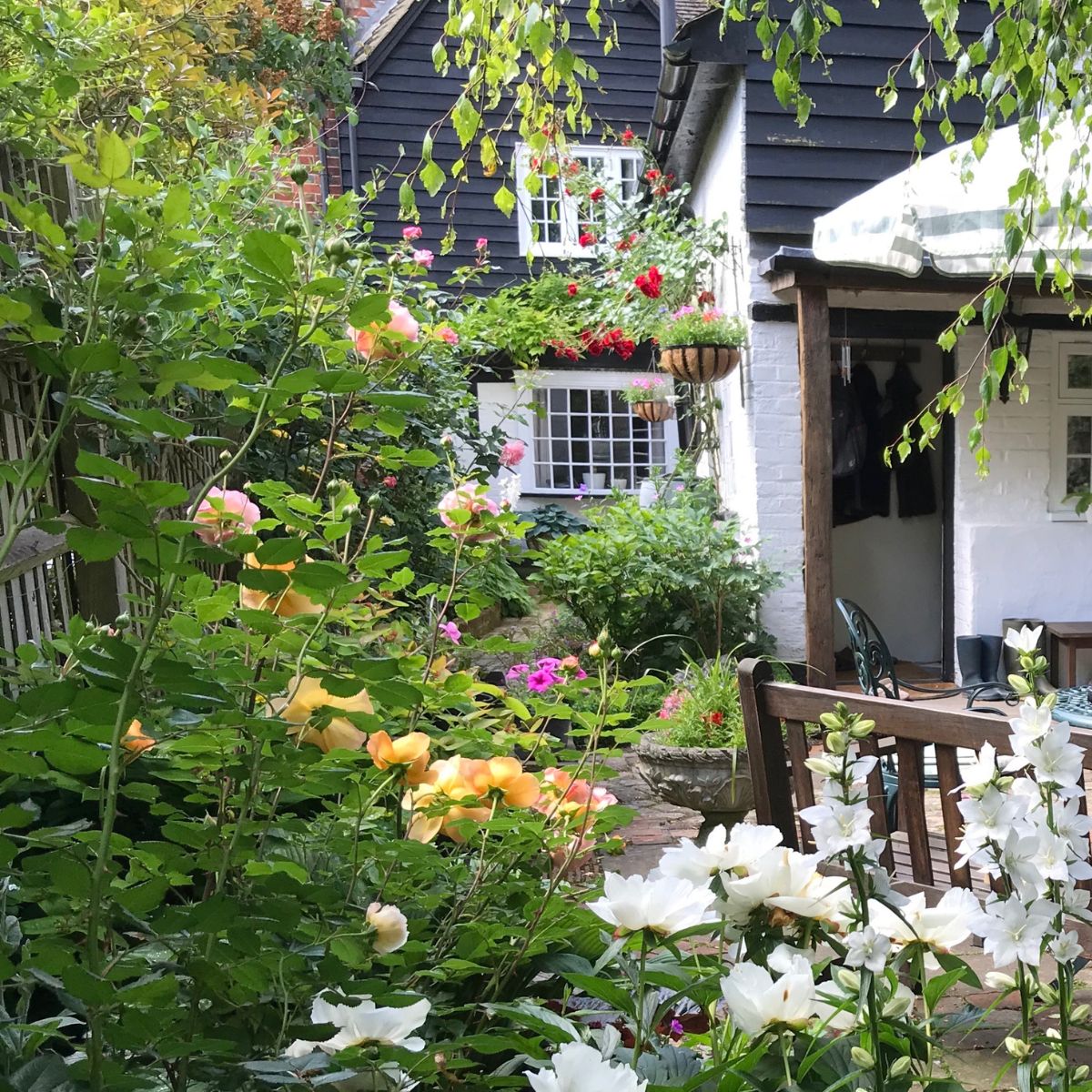 A more relaxed and informal style that allows roses to mix with other plants such as herbs, perennials, and wildflowers, the rose cottage garden may appear to be slightly wild, but it still has a sense of structure and balance.
Contemporary rose garden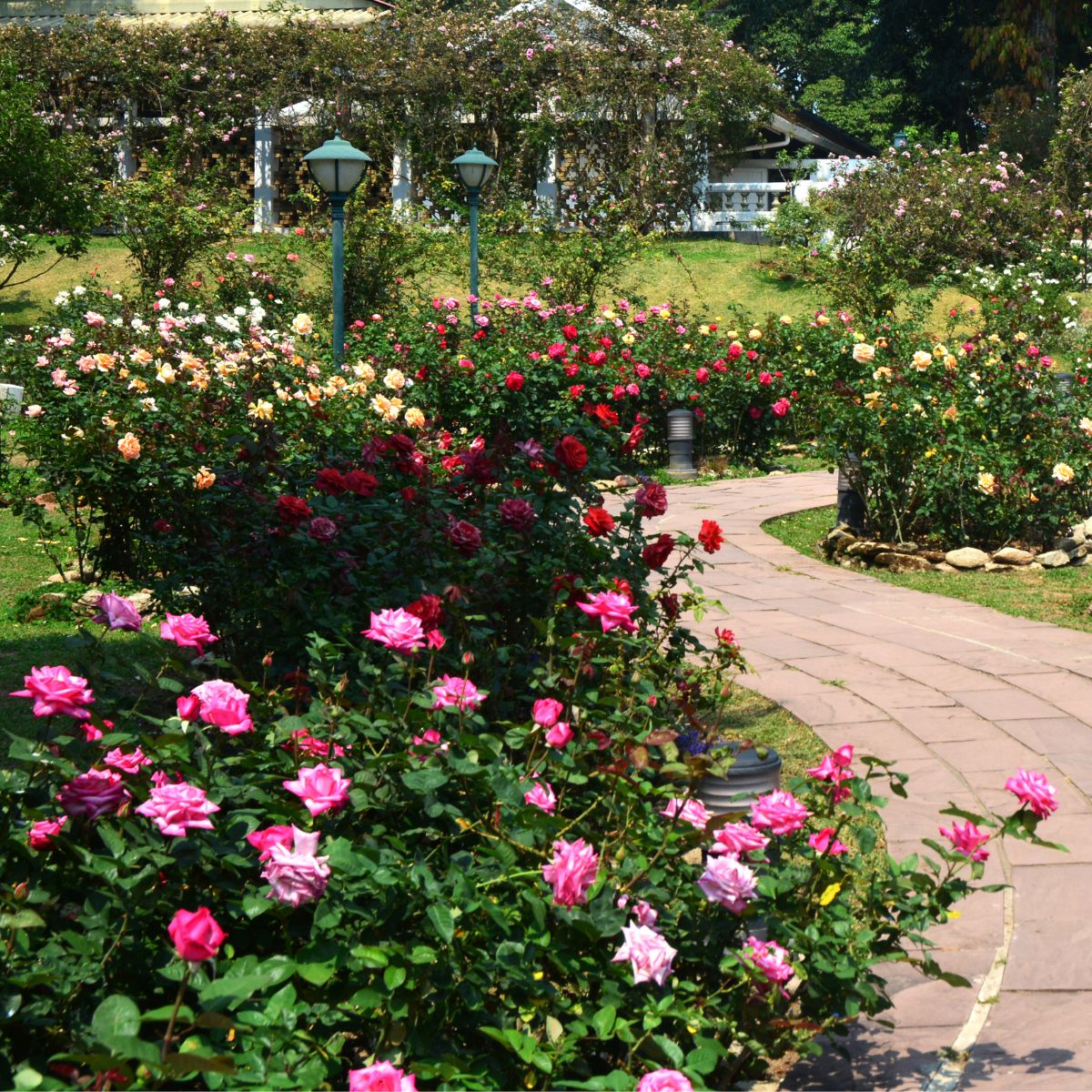 A contemporary rose garden features clean lines, minimalism, and modern design elements. The roses are often planted in large groups or arranged in a unique pattern: perfect for those who want a sleek and sophisticated look.
Water fountain surrounded by roses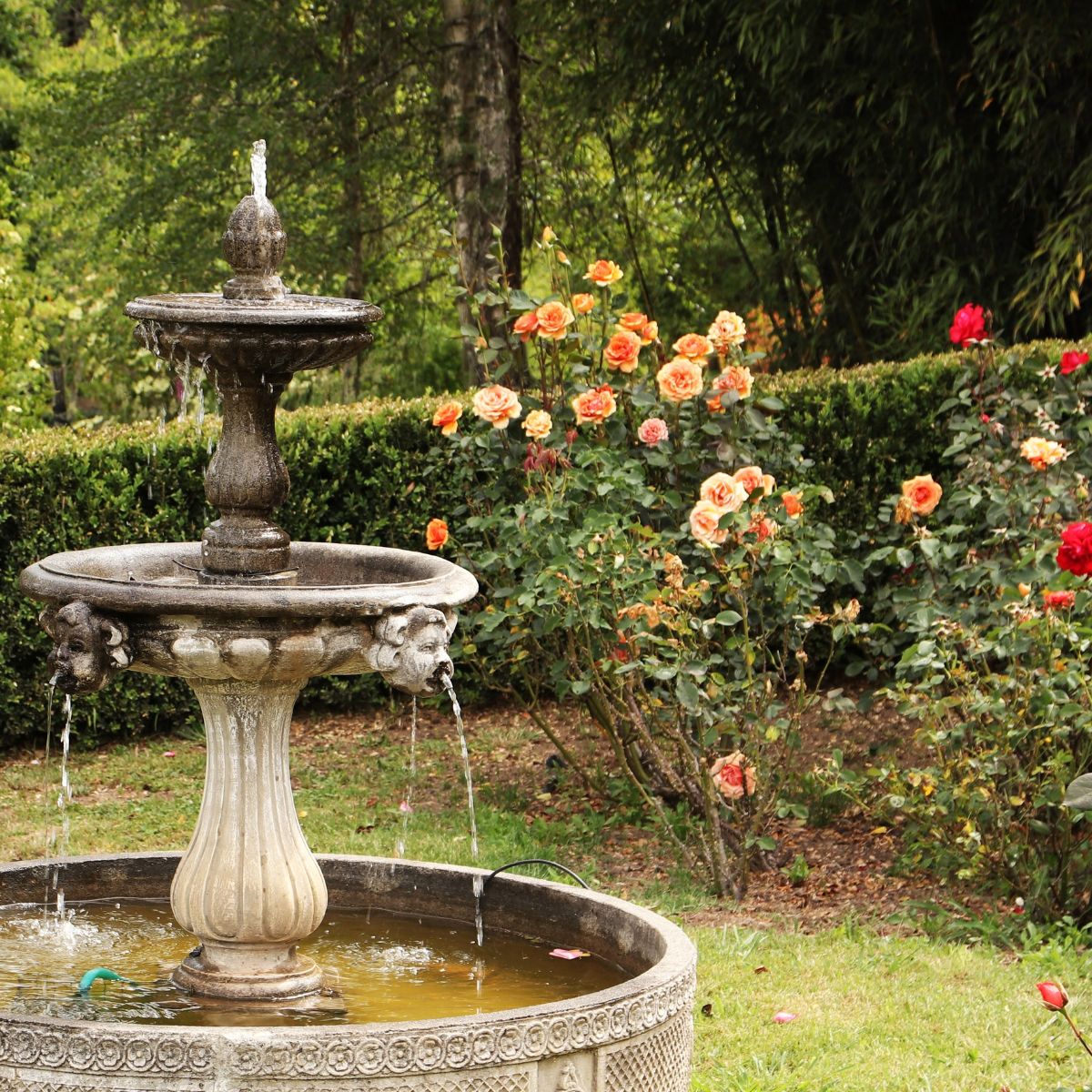 Roses planted near water features can create a romantic and peaceful atmosphere.
Roses climbing on arbors and trellises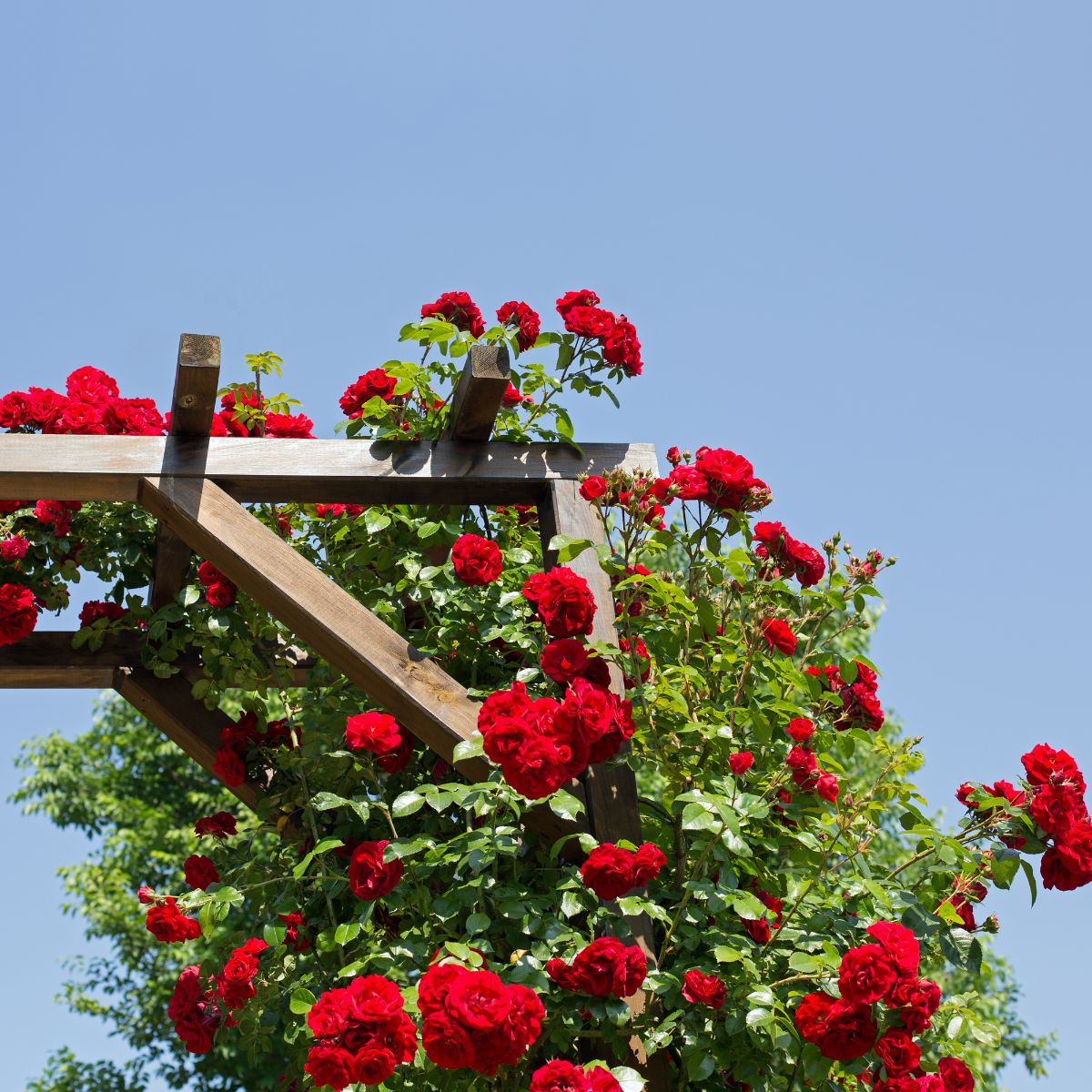 An arbor or trellis can create a stunning focal point in a rose garden. The roses can be trained to grow up and over the structure, providing a stunning visual display. Arbors and trellises also provide a shaded area to relax and enjoy the beauty of the garden.
Rose Companions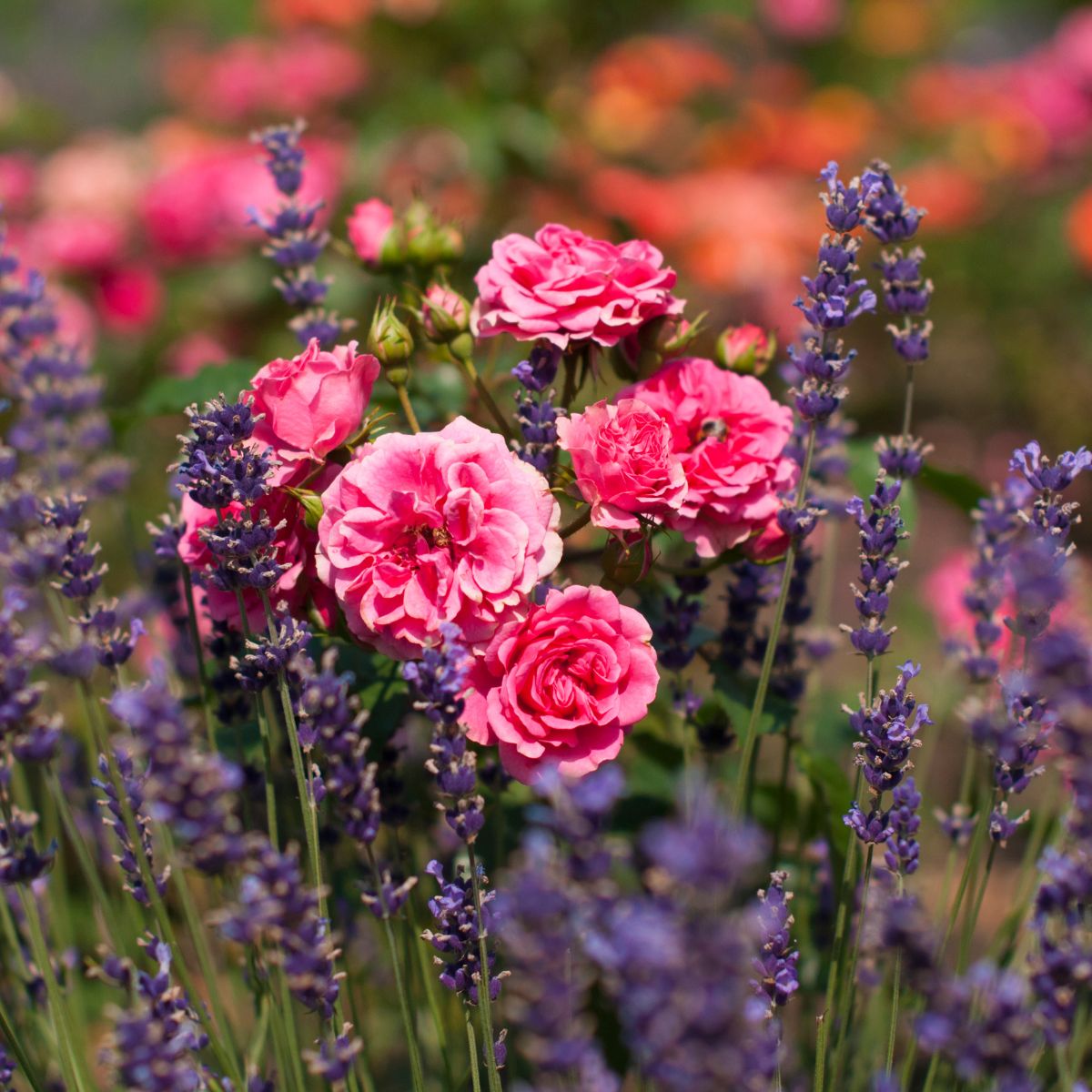 When creating a spectacular rose flower garden, it can be easy to overlook the importance of combining roses with other plants. However, doing so is essential for not only visually appealing but also healthy results. With careful consideration and creative design ideas, any gardener will be able to design an eye-catching rose flower garden that includes plant companions.
Firstly, bare-root roses should be planted in groups or drifts to ensure air circulation and good drainage. Adding companion plants around these groupings helps to create more visual interest while providing additional benefits such as pest control and reduced weeds.
Planting in drifts also allows flowers from different varieties to blend together seamlessly into one unified display rather than individual clumps of blooms. Such combinations often produce stunning effects like shades of pink fading through blues and purples for a truly mesmerizing experience.
By choosing complementary colors and textures when selecting both roses and their plant companions, gardeners can easily achieve the desired effect with minimal effort spent on maintenance.
Here are a few of the most popular companion plants for roses:
lavender
alliums
clematis
foxglove
geranium
salvia
and more
Rose Plant Pests And Diseases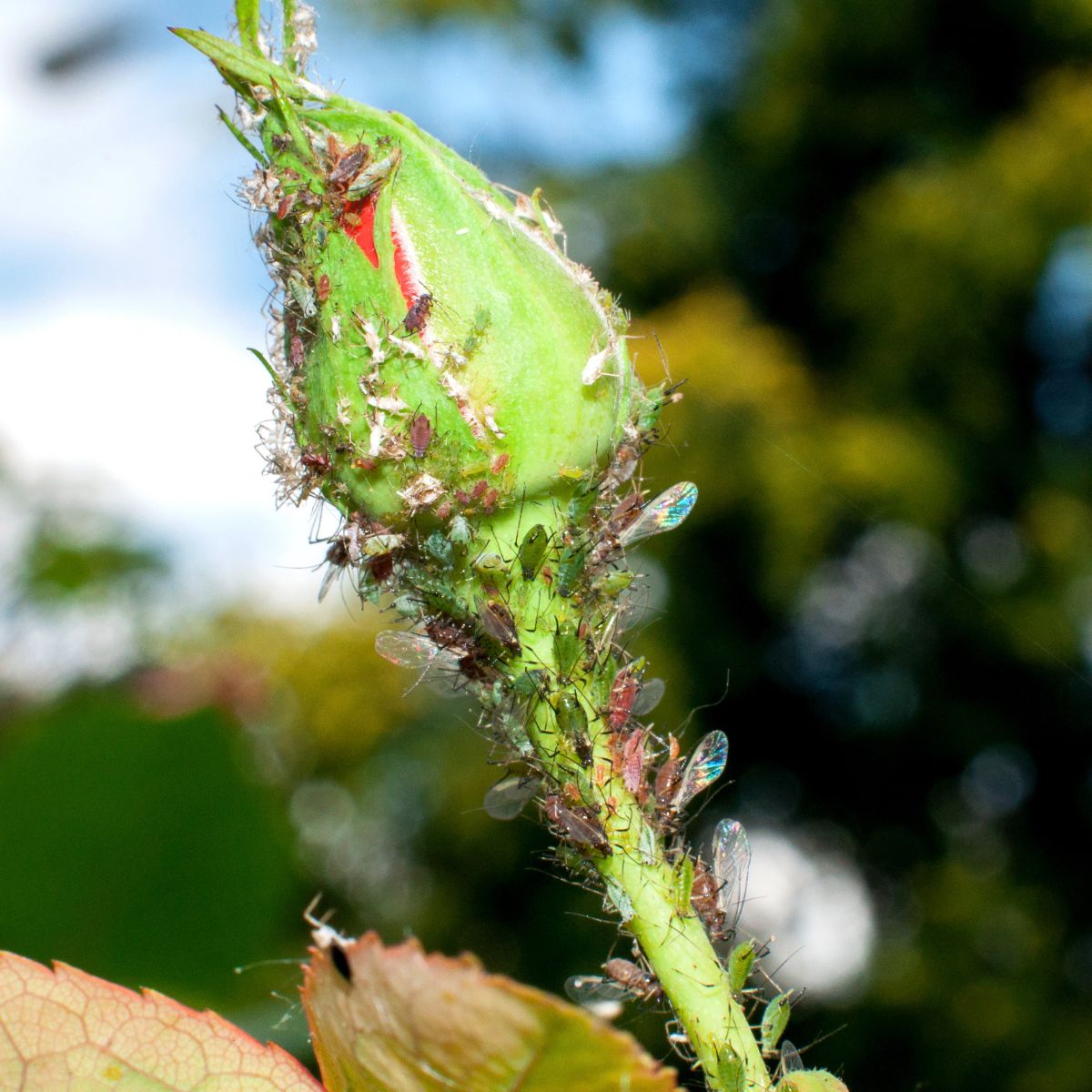 Some of the most common diseases roses suffer from are powdery mildew, black spot, and rust. These can be treated using fungicides or natural remedies like baking soda spray or neem oil.
Aphids also love roses, but you can usually just hose them off. If you have a big infestation, take a look at my article about how to get rid of aphids naturally.
Plant some lavender near your roses to help attract pollinators; they'll also keep some pests away. Other beneficial additions include chives and marigolds both of which deter harmful organisms and provide nutrients to the soil around them.
Keep your Roses Pruned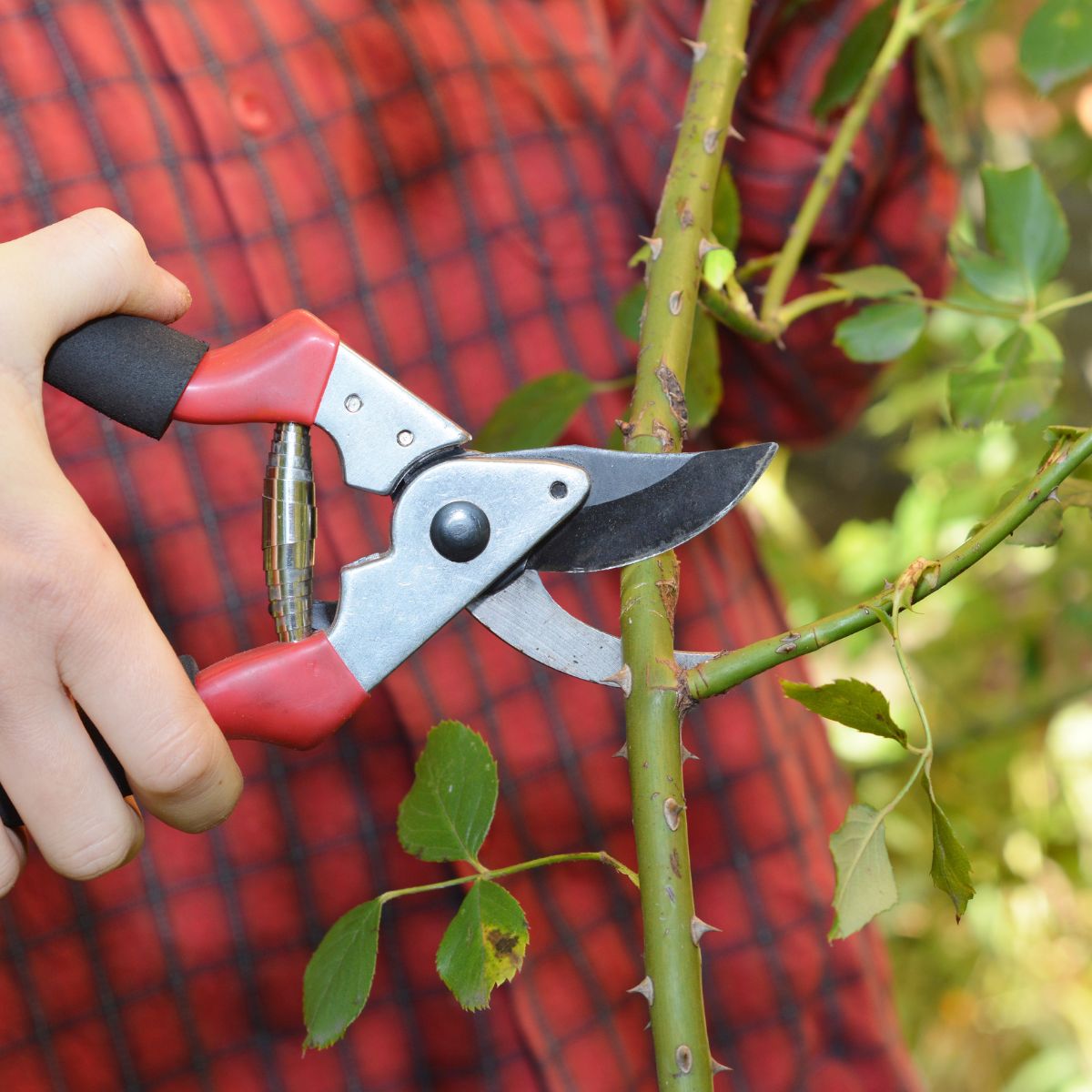 Roses need to be trimmed every year to keep them nicely shaped and healthy.
Hybrid tea roses need more severe pruning than shrub or climbing varieties in order to promote growth and showy blooms.
When done properly, rose pruning helps increase flowering and gives plants a neat appearance throughout the season. Having an understanding of how much each plant needs cutting back can also prevent over-pruning that could lead to damage or poor performance from your roses.
Don't Forget To Fertilize
Roses need to be fertilized often, as they are heavy feeders that require nutrients to stay healthy year-round.
Using organic fertilizer is the best way to ensure superior flower quality while adding beneficial organisms to the soil around your roses. If using store-bought products, pick one specifically designed for roses or use slow-release granules applied once every six weeks during peak growing season.
To achieve optimal results, supplement monthly applications of liquid fertilizer with additional doses when buds are first set and then again after flowering. A balanced formula containing nitrogen, phosphorus, and potassium should provide enough nourishment for vibrant flower color and promote strong root development.
Creating a beautiful rose flower garden requires proper care and attention – from pruning techniques all the way through to fertilizing tips – but it can bring years of enjoyment if done correctly! With just a little bit of effort, you can have lush foliage and bright blossoms throughout the season.