Hydrangeas are one of the darlings of the gardening world, adding mounds of showy, airy blossoms to the landscape. Almost no garden is complete without at least one hydrangea. Perhaps you've come to this conclusion and want to plant a hydrangea somewhere in your garden. But where, how, and with which other plants? The tips below offer creative ideas and helpful advice for getting started landscaping with hydrangeas in your outdoor space.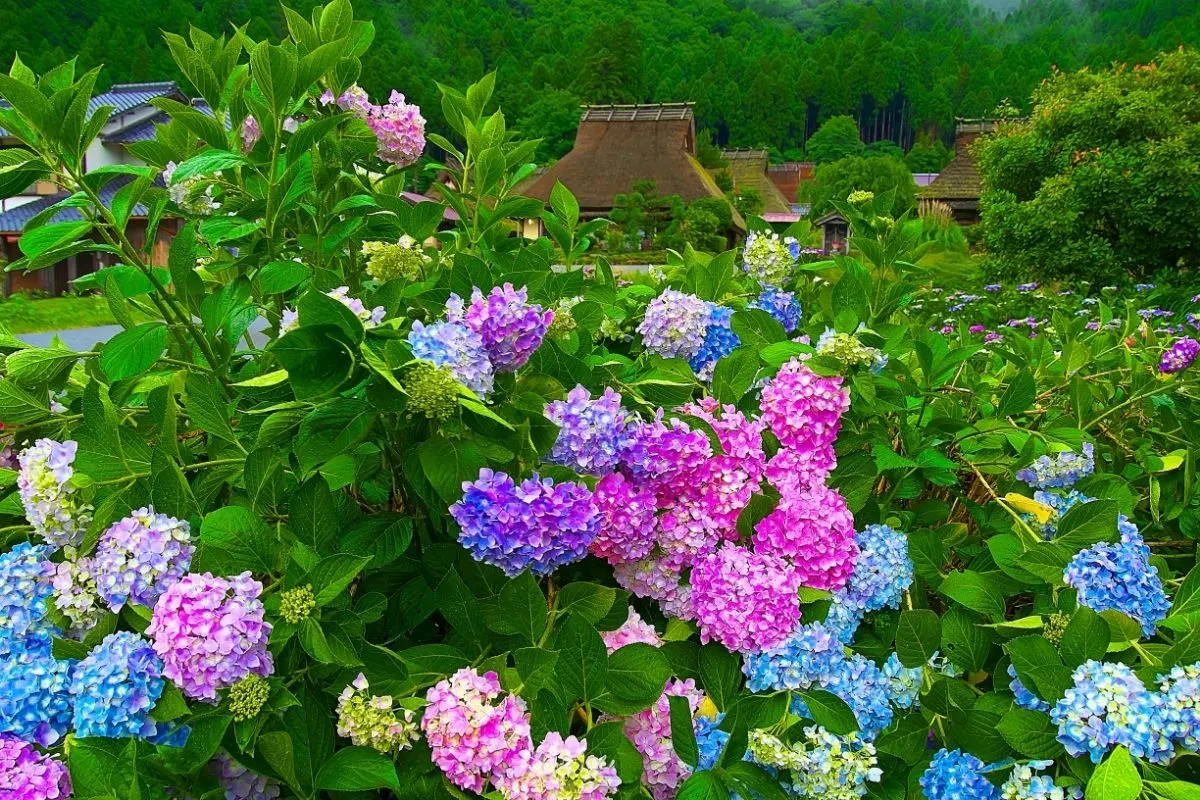 Learn how to landscape with hydrangeas in front of the house.
Tips for Landscaping with Hydrangeas
1. The importance of proper site selection
Hydrangeas are woodland plants, an important fact to keep in mind when considering the perfect location for your new shrub. Although many types of hydrangeas can be grown in full sun, most will be happiest in part shade, ideally morning sun and afternoon shade. Too much sun may result in a shorter bloom time, while excess shade can reduce flower size and foliage density.
Loamy, well-draining soil is best for hydrangeas. If your soil tends more toward clay, mix in organic matter before planting hydrangeas, which don't like wet feet. Avoid planting hydrangeas where the ground often gets soggy after rain.
2. Perfect for tall borders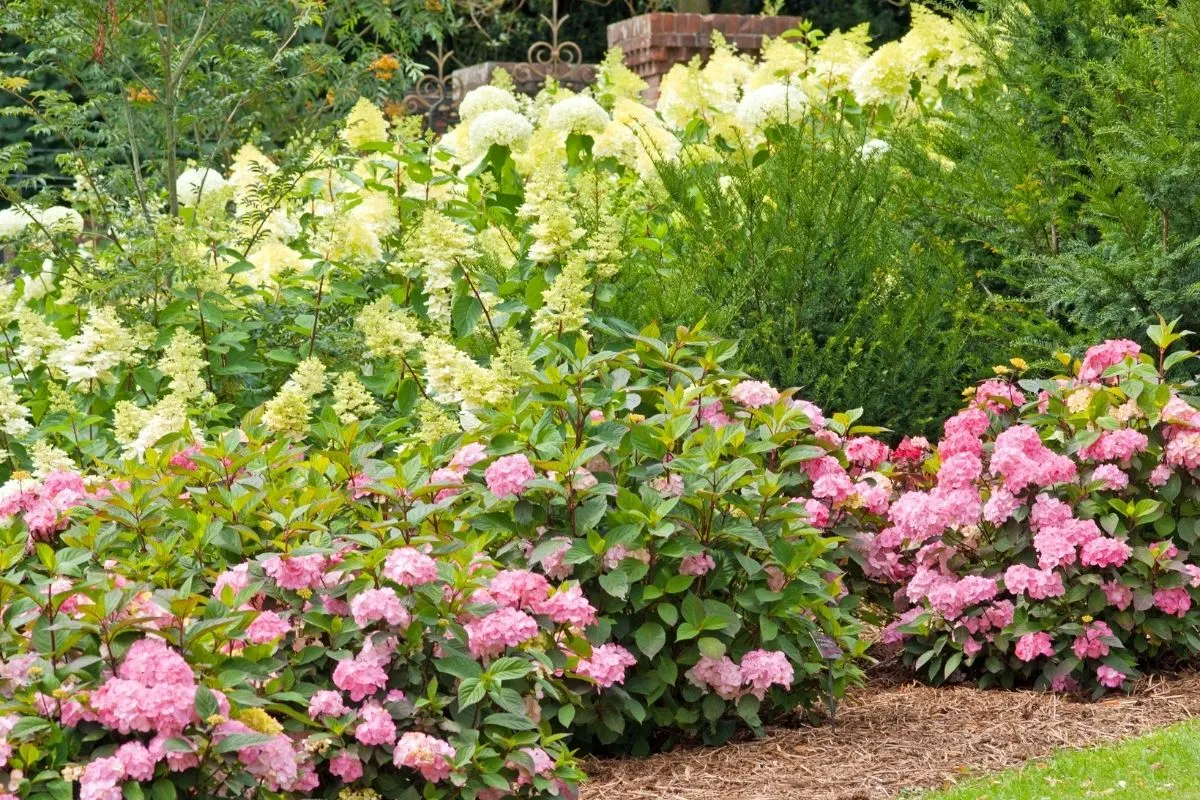 Typically large, dense, flowering shrubs, hydrangeas are excellent tall border plants. Mound them against the side of your house, planting a smaller variety under a window or a larger against a blank wall, or even a whole dramatic row down one side. White hydrangeas can really brighten up brick, stone, and dark siding.
Hydrangea plants also work well along freestanding walls or tucked into tall corners, such as next to a staircase, and they will spill through and over picket fences. Make a dramatic entrance with hydrangeas along the driveway or lining a path. They can even be planted in a hedge to enclose a space and add privacy with elegance and beauty. Annabelle hydrangea flowers are great for this purpose!
3. Hydrangeas for the pollinator garden
Hydrangeas may not be the first plant to spring to mind when planning a pollinator garden, but some varieties have plenty to offer bees and butterflies. The best cultivars to attract pollinators tend to be lacecap (H. macrophylla), panicle (H. paniculata), smooth (H. arborescens), and oakleaf (H. quercifolia) hydrangeas, the latter two of which are native to the US. Smooth hydrangea is actually a host plant for the caterpillar of the hydrangea sphinx moth.
Avoid mophead varieties, which offer large and beautiful but infertile flowers that hide the smaller, fertile florets. Here are some specific types of hydrangeas popular with both humans and pollinators:
Mariesii Perfecta (H. macrophylla 'Mariesii Perfecta')
Gatsby Pink (H. quercifolia 'JoAnn')
Great Star (H. paniculata 'Great Star')
Invincible Lace (H. arborescens subsp. radiata)
Little Quick Fire (H. paniculata 'SMHPLQF')
Snow Queen (H. quercifolia 'Snow Queen')
4. Abundant blossoms in the cottage garden
At home just about anywhere, hydrangeas seem like a perfect addition to a cottage garden. Plant multiple cultivars for a range of bloom times, sizes, and flower shapes. All types offer attractive foliage and abundant blossoms with a classic look that feels natural tucked in among other cottage plants. Taller varieties with white blooms provide a lovely backdrop for shorter, more brightly colored flowers.
Some of my favorites are:
bigleaf hydrangeas
nikko blue
hydrangea macrophylla
oakleaf hydrangea
hydrangea arborescens
hydrangea quercifolia
endless summer
blue mopheads
French hydrangeas
hydrangea serrata
pee gee hydrangea
Hydrangeas lend themselves well to cutting, too, adding dramatic elegance to fresh and dried bouquets alike and giving you another reason to potter in the garden. Panicle hydrangeas even hold onto their dried blossoms throughout the winter for year-round interest in the cottage garden.
5. Containers for patios and small spaces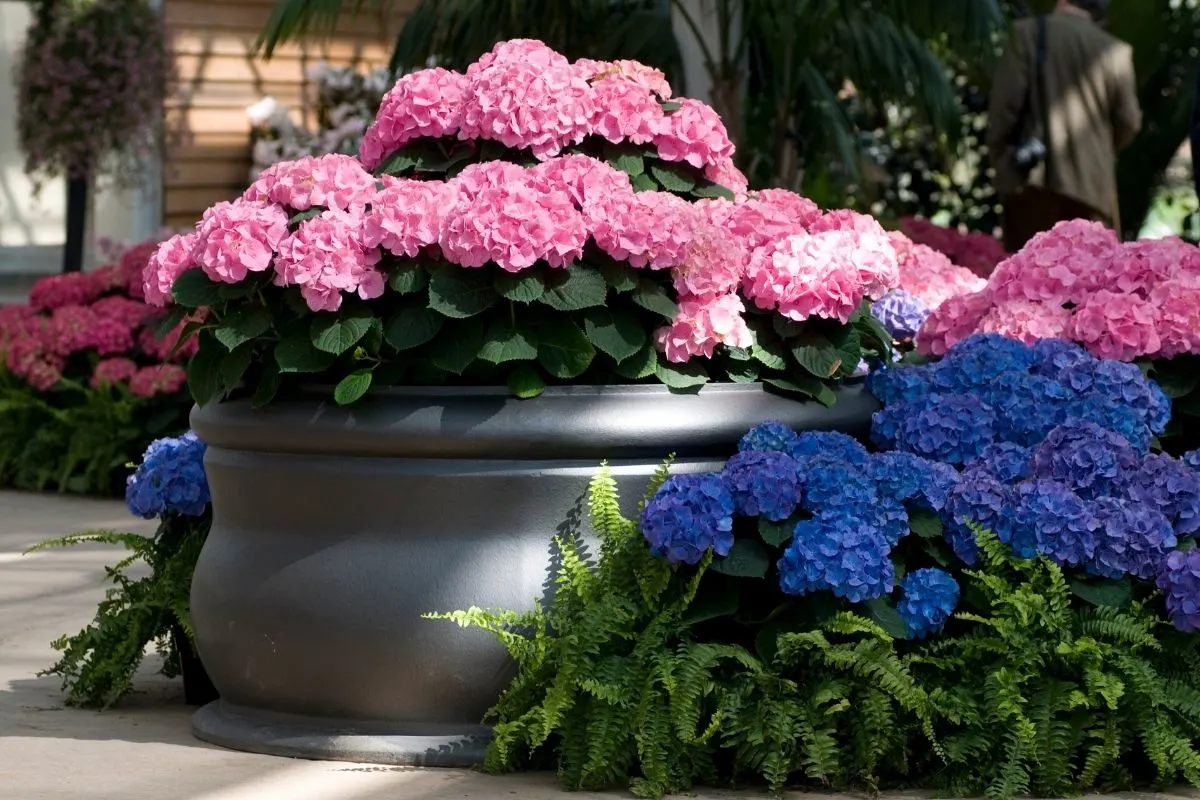 Hydrangeas are such large plants, it's hard to imagine growing them in pots. But it can be done! If you lack space for a large, in-ground shrub or want to grace your patio with big blooms, know that hydrangeas will survive in containers. Dwarf varieties work best, of course, since they will stay smaller:
Little Lime (H. paniculata 'Little Lime')
Mini Penny (H. macrophylla 'Mini Penny')
Paraplu (H. macrophylla 'Paraplu')
Pee Wee (H. quercifolia 'Pee Wee')
Depending on the cultivar, you still may need a sizable pot, but you can start by choosing a container a few inches wider and deeper than what the hydrangea came in. Make sure it has plenty of drainage holes, and use nutrient-rich, well-draining potting soil.
6. Getting creative with tree hydrangeas
A tree hydrangea is simply a panicle hydrangea that has been pruned and trained to grow as a small tree, but it sure looks stunning! Tree hydrangeas (Hydrangea paniculata) often have multiple trunks and may bend toward the ground under the weight of their flowers in the summer, but they can grow to an impressive 25 feet tall.
Plant a tree hydrangea as a focal point, with low-growing foliage plants spread beneath to really let the big hydrangea blossoms take center stage.
7. Climbing hydrangeas add height
Unlike most hydrangeas, the climbing hydrangea is a vine, adding to the many possibilities of landscaping with hydrangeas. Aerial rootlets along the stem cling to support structures, allowing the plant to grow to remarkable heights. As an added bonus, it exhibits golden leaves in the fall and reddish, exfoliating bark in winter.
Train a climbing hydrangea up a sturdy trellis or over a shaded arbor, or plant one at the base of a brick wall or fence. Hide an unsightly structure by placing a trellis against its wall and planting a climbing hydrangea. It will soon be covered in flat, lacy clusters of white flowers.
8. Complementary companion plants
You know you want to plant hydrangeas, but what to pair with them? Dense, tidy shrubs like boxwood or yew complement the wild, unbounded beauty of hydrangeas with order and clean lines, making them excellent companions in borders, especially in more formal settings. Surround older, leggy hydrangeas with low-growing ornamental grasses or anemones (Anemone x hybrida 'Honorine Jobert').
Shade trees, of course, make excellent companions, as they provide the dappled shade hydrangeas love. Shorter, shade-loving flowers like pansies, violets, or foamflowers look lovely against the backdrop of tall hydrangeas. Plants with similar foliage, like hostas, also pair well with hydrangeas, as do those with contrasting foliage, like ferns.
Bonus: Learn more about growing hydrangeas!
Ready to add hydrangeas to your garden? There are so many ways to do so! Cultivate a single shrub or plant masses of them and enjoy their classic, delicate beauty for years to come.