I've always wanted my own delicious backyard fruit trees. I just never thought I had enough room in our small backyard. But over the years, we lost a couple trees from the backyard to big storms, and this year we decided we'd plant one.

This is a sponsored post on behalf of Arbor Day Foundation. All opinions are 100% mine.
We decided to get our tree from the Arbor Day Foundation tree nursery: they make it so easy! And I LOVE their mission:
We inspire people to plant, nurture, and celebrate trees.
Ordering online made it easy for my husband and I to sit together and look through possible trees we might want. Since our backyard is small, we can only get one tree, so it's important to get a fruit tree we both enjoy.
Choosing a tree was easy
The Arbor Day Foundation tree nursery website makes it a breeze to look for your favorite tree. Our first stop was the hardiness zone lookup. Just enter your zip code, click search and you'll be taken to your hardiness zone. You'll get a link with the most popular trees for your zone.

We got 7 tree suggestions for trees that grow best in our zone.
We wanted to see what else we could grow, so decided to look at their best tree finder. You start by adding your zip code, and making a few choices (like soil type, height, sun, growth rate, etc.). Ohh, the choices! I wanted so many of those trees! Here are just a few of the trees available for our zone:
Bartlett pear
Damson plum
Black tartarian cherry
Yellow delicious apple
Belle of Georgia peach
so many more!
And there it was: early golden apricot, a fast growing tree that produces large golden apricots with a sweet, rich flavor.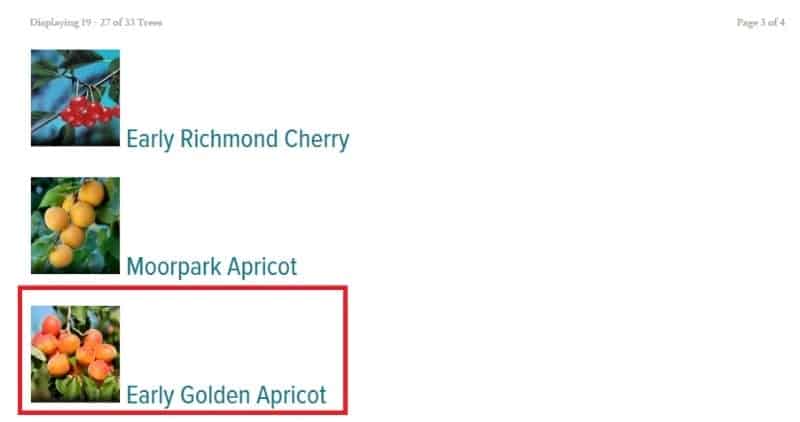 Looking at the image of this tree on the page immediately took me back to my childhood years, and my grandmother's apricot tree. We loved climbing up to harvest the delicious fruit. And once harvested, my mom made all kinds of goodies:
apricot jam
delicious apricot sauce
canned apricot compote (I guess you'd call it stewed fruit here in the US)
apricot pie or apricot crumble (ohhh… my mouth is watering remembering all the yummy ways mom and grandma prepared this fruit!)
and of course, we ate lots of it while preparing for all of the above
There was no need to look any further: this was the tree we'd plant.
Best time to plant fruit trees
Fruit trees (ornamental trees too) can be planted from the time the frost first leaves the ground through late spring. We received our tree yesterday. So exciting!
Make sure you plant your tree as soon as possible (it is best to plant your trees within 5 days of their arrival). If you need to wait a day or two, make sure to keep it in the shade and well hydrated.
How do I plant my tree?
With our tree, we also received instructions! If you are new at planting trees, you'll need this!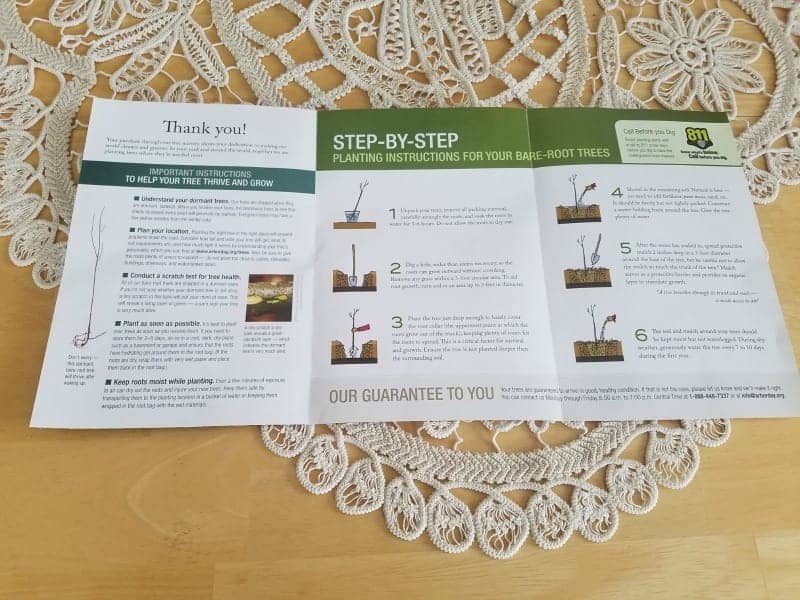 Once you know you'll have time to plant your tree, remove it from the packaging and stick it into a bucket with cold water. The roots will drink up and get ready to go in the ground.
Then dig a hole about 3 feet around (this will let the roots spread out and not be squished), and as deep as the roots.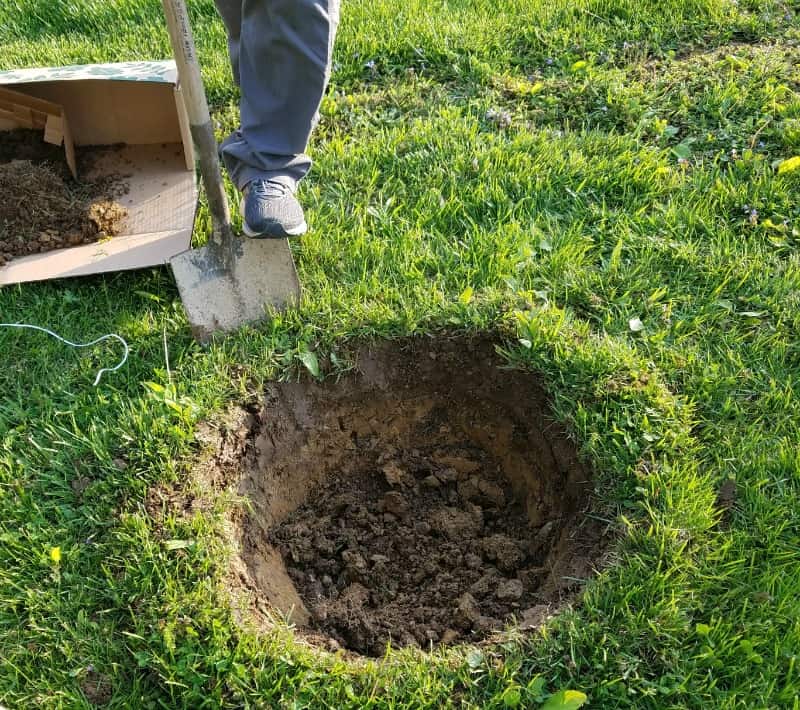 Plant the tree, and add the soil back.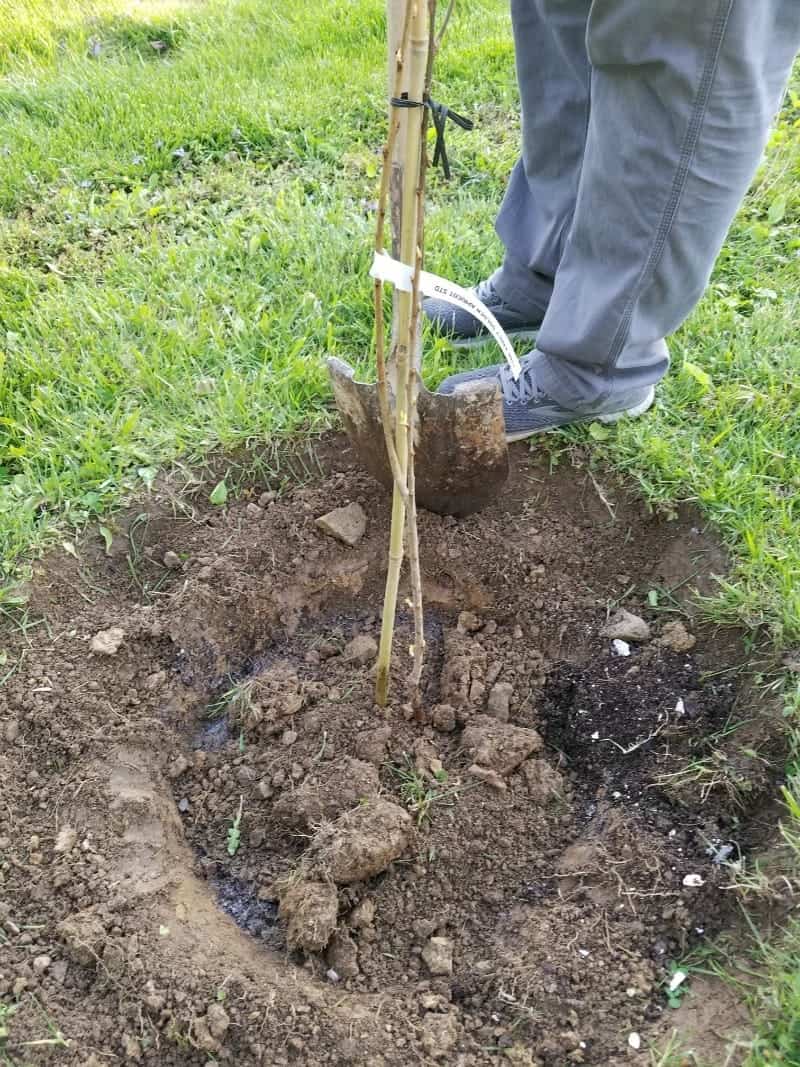 Add some mulch to keep the soil moist. And don't forget to water the tree often during the first year, until it's well established.
Our tree already has a few fresh budding leaves, and we're excited to see it grow and produce sweet, tasty apricots for our family.
Have you wanted to plant fruit trees on your backyard? Take a look at the Arbor Day Foundation tree nursery and see which tree your family will love. I have a special code that will help make that decision easier.
Don't forget to use the exclusive Backyard Garden Lover coupon code BACKYARDGARDEN to save 10% at checkout. And shipping is free for all orders over $60 (before coupon code is applied). Choose your tree here.
What tree would YOU love in your backyard? Remember to use the coupon code above for a nice discount.
I'd LOVE to see your backyard fruit trees if you have any. And if not, get a tree and come back to share. Let's celebrate nature and trees!