Don't you just love tents?

Brings back fond memories, doesn't it?
Camping out with good friends…
Roasting marshmallows in the back yard…
Maybe even hiding out in your own bed?
Well… our tents are not designed for "roughing it"… not at all!
Our Beginner's Guide To Hydroponics is on sale for a short time. Check it out!
How About A Hydroponic Grow Tent?
This is a wonderful option if you are a space-limited urban dweller or budding scientist who just wants a tightly controlled growing environment. Below we present two outstanding but modestly priced hydroponic tent kits that will help you create your fondest "tent memories" of all…
The Small Bubble Boy 400w Tent Kit, comes with four Bubble Boy Bubbler buckets; yet will easily fit 6 buckets (compact yet highly productive-will fit in a closet)
The 1,000w 6-pot Bubble Boy Large Tent Kit (the Cadillac Deluxe at an amazing price) This guy is not really a grow tent… It's a portable grow room; you can fit up to 12 bubbler buckets in there!
You would be proud to have either one in your home!
Our Favorite Hydroponics Grow Tent Kits
| | |
| --- | --- |
| 400 watt 4-banger | 1,000 watt 6-pot expandable system |
These two tent kits are "hands down" the best tent value on the 'net. They include top quality tent chambers, simple but productive hydro systems, and well built and warranted HID lamps.
Why we love these Kits:
The Tents
Sturdy steel tent frames (with easy-peasy assembly instructions)
Lightproof black nylon "skin" over highly reflective Mylar interior and double-layer waterproof flooring (these are not cheap tents)
Ample vent holes, ports, and velcro secured flaps for proper ventilation and access (user-friendly design)
Small tent with 4 pots is: 39″ wide x 39″ deep x 79″ tall(compact and affordable grow chamber will accommodate up to 6 buckets)
A large 6-pot tent is: 55″ wide x 55″ deep x 79″ tall (get the biggest bang for your buck with this top-notch hydroponics grow tent kit; add on 6 more buckets; there's plenty of room)
Circulation fan- quiet 6″ clip-on to aerate plants and keep them happy 🙂
Ventilation exhaust fans- 6″ fan for the Bubble Boy/ 8″ fan for the big tent (removes lamp heat and stale air from the grow area)
Hydroponics grow tent kits: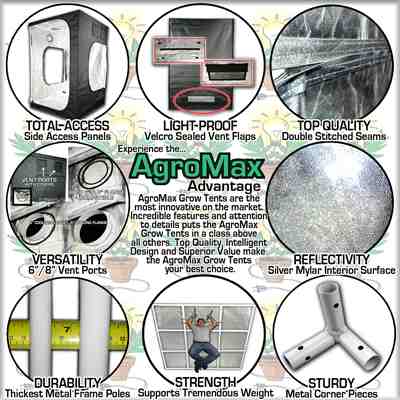 AgroMax builds quality tents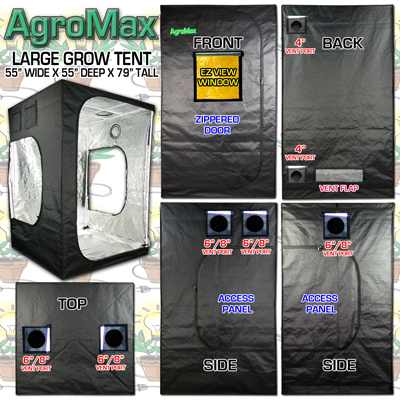 AgroMax Large Professional Grow Tent at an amazing price
The Lamps
Quality, heavy-duty HPS remote ballast (keeps ballast heat outside the tent)
Hammered aluminum reflector hood (gets the most grow out of your light)
High output long life HPS bulb (the best overall bulb for all leafy, flowering or fruiting crops)
Sturdy mechanical timers
Ratcheting lamp hangers (raising and lowering is a snap with these babies)
Small tent kit includes: 400-watt HPS ballast and bulb
Large tent kit includes: 1,000 watts HPS ballast + 1,000 watt HPS bulb.
The Hydroponic Systems
Hydroponics grow tent kits
Hydro Plus Grow Tent Room Kit 24
Quictent SGS Approved Eco-Friendly
BloomGrow 600W Full Spectrum Grow TentKit
Ready to Get Started?
Here are our favorite hydroponic grow tent kits: both for value and performance. You'll love growing your favorite fruits, herbs, and vegetables year-round.
Once you're up and going, I'd love to hear from you: let me know how it's going, and send me some pics of your set up. I'd love to celebrate with you 🙂
HTGSupply 3 x 3 (39
HTG Supply 4.5 x 4.5 (55
Learn more about hydroponic kits.