Eggplants usually get a bad rap: they are bitter, mushy, weird, etc. But I'm here to tell you that if you know how to cook them, eggplants are delicious! One of my favorite eggplant dishes is eggplant spread, made with onions and oil: so simple, and yet everyone who tasted it LOVED it (recipe below ;))! To make this yummy dish, you need to know how to roast eggplant.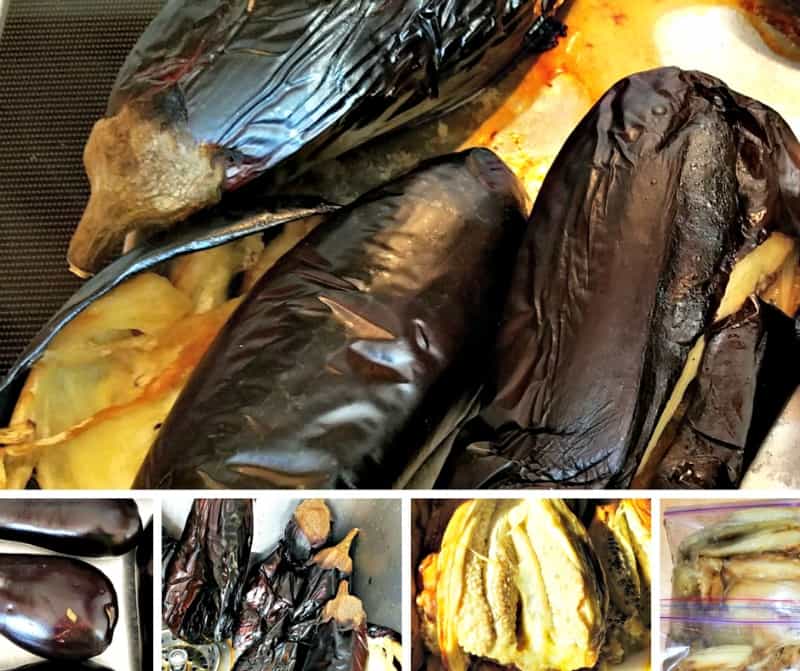 If you have a fire pit outdoors, you can roast eggplants there, and it gives them an extra smoky flavor. But since I don't have one, I roast mine in the oven under the broiler.
How To Roast Eggplant In The Oven
What you need for roasting eggplants
First you'll need to choose your eggplants: make sure they are firm, smooth and without blemishes. I prefer skinnier eggplants, as I found the really fat ones have a lot more seeds.
you'll also need a large aluminum baker's sheet and a set of kitchen tongs to turn the eggplants with if you're afraid of getting burned.
Lastly, if you plan to freeze your roasted eggplants (we roast and freeze between 50 and 100 eggplants every year), you'll need some freezer containers, and labels to date your goodies 😉
Directions for easy oven roasted eggplant
Now that you have everything you need, you are ready to start roasting the eggplants. Line them up nicely in the baking sheet, turn the oven to broil, and set them right under your broiler, as close as possible without touching it.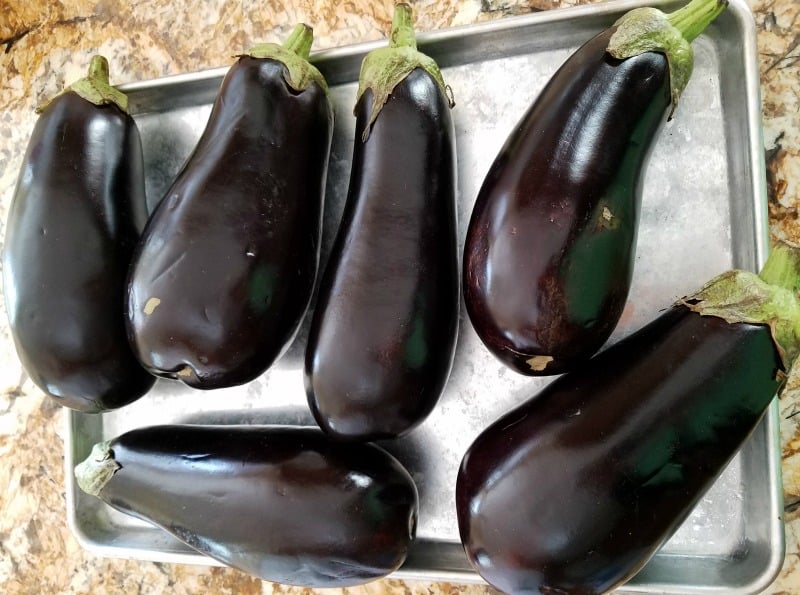 Turn the eggplants 3 times: the first time after 14 minutes, the second time after 10 minutes and one last time after another 8 minutes.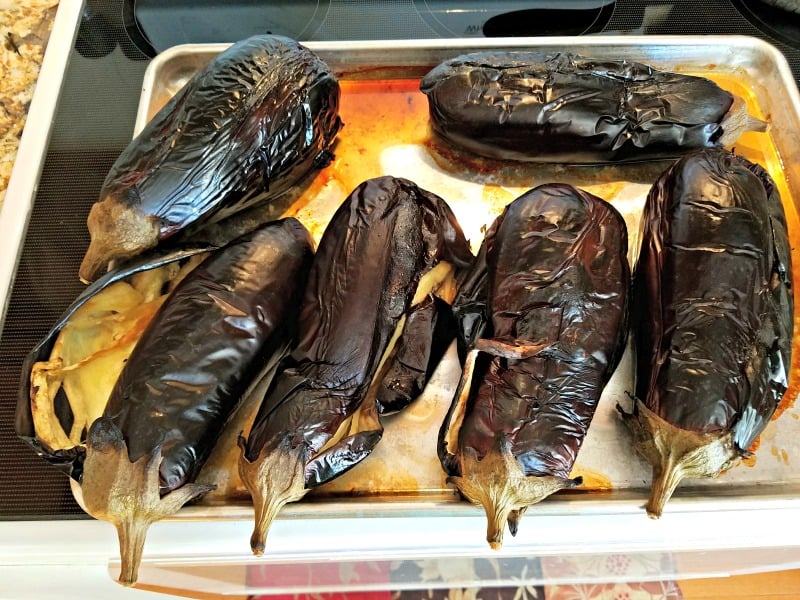 After that, remove the eggplants from the baking sheet and stand them up in the sink for about 15 minutes to chill.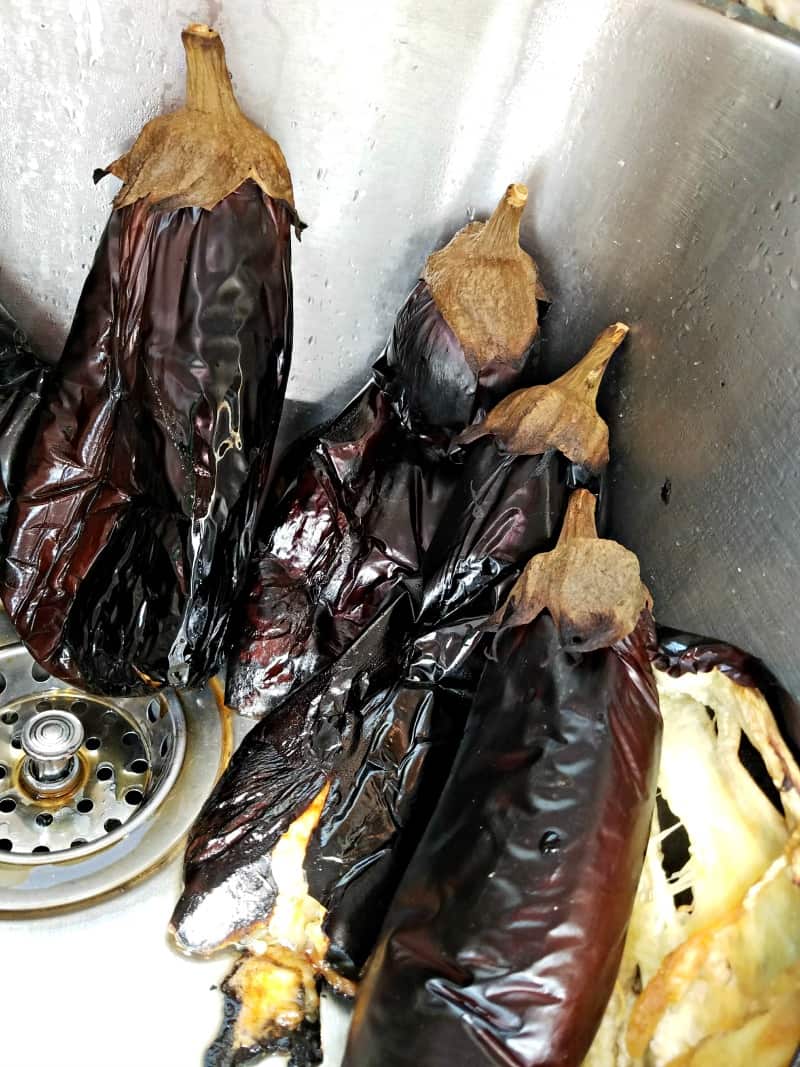 Then peel the charred skins and lay the eggplants on a slanted cutting board to let the juices drain. This is a a very important step, as it's what makes the eggplant bitter (the juices). Sorry about the picture: the sun was shining in and this operation needed to be done by the sink.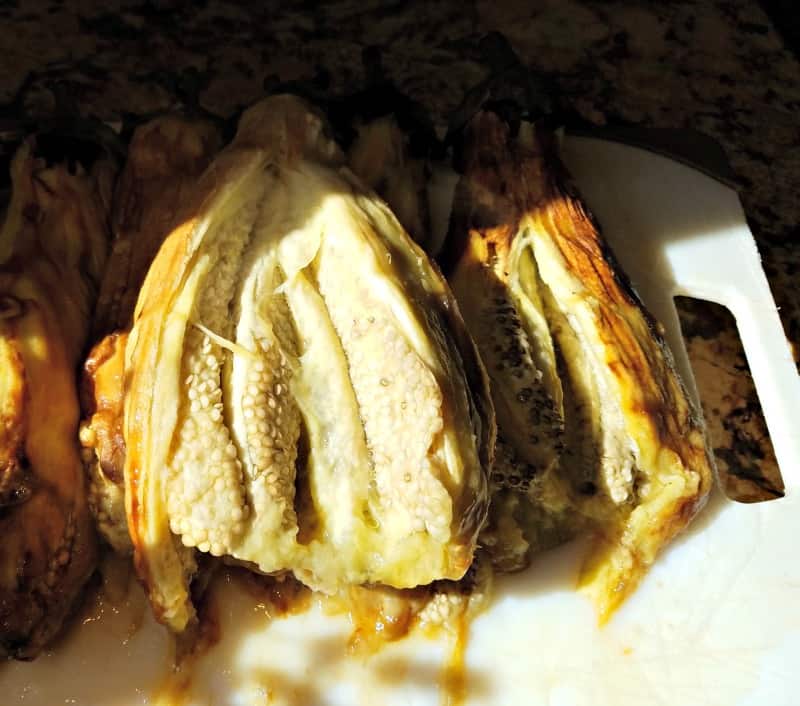 At this point, the roasted eggplants are ready to use in my favorite eggplant spread, or saved in the freezer for winter.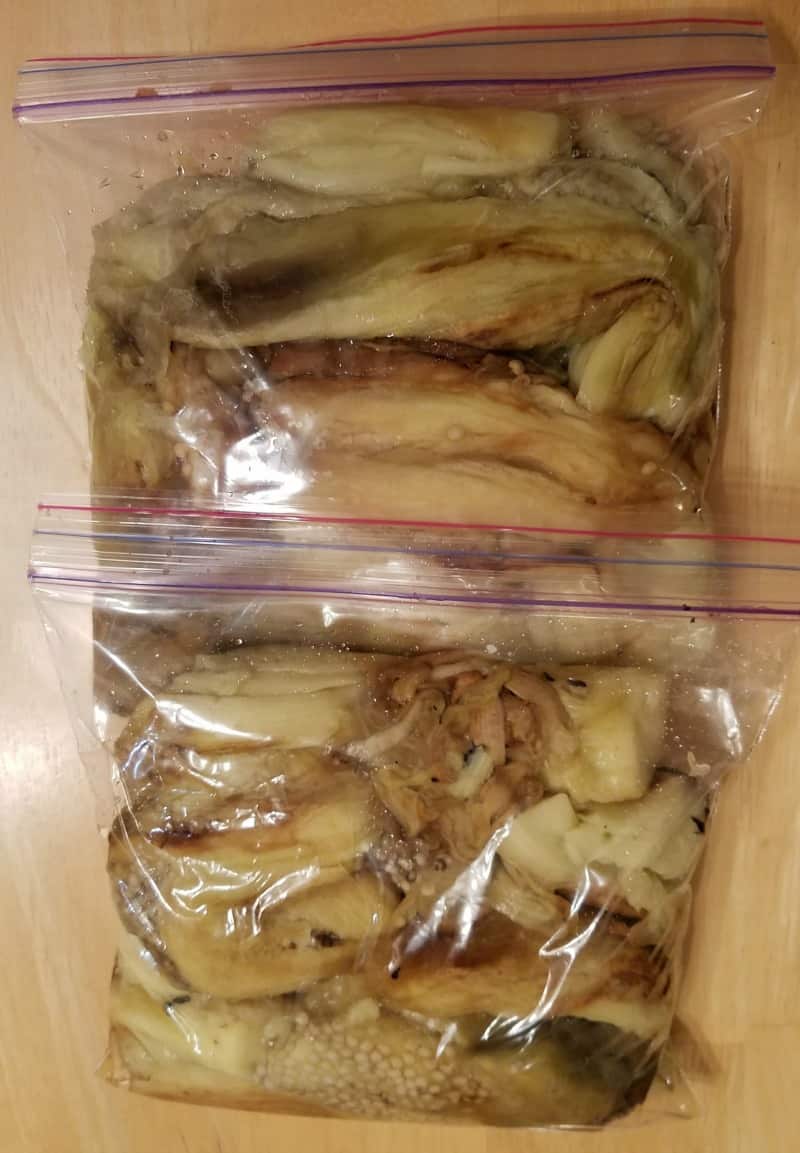 Roasted Eggplant Spread Recipe
This roasted eggplant recipe is easy to make, and will become a family favorite. At our house it's one of the few things our children never refused to eat.
All you need for this delicious spread is roasted eggplant, finely chopped onions, salt, mayonnaise (optional) and oil. Yep! That's it!
Secret tip: chop the onions into very small cubes, salt them and then go over them with a knife several more times in opposite directions.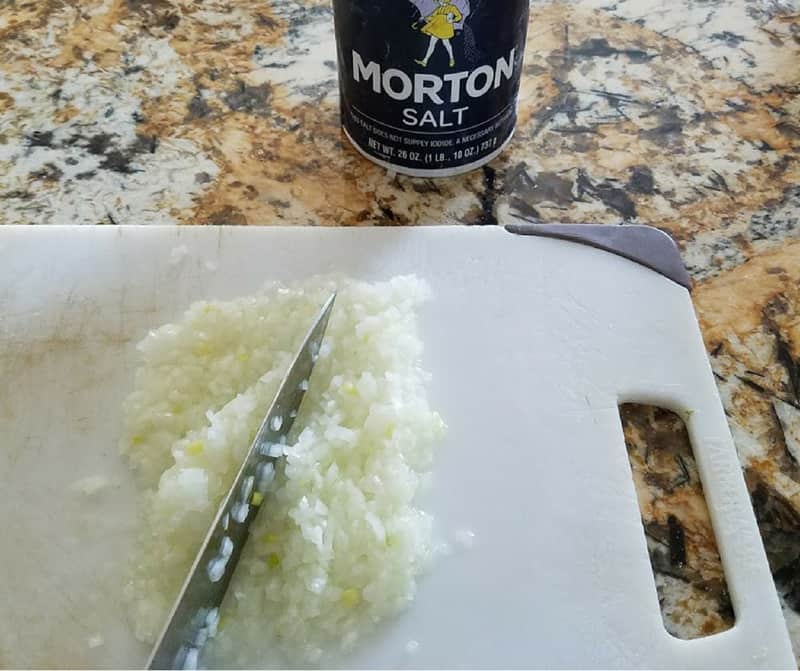 Roughly chop roasted eggplants with a plastic knife to avoid darkening the eggplant. As you can see, I improvised: I used an old plastic noodles drainer that has a straight edge. If you don't have one, you can find lots of plastic knifes on Amazon.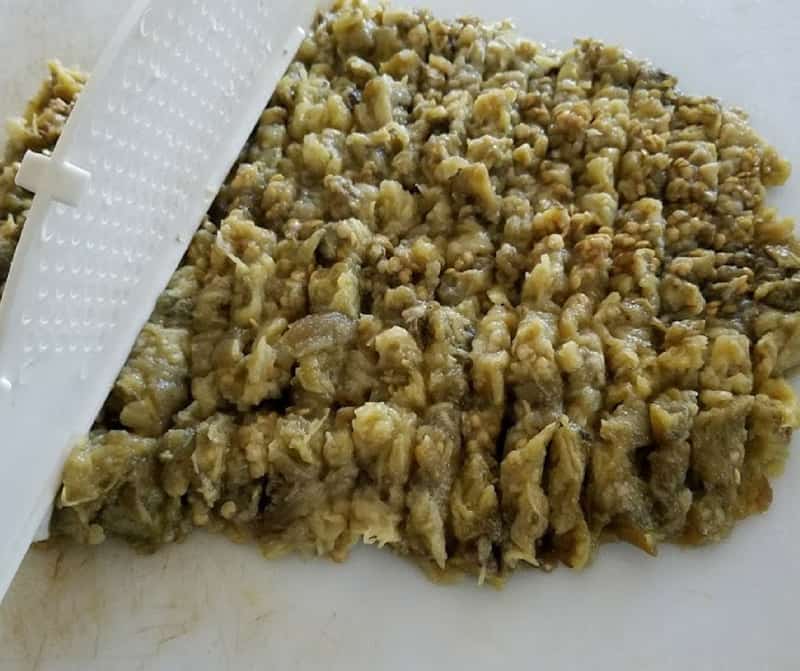 Now mix eggplant, onions, mayo and slowly add oil mixing continuously in the same direction. This is important! If you switch the mixing direction your spread won't be smooth: it will separate from the oil.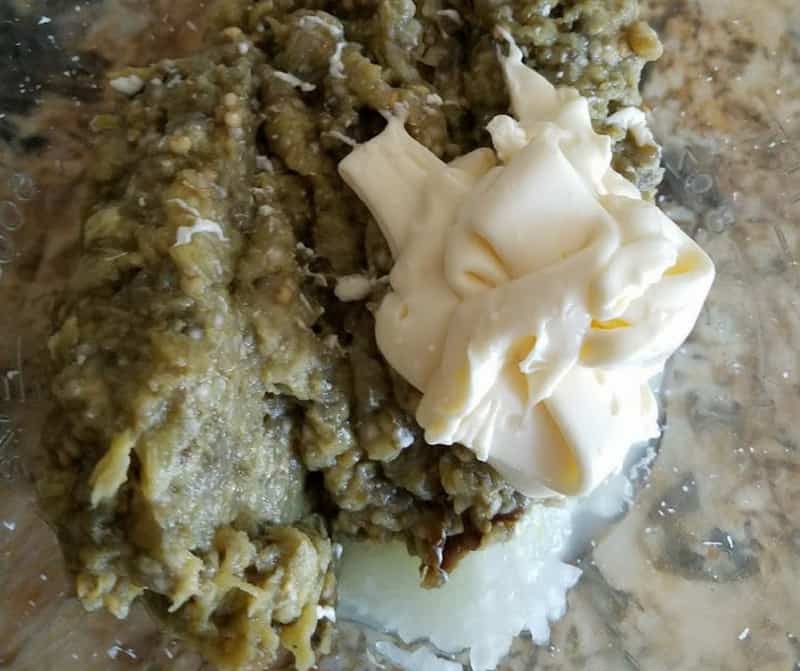 One last tip: don't use a blender to chop your roasted eggplants. It will break up the seeds and make your spread bitter!
This roasted eggplant spread goes really well with roasted red peppers: a combination made in heaven, if you ask me 😉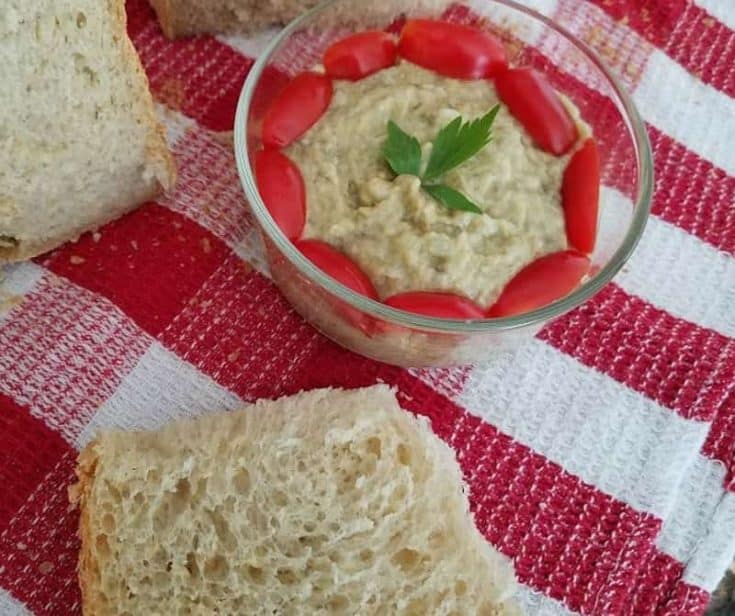 Yield: 4
Roasted Eggplant Spread
Prep Time: 15 minutes

Cook Time: 30 minutes

Total Time: 45 minutes

This roasted eggplant spread is the perfect comfort food: smooth, savory, a bit smoky, it hits all the right spots!
Ingredients
3 medium eggplants
1 small onion, finelly chopped
1 tsp salt
1 tbsp mayonnaise, optional
1/2 cup oil
Instructions
Roast eggplants in the oven as instructed above
Let roasted eggplants chill for 20 minutes, then peel the charred skin
Let the juices drain for 15 minutes. During this time chop the onions.
Chop the eggplant with a plastic knife (metal darkens them)
Mix roasted eggplant, chopped onions, salt and mayo, and then slowly add the oil mixing continuously in the same direction (
Enjoy with homemade bread (best option), or your favorite crackers or pita chips.
Lick the bowl: don't let any of it go to waste 😉
Nutrition Information:
Yield:
4
Serving Size:
1
Amount Per Serving: Calories: 426Total Fat: 32gSaturated Fat: 2gTrans Fat: 0gUnsaturated Fat: 28gCholesterol: 1mgSodium: 608mgCarbohydrates: 39gFiber: 11gSugar: 14gProtein: 4g

Nutrition information isn't always accurate.