There are some greenhouse accessories that are absolutely essential for the proper operation of any greenhouse, whether you use a kit or DIY design.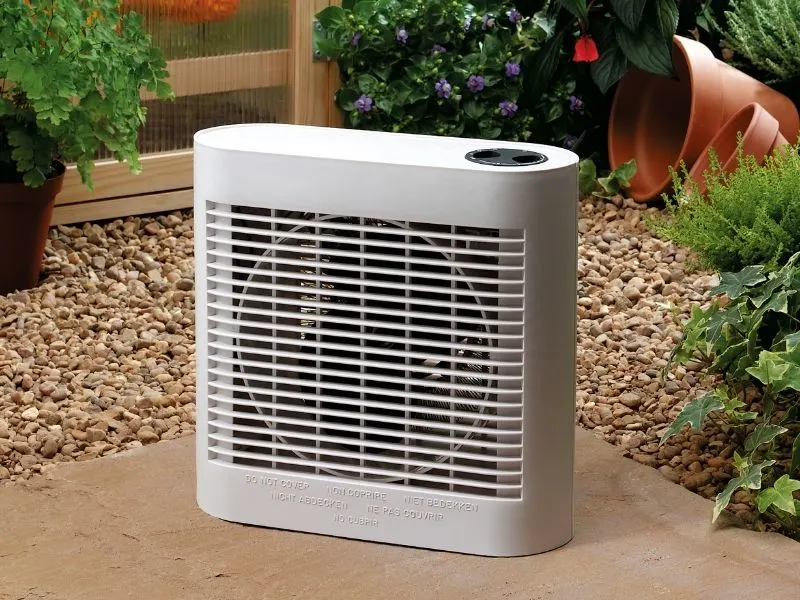 We label these must-have items below "essential".
Then there are accessories that are technically optional but really contribute to an easy and successful greenhouse experience. We call these "optional but highly desirable".
The third type of accessories would be nice to have but are truly optional (depending on the circumstances). You may consider adding these on later to help keep initial costs down. We call these items simply "optional".
Must-Have Greenhouse Accessories
1. Tie-down kits
Essential
No matter where you live, you will occasionally experience storms with high winds. I would never construct any greenhouse without it being anchored to the ground in some way. (here are tips on building your own small greenhouse)
A masonry structure will be attached to a concrete slab, and wooden buildings may rely on poles buried deep into the earth. But with Solexx greenhouses or any lightweight plastic structure, you MUST anchor this thing into the ground. If not, you may end up going to the next county to find it after a storm passes!
We suggest these ground anchors that you actually screw into the ground next to your greenhouse.
Next, you attach a J-hook to the greenhouse frame.
Turnbuckles allow you to tighten down the connection and also allows an easy disconnect if you decide to move your greenhouse. We recommend a tie-down anchor every 8 feet along the perimeter of the greenhouse.
For large greenhouses, or if you need to anchor your greenhouse into sandy soil, look for 30″ long anchors.
*How many anchors do you need?
8'x8′ houses need 4 anchors
8'x12′ requires a total of 6 anchors
8′ Conservatory greenhouse needs 4 – 30″ anchors, the 16′ one needs 6 – 30″ anchors, and the 20′ greenhouse requires 8 – 30″ anchors.
2. Greenhouse base vents
(Essential)
Why do we consider these vents essential greenhouse accessories?
Cross-ventilation is an absolute must for any greenhouse. If a means of airflow through the growing area is not provided, stagnant air and excess heat will kill or stifle plant growth.
These vents provide a very basic passive means to allow fresh air to continually flow through your greenhouse. Mount a vent near the base in each corner for natural 'ground up' cross ventilation. But close them during colder weather to save heat.
Two base vents are recommended for every 4 feet of greenhouse length.
*How many do you need?
8'x8′ houses need 4 base vents
8'x12′ requires a total of 6 vents
Conservatory 8′ needs 4 vents
Conservatory16′ needs 6 vents
Conservatory 20′ requires 8 vents
3. Solar-powered vent openers
(Optional but highly desirable)
Now, these are really cool! Reasonably priced, they're almost a must-have for efficient greenhouse operation.
Who's going to open your greenhouse vents when it gets hot in the middle of the day? And then who'll close them at night to keep the heat in?
These solar openers help automate your greenhouse so you can even go on vacation and not worry about your prized heirloom tomatoes getting
cooked.
How do the solar-powered openers work?
The piston housing contains a paraffin solution that expands and opens the vent when the temperature rises; cools down and closes the vent when the temperature drops.
No electricity, no batteries, no solar panels. Just good old American ingenuity.
4. Greenhouse exhaust
(Optional but highly desirable greenhouse accessory)
Are you serious about this greenhouse thing? Then dig a little deeper in your pockets and purchase an exhaust fan for your project. I believe any greenhouse bigger than the 8'x8′ models will probably require an exhaust fan.
So, if you can't afford it up front, put it at the top of your wish list for greenhouse accessories (maybe for Christmas?)
What size do I need?
12″ Exhaust Fan – 760 CFM is perfect for all kits up to 8'x12′
16″ Exhaust Fan – 1250 CFM is great for 8′ x 16′ conservatory greenhouses
5. Black greenhouse shade cloth
(Optional/essential in hot climates)
During the peak of the summer heat, you may need to give your greenhouse a little sunscreen!
Shade cloth will probably be a necessity if you live in the deep South and your greenhouse receives no shade from trees. This protection also helps prolong the life of your greenhouse panels. Shade cloths are one of the most popular greenhouse accessories.
Reusable black polypropylene 50% shade cloth filters out excess sunlight, reducing heat on hot summer days. Reinforced, hemmed edges with grommets make attachment and removal of your shade cloth easy.
6. Greenhouse flooring
(Optional greenhouse accessory)
Adding a flor to your greenhouse is the perfect way to finish it. Gives it a professional appearance and helps keep it clean. You may even decide to add a layer of gravel on top of the flooring, but this is not necessary.
Durable, black polypropylene flooring eliminates weeds from the floor of your greenhouse while allowing water to drain.
7. Greenhouse heater
(Optional/essential in cold climates)
Although the Solexx greenhouses provide a surprising amount of protection from the winter cold, some tender plants require supplemental heating during that time.
8. Shelving system
Keeping plants organized in the greenhouse is important for efficiency. Get a few shelving units for seedling trays, pots, and other items needed in the greenhouse.
Here are 6 greenhouse shelving ideas to help keep you organized.
Planter Storage Rack Display Shelving Unit
3-Tier Greenhouse Plant Growing Rack
9. Potting bench
If you have a larger greenhouse and spend time in there planting your seed trays, potting up seedlings, etc., you'll benefit from a mobile potting bench. Why stand when you can sit and enjoy your work?
10. Insect hotel
While it's possible that some beneficial insects can make their way into the greenhouse through the vents, why not create an inviting environment for them? Add an insect hotel to your glasshouse for better pollination.
11. Greenhouse sign
Maybe not a must-have accessory, but a fun one! Add a sign to your greenhouse for a touch of personality.
Shabby Chic Garden Sign
The Greenhouse Wood Plaque
I'm in The Greenhouse – Country Cottage PVC Sign
Well, that's about it for our greenhouse accessories, enough to keep you busy for a while.
FAQ about greenhouse accessories
What is the best flooring for a greenhouse?
Since the greenhouse needs good drainage, the best flooring should allow for it. The bets draining floors would be made of dirt, sand, bricks, or gravel. To make sure you keep the weeds under control, add a weed barrier under your floor if you use bricks or gravel.
Do greenhouses need ventilation
Absolutely! Plants need airflow in order to stay healthy. The greenhouse ventilation system provides CO2 from the fresh air to the plants and keeps temperature and humidity in check.
What is the cheapest way to heat a greenhouse?
If you make compost, you can tap into it for greenhouse heat. Another cheap method for warming up the greenhouse is creating a thermal mass or heat sink. You can do this by adding gallon jugs filled with water (paint them black for better efficiency) if your greenhouse is small. For larger ones, use a 55-gallon water barrel.