Each flowering plant has its own distinctive traits, and all are worthy of our attention. Many of the outstanding plants in the list below have distinguished names to match. Add a few of these notable flowers that start with N to your garden for a noteworthy display of color.
Annual Flowers that Start with N
1. Nasturtium (Tropaeolum sp.)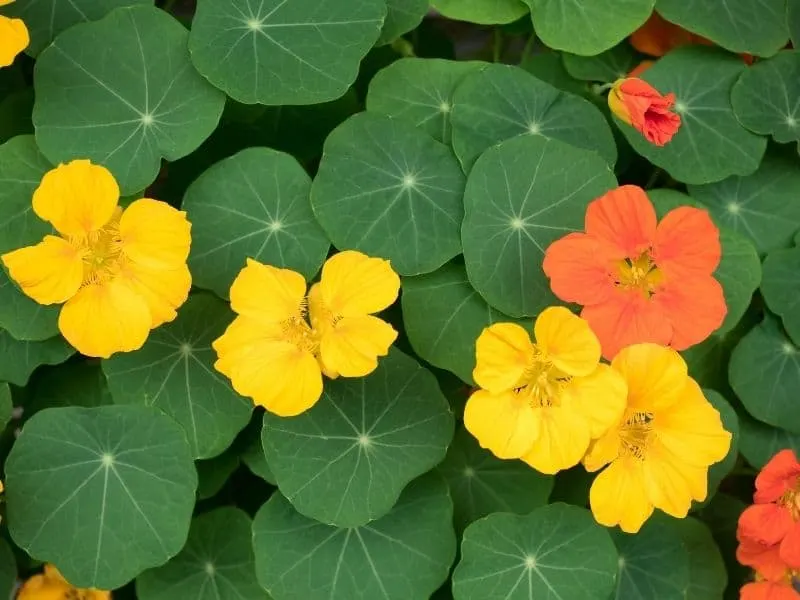 A stunning ornamental, an effective companion plant in the vegetable garden, and a peppery addition to salads — what's not to love? Nasturtiums are typically trailing or climbing vines, making them great for borders or containers, though they also come in mounded dwarf varieties. Their vivid orange, red, or yellow flowers bloom among unique round leaves resembling small lily pads.
Plant these easy-to-grow flowers in average, well-draining soil in a location that receives full sun. Although they may begin to wilt in drought conditions, they will bounce right back with a good watering.
Buy jewel mix nasturtium seeds from amazon: pretty and tasty too!
2. Nemesia (Nemesia sp.)
The lovely bicolor blossoms of nemesia often resemble small orchids clustered at the top of each stem. Available in almost every color, nemesia fits well in just about any flower bed, and its quick-growing habit makes it perfect for containers, too. Plus, it gives off a light, pleasing scent.
This low-maintenance plant appreciates rich, well-draining soil with even moisture and full sun.
Amazon has nemesia seeds here.
3. Nemophila (Nemophila sp.)
Also fittingly called baby blue eyes, this low-growing plant produces tiny blue flowers with white centers from late winter through spring. Because it's one of the first to bloom in the spring, this flower attracts pollinators. Plant nemophila in containers or hanging baskets or as a groundcover in rock gardens, wildflower gardens, and borders.
Nemophila thrives in full to part sun and rich, acidic, well-draining soil. Although somewhat drought tolerant, it will not survive extremely dry conditions.
You can get baby blue eye seeds here.
4. New Guinea impatiens (Impatiens hawker)
Perfect for brightening up a shady spot, these tropical flowers have attractive dark green or variegated foliage as well as stunning colorful blossoms. As an added bonus, the nectar-filled spur attracts butterflies and other pollinators. New Guinea impatiens don't spread, making them perfect for tucking into small gaps.
Plant New Guinea impatiens in rich, well-draining yet consistently moist soil in a partially shaded location.
Get a small seed packet of multicolored new guinea impatiens here.
5. Nierembergia (Nierembergia sp.)
The unique cup-shaped flowers of nierembergia, or cupflower, smile up from a neat mound of feathery foliage all summer long. Available in cheerful shades of purple or white, the blossoms typically have bright yellow centers.
Its tidy growth habit means that nierembergia can be planted in rows along borders to maintain a clean appearance or tucked between tall focal plants and cascading flowers of containers.
Nierembergia thrives in rich, well-draining soil and full to part sun. In USDA zones 7-10, it can be grown as a tender perennial.
6. Nigella (Nigella sp.)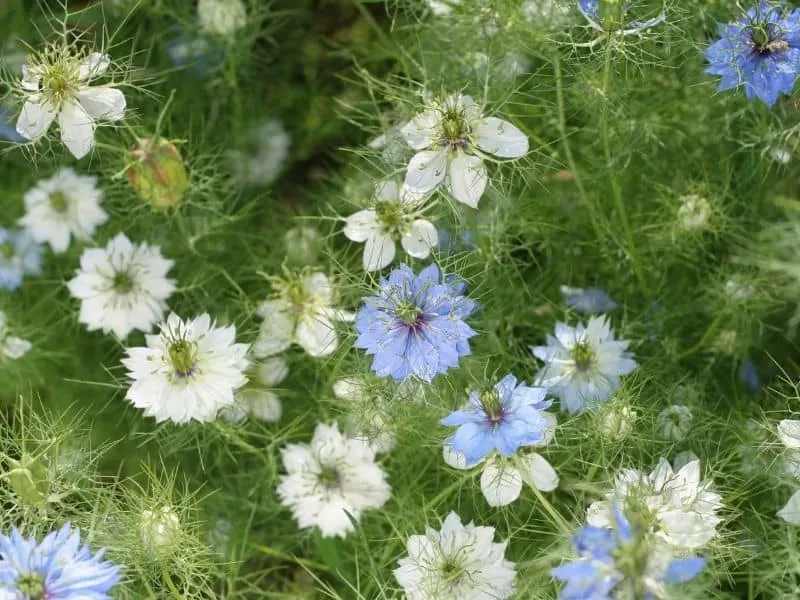 Nigella is a genus encompassing 18 species, some of which are also commonly called love-in-a-mist or devil-in-a-bush. Unique, swollen fruit adds interest to the wreath of blue, white, pink, or yellow petals surrounding it. And lacelike bracts grow out from underneath to frame the stunning flower.
As a self-sowing plant, nigella works well in cottage gardens and other informal settings; removing the seed pods right after the petals fall will reduce spreading. Nigella grows best in sunny locations with well-draining soil.
7. Nolana (Nolana paradoxa)
Also known as Chilean bellflower, Nolana features blue, trumpet-shaped blossoms, often with yellow or white centers. This low-growing groundcover is lovely planted along borders or cascading from planters or hanging baskets.
Although easy to grow, Nolana can be difficult to find, so you may need to start it from seed. Sow indoors, then plant out in full sun and well-draining to sandy or even gravelly soil. Once established, it likely won't need any supplemental help.
Perennial flowers that Start with N
8. Narcissus (Narcissus sp.)
If these cheery spring bulbs look familiar, that's because they're more commonly called daffodils. Narcissus fit well in many different settings with their range of sizes and shades of yellow. Plant the bulbs in informal clusters or tidy borders, or distribute them randomly for a cottage garden effect.
Narcissus thrives in full sun but will tolerate partial shade.
9. Neomarica (Neomarica sp.)
Known by many common names, neomarica is most often called walking iris. After plantlets develop at the top of flower stalks, the stems bend to the ground so they can take root, giving the appearance of walking through a landscape.
This clumping plant produces long, glossy leaves and small flowers in purple, white, or yellow. Although not a true iris, neomarica has horizontal outer petals and curved inner petals that resemble iris blossoms.
Neomarica grows in full to partial shade and prefers moist soil but will tolerate many soil types. Native from Mexico to Brazil, it is best suited to zones 9-11.
10. Nepeta (Nepeta sp.)
The deep purple spires of nepeta, or catmint, begin to bloom in early summer and provide an important source of pollen and nectar for bees and other pollinators. The plants form neat mounds of foliage in the spring but quickly grow outward and can become leggy after flowering. Shearing them back at this stage will encourage a tidier appearance as well as a second round of blooms.
This hardy, long-lived plant is easy to grow in many conditions, including poor soil and harsh winters. However, nepeta does prefer full sun; too much shade can cause flopping.
11. Nerine (Nerine sp.)
Related to amaryllis, not lilies, nerine nevertheless features clusters of lily-like blossoms at the ends of long stems. These flowers typically bloom in pink hues but sometimes also come in shades of red, orange, or white. Plant nerine in rock gardens, beds, or even containers.
Provide the plants with excellent drainage and rich soil, ideally in a location that receives full sun. In zones 6 and colder, bring the bulbs inside to overwinter.
12. Night phlox (Zaluzianskya capensis)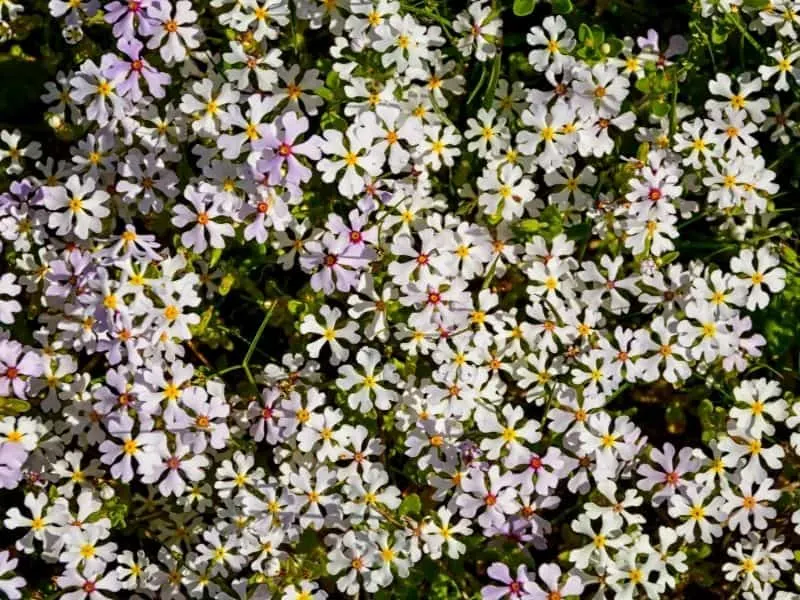 As its name suggests, this fun little flower opens at night to release its sweet fragrance. The unique lobed petals are often white on top and purple underneath for a stunning contrast, and the attractive foliage provides interest during daylight hours.
Native to southern Africa, this low-growing alpine plant is unfortunately not winter hardy, but if grown in a container, it can be overwintered in a frost-free location. Plant night phlox in full sun and rich, moist, well-draining soil.
Which of these notable flowers do you find worthy of attention? Perhaps they will also find a place in your garden, where they can add further beauty to the remarkable landscape.