One of the easiest ways to see a variety of new bird species is to set up a bird feeder in your yard. There's nothing better than looking out of your window to see a new species you haven't seen before. The only question is, how do you continue attracting birds during the winter months when many birds have flown elsewhere for the winter?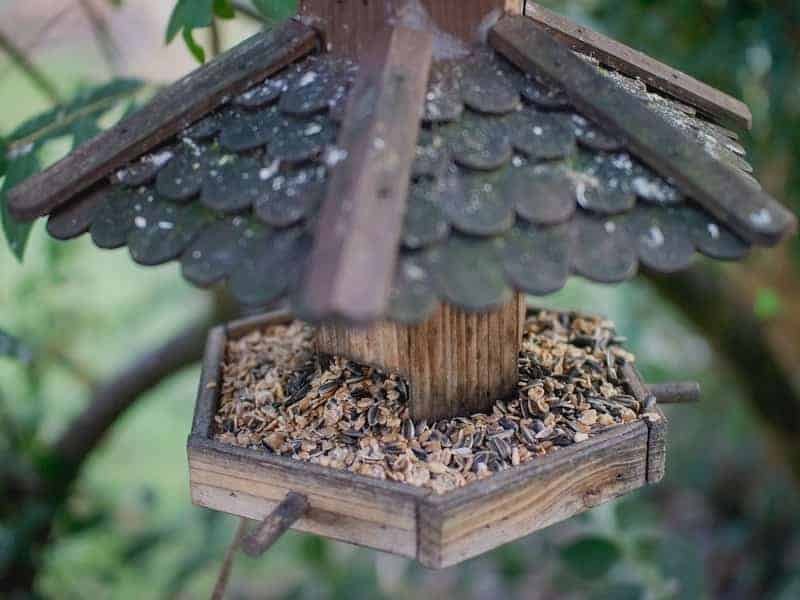 Quick Navigation
Different types of birds enjoy feeders at different heights, so catering to the winter species you may see is a step in the right direction. We've got you covered. Read on to find out more about how you can attract birds during the winter and our picks for the best bird feeders during winter.
Related: homemade bird feeder ideas
In a hurry? This is our winner!
Best Bird Feeder for Winter – Comparison Table
Best Bird Feeders for Winter – Reviews
Our Pick
Our rating:

If you're really big on how your garden looks, it's only natural that you may have some concerns about how your bird feeder looks. That's not a concern you need to have when it comes to the Bird Quest SBF2Y 17" Spiral Thistle Bird Feeder. This bird feeder has an attractive spiral design that envelops the main tube where the feed goes, so it looks incredibly elegant. It looks attractive, but this feeder may make you wish you were a bird – it looks pretty fun to play on!
The great thing about this feeder is that several birds can eat on it at once due to the continuous spiral perch. It may be a bit tricky for the birds to find the food holes though, considering that the holes are dotted about all over the feeder. This can be rectified fairly easily by punching a few more holes in.
The birds could eat upside down or standing when using this feeder too, which is pretty cool!
It's not too difficult to clean either: just make sure you don't leave it too long otherwise any rotten food can damage the plastic of the feeder. As we'll mention later in our buyer's guide, you shouldn't be leaving the cleaning of your bird feeder for longer than about a week anyway as it can damage the birds.
The feeder also doesn't have a cover to protect it from the rain, so it's even more important to ensure that you properly maintain it. You can use this bird feeder in conjunction with a dome or baffle to protect it from the winter (this is not included, but you this one is loved by over 4000 people who bought it on Amazon).
It's ideal if you want to feed several birds all at the same time, and the large capacity is perfect for the winter so it's a solid option worth considering.
Easy to clean due to detachable bottom

Sturdy and long-lasting even through the winter, if properly maintained

Spiral perch fun and can hold many birds

Attractive design
Our rating:

This bird feeder looks very sleek in a nice copper color so it'll look good in the garden. It's easy to mount and is 13.5 inches high so it fits a decent amount of food inside of it. It's versatile and allows a variety of birds to feed on the 4 ports it offers. Also, a big hit with finches. So, if you're looking to attract more finches this will be a good choice for you.
The Woodlink Natube5 Audubon Tube Feeder is extremely easy to maintain with a removable bottom. This makes it easy to clean, especially for the winter months.
The good-looking bronze cover also helps to protect the bird's food from getting wet, but the feeder also has no problems keeping any food in because the holes are just the right size to keep food in but to allow the birds to feed easily. Easy to use and incredibly affordable, you could put a couple of them around your yard to attract a variety of birds.
Also, purchasing this feeder supports the National Audubon Society, so you can rest assured that you're helping to make a difference. This is a good product that is durable and will last a while all at an affordable price, so what are you waiting for?
Sleek looking design in copper finish

Perching system attracts finches

Weather-resistant – ideal for the winter

Supports the National Audubon Society
Our rating:

This bird feeder comes with a lot of cool features and it has the winter months in mind. It has a huge capacity and is easy to clean: exactly what you need for the winter.
If you need something to keep squirrels out of your bird feeder, it really is in the name of this product. Any squirrels that want to snatch your bird food will be hard-pressed for success with this feeder. The squirrel will have a hard time doing any more than just dangling or sliding around on the feeder.
The top of the feeder is made of metal and has a sloping design, so the squirrel is unable to hang from the top to get to any of the feeding ports. It's also easy to fill and has a lot of capacity for the feed, so you shouldn't need to fill them too often either. You should try to check the feeder if it rains though, as you can still get a bit of water in this bird feeder.
The biggest problem with this product is the price, which is insanely high in comparison to many of the other picks on this list. BUT, it's worth the cost of a good quality bird feeder that repels any pests easily.
Squirrel Proof

Attractive design

Large capacity
Our rating:

This bird feeder can be used throughout the year, not just during the colder months. Its main selling point is that it's easy to clean, a huge plus for the cold winter months when you don't want to venture into the cold outdoors too often to change your bird feed.
The Nibble Weather Proof Anti Bacterial Bird Feeder consists of a simple design, but it hangs well and the feed holding tube is sturdy and durable. It's tenacious against the elements, with a UV-stabilized and sun-proof polycarbonate coating that doesn't discolor. This will also help, in conjunction with the polypropylene fittings and metallic alloy, to prevent rusting and cracking.
As the name suggests, the anti-bacterial coating helps to stop the growth of harmful bacteria, keeping the birds safe.
For cleaning, simply remove the perches, the ports, and the base to easily clean the whole feeder.
It also has a decent capacity, allowing you to add up to 350g of seed quite easily. All of this comes at an affordable price.
Helps to protect from the sun

Weather-resistant

Durable

Affordable
Isn't suitable for attracting blue jays
Our rating:

This bird feeder has a unique design. This is because it's a panorama feeder, which basically means that the food is dispensed around the bottom of the feeder.
It's ideal for feeding a variety of birds (since you can buy a one or two-tiered version). The two-tiered version can also hold more feed so you don't need to fill it as often.
It's pretty easy to set up, so no excessive playing around to figure out how it works. It's difficult for a lot of animals to reach if it's placed high in the air too, so no pests stealing the food. The anti-rust design helps it last a long time.
The feeder also looks good, which is always a welcome addition when it's going to be placed in your garden. It's incredibly affordable too, though not as cheap as a few others on this list.
Space for a lot of birds to eat, and can be done from any angle due to circular perch

Decent size capacity

Copper outer helps to prevent water from coming in
Susceptible to ice build-up around the lid of or inside this feeder
Best Bird Feeder for Winter – Buyer's Guide
Is my bird feeder going to be useful during winter?
Where you live has a big impact on the kind of birds you attract to your garden during the winter. Chances are no matter where you live you'll manage to attract a few birds to your yard during the winter, but they'll vary to the ones you would typically get during the summer.
If you're from North America, you could anticipate seeing some finches, sparrows, woodpeckers, jays, and cardinals during the winter months. A lot of plants and insects that birds tend to feed on for the rest of the year aren't around during the winter, so your bird feeder will be a valued source of nutrients for your feathered friends.
What should I look for when buying a winter bird feeder?
When looking for a bird feeder for the winter, your two biggest priorities need to be protecting the birds and the kinds of bird foods that will be contained in the feeder.
Protection
During the winter months, you should ensure that your bird feeders have covers over the food dispensing areas so that none of the food gets blown away or buried in the case of a storm or snow. This is mainly because wet bird food can become moldy and is unhealthy for the birds. If you get a cover that goes around the edge of the feeder will protect it during a storm.
You can add baffles to the feeder in the case that you don't already have a built-in cover with the feeder. You can also buy a baffle separately, and make one yourself.
Cleaning
You'll need something fairly easy to clean. It's easier for bird feeders to become dirty in the winter due to the build-up of ice and snow, so the seed will become worse in quality. The birds don't really have many options of where to go for food during the winter either, so the feeder will likely generate more visitors, and thus making them dirtier. With this in mind, it's worth looking for a model that's easy to wipe and remove any spoilt food so the feeder doesn't become moldy.
Capacity
For a bird feeder for winter, it's worth investing in a bird feeder with a large capacity. As previously mentioned, part of this comes down to the fact you're likely to get more birds coming to the feeder during the winter months. Another factor to consider is that winter is, well, cold! You don't really want to be going out constantly to refill the feeder when you're in those lower temperatures.
Squirrel Proof
Squirrels are real pests when it comes to bird feeders. They will, no doubt about it, come to raid your feeder of as much as it can without any remorse. You could use a bird feeder pole which has a baffle to stop squirrels. This will make it difficult for your little pesky neighborhood squirrel to get to the feeder. If you don't already know, a baffle is a big, usually circular, object that's placed on the pole to stop squirrels getting up. (If you feel bad for the squirrels, you can put out a squirrel feeder too, and make everyone happy)
Keep the feeder as far away as possible, ideally 10 feet at least away from any nearby tree trunks and branches. If the feeder is close to any trees it makes the baffle essentially moot as the squirrel can just jump onto the feeder.
How to Attract Birds in the Winter
Bird feeder aside here's a few extra tricks to help you to get more birds into your yard in the winter.
Type of Feed
You'll need to make sure the birds feed that you buy is of good quality and versatile enough that it can attract a variety of different birds. The type of feed you choose can massively change the type of birds you attract and how many. During the winter, it's a good idea to try and use feed that is high-fat with plenty of energy. Some examples are black oil sunflower seed, millet seed, peanut butter, and suet mix. You could also consider adding nyjer seed to attract finches.
Eastern Regional Blend Wild Bird Food, 20-Pound Bag
Pennington Select Birder's Blend Wild Bird Feed, 40 lbs
Wild Delight – Pound Nut N-Berry Birdfood, 20 lb
Safflower Seed Wild Bird Food, 5-Pound Bag
Keep Your Feed Stocked
If you leave the feeder empty for too long, the birds will find somewhere else to eat. For this reason, it's worth making sure that the feeder is always full, hence why a larger capacity bird feeder is recommended.
Bird Baths
If you have a birdbath in your garden, it's worth keeping it filled. It can be trickier for birds to find water during the winter, so naturally, if they see you have a birdbath it's a big plus for the little guys. You could even get a heater for the birdbath to keep the water warm. It'll be like a little spa for the birds!
Bird Houses & Shelter
Adding a little birdhouse to your yard is a welcome addition for a bird, it gives them somewhere to take shelter from the cold. You could also create a little pile of leaves and twigs near the feeder so the birds have a little extra shelter close to their food source.
On the subject of shelter, the birdhouse should also keep the bird protected from any cats if you let them outside.
Location of the Bird Feeder
So as we've previously said, you should keep the feeder away from the access of squirrels. The other thing you should consider is making sure the feeder is away from any windy areas and keep them out of the rain. You should also try to put it near some natural cover so they can easily hide.
As for height, put it somewhere that can be easily found by the birds. There's no way to know for certain how long it'll take the birds to find the feeder. If they can't find it, you'll need to put it somewhere more visible. You'll also need to put it low enough so you can change the food out. Many people choose to put them at roughly 5-6 feet off the ground.
Early Preparation of Your Garden
It can be handy to ensure that you start preparing the yard before winter comes along, usually during the autumn, so the birds know they can use your yard as a sanctuary and they don't just find your yard when it's the last resort. It basically needs to become a little hangout for your birds, almost like a nursery, well before winter.
Your preparation can include choosing a landscape that is suitable for birds, such as evergreens for sheltering, and plants that have extra fruit and sustenance during the winter.
Kitchen Leftovers
It may be worth sprinkling a bit of human food out for the birds! Things like fruit cakes, mince pies, dried fruit, unsalted nuts, apples, or pears are great for birds. Try to dot it around the garden.
For more shy birds like wrens and dunnocks, sprinkle a little grated cheese under the trees. Try to avoid anything like turkey fat or anything moldy. Make sure that you don't give them anything too salty as this can be very bad for birds.