Squirrels are adorable little creatures, aren't they? We just love to watch the little devils scurrying around. And you can bring squirrels right into your backyard, with a quaint little squirrel feeder.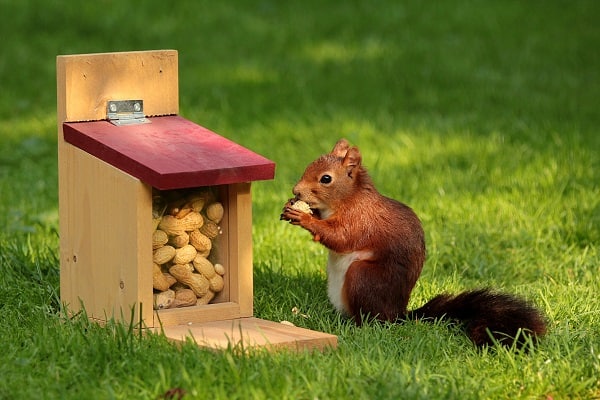 Quick Navigation
How fun! We've checked out many of the squirrel feeders on the market today and here are our top 5. These are the best squirrel feeders, with pros and cons listed for each.
After that, we've got a buying guide for you to help you decide what's the best one for you and your backyard.
In a hurry? This is our winner!
Best Squirrel Feeder – Comparison Table
Best Squirrel Feeder – Reviews
Our Top Pick
Our rating:

Now this squirrel feeder is a huge hit with customers. And with good reason too.
You can place the nuts, or other squirrel food into the metal casing of the feeder. The squirrel can see the nuts through the feeder's see-through windows. The squirrel makes its way to the feeder, and whilst perched on the ledge, can lift the lid of the feeder, giving access to the delicious food inside.
This is in significant contrast with spinning feeders, which enable birds to come to the feeder and peck at the corn placed inside.
This bird-proof feeder is noticeably more expensive than their corn feeder counterparts, but many customers feel that the extra spend is worth it. I guess it depends on how frequently you get birds in your backyard.
The metal casing cannot be chewed, so it stands up effectively to damage from wildlife.
It's very sturdy and is easy to install.
If you're not entirely happy with the feeder, don't worry, there's a 30-day money-back guarantee.
A big hit with customers

It's bird-proof

You can store loads of peanuts in it

Metal casing stands up to potential damage

Very sturdy

Easy to install

Made in the USA

30-day money-back guarantee
More expensive than its spinning feeder counterparts
Our rating:

This is a fun squirrel feeder from Woodlink – and the customers think so too.
This is a spinning squirrel feeder. You attach the center to a tree or post, and its 5 spokes can hold 1 ear of corn each. The squirrel scurries up for the corn, and when it gets a hold, the weight of the squirrel will cause the feeder to spin, making more fun for the squirrel, and more fun for you.
The feeder's turning motion effectively diverts the squirrel's attention from any other feeders you might have in your backyard, say a bird feeder.
The feeder is all metal, designed for real durability, and features a lovely decorative center.
It's easy to mount and all the mounting hardware you need is included in the price.
Great rating from Amazon customers

Fun for squirrels

Great fun to watch

Diverts the squirrel's attention from other feeders

Made from durable metal

Nice decorative center Easy to mount
You have to make sure you install it correctly to get it to spin
Our rating:

We love this squirrel feeder from The Squirrel Shop – and we're not the only ones.
Its picnic table design is absolutely darling. You place a stick of corn onto the 2-inch screw in the center of the picnic table, and the squirrel simply scurries up and perches on the picnic table seats and starts earring the corn.
The wooden parts are thick and sturdy. It's made from Naturally Decay Resistant Cedar and Ages Beautifully.
It's easy to install, with the most popular set up being screwing it to a tree.
The feeder is made by hand in Louisiana.
In terms of price, this feeder falls between more expensive metal-based feeders, and cheaper spinning squirrel feeders.
Gorgeous picnic table design

Wooden parts are thick and sturdy

Made from Naturally Decay Resistant Cedar

Ages Beautifully

Easy to install

Handmade in the USA
Our rating:

Here's a great little squirrel feeder from Wild Bird.
This feeder is shaped like a bookend in the shape of a horse. You screw the feeder into a tree or wooden structure and simply place an ear of corn on to the screw on the horse's neck. When the squirrel comes to eat the corn, s/he has to perch on the horse's saddle, so it looks like it's riding the horse.
It's a good quality feeder, made from durable metal, and finished with a high-quality UV resistant paint, so the feeder's color won't fade in the sunlight.
It's easy to install, and the welded mounting bracket includes the right screws you need.
Fun novelty idea

100% weatherproof, will last

Keeps squirrels away from bird feeders
Only feeds 1 squirrel at any one time
Our rating:

Customers and squirrels alike love this squirrel feeder, and it's super easy to use.
It consists of an 11-inch long spring-like enclosure that will hold 1 ear of corn. To load the corn, simply squeeze the hanger, let it swing open and insert the corn. Then reattach the hook, and hang it where you want it, preferably away from anywhere you might be feeding birds.
Then you simply sit back and watch the squirrels or chipmunks eagerly scrambling for their food.
You can't knock the price on this product, this is amongst the cheapest feeders for squirels out there on the market.
Although it looks a little on the flimsy side, it's actually quite sturdy and will hold various sizes of corn, and the corn will stay in place, even when the squirrels are there.
Super easy to use

Sit back and watch the squirrels

Cheapest feeder for squirrels on the market

Sturdier than it looks, the corn will stay in place

Will hold various sizes of corn
It will attract other wildlife besides squirrels
Best Squirrel Feeder – Buyers Guide
Types of backyard squirrel feeders
Your first consideration will be which type of squirrel feeder to go for. Wooden ones tend to be the most popular, but you can also get metal squirrel feeders, and spinning squirrel feeders.
We'll walk you through.
Homemade squirrel feeders
You can have a go at making your own homemade squirrel feeder if you are so inclined, but depending on what style you want to go for, it could be fiddly and time-consuming.
If you buy one from the store, then all the hard work is done for you and all you have to do is watch the squirrels come in for food.
Wooden Squirrel feeders
Many feeders for squirrels, and particularly the homemade ones, are made of wood. They have a nice, traditional look to them that quite suits their place within nature and wildlife. Squirrels seem to particularly like ones made of cedar.
They generally consist of one area to house the food and somewhere for the squirrel to perch.
The drawback to wooden squirrel feeders is that they are liable to damage from being chewed by the little creatures.
You can either screw these feeders into a nearby tree or perch them on a post.
Metal squirrel feeder
The primary benefit of investing in a metal squirrel feeder is the feeder's durability. You will get plenty of life out of it as it stands up not only against the weather, but also against any potential damage from other wildlife, since it cannot be chewed.
In our Top 5 above, there's a metal squirrel feeder featuring as our Number 1 product.
Hanging squirrel feeder
A hanging squirrel feeder has a simple design, whereby an ear of corn can be hung from a tree, in such a way that squirrels can access the corn inside while the feeder remains in place.
We shared one of these in our top 5 squirrel feeders.
Spinning squirrel feeder
Spinning squirrel feeders have a rather whimsical look to them, but they don't come into their own until a squirrel gets there.
With a feeder that spins, you can hang several ears of corn from the feeder, and when the squirrel gets there, grabs the corn, and starts spinning, the feeder effectively becomes a fun little merry-go-round.
Bird proof squirrel feeder
If you have a lot of birds in your area that want to pinch your squirrels' food, you might like to opt for a bird proof squirrel feeder. Now there tend to be a lot more squirrel-proof bird feeders than there do bird-proof squirrels.
But we have managed to find one for you, it's our Number 1 in our Top 5 above.
Remember to place your bird proof squirrel feeder away from your bird feeder, if you have one.
Other whacky squirrel feeders
This run down of different types of squirrel feeders is by no means exhaustive, they are other ones out there.
Our Number 4 is one such example, where the squirrel, when eating its corn, looks like s/he's riding a horse.
Another example is where a bungee rope holds an ear or two of corn on the end, and the squirrel jumps on board and sets off a bell to alert you that they're bouncing up and down on the bungee.
Great fun. You can sometimes get them from Amazon.
Things to consider before buying your squirrel feeder
Here we cover some things to think about before deciding which squirrel feeder is best for you and your furry friends.
Location
A hanging squirrel feeder like our Number 5, or a bungee squirrel feeder like our Number 4 will obviously require somewhere to hang it from, and this will not be included in the cost of the feeder, so if you don't have anywhere to hang it from, that option is not really an option.
Some squirrel feeders can be attached to a tree, such as our Number 2 and Our Number 3, so if you have a tree in your backyard you could have either of those.
Other squirrel feeders will need to be mounted onto a special post, like our Number 1 product.
Capacity
Another thing to think about is the capacity of the feeder. Some feeders will hold just one ear of corn at any one time. So if you want to feed more squirrels at any one time, you may prefer to get our Number 2, which holds 5 ears of corn at a time, or our Number 1 product, which you can fill to the brim with nuts.
Cost and durability
There's a saying "Buy cheap, buy twice" and what is meant by that is that if you buy cheaper products, you won't get the same durability you'd get with higher-end products, and you may find yourself having to go out and buy another one.
That is why we made the metal bird proof squirrel feeder our Number 1 product. It's sturdy, made from durable metal and will stand up against both the weather and the elements and against damage from wildlife, since wooden feeders tend to get their corners chewed by the little critters.
What to put in your squirrel feeder
Many squirrel feeders are built with certain squirrel foods in mind, such as ears of corn, but squirrels will eat practically anything. Of course, squirrels love nuts, as well as certain fruits and fungi.