Lavender is well-loved for its light-purple buds, sage-green foliage, and sweet, calming fragrance. In fact, it's both my favorite herb and my favorite flower. In addition to being a lovely landscaping plant, lavender has many uses, including in cooking, aromatherapy, crafting, herbal medicine, and flower arranging. It should come as little surprise, then, that the types of lavender are as many and varied as the uses for them, with more than 45 species and 450 varieties.
Common Types of Lavender – Top 5 Lavender Species
As with many plants, only a few of the many lavender species are widely cultivated in the US. Before delving into the best varieties for specific applications, let's take a look at the five most common species of lavender.
1. Lavandula angustifolia
Called English lavender, true lavender, or common lavender, L. Angustifolia is actually native to the Mediterranean region. Its wispy flowers bloom from early to midsummer in shades of white, pink, or purple.
This classic, aromatic plant grows two to three feet high and thrives in USDA zones 5–9, making it a good choice for cooler regions.
2. Lavandula dentata
Despite the common name French lavender, L. dentata comes from southern Spain. Its other common name, fringed lavender, refers to the plant's fringed, aromatic leaves. Although not as fragrant as other varieties, L. dentata blooms continuously from early summer into fall.
The showy, compact flower heads feature light purple bracts on top with slightly darker sterile bracts below. This one- to three-foot herb grows best in zones 8–9; in colder regions, plant in containers and move indoors over winter.
3. Lavandula x intermedia
Lavandin (L. x intermedia), a popular hybrid, is a cross between L. angustifolia and L. latifolia. The long, fragrant flower spikes bloom in the latter half of summer in shades of white to deep purple.
This hardy hybrid thrives in zones 5–9, and the Grosso cultivar especially tolerates hot, dry conditions. Grows up to 30 inches tall.
4. Lavandula latifolia
Portuguese lavender, or spike lavender, is native to the western Mediterranean region and grows best in zones 6–8. From late spring through the end of summer, it produces an abundance of pale lilac blooms on long stems.
L. latifolia has a strong, pungent fragrance and grows one to three feet tall.
5. Lavandula stoechas
Called Spanish lavender, butterfly lavender, or, confusingly, French lavender, L. stoechas hails from the Mediterranean region and Northern Africa. It tolerates hot, humid conditions better than other varieties but thrives only in zones 8–9.
The petite, 18- to 24-inch mounds bloom mid-spring to late summer with unique, pinecone-shaped flowers topped with upright petals. Although the flowers do not have a scent, the silvery foliage is very fragrant.
Learn More About Lavender
Best Lavender Varieties For Different Uses
The United States Lavender Growers Association lists six common purposes for lavender: crafting, culinary buds, cutting, dried buds, essential oil, and landscaping. The variety (or varieties) of lavender you choose will depend on your intended use for it. Keep reading for tips on selecting the right type as well as a few recommended varieties for each application.
If you plan to sell products crate with the lavender you grow, learn how to market lavender products.
1. Crafting
Long-stemmed varieties are best for making lavender wands, weaving into wreaths, and similar crafting projects. If the flowers will be visible in your creations, consider their color and appearance as well. Choose dark purple flowers for a bright and colorful wreath, pink flowers for a romantic dried bouquet, and white flowers if you plan on making wedding or baby shower favors.
Buena Vista (L. angustifolia)
Folgate (L. angustifolia)
Grosso (L. x intermedia)
Royal Velvet (L. angustifolia)
2. Culinary buds
Lavender buds can be used whole, ground, or as an extract in a wide range of dishes and can flavor honey, oil, sugar, and butter. Perhaps the best way to select a variety of lavender for culinary use is to taste it: if you like the flavor, you will like cooking with it.
Betty's Blue (L. angustifolia)
Melissa (L. angustifolia)
Provence (L. x intermedia)
Royal Velvet (L. angustifolia)
3. Cutting
Lavender is beautiful in both fresh and dried floral arrangements. When considering varieties for cutting, consider bloom times, stem length (longer is easier to cut), and color.
Buena Vista (L. angustifolia)
Folgate (L. angustifolia)
Grosso (L. x intermedia)
4. Dried buds
Dried lavender buds have an abundance of uses, including sachets, potpourri, and eye pillows. Look for varieties that have a stronger fragrance and buds that are easy to strip off.
Buena Vista (L. angustifolia)
Grosso (L. x intermedia)
Provence (L. x intermedia)
Royal Velvet (L. angustifolia)
5. Essential oil
Essential oil is difficult and time-consuming to make, but you may decide the final product is worth the effort. While many aromatherapy practitioners will not consider lavandin oil a true lavender essential oil, some lavandins have a higher oil content and work well for this purpose.
Grosso (L. x intermedia)
Maillette (L. angustifolia)
Royal Velvet (L. angustifolia)
Super (L. x intermedia)
6. Landscaping
When using lavender specifically for landscaping purposes, the chosen varieties will depend primarily on personal taste and growing conditions. Consider the color and bloom time of flowers, the size of the plant, and your growing zone — though note that varieties outside your zone can be grown as annuals or planted in containers to bring inside over winter.
Edelweiss (L. x intermedia)
Folgate (L. angustifolia)
Hidcote (L. angustifolia)
Munstead (L. angustifolia)
Landscaping With Lavender For Continuous Blooms
If you want to have lavender blooming in your garden throughout the growing season — and of course, you do! — you will want to choose varieties with varying bloom times. Some cultivars bloom early, some later, and some even bloom continuously.
Early blooming lavender
The earliest blooming varieties of lavender can flower in May, especially in milder climates. Most are L. stoechas, though a few hardier varieties also bloom in spring.
Anouk (L. stoechas)
Ballerina (L. stoechas)
Folgate (L. angustifolia)
Kew Red (L. stoechas)
Pedunculata (L. pedunculata)
Midseason blooming lavender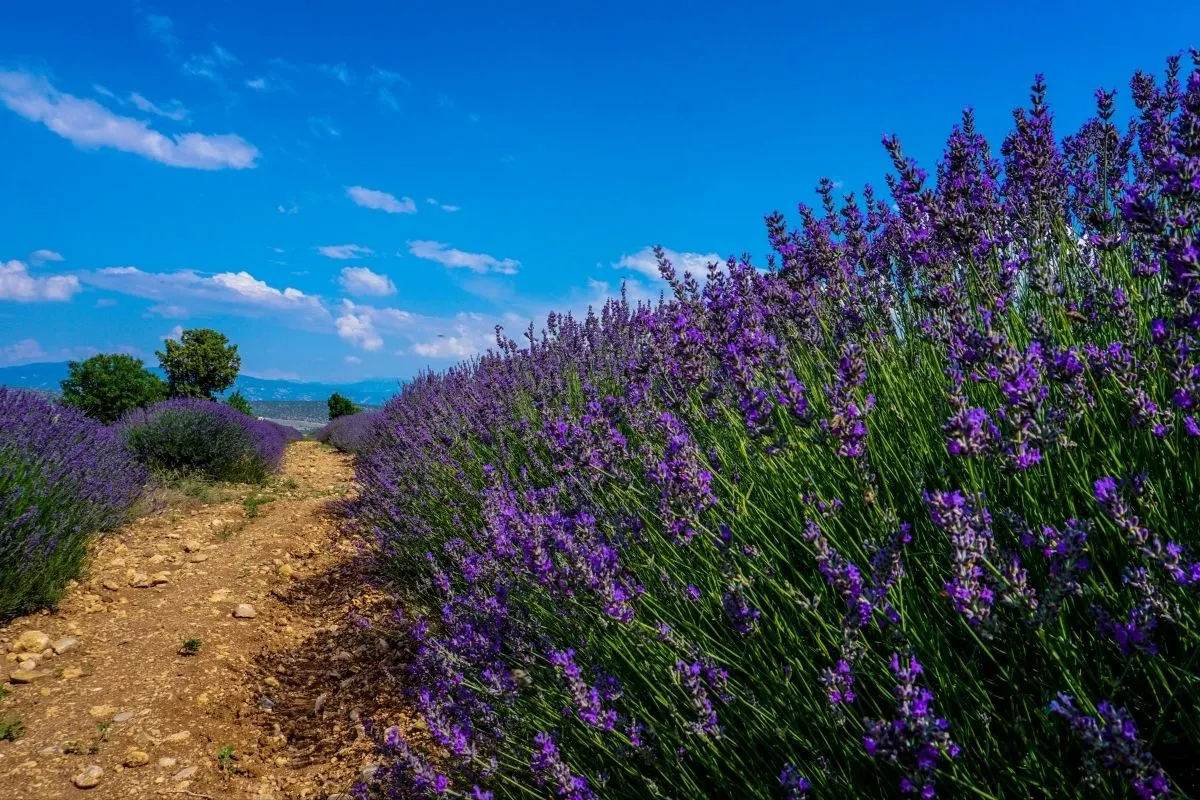 Midseason bloomers begin flowering in late spring or early summer, around June or July. Typically L. angustifolia, these varieties often stop blooming when the summer temperatures climb too high, but cooler regions may see an extended flowering period.
Hidcote (L. angustifolia)
Miss Katherine (L. angustifolia)
Munstead (L. angustifolia)
Rosea (L. angustifolia)
Thumbelina Leah (L. angustifolia)
Late-blooming lavender
The latest bloomers flower in late summer, typically July and August. Most are lavandin (L. x intermedia), though some L. angustifolia varieties bloom later as well.
Betty's Blue (L. angustifolia)
Grosso (L. x intermedia)
Hidcote Giant (L. x intermedia)
Nana Alba (L. angustifolia)
Provence (L. x intermedia)
Continuously blooming lavender
Although frost tender, L. stoechas typically blooms all season long, starting as early as May and finishing in late summer. If you live in a cooler region, plant these varieties near a heat-retaining wall or in a container that can be moved indoors over winter.
Anouk (L. stoechas)
Ballerina (L. stoechas)
Fathead (L. stoechas)
Kew Red (L. stoechas)
Regal Splendour (L. stoechas)
With so many types of lavender to choose from, you are sure to find one (or several!) to grace your garden with its lovely flowers and sweet fragrance. Bring some inside, too, arranged in a simple vase or to use in a variety of ways, from crafting to cooking. Breathe deeply, and enjoy!