If you don't have space around your home in which to garden, it might be time to look up. A flat roof, whether it tops your garage or your high-rise apartment building, can be transformed into a beautiful green space. Plant veggies, flowers, even small trees … the sky really is the limit! Plus, rooftop gardens come with a host of benefits, including reduced stormwater runoff, lower heating and cooling costs, increased habitat for birds and pollinators, and improved air quality. Check out these nine rooftop garden design ideas and take your garden to new heights.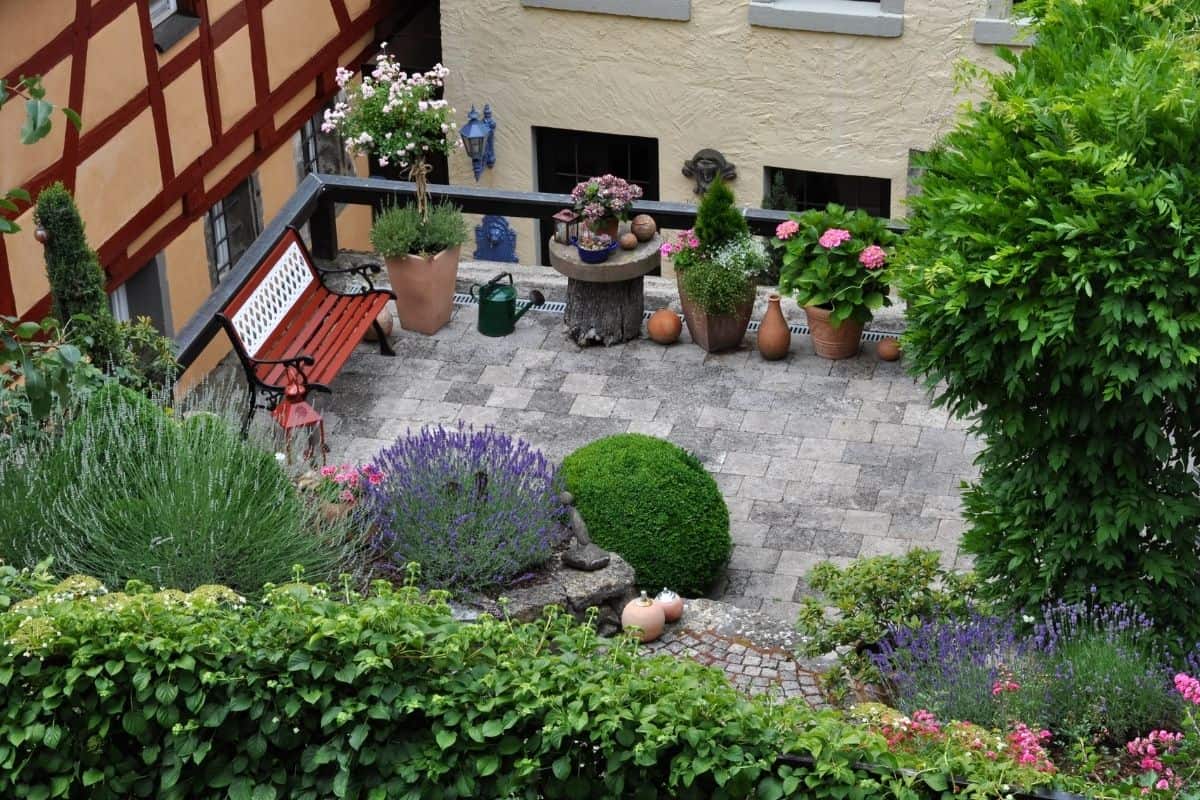 Rooftop Garden Design Ideas
1. Lighten up
As far as logistics go, weight is probably the most important thing to consider when designing a rooftop garden. A title deed might tell you the load-bearing capacity of the roof in question, but if it doesn't, a structural engineer can. Unless your roof was built to hold significant weight, choose your materials carefully.
Opt for plastic or fiberglass planters over cement and terracotta, and arrange most of them along the edges of the roof (but within the railing, of course). Fill them with soilless mix, which tends to be lighter than traditional garden soil. If you plan to include rooftop garden furniture, look for lightweight but sturdy pieces.
2. Keep it simple
While you can certainly work with a rustic or informal rooftop garden theme, like a cottage garden, your best bet will likely be a more simple, minimalist approach. Part of this is due to the unique space itself, and part to the aforementioned weight concerns.
Think clean lines and neutral tones that provide a backdrop for a tasteful collection of green foliage and bright flowers. And although it's tempting to tuck in as many plants as possible, when it comes to rooftop planters, less is more.
3. Safety first
Given the height of a rooftop garden, safety is an important concern. Make sure your rooftop is surrounded by a sturdy railing of appropriate height. Thick glass gives a more open feel and allows you to take in more of the view, but if your surroundings don't offer much to look at, you might want something more opaque.
Don't place anything on the railing or hang anything over it, as objects can easily fall off, posing a hazard to anyone below. Finally, secure any items that can blow around in the wind, and provide convenient and secure storage for small, lightweight items like cushions.
4. Take in the view
If your roof offers an attractive view, incorporate it into the design of your rooftop garden. Orient furniture to face the best view, and perhaps frame it with tall, narrow plants. When choosing rooftop garden materials, select patterns, and colors that complement the surrounding landscape.
On the other hand, you might have eyesores like parking lots or satellite dishes surrounding your oasis. Use fixed privacy screens, fence panels, or tall plants — even a boxwood hedge can be grown on a rooftop — to block undesirable sights.
5. Add shelter
Rooftops are very windy and often receive scorching sunlight. Add permeable windbreaks like hit-and-miss cedar batten, perforated sailcloth, or latticework to make the rooftop garden a more comfortable place to be on breezy days.
For shade, consider a shade sail, pergola, or anchored tent pavilion. A professional will be able to help install these items safely, especially where high ledges are involved.
6. Choose hardy plants
Tall shrubs that tolerate wind will offer some protection on gusty days as well as provide privacy for your rooftop garden. Arrange some large pots planted with daisy bush, northern bayberry, spotted laurel, dwarf arborvitae, or mock orange along the perimeter of the roof or around clusters of furniture. Then fill in with a few smaller, equally hardy plants.
Also, keep moisture and sunlight requirements in mind when choosing plants. If your roof is fully exposed to the sun, drought-tolerant species that thrive in full sun might be your best bet. Taller buildings or trees that offer some shade will give you a bit more flexibility in plant options. You may also want to consider installing a drip irrigation system if you don't want to haul water up to the roof every couple of days.
7. Plant a meadow
A roof may seem like an odd place for a meadow, but if it can tolerate the weight of the soil, why not? Fill your rooftop garden with Mediterranean and other coastal plants, which have adapted to tolerate exposure to extreme sun and wind.
Flowering herbs like lavender and rosemary spring to mind, as well as ornamental grasses. Add a few small trees, such as a dwarf olive, for height and to help make the small garden feel bigger. Plants that flower at varying points in the growing season will attract bees and other pollinating friends, adding to the feel of a natural meadow.
8. Grow your veggies

Depending on the weight-bearing capacity of your roof, you might be able to get away with a few raised beds. If not, you can still grow a container vegetable garden on the roof with great success.
Compact, smaller-leafed plants will likely fare best in the windy space. Look especially for dwarf varieties, which have been developed for small gardens and container growing. Even dwarf fruit trees can be grown on the roof, in large containers at least three feet deep. Here are some good container vegetables, herbs, and fruits:
lettuce and other salad greens
radish
green onion
strawberry
basil
sweet or hot pepper
tomato
dwarf apple
parsley
eggplant
carrot
9. Install a green roof
For a bit of a different approach to a rooftop garden, you might consider the highly beneficial green roof. A green roof, essentially a roof covered in plants, may or may not include space for people.
It can even be installed on a sloped surface, whereas the other ideas in this post have assumed a flat roof. The components include a waterproof membrane, root barrier, drainage system, filter, and shallow growing medium. The plants themselves range from ferns to cacti, with sedums being a popular choice. Dianthus and phlox add color and attract pollinators.
You will need to hire a professional to install this complex system, but the results of a green roof are certainly worth it: a beautiful living roof, improved air quality, drastically reduced runoff, significantly lower heating and cooling costs, increased biodiversity, noise reduction, and more.
Now that your head is full of rooftop garden design ideas, you might start seeing places for plants just about everywhere!