Panicle hydrangeas (also known as hydrangea paniculata) make excellent hedgerows. When you plant them close together, they grow dense and thick. A single plant can cover a lot of ground, so you don't have to buy that many to really make an impact. What are some of the top reasons to plant panicle hydrangea varieties? And which ones should you choose? Let's take a look.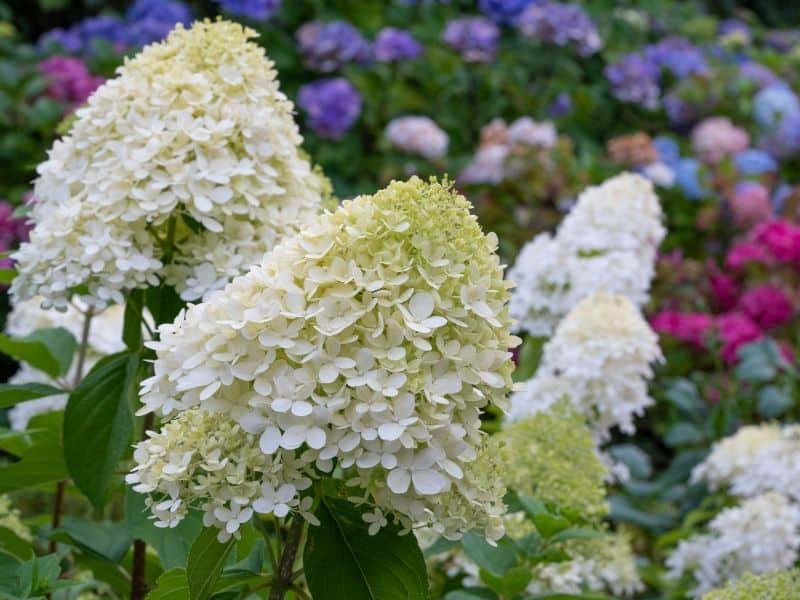 The 5 Most Popular Panicle Hydrangea Varieties
There are plenty of different plants to choose from in the hydrangea paniculata family. What you see here are 5 of the top choices for professional gardeners, and they'll look great at your home.
Love hydrangeas? Check out our hydrangea guides:
1. Limelight panicle hydrangea
This beauty does well in partial or full sunlight. It is at its height of beauty during the late summer and fall, though it looks great year-round. Expect a height and spread of 6 to 8 feet. This variety is native to Japan and China and is one of the hardiest plants in winter.
The limelight flowers move from lime green to creamy white and finally a deep pink in late summer. Those transformative flowers become a seasonally perfect beige in the fall.
After the flowers retreat, the leaves take over. You'll enjoy watching the dark green leaves turn to different shades of red for the perfect autumn look.
2. Vanilla strawberry panicle hydrangea (Vanille Fraise)
This hydrangea paniculata variety blooms pyramid-shaped flowers that are loose and fluffy. Vanille fraise gives you white colored flowers in mid-summer that turn to a strawberry pink.
As the plant senses fall right around the corner, the flowers produce pinkish-red hues. Once the large blossoms turn red, they'll stay that way for about 3 to 4 weeks before going brown.
3. Bobo panicle hydrangea
This is one of the smaller varieties of panicle hydrangeas. It will "only" grow to about 3 feet tall and 3 feet wide. You'll enjoy lacy white flowers which slowly turn to pinkish shades.
Bobo is at home in colder climates but also does well in temperate and mild climates.
4.Pinky winky panicle hydrangea
That's sort of a silly-sounding name, isn't it? These flowers sport two colors, white and pink. The bicolored flowers grow up to 12 inches on strong stems that don't need to be supported.
They begin a lime green color in the middle of summer and don't take long to change to deep pink. The flowers stand out well against the yellow-green leaves of the plant.
5. Tardiva panicle hydrangea
This is one of the latest panicle hydrangea varieties to bloom. The flowers on this plant are usually packed lower near the base than other varieties. Like other panicle hydrangeas, the flowers move from white to a purplish-pink as they grow.
You should expect profuse blooming from late summer well into the fall. The leaves turn combinations of yellow and purple in autumn.
A few more panicle hydrangea varieties to consider
The hydrangea paniculata phantom blooms in huge flowers. The flowers are conical shaped and up to 15 inches. Choose greenspire if you like long, conical-shaped flowers.
Hydrangea paniculata grandiflora (known by gardeners as PeeGee) has been around since the 1860s in Japan and is instantly recognizable.
Any of these panicle hydrangea varieties will deliver multi-season beauty and don't require much maintenance or attention.
Reasons to Plant Panicle Hydrangea Varieties
Most varieties of panicle hydrangeas grow tall and wide. You can expect them to reach a height of 5 to 20 feet, with a width of 6 to 8 feet. If you don't have a lot of room you need to cover, these are the perfect plants. You can plant three or four plants around an ugly outdoor heating unit.
Plant them along the outside wall of your home to hide a poor paint job or siding that needs to be replaced.
They run thick and dense, offering a multitude of uses in any yard. Aside from being perfect plants for building shrub lines and hedgerows, here are a few more great reasons to choose from the many panicle hydrangea varieties for your next landscaping project.
I have plenty of plants in my garden that require a lot of my attention. I don't mind that. I created this website because I absolutely love spending as much time as possible out in nature, digging in the dirt, and tending to my plants.
That having been said, it's nice to have those hardy plants which don't really care if you pay them much attention. This is definitely the case with panicle hydrangeas. They develop strong stalks and branches. The flowers themselves can put up with a lot of abuse.
These are tough shrubs that are available in a wide variety of beautiful colors and blooming patterns. If you like large, low maintenance plants that also look great in your garden, panicle hydrangeas are the way to go.
1. Panicle hydrangeas bushes are low maintenance
These flowers are not dainty plants. They don't take a lot of maintenance. You're not going to be spending a significant amount of your gardening with panicle hydrangeas.
This means more time to spend on other activities. You can devote more time to those plants that beg your attention. Honestly, these are such a favorite with so many gardeners (commercial and residential) because you can totally forget about them and they'll do just fine. I don't recommend ignoring them entirely, but I promise you won't have to spend a lot of time on maintenance for them to look great.
2. Hydrangea paniculata flowers bloom in sun or shade
This is something I really like. Most varieties will bloom consistently whether they get lots of sun or shade. This is one of the byproducts of them being very hardy.
While they will accept sun or shade, you'll get the best results if you give them 4 to 6 hours of sun every day. Do that and you'll see beautiful clusters of flowers.
These beautiful plants will start out either white or green, and they will morph into a lovely pink hue as they age.
3. Panicle hydrangea varieties offer multi-season beauty
Annuals come and go, but perennials bloom every year and they are beautiful even after the flowers fade and dry.
When perennials and other shrubs have lost their luster, Limelight, Vanille Fraise, and other varieties are still growing strong. They offer a season-long performance that moves from white, creamy, pink flowers to darker shades for autumn and winter. It is a rare plant that looks good year-round.
Now you know the reasons why you might want to add panicle hydrangeas to your garden or landscape. The next logical question to ask yourself is, "Which panicle hydrangea varieties should I choose?" Let's take a look at a few of the more popular options you can consider for your lawn.