Whether or not you believe in fairies, you can enjoy the charming details of a fairy garden. Small plants paired with tiny doors and other miniature accessories inspire magic and wonder in gardeners and visitors of all ages. Tuck fairy gardens into hidden pockets of the yard or plant one in a dish to enjoy on the porch or indoors. Here are 11 miniature fairy garden ideas for your next creative project!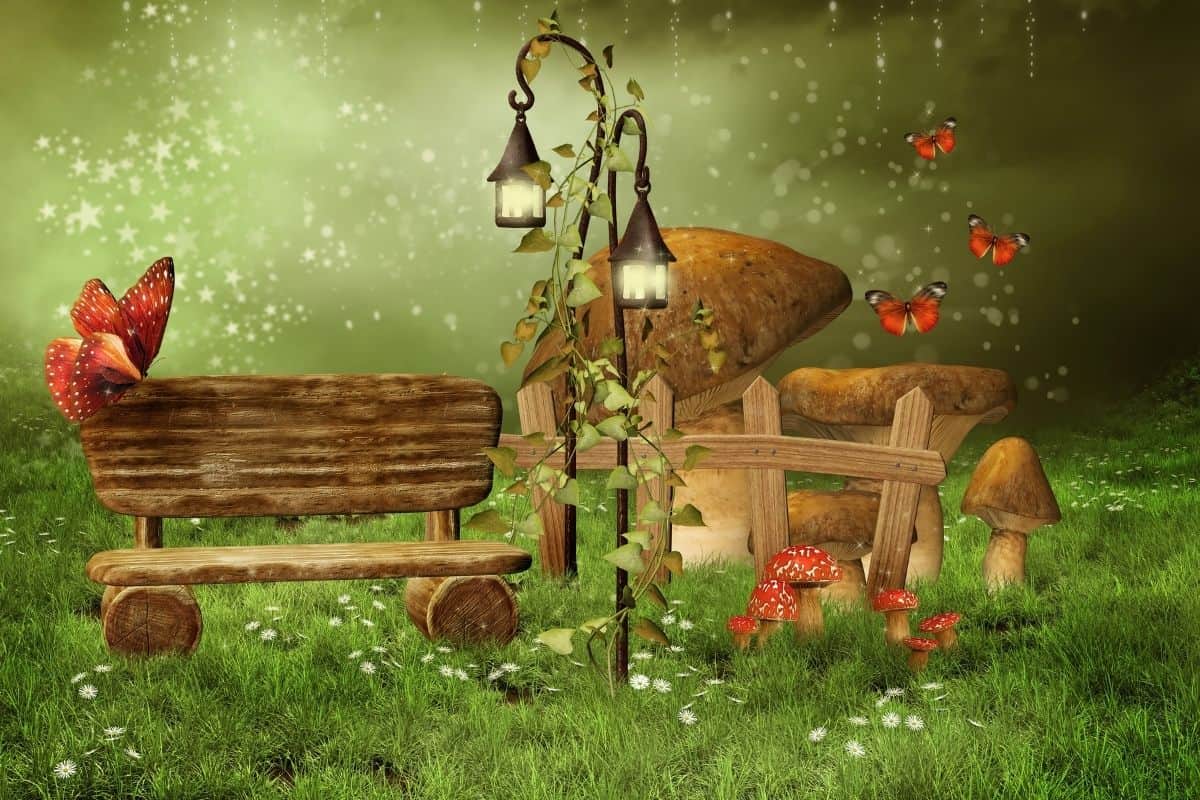 Miniature Fairy Garden Ideas
1. Fairy houses
Oftentimes, a whimsical dwelling serves as the focal point of a fairy garden. You can purchase ready-made fairy homes or take a more do-it-yourself approach. Whatever you choose, make sure it is weatherproof if it will be outside.
Birdhouses make cute fairy homes, as do toad houses. To create a fairy house from scratch, try your hand at carving up a dry gourd, building with wood, or stacking twigs to form a "log" cabin.
2. Magical doorways
For a more mysterious approach to fairy dwellings (fairies are rather secretive beings, after all!), place little magical doors against the base of trees or large, woody shrubs to suggest someone lives there.
You can make doors in fun shapes from wood offcuts, then paint and decorate them as you like with tiny knobs, hinges, and even doorknockers. If crafting isn't your style, gardening stores often carry miniature doors made specifically for trees. While you're at it, add some windows, too!
3. Fairy furniture
Fairy furniture is especially fun to add to dish gardens but can also be incorporated in your outdoor space, whether or not you include a house in your fairy dwelling.
Purchase miniature patio furniture or build your own rustic items with twigs. A stepping stone might serve as a fairy-sized patio, while pebbles act as tiny stepping stones.
Other items to consider include a trellis, gazebo, bridge, or birdbath. Almost any garden accessory can be found (or created) in miniature, so have fun dreaming up possibilities!
4. Fairy garden plants
Now that the hardscaping is done, you need to add some plants, of course. Just like everything else in a fairy garden, the plants should be on the small side. You may also want to choose a color scheme of just two or three colors to avoid overwhelming the small space. Here are some of the best fairy garden plants:
Ground cover
Irish moss
Scotch moss
creeping thyme
miniature ivy (potentially invasive; best for containers)
fairy fern
Flowers
Johnny jump up (one of my all-time favorites)
miniature daisy
alyssum
floss flower
Foliage
coleus
hen and chicks
globe basil
sedum
Indoor plants
miniature African violet
jade
foxtail fern
string of pearls
nerve plant
5. Teacup fairy garden
For the tiniest of fairy gardens, create one in a teacup. These are great for gift-giving or cheering up a desk. Choose a teacup with a wider opening and a saucer, and carefully drill a hole in the bottom of the cup or add a few pebbles for drainage.
Since you're working with such a small space, use just one tiny plant, ideally something slow-growing, like a succulent. Plant it to one side to allow room for a few accessories. Crushed shells or tiny pebbles can cover the potting soil and serve as a backdrop for a little chair, toadstools, or other decorations.
6. Multistory fairy garden
Take your fairy garden to the next level by giving it multiple stories. Add tiny terraces to a steep slope, use the space around and on top of a stump, or stack flowerpots of decreasing sizes.
Use miniature ladders to connect different levels, or create stairs using small, flat rocks or wooden disks. Trailing plants work especially well in multistory fairy gardens, spilling over the sides to soften edges and help visually tie the space together.
7. Fairy garden village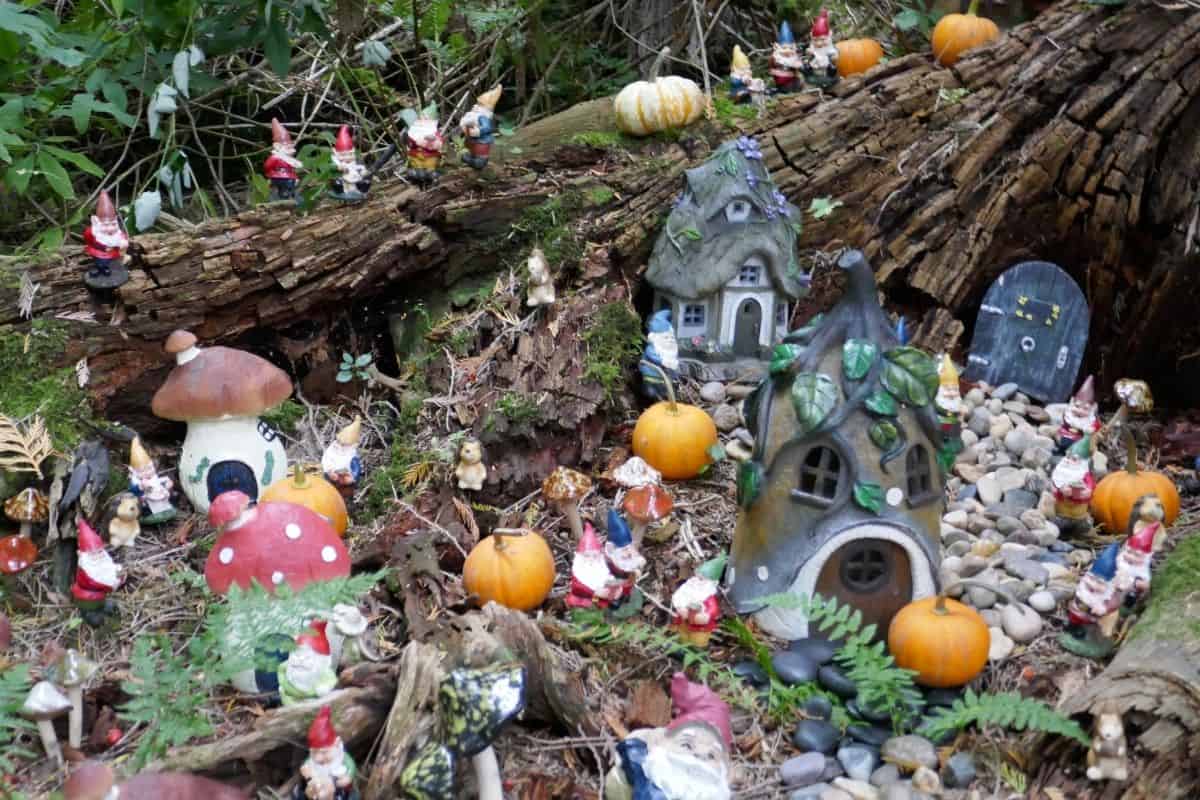 Fairy gardening is so much fun, you might want to create a whole village! Choose a theme or take a more eclectic approach, and tuck several miniature homes into a larger fairy garden space.
A shared, parklike common area can tie the separate dwellings together, or you might dedicate each to its own shallow container, perhaps connecting them with bridges or ladders. This is a great option for patio gardening.
8. Secret garden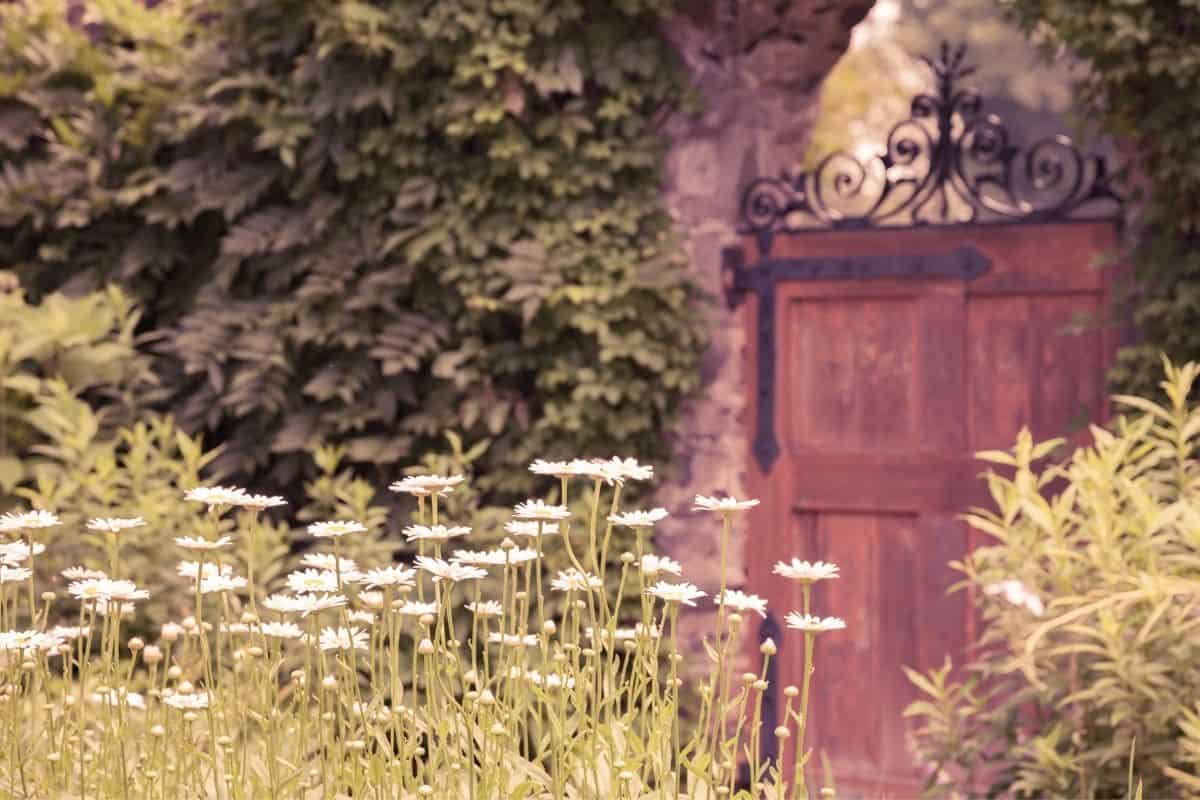 Whether you want a secluded reading nook or a fun surprise for children, a secret fairy garden is a wonderful idea. Transform a forgotten corner, or create a magical space hidden behind a shed or hedge.
Include a human-sized chair or bench as well as curious details like standing stones or decorative toadstools and of course tiny accessories for the fae folk! A woven arch can suggest seclusion even if you don't have the space or materials to create an entirely secret area.
9. Lived-in logs
Logs make excellent fairy homes, especially in woodland shade gardens.
Hollow out one end of a log just enough to nestle a tiny door inside with perhaps a covered front porch. Twigs make great doorframes, and miniature flowerpots, doormats, and boots make the place look homier. Plant small ferns along the sides and back of the log and add some wild violets for springtime color. You might even attach a window or two to the side of the log.
10. Repurposed pots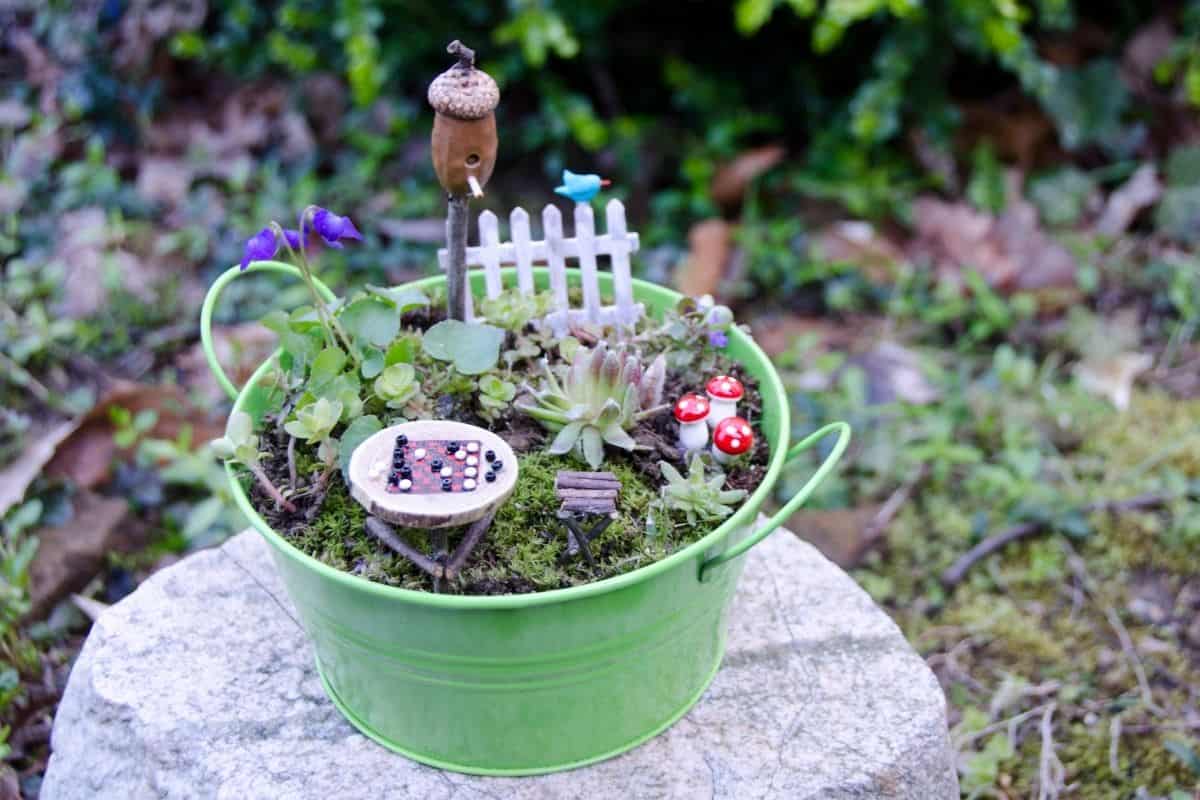 Broken flower pots can find many new purposes in the garden, and a fairy garden is one of them! Plant a fairy garden in a broken pot, using fragments of the container as stairs curving up the open side.
Sphagnum moss or an especially low-growing groundcover can help hold the soil in between and around the stairs. The same creeping plant might spill out the bottom or over the side of the pot for a wild, untamed look.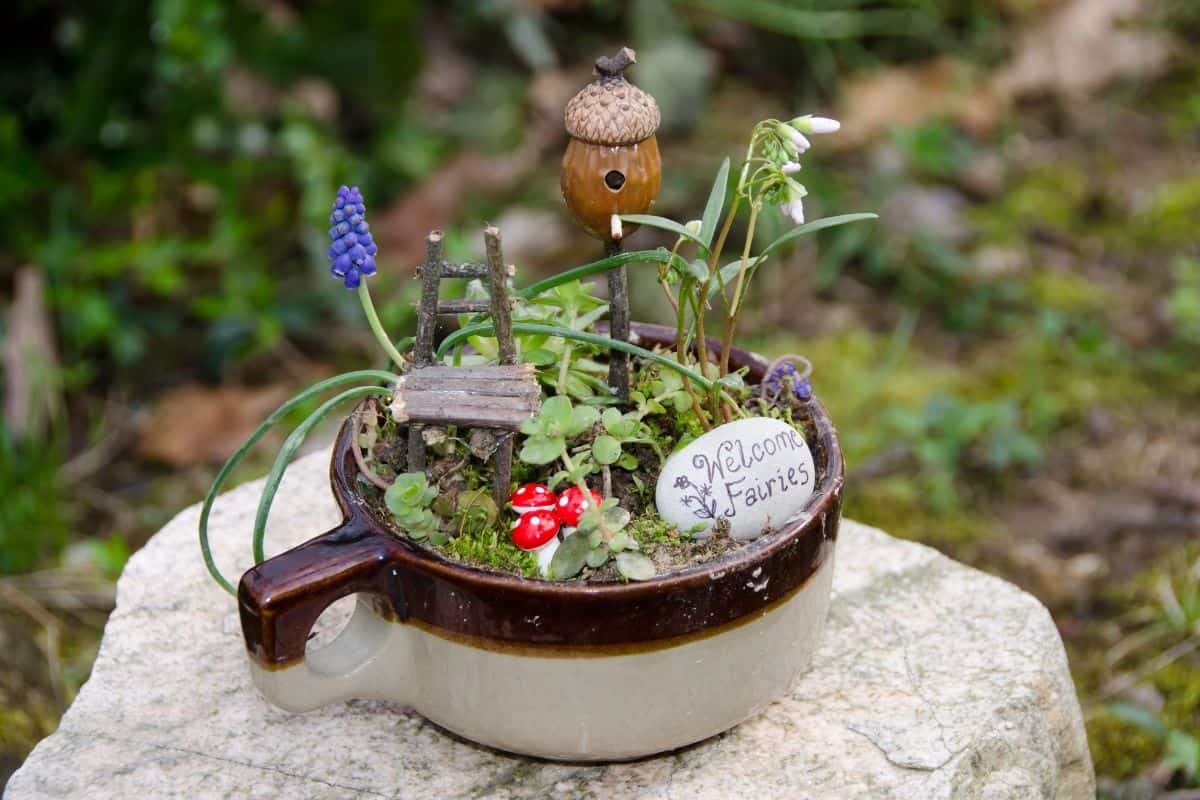 11. Miniature water garden
Add a water feature to your fairy garden! A tabletop fountain might become a magical waterfall, or a small buried pot a pond. A drop of bleach can help keep a fairy water garden clean and mosquito-free.
Alternatively, you can simulate water with blue glazed pottery or a small mirror. Fragments of either, or shiny glass pebbles, can be used to create a little stream as well, which would look adorable with a tiny bridge arching over it.
Ready to add some whimsy to your garden? Once you get started fairy gardening, you might not be able to stop! The good news is, you can tuck miniature fairy gardens into multiple places in your outdoor space, or create an entire fairy village. Plus, you might want a container fairy garden inside to enjoy during the winter, and you can make teacup gardens for your friends, so the fun never ends. Happy gardening!