For as long as I can remember, my mom worked hard to preserve the summer's delicate flavors so we can enjoy them all year long. These days there are so many ways to preserve the harvest, it's hard not to find something that's perfect for you! Tomatoes are plentiful these days, but not for long. So I looked up some easy tomato canning recipes to share with you. There's something for everyone here.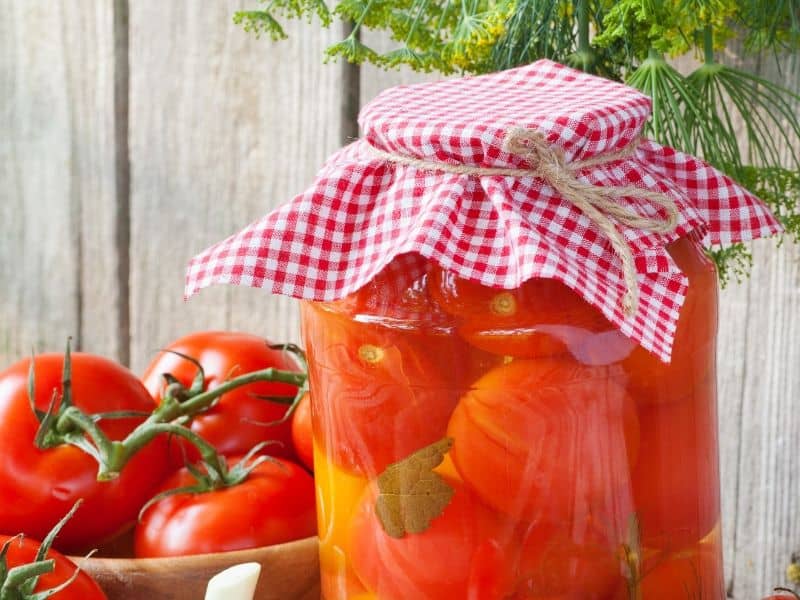 Canning Equipment
Before I share the recipes I collected, here are a few things you'll need to can tomatoes (and other goodies from your garden).
OK, now that we have the needed tools, let's see all these canning tomato recipes!
Oh, and if you're overwhelmed canning so much, you can easily freeze tomatoes!
Tomato Canning Recipes
If you're new to canning, try these canning tips for beginners.
Canning tomato sauce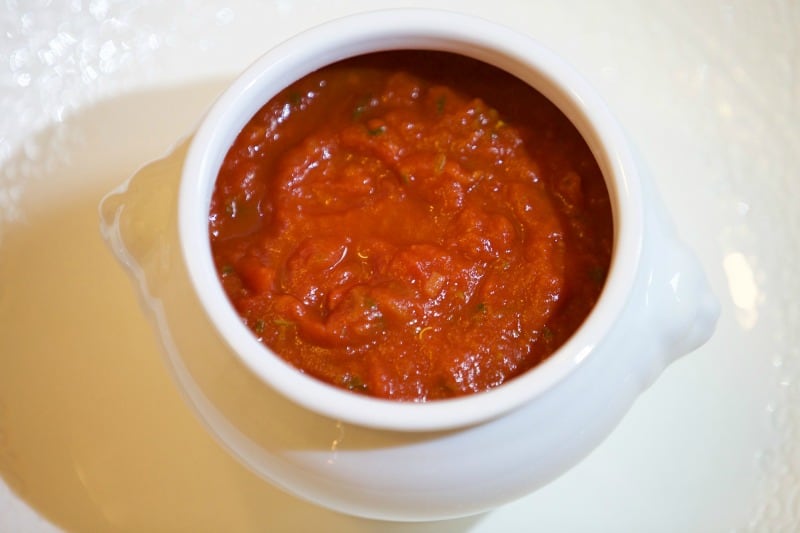 The simplest of all, canning tomato sauce get your tomatoes into jars with the littlest of fuss. Once you have a can of homemade tomato sauce, you can transform it into so many yummy dishes: pizza sauce, pasta sauce, tomato soup, and you can also ad it to whatever you're cooking. I like that a LOT!
This basic tomato sauce it as simple as they come. If you're new to canning tomatoes, start with this. Of course, you can later experiment with other recipes, but this is a good start.
Got lots of tomatoes? Try one of these tomato sauce makers and save time, lots of time!!!!
Canning pasta sauce recipes
Here's a nice and easy homemade pasta sauce: great for those nights when all you want is get out of the kitchen. Just cook some pasta and then use your delicious homemade pasta sauce : YUM!
Alicia's homemade marinara sauce looks delicious, and it's, as she says, ridiculously easy to make.
Canning cherry tomatoes recipes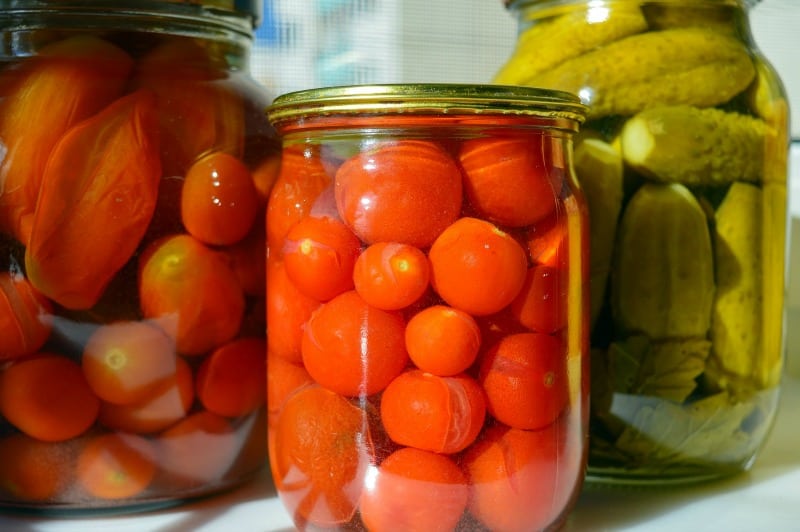 Cherry tomatoes are my favorites! Small, sweet, just perfect to pop in your mouth and enjoy! While researching how to can tomato cherries, I came across some ways I never tried! For example, this recipe for pickled cherry tomatoes sounds heavenly (and I LOVE that she chose several colors of cherry tomatoes! Makes it so pleasing to the eye!).
If you like Thai food, you might enjoy this Thai style pickled cherry tomatoes.
These roasted cherry tomatoes with herbed oil will take a bit longer to make, but I bet you the flavor will reward you for your hard work!
And then there's this cherry tomato salsa with a kick: looks pretty too, not just taste good!
Canning recipes for green tomatoes
At the end of the season, you're bound to have some green tomatoes left on the vines. Maybe there are a lot more than you can eat at one time (when that first frost forced you to pick all of them).
You could try:
fried green tomatoes
green tomato soup
roasted green tomatoes
And then, just preserve the rest for later one when the cravings hit you. Make this Chow-Chow green tomato relish. Richard says it's a wonderful relish that goes with almost anything:
hotdogs
hamburgers and sandwiches
but you can also use it to jazz up veggies, like cauliflower and green beans.
That sounds good to me!!!
Still have green tomatoes? You must try this green tomato ketchup! Great for adding to fries and fish. Need some cool bottles for your green ketchup? Try these!
Bormioli Rocco Quattro Stagioni Glass 13.5 Ounce Bottle, Set of 4
8 oz Clear Thick Plated Glass French Square Empty Bottle Jar with Lid (2 Pack) Perfect for Home, Travel, Juicing, Kombucha
North Mountain Supply 12 Ounce Glass Stout Sauce Bottle 38 CT – With Gold Lids – Case of 12
Of course, don't miss making some green tomato salsa too.
Canning stewed tomatoes recipe
Another easy way to can tomatoes is to stew them. This way you can cook with tomatoes from your garden even in the dead of winter. What can you do with stewed tomatoes? Lots of dishes can use it up! Make them into pasta sauce or salsa, add them to soups, etc. Really, you can use stewed tomatoes for any recipe that calls for stewed or canned tomatoes.
Now, are you ready to do some canning? I'd love to know which way you canned your tomatoes. Please share pictures or recipes you used!