Lavender is blooming everywhere this time of the year: blue, purple, pink, and even white flowers are greeting gardeners every day. Make sure to harvest some lavender to use in crafts and fun projects. Today we'll look at how to make lavender sachets.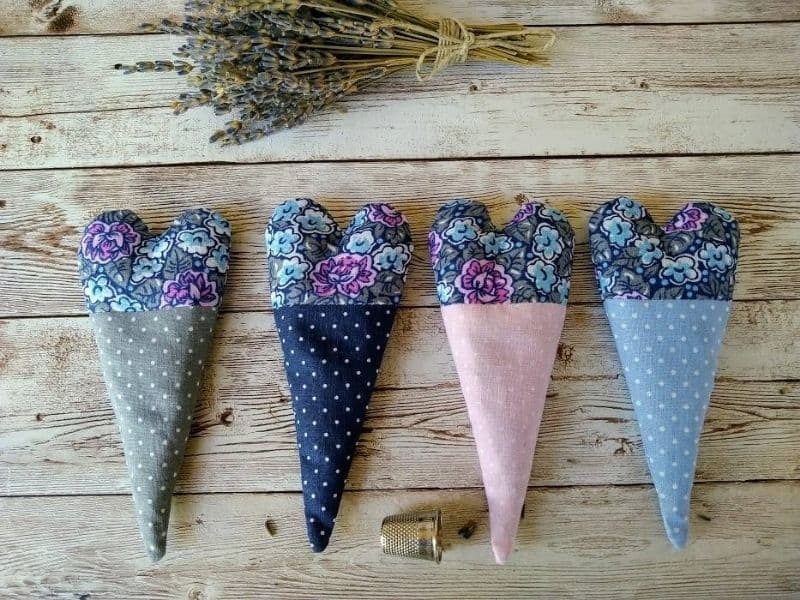 A couple of weeks ago, I was searching for a lavender group on Facebook, so I can learn how to use my lavender (we planted 300 plants this year and I can't wait for next year to see it grow!). And while scrolling through a group, I saw these gorgeous sachets. They kept popping up in different shapes and made from different fabrics.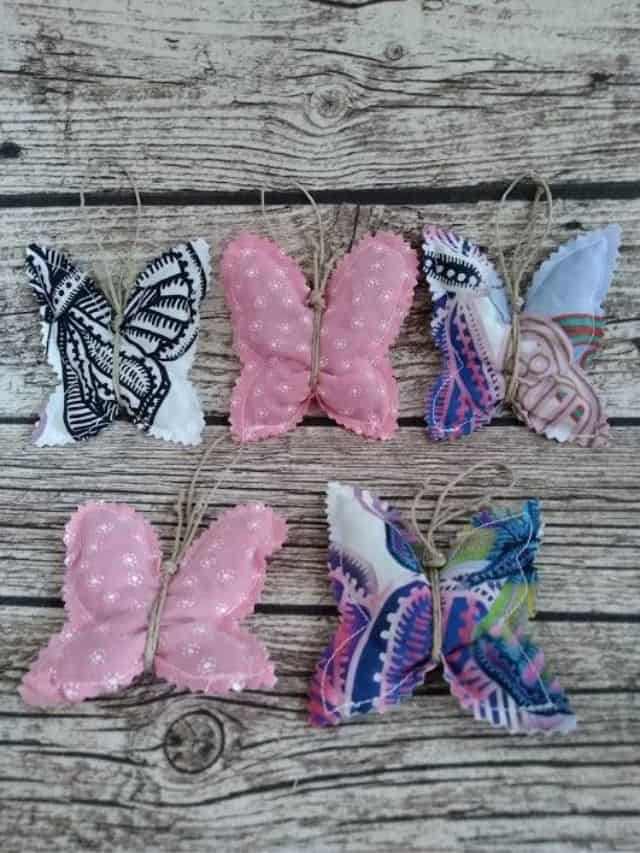 I really wanted to learn how to make them, so I reached out to the author of those pictures and asked if she'd be willing to write a tutorial about making lavender sachets.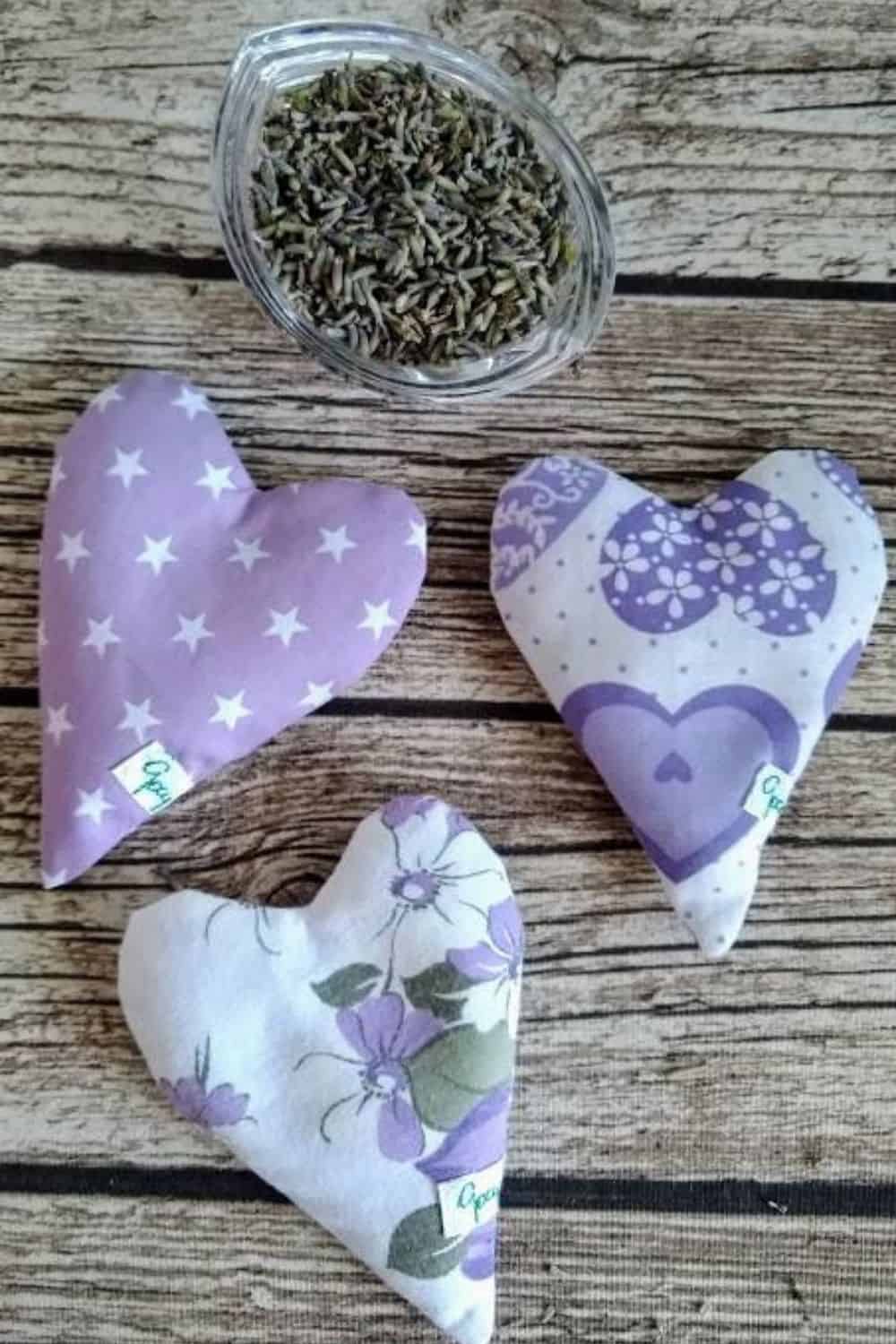 So… meet Gordana (who goes by her nickname Gocy), who lives in Slovenia, a small country in Europe. She's been crafty most of her life, and after being laid off from her job of over 30 years in the automotive industry, she decided to start a business by blending her love of sewing and gardening.
Do you love creating crafts with dry lavender? Learn how to sell lavender products.
I'll share a bit more about her at the bottom of the page, but for now, let's learn how to make lavender sachets.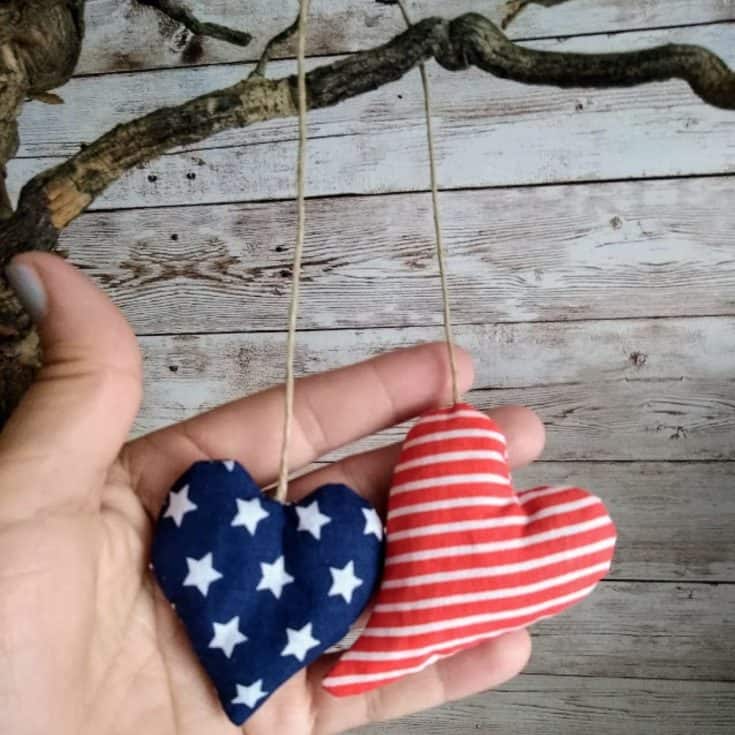 Yield:

2 sachets
How To Make Lavender Sachets - A Step By Step Guide
AS lavender bloooms, I thoght it would be fun to make a few things witht the dried lavender buds we saved. So here's how to make heart shaped herb sachets.
Materials
fabric by your choice - I used thin cotton here
a pattern to help you cut out the fabric - I make my patterns from paper and use the same one many times. I sew with the pattern pinned on fabric, therefore, I suggest you don't use cardboard (which many are inclined to do because it seems easier to handle. You can make almost any shape you want: just remember that the more corners and curves, the more work it will be. These hearts are approximately 2 inches wide and tall.
a pointed stick ( big needle for wool or something similar with a longer point) to get out the point edges when turning fabric out
your choice of thread (I love natural rope and I used 10-12 inches long for these hearts)
dried lavender flowers (other herbs you like also work). I use a mix of approximately 2/3 lavender and 1/3 rice (measure by quantity, not weight; that means for every 2 cups lavender, use 1 cup of rice)
Tools
scissors
needle
pins
a popsicle stick with round curves if your pattern has curves
a pointed stick ( big needle for wool or something similar with a longer point) to get out the point edges when turning fabric out
a small spoon and some kind of tube to feed the herb and rice mixture in your sachet
thin needle with sewing thread to sew the hole by hands when the sachet is filled (I use the same color of sewing thread that I use for the machine sewing)(you could improvise one from paper)
iron (I use an ironing desk for the whole process)
Instructions
Prepare materials and tools

Fold the fabric face to face and pin the paper pattern on it. I always prewash the
fabric, before I make a project I also iron it, so I'm sure it will not shrink later.

Cut the fabric around the pattern, adding 0.5 cm (1/6"). If you'll be adding a hanging rope, you need to pin it now between two folds of fabric. I make a knot on the end of the rope to make sure that the rope cannot get out. You are ready now to sew.

Sew around the paper template, leaving a small opening for filling with rice and dried herbs. While sewing, hold and move the rope inside, so the part of rope will look out of hole and pay attention not to sew through it. You may need a bit of practice to get it right, so don't be upset if your first sachet is not perfect. You can now remove the paper pattern.

Then trim around the curves, making sure not to cut too close to the stitches. Leave about 2 mm (1/12") of fabric beyond the stitched part. This is needed for curvy shapes to fit and look well when turning the fabric out.

Now you need to turn the right side of the fabric out. You can use the hen for the pointy edges and some rounded sticks for curved parts of the pattern. I use several wooden sticks (from ice cream) to get the shape as perfect as possible. Push very gently, especially on the pointed edges and take care not to push out the fabric.

It's time to iron your hearts carefully, fold the fabric around the hole inside and iron there, too. This will make sewing the rope (by hand) easier.

You are ready to fill your sachets. As I mentioned, I use rice mixed with dried lavender buds (1 part rice to 2 parts lavender buds). If you'd like a stronger dscent, you can add a few drops of lavender essential oil. And of course, you can mix in other herbs you groew in your garden, such as mint, basil, chamomile, etc. Mix all the ingredients well.

As you fill the sachet with the rice and dried lavender mixture, check from time to time to see if you added enough filler (remember that you will need to sew hole together. On the other hand, you do not want that your sachet is too flat.

When you are satisfied with the fullness of your sachet, use the thin needle with thread and sew the hole together manually with small stitches.

Your sachet is now ready.
How to dry lavender for sachets
If you grow lavender and want to use some of it for crafts, such as sachets, soaps, bath salts, and more, it's important to dry them properly.
Harvest lavender between June and July, depending on the type of lavender you grow (and sometimes weather).
Lavender can be dried in bunches or by laying on a flat surface. If you want to dry it in bunches, you could use a thread or twine to keep them together. I prefer a rubber band, as the drying process makes the lavender stems smaller and they could fall out of a bunch tied with twine.
Place the freshly harvested lavender stems in a dark, cool place with low humidity. If humidity can't be avoided, place a dehumidifier in the room you're drying the lavender in, and make sure to empty the collection container often. A fan can help move the air and dry your herbs faster.
Once dried completely, place the lavender buds in a glass jar in a dry cool place.
Lavender sachets uses
So, now that you made (or bought) some lavender sachets, what can you do with them? Here are a few ideas to get you started:
give them as gifts to family and friends who love gardening
place them in drawers, closets, and dresser drawers to freshen up clothes
stick a few in your suitcase for a fresh and clean smell when unpacking from a vacation
store some in your car or on the back of a recliner for quick relief from stress
use them as air fresheners
hang them on your drawers or doorknobs for a pleasant smell in the house
use one by your work area for a pleasant, relaxing scent
add a few to a wreath for your bedroom door
stick one in your pillowcase for better sleep
use as a wall hanging decor, car fresher, as wreath decor.
by using holiday-related fabric and shapes, these herb bags make very nice gifts for Christmas, Easter, Valentine's Day, and other holiday decorations.
There are so many uses for these lovely little bundles of happiness that will make you feel relaxed and calm all day long!
TIP: Rice is a very good moisture regulator for your sachets. And to enhance the small of your sachet, you should aromatize your rice. Here's how: keep the rice in a carton box with a few drops of lavender essential oil, then add the dried flowers, when you're ready to fill the sachets.
Visual ideas from Gocy's Etsy store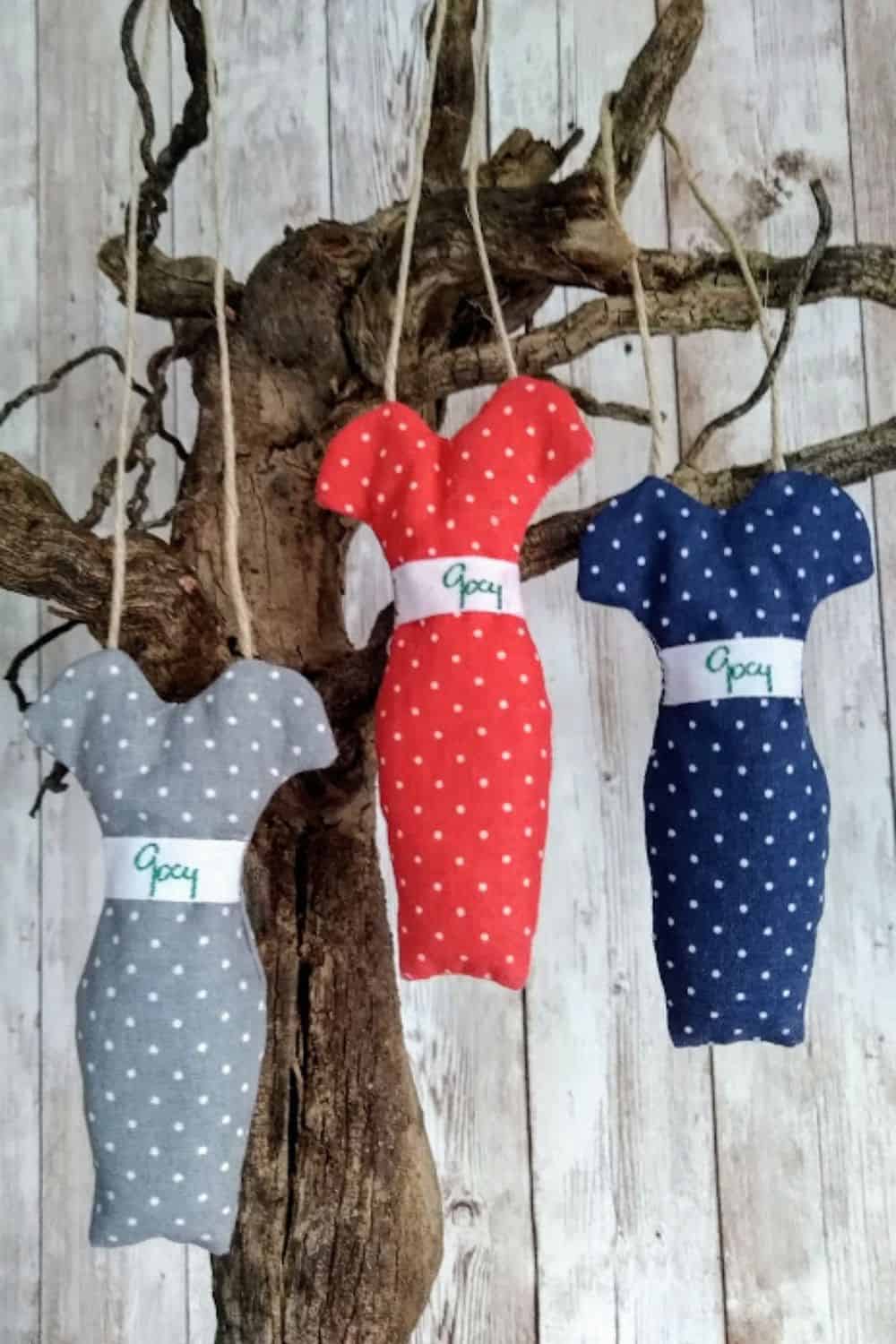 What a fun gift this would be to a fashion-crazy woman (both old and young)!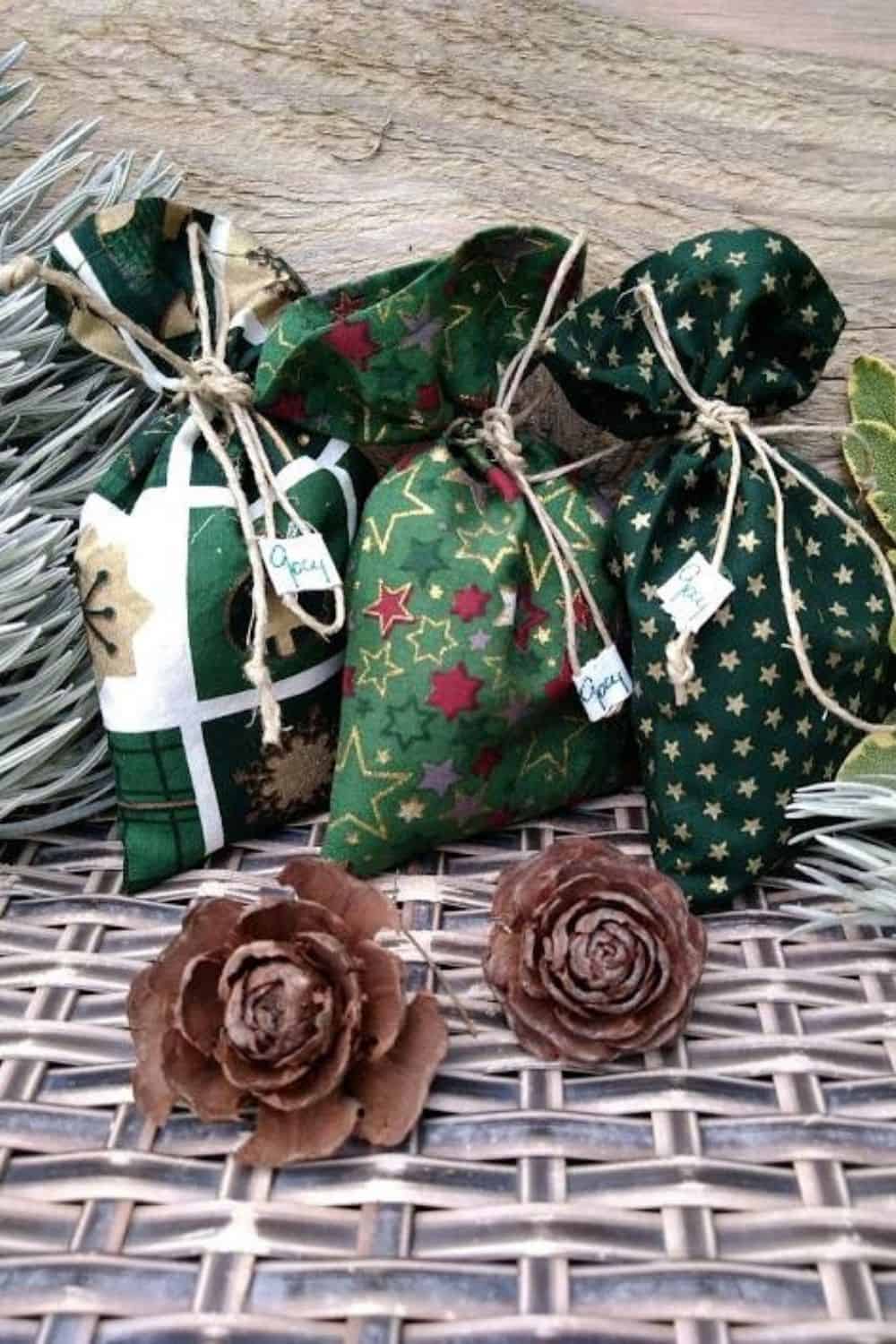 Hang these on the Christmas tree, or throughout the house during the holidays. So cute!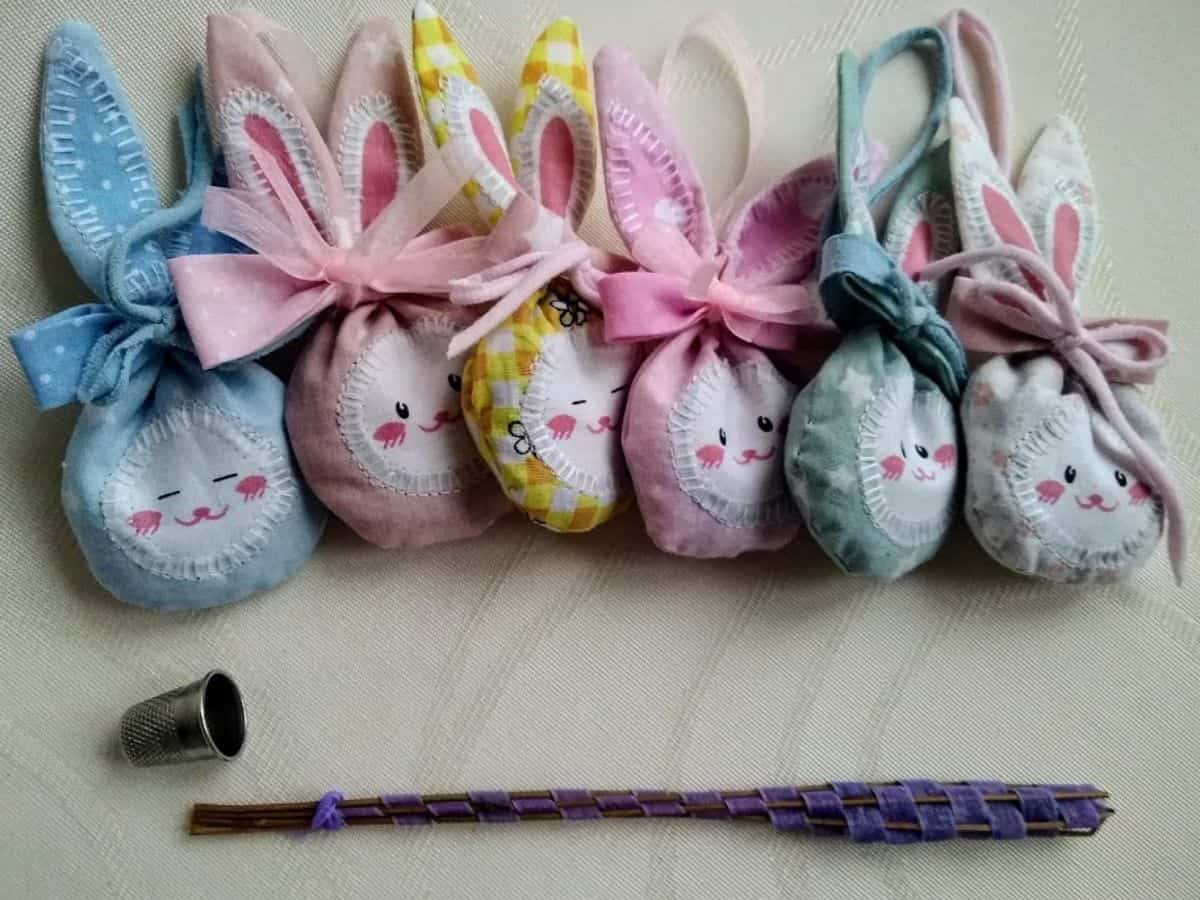 Need an easter gift for your basket? These bunny-shaped bags are adorable!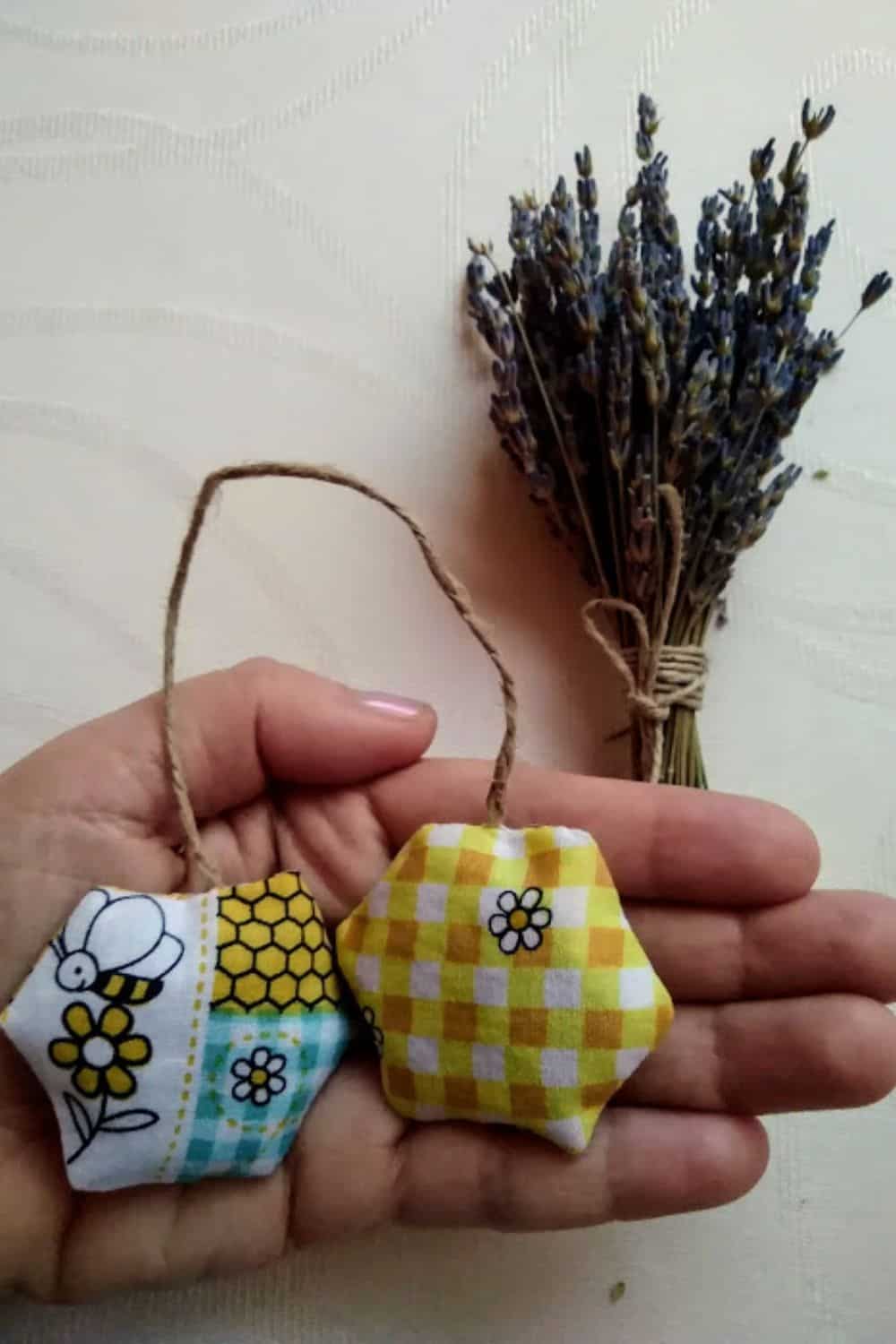 Know a bee lover? They need a few of these!
FAQs about lavender sachets
What material is best for lavender sachets
It depends on the reason you're making a lavender sachet. If all you plan to do is stick it in a drawer, a closet, or your pillowcase, you can make it from any kind of fabric (old pajamas or teeshirts are great to recycle into herb pouches. There's also no need to make it pretty.
If you plan to make herb sachets for gifts or to display in your home, choose pretty fabrics that match your house decor or the occasion for the gift.
How much lavender do you put in a sachet?
Again, it depends on the size of your sachet. You want it to be full, not flat, so keep adding lavender until you like the look and feel of your sachet.
Do lavender bags help you sleep?
They sure can! Lavender is relaxing and soothing, so, adding a small bag filled with freshly fried lavender buds can create a sleep-inducing atmosphere.
How long do lavender sachets last?
A long time! If you feel like your sachet lost some of its smell, just give it a nice squeeze, and it will release more of the lavender scent. And if your lavender bag is more than a couple of years old, you can refresh it with a few drops of lavender oil.
How do you make lavender bags for kids?
Lavender is usually safe for kids, so make some lavender pouches specifically designed for them: use fabrics and shapes they love!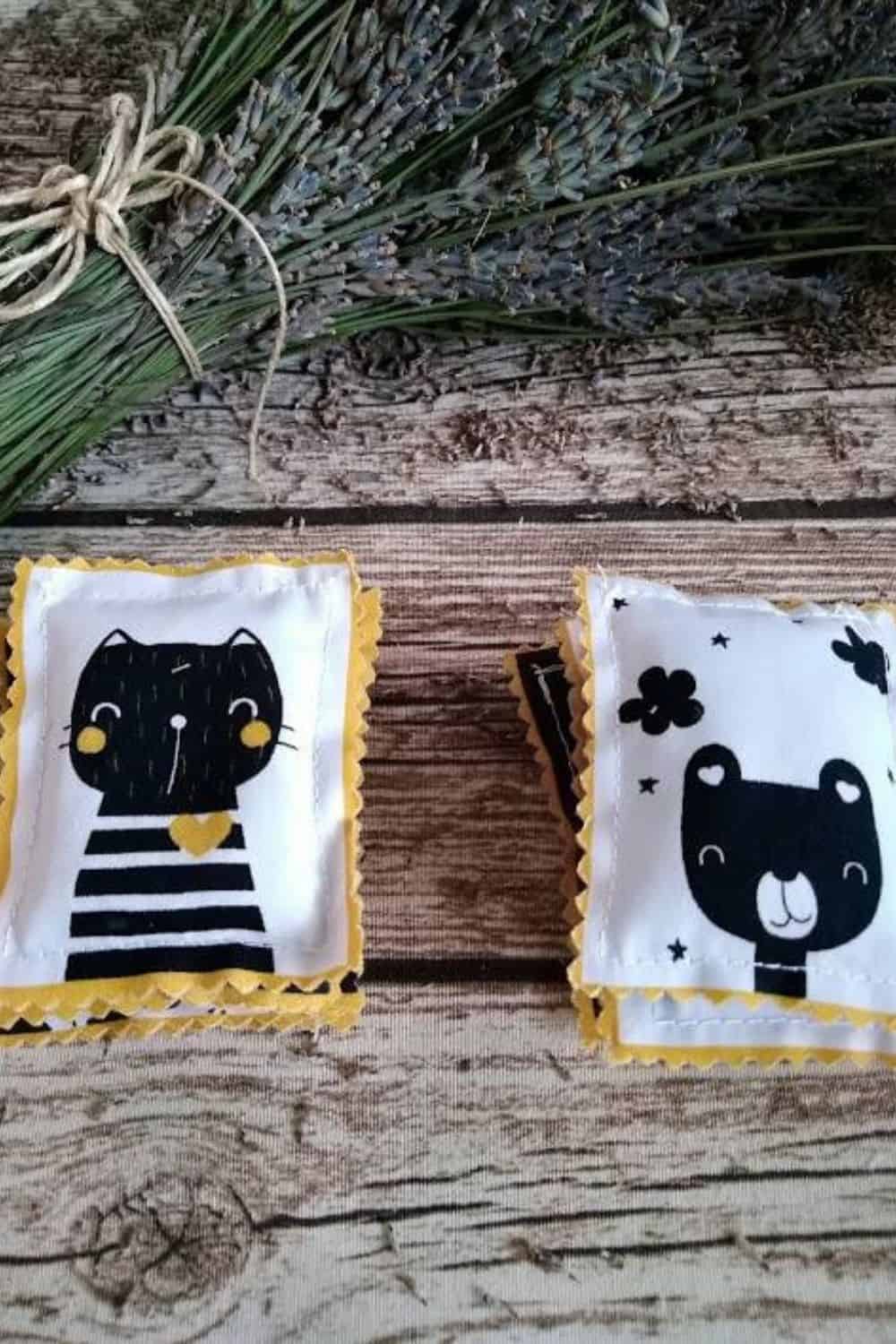 What other herbs can I use for sachets?
Besides lavender, the immortelle plant (Helichrysum Italicum, known also as the curry plant) is amazing! Immortelle sachets are great as natural pest repellent in your pantry or kitchen food storage cabinets.
Other herbs you can use in sachets are:
mint
thyme
chamomille
Rosemary
sage
and of course, whichever herbs you love!