With peaches are in season right now, what better way to enjoy them than by making a peach pie? YUM! Let's look at how to make a peach pie with fresh peaches.
How do you know which peaches make the best pies?
Although it is the yellow and white peaches that are most ideal, color is not always an important factor.
Peaches are available in two varieties:
freestone – a freestone peach means that the juicy flesh of the fruit falls off the pit easily
clingstone – these peaches get their name from how the flesh of the peach clings to the pit, which makes it difficult to remove
Choosing the right variety is the important first step when choosing the right peaches for the perfect pie. The better pie-making peach is the freestone variety.
What peaches are freestone?
Freestone peaches are a type of peach that has a pit that can be removed easily. These types of peaches have less sugar than clingstone peaches and usually ripen faster. Freestone varieties include
Santa Rosa
Redhaven
Red Globe
Rio Oso Gem
Georgia Belle
You can grow your own freestone peach trees. Peach trees love climates that get hot in the summer and winters get below 45 degrees
In the meantime, until your tree starts producing fruit, you can find fresh peaches at your local farmer's market.
To make fresh peach pie, you will need to select at least 8 good-sized peaches (or 16 small ones). Just ensure you have enough peaches to equal 7 ½ cups when sliced.
Have more peaches than you need? Here are 7 ways to preserve peaches for later.
Tools you are going to need
Before making your peach pie, you will need to gather together everything you are going to need. Here is a list of supplies:
medium-size pan for boiling and blanching the fresh peaches
slotted spoon
cutting board and a chef's knife
9-inch pie pan (not deep)
measuring spoons and cups
a good-sized mixing bowl
a small brush used for pastries
parchment paper
aluminum foil
rack to cool your pie on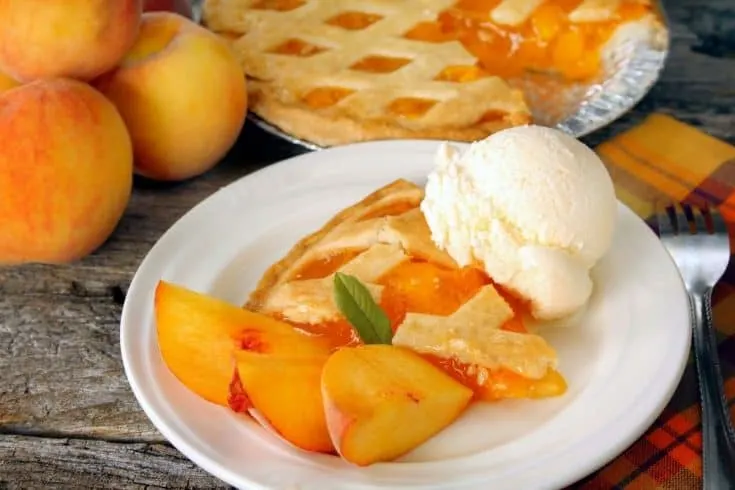 Yield:

1 9-inch Pie
How To Make A Peach Pie With Fresh Peaches
Cook Time:
1 hour
5 minutes
Additional Time:
30 minutes
Total Time:
2 hours
5 minutes
The smell of sweet, juicy peaches is a sure sign of summer. This classic pie is one of the best ways to use them up before they go bad or are too expensive.
Now that you have the tools for making your peach pie, you need to get the ingredients together.
Here are the ingredients for a peach pie recipe with fresh peaches:
Ingredients
8 large freestone peaches (or 16 small ones)
1 big lemon
½ c. light-brown sugar, gently packed
¼ c. sugar (granulated)
5 T. cornstarch
2 t. extract of vanilla
1 t. cinnamon (ground)
¼ t. nutmeg (ground)
¼ t. cloves (ground)
¼ t. salt (Kosher)
1 good-size egg
1 T. water
3 T. sugar (coarse)
1 double, 9-inch pie crust
A little bit of all-purpose flour to use for dusting
Instructions
Place some aluminum foil or parchment on the baking pan and place the oven rack in the middle of the oven.
Preheat the oven to 350 degrees Fahrenheit.
Now take the paring knife and cut the shape of an "X" into the bottom of each peach.
Fill a large pan with water and bring it to a boil.
Fill a large bowl with ice-cold water.
Gently place the peaches into the boiling water, allow them to boil until the "X" starts to peel back. This usually takes around one minute in the boiling water. This is known as "blanching" the fruit.
Once the skin around the "X" begins to lift, use the slotted spoon to remove the peaches.
One by one, place each peach into the bowl of ice-cold water.
Allow them to remain in the icy water for at least one minute.
Take them out, using the paring knife to gently peel away the skins.
Cut each peach in half and remove the pit. Cut each peach up into small pieces--about one inch in size, until you have about 7 ½ cups.
Place all these cut-up pieces of the peaches into a large mixing bowl.
How to Make the Filling
To make the filling for your peach pie you need to do the following:
1. Grate the zest of one lemon (approximately one tablespoon) finely onto the chopped peaches.
2. Next, squeeze 3 tablespoons of lemon juice on top of the peaches.
3. Combine the following ingredients: ½ cup lightly packed brown sugar, ¼ cup granulated sugar, 5 tablespoons cornstarch, 2 teaspoons vanilla flavoring, ¼ teaspoon ground nutmeg, ¼ teaspoon ground cloves, 1 teaspoon ground cinnamon, and ¼ teaspoon kosher salt into a mixing bowl. Stir all of these ingredients together, ensuring no sugar or cornstarch is left unblended on the bottom of the bowl.
4. Lightly dust your breadboard with the all-purpose flour and gently lay one of your pie doughs on it. Roll it out smooth so that it is round: about 12-inch in diameter.
5. Pick it up and lie it in your 9-inch (not deep dish) pie pan. Press the dough into the pan, then pour your peach mixture along with the juices inside, ensuring it is even and level.
6. Take the second pie crust and roll it out on the flour-dusted surface, cutting it into 1 ½ inch wide strips. Space each strip evenly horizontally over the pie with even spaces between each strip. Use the longer strips for the center and the shorter ones towards the sides. Every other strip, fold and lay half over itself. Now lay the rest of the strips vertically across the pie, ensuring they are across the folded strips. Fold these strips beneath the vertical strip and return to the top.
7. Continue laying more strips on top of the pie, switching the unfolded and folded horizontal strips and adding another vertical strip until you have completely covered the pie and it is totally latticed.
8. Using your fingers or the tine of a fork, pinch the edges of the top and bottom crust to form a seal. Before moving on to this next step, ensure the pie dough is cool -- refrigerate for 10 minutes if needed.
9. Break 1 large egg into a bowl and add 1 tablespoon of water to it. Whisk it together to form a blended watery-egg combination (you don't want any yolk streaks remaining).
10. Using the small pastry brush, gently brush this egg mixture across all the lattices, as well as the crimped edges.
11. Take the 3 tablespoons of coarse salt and sprinkle evenly over everywhere you spread the egg mixture.
12. Your oven should already be preheated to 350 degrees Fahrenheit. Place your pie in the oven on the center rack. You will want to cook it for an hour to an hour and five minutes. Place some loose pieces of aluminum foil over the edges to protect them if they appear to be browning too rapidly.
13. Take your baked pie out of the oven and transfer it to a wire rack. Allow it to cool completely for three hours.
14. Cut, serve, and enjoy ala mode with a scoop of vanilla ice cream on top!
Peach Pie Variations
If you love baking pies, but you or others you bake for, have a restricted diet, we have some variations. Below are some other ways you can bake and enjoy a peach pie even if your diet is restricted.
Diabetic/low sugar peach pie
If you are diabetic, you might be asking are peaches good for diabetics? Yes, peaches can be included as part of your diabetic diet.
In addition, you can make a diabetic variation to this peach pie by substituting real sugars for the Stevia sweetener.
Yet, when you substitute, remember that it takes less Stevia to get the same sweetness. For example, 1 cup of sugar equals 1 teaspoon of Stevia.
You can either make your crust yourself or use the store-bought premade pie crusts (just make sure you don't buy deep dish versions).
Keto/Paleo peach pie
If you are on a keto diet, you might ask: are peaches keto? Unfortunately, because of their high carbohydrate count, they are not.
Here is a keto version of a peach pie you can fit into your diet if you absolutely crave peaches:
Filling:
2 cups peaches
1 T. water
⅓ c. coconut sugar
2 T. cornstarch
2 T. water
1 T. lemon juice
Crust:
1 c. almond flour
1 T. coconut sugar
1 C. all-purpose flour
½ t. Salt
4 t. Water
½ c. butter (cold)
Coconut sugar for the top
Filling Instructions
Prepare the ingredients in the same manner as the pie in the original recipe. Because there is only a thin layer of fruit in this slab pie recipe, it makes an ideal Keto treat.
Crust Instructions
Mix all the ingredients together.

Roll out on a breadboard in first a 12-inch diameter for the bottom, then an 11-inch diameter for the layers of the top lattice.

Melt the butter and spread over the lattices and edges with your pastry brush.

Sprinkle the coconut sugar on the top and edges.
Prep time: 30 minutes
Prep time (crust) 15 minutes
Total Prep: 45 minutes
Cook time: 60-75 minutes
Additional time:
30 minutes to cool
FAQs about peaches
How do you know when the peaches are ripe enough to use for a pie?
If your peaches are fragrant, have a slight yield when gently pressed, and are not rock-hard, they are ripe.
Is it imperative for you to peel peaches when making a peach pie?
It is not a requirement to peel the peaches before putting them in a pie. However, the skin of peaches may get stuck in the teeth, which can be discomforting. Some people like the added flavor the skins give to their pie. It's a matter of preference for the baker.
Should peaches be thawed prior to putting in a pie?
If you're using frozen peaches, you should always thaw them prior to putting in a pie. But it is always best to use freshly picked peaches whenever you can!
Are peaches good for you?
A: The answer to this question is yes. Peaches are full of antioxidants and they also aid in weight loss. They aid in the fight to prevent cancer. Peaches have potassium, which also makes them good for the heart.
Should you refrigerate peaches?
After they have ripened, peaches can be refrigerated to keep them fresh. But why not eat the,? They are great for a healthy snack.
Will peaches ripen if picked green?
Yes, peaches will ripen if picked green. However, they will taste sweeter if left to ripen on the tree.
Adriana Copaceanu is a passionate nature lover living in the country on her dream property where she grows vegetables, lavender, and wildflowers that she shares with the wildlife they attract. When she's not in the garden, she loves spending time with her chickens and planning her next nature project.