This post may contain affiliate links. That means if you click and buy, I may receive a small commission. Please read my full disclosure policy for details.
I LOVE the aroma of fresh basil (Ocimum basilicum) in many of my dishes. For many years I'd buy small pots of fresh basil from the grocery store (isn't it cool that they offer this?), but it got very expensive that way. So I decided to learn how to grow basil from seed, and I couldn't be happier.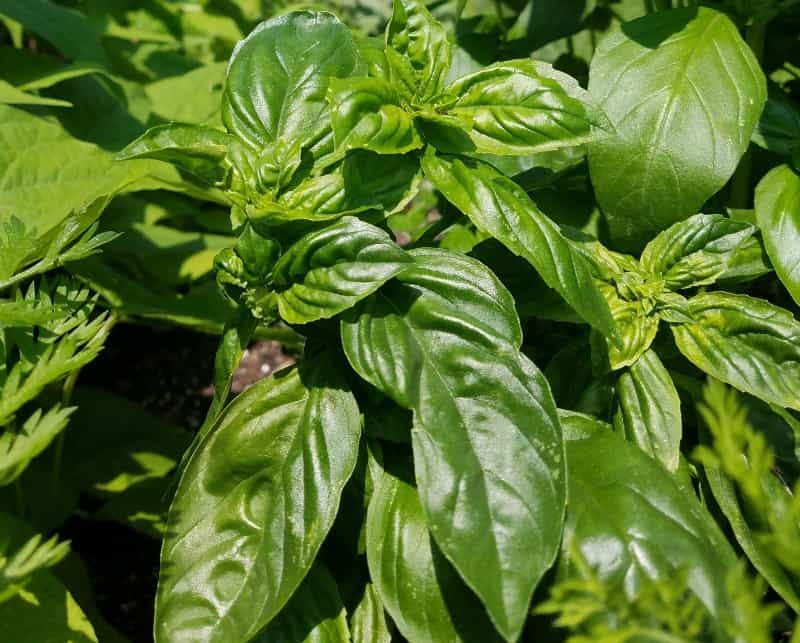 The intensive aroma of basil comes from the oil sacs in the leaves. Rub it between your fingers and their perfume will fill the air.
Basil is a perennial herb, but it is often thought of as an annual, and many people make no attempt to keep it from year to year. The plant, however, can survive even Northern Winters if you cut it back and keep it in the brightest spot in your house for the winter.
How To Grow Basil From Seed Indoors And Outdoors
Indoors in the winter and outdoors in the summer
Basil is a tender plant that doesn't so well in extreme cold or rain. It is better suited for growing in pots. Leave the pot standing outside in the summer and move it inside for the winter.
Keep a pot of basil growing nearby, either on your porch on in the kitchen. You'll always have fresh leaves to flavor your tomato sandwiches, soups and other dishes.
Basil is not just a useful kitchen herb: its leaves are decorative too, and they have a delightful smell. The basil plant thickens out as you use the leaves.
If you have more fresh basil than you need, dry it for the winter and keep enjoying its delicate aroma all year long.
Types of basil
There are several different varieties a basil. Here are the most popular ones:
green basil (also called maximum basil) grows to a height of about 50 inches and has large pale green leaves and white flowers.
purple dwarf basil (also called minimum basil) grows to a height of about 10 inches and has small leaves, purple flowers and a delicious taste.
cinnamon basil (also known as Mexican spice basil) has purple leaves and flowers and grows up to 30 inches tall
Large Leaf Italian Basil Seeds – 1000 NON-GMO SEEDS
Basil Seed Packet Collection (8 seed Packets) Non-GMO Seeds
Holy Basil (2400 Seeds) Seeds – 1 Package From Chia Tai, Thailand
150 Sweet Basil Seeds – Genovese Ocimum Basilicum, Pesto Basil
Growing Basil From Seed
Sow basil seeds in pots in a mixture of soil and sand in March. Sprinkle them over the top and cover with a fine layer of sand.
It takes quite a long time for the first seedlings to appear, but by June they should be big enough to plant in 5 to 6 inch pots in potting soil, or place in your garden beds outdoors.
They grow slowly at first, but after a few months they develop several leafy stems and grow vigorously. Pinch out the tops of the stems and they will push out.
All varieties of Basil are bushy plants and grow better when they are cut back frequently.
If you grow your basil indoors, the best place it by a sunny kitchen window or an east facing window.
Take some cuttings in late July or early August for your indoor garden
To get the best indoor basil, before it flowers in August, take a few cuttings and plant them in a good sized pot. Cover them with a plastic bag in the beginning to stop the soil from drying out. Put the cuttings in a warm place.
Taking tip shoot cuttings is one way to have basil the next spring. Or, cut back the plant and put it in a bright window.
Basil Pests And Diseases
Basil seldom suffers from diseases or parasites but it is very sensitive to cold. It will wither at the first sign of frost.
It's rare for basil to be attacked by pests and diseases, but not impossible. Some of the more popular problems with basil pests and diseases be:
slugs (since basil needs lots of moisture and slugs LOVE a moist environment too, this can happen). Just stay vigilant and gt rid of them by either trapping them with beer, or adding a sprinkle of egg shell powder or coffee grounds around the basil. Learn more about getting rid of slugs and snails here.
aphids (spray them off your plant if you see them)
Japanese beetles can destroy your basil in no time. Here's help with Japanese beetles.
leaf spot can be caused by splashing water on the leaves. Add some mulch and water from underneath (best to use a soaker hose)
if the leaves turn black, this might be a sign that the plant has been exposed to frost.
How To Dry Basil

To dry basil leaves, take cuttings before the plant flowers. Cut the stems and hang them to dry individually in a shady, warm and airy place.
Or, you can dry them in a dehydrator, in the oven or in the microwave.
I prefer the dehydrator, because it does a good job, but it also makes the house smell AMAZING for about 8 hours while the basil is drying. This is my favorite dehydrator!
My favorite way to dry basil is to make basil salt. Here's my easy recipe for basil salt.
How To Use Basil
Basil leaves are used in the orient mixed with juice or mineral water. It makes a cool, refreshing drink for hot summer days.
In the Middle Ages, people burned basil at the waning of the Moon. The ashes were used on wounds and to heal warts. It was also believed that basil relieved birthing pains, thus its nickname "midwives herb".
Today basil is used as a food flavoring. Although not spicy like pepper or paprika, basil does have more of a bite than other herbs. Because of this, it is a good alternative for sensitive people who do not care for the "hotter" spices. Use the fresh young stems for the most "bite".
Now that you know how to grow basil from seed, there's no reason you can't enjoy this aromatic herb in your kitchen garden and in your cooking.