The stunning evergreen leaves and intoxicating aroma of its creamy white flowers make the gardenia a favorite in many gardens throughout the country from early spring until early summer. With their pleasing, glossy, dark green foliage and powerful aromatic flowers, gardenia bushes make the perfect choice for beds near windows, patios, and entryways. Here are the perfect companion plants for gardenias.
The gardenia jasminoides offers a wide range of colors (from pale pink to red, cream, and yellow) and a pleasing aesthetic that requires limited upkeep, as long as you know a few things about what they require thriving.
Not all flowers make good companions for each other and the same is true for these sweet-smelling beauties.
Though once limited to the U.S. Department of Agriculture's hardiness zones 9 and 10, the new hybrid gardenias are hardy in USDA zones 7b-8
How to Choose What To Plant With Gardenias
In order to be successful in combining gardenias with other pretty flowers, you need to make sure they need the same conditions for growing.
Gardenias prefer at least four hours of morning sun and afternoon shade, and well-draining acid soil. This means the best gardenia companion plants can stand direct sunlight throughout the morning and won't be disturbed by a gardenia's roots.
Also, keep in mind that those deliciously fragrant white flowers aren't appealing to just humans. Spider mites and various scale insects also love to feed on gardenias.
Its most common enemies are:
Japanese wax scales
melon aphids
citrus whiteflies
two-spotted spider mites
This means you need to look for companion plants that can help fight (or detract) these pests.
The Best Companion Plants For Gardenias
1. Sweet marjoram (Origanum majorana)
Marjoram (disambiguation) is often used as a companion plant to gardenias because its strong aroma serves to confuse harmful insects encouraging them to go elsewhere in search of a meal. The scent of Sweet Marjoram masks the scent of gardenia flowers and repels destructive pests like scale insects and aphids.
2. Signet marigold (Tagetes tenuifolia)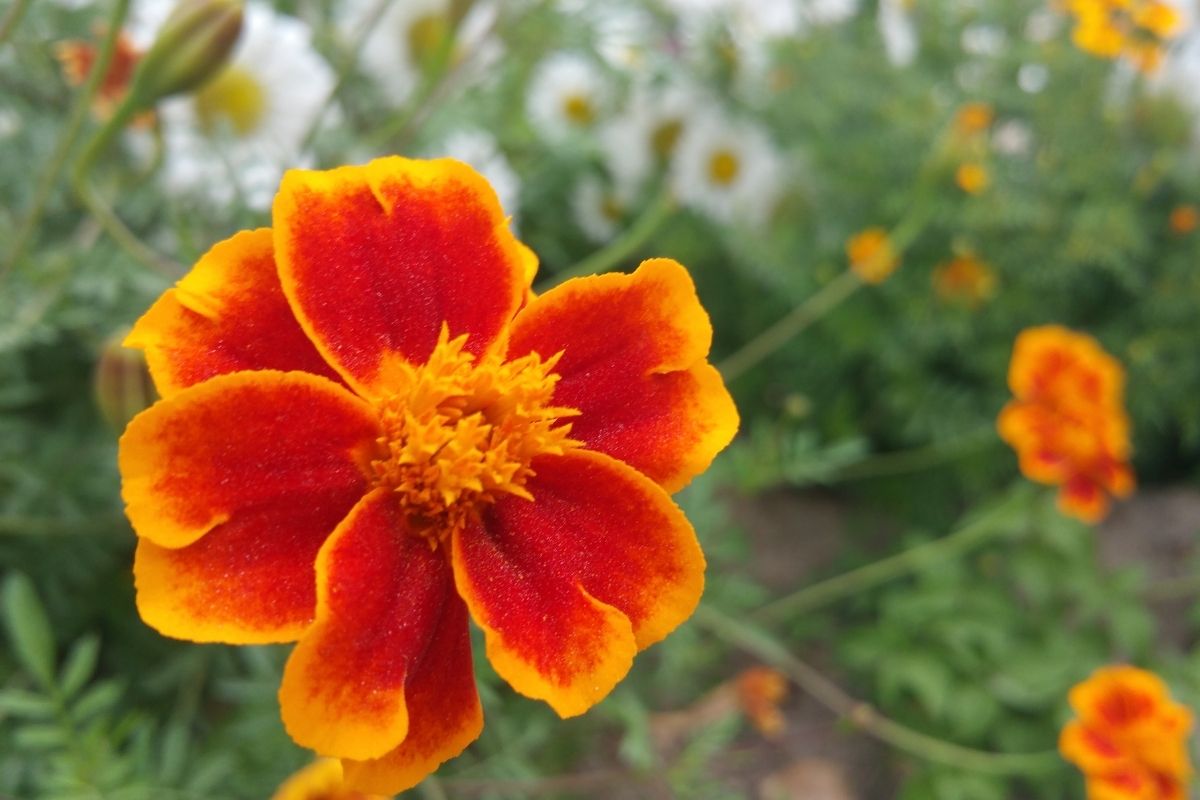 The signet marigold is a single-flowered Marigold that features small but abundantly red- and yellow-colored blossoms which cover its delicately divided lacy foliage.
This bushy annual offers blooms from early summer until the first frost, that will enhance any landscape. Not only will these marigolds offer a nice contrast next to the gardenias, but they'll repel aphids too.
3. Hydrangeas (Hydrangea macrophylla)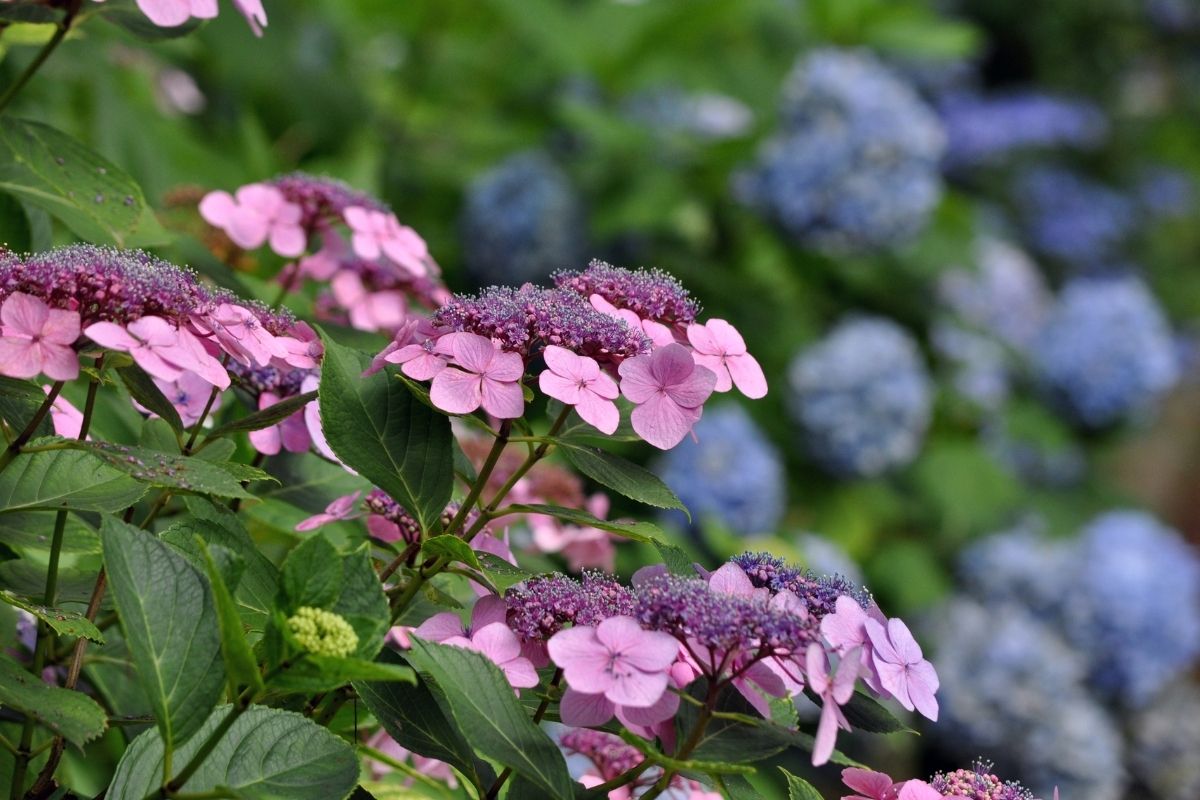 The large, sculpted leaves of hydrangeas look stunning with the deep greens of gardenias. Both plants attract beneficial pollinators to your yard.
And both thrive in moist and acidic environments.
4. Camellias (Camellia sasanqua)
Camellias can be used as companion plants to your gardenias, allowing you to enjoy longer blooms. Camellias will produce flowers even when your gardenias are not in bloom. These two plants can provide summery blooming throughout the year.
Camellias and gardenias can be placed next to one another without competing for nutrients. They are both very similar in terms of nutrition and water requirements, and they look amazing together.
5. Salvia (Salvia officinalis)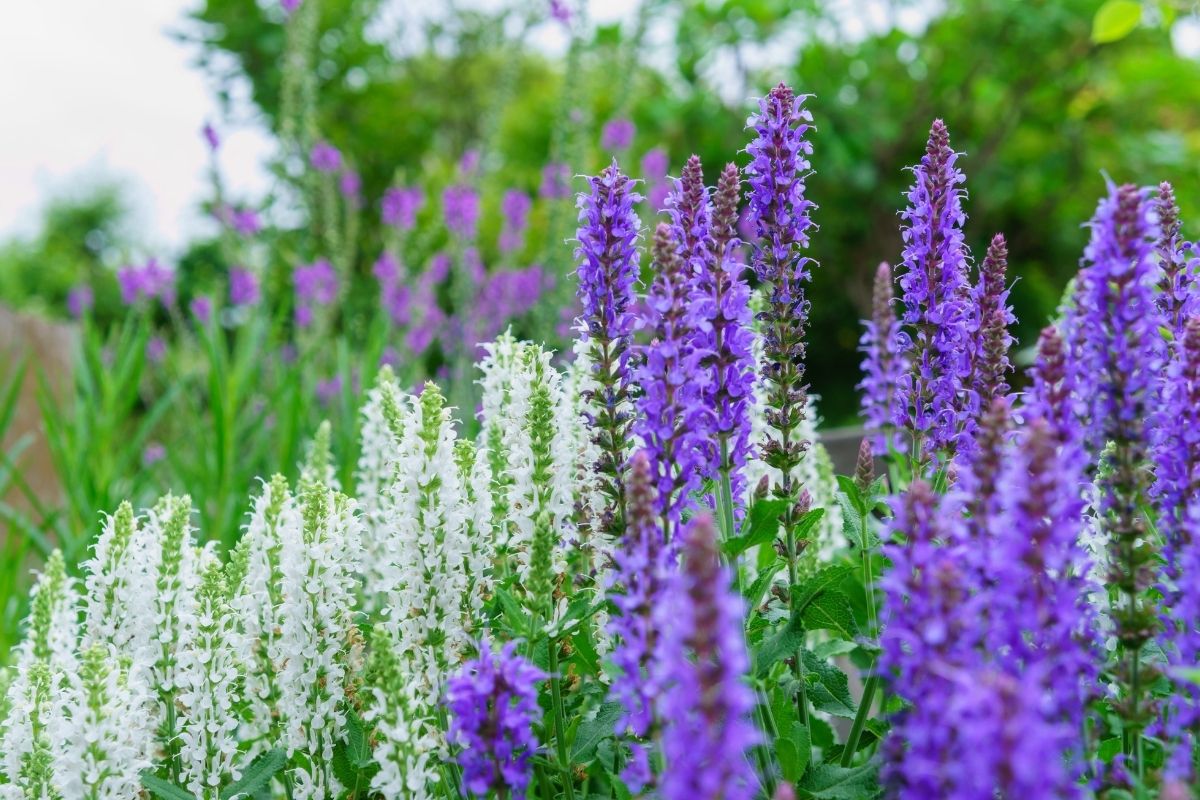 Salvia's purple, vertical flowers will contrast beautifully with your gardenias. These plants attract bees, butterflies, and even hummingbirds to your garden, which will make it lively during spring and summer.
6. Heuchera
You can't go wrong when you combine heuchera with gardenias to create a dramatic effect for your landscape. The velvety gray leaves add a sophisticated touch that is a perfect fit for gardenias in full bloom.
The contrast of the Twilight Heucherella's dark leaves and gardenia's light green color is striking and adds an extra dramatic touch. You can also plant gardenias and Heucherella together in a container since both plants thrive in the same soil and water conditions. Because both prefer partial shade, you can plant them together and not worry about the light requirements.
7. Rhododendron (Rhododendron ferruginous)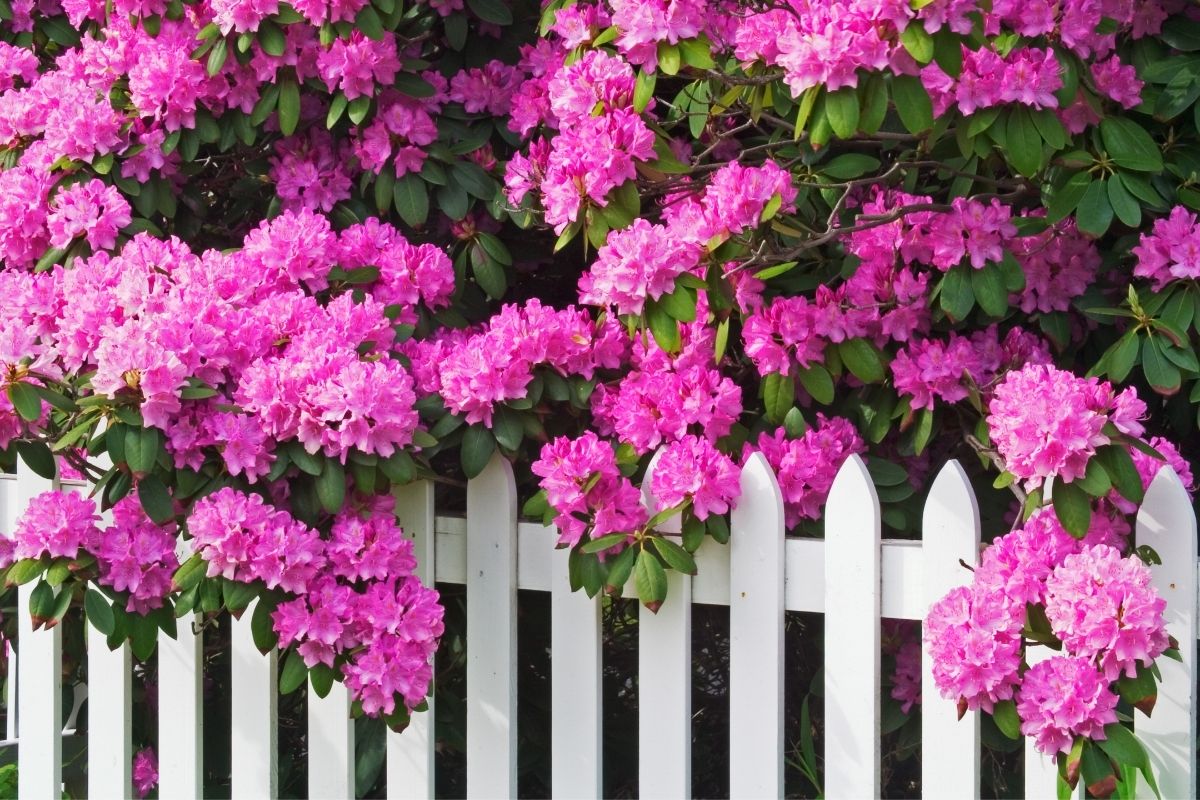 Rhododendron is an acidic plant that likes moisture, just as gardenias. A Rhododendron's pink flowers contrast well with those brilliant white gardenia petals.
8. Snapdragon (Antirrhinum majus)
The brightly colored snapdragon blooms for several months and is a beautiful bedding plant. They are known for their large, pointed-shaped flowers that sit atop the bright green leaves.
Snapdragon flowers have a fruity smell and come in a variety of colors, including pastels to brighter shades like yellow, pink, orange, purple, white, or red.
Some flowers may have two puff petals, which look like stacked or ruffled berets.
9. Dahlia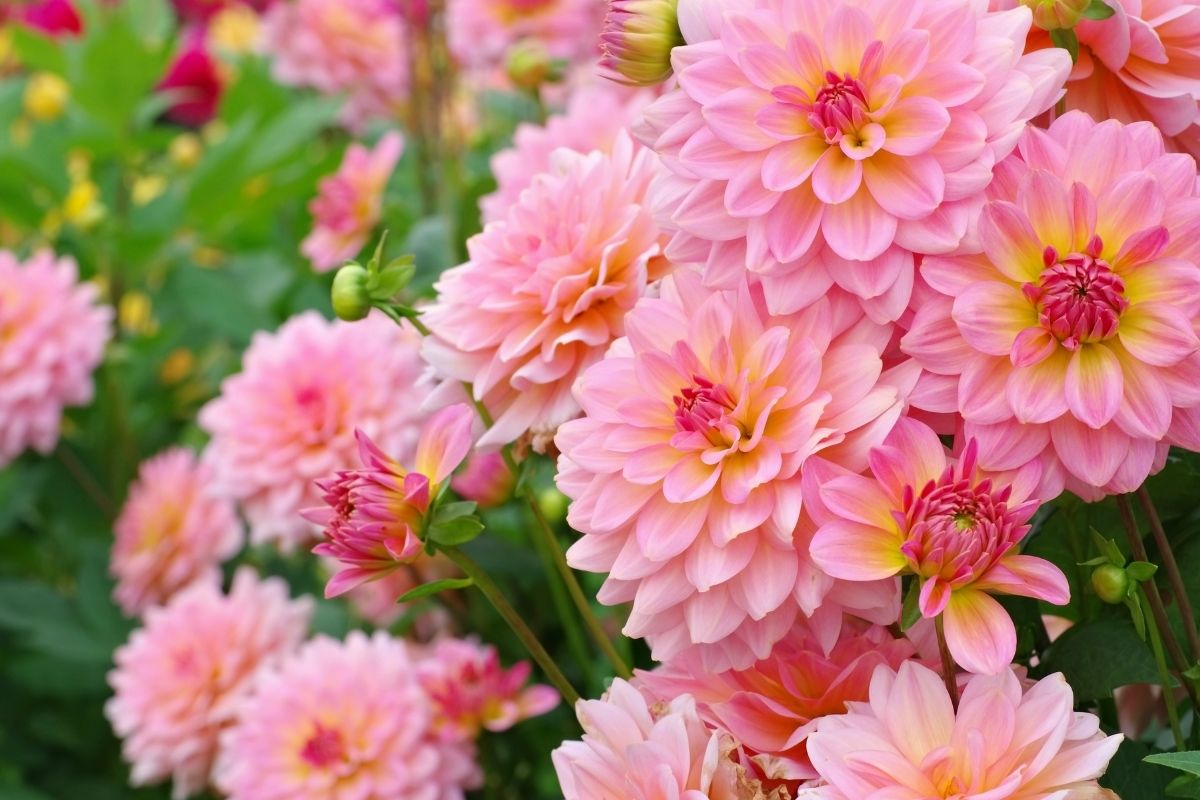 The dahlia has massive blooms from July to the first frost and can grow up to 36 inches. Its excellent vase life makes it a great choice for cutting flowers or borders.
Plus, Dahlia flowers are more prolific the more often you cut them. Full sun is best for flowering, but it will also be appreciated in areas with high temperatures.
10. Cornflower (Centaurea cyanus)
Centaurea cyanus, also known as Cornflower, or Bachelor's Button is an attractive annual plant that produces beautiful, profuse flowers. They bloom abundantly in late spring and late summer, and they stand proudly on tall stems covered with gray-green, lance-shaped leaves.
They are a magnet for butterflies and can be used to cut or dry.
11. Ferns
Ferns can be paired with any kind of plant and are the perfect background for flowering plants because of their rich, vibrant foliage. Because they love moisture and some shade, ferns work well with gardenias. They don't flower, so they won't distract from the gardenias' delicate appearances in the summer.
Even more ideas for plants that compliment gardenias
If you're still looking for gardenia companions to add to your dream garden, make sure you look for acid-loving plants that need the same soil conditions as gardenias (well-drained soil) and have the same sun exposure needs.
evergreen shrubs
cast iron plant
toad lilies
hostas
azaleas
crepe myrtle
Japanese maples
dogwoods
Gardenias work well in all-white gardens too. Just mix them with white roses, hydrangeas, spireas, and other favorite white flowers.
FAQs About Gardenias
Where is the best spot to plant gardenias in?
The best place to plant gardenias is one that receives four to six hours of sunlight per day. This will ensure their productivity and home growth. If you plant your gardenias outside, they should be kept moist.
How much space do Gardenias require to thrive?
Gardenias need space of at least 3 to 6 feet to thrive. The amount of space you need will vary depending on what you plant next to your gardenia plants.
What is the difference between a Camellia and a Gardenia?
Gardenias differ from Camellias in many ways, including their sun and water requirements and their bloom times. Camellias can be found in many colors and their shape is much more intricate than gardenias, but gardenias only come in cream and white, require less maintenance, and are more durable. They are all different in terms of their size, shapes, and scents.
Can you plant roses and gardenias together?
Yes, rose and gardenias look nice together. The evergreen gardenia can be planted in a circle or in front of unattractive stems to make a great complement to roses.