A shady backyard doesn't mean you're stuck with plain grass or, even worse, bare dirt! Here are some of the best shade perennials for low-light gardens.
If your garden has some shady spots, you aren't doomed to coaxing colorless plants to cover bare ground. Great perennials for growing in the shade are more numerous and more colorful than ever.
It was only a few decades back that options for shade garden plants were mostly limited to hostas, ferns, impatiens, elephant ears, and maybe astilbe. Even today, many gardeners consider shady places in their landscapes as fine for escaping the summer sun to rest awhile on a garden bench, but not a place they can make exciting.
The truth is, home gardeners and landscapers are having to rethink some of their traditional choices of the best shade perennials.
A fatal viral necrotic spot virus has been killing impatiens everywhere and, the truth is, colorful options for planting in shade are much more limited than options for planting in full sun. But selections of leaf color have exploded, and it's now possible to spice up shady garden spots with plants in burgundy, orange, red, yellow, pink, black, lime-green, and every color in between.
Benefits of Shade Gardening
A shady backyard doesn't have to feel like a sore spot on your property. Pay attention to the shadiest places in your landscape and figure out a way to add beauty to your landscape. My favorite benefit of a shade garden is that it's low maintenance while still beautiful!
Foliage plants no longer have to be treated as an afterthought in your garden design. Leaf colors and textures provide a background for flowering plants in the sun just outside the shade zone.
If you have partial shade, it is easy to find flowers in cool shades of white, pink, and blue that light up even the darkest corners of your landscape. And native shade plants feed the pollinators that keep the rest of your garden healthy.
Colorful Shade Loving Perennials
There is no shortage of perennials that provide colorful flowers in partial shade. Here are just a few. (Some plants have varieties in more than one color.)
Blue- and purple-flowered perennial shade plants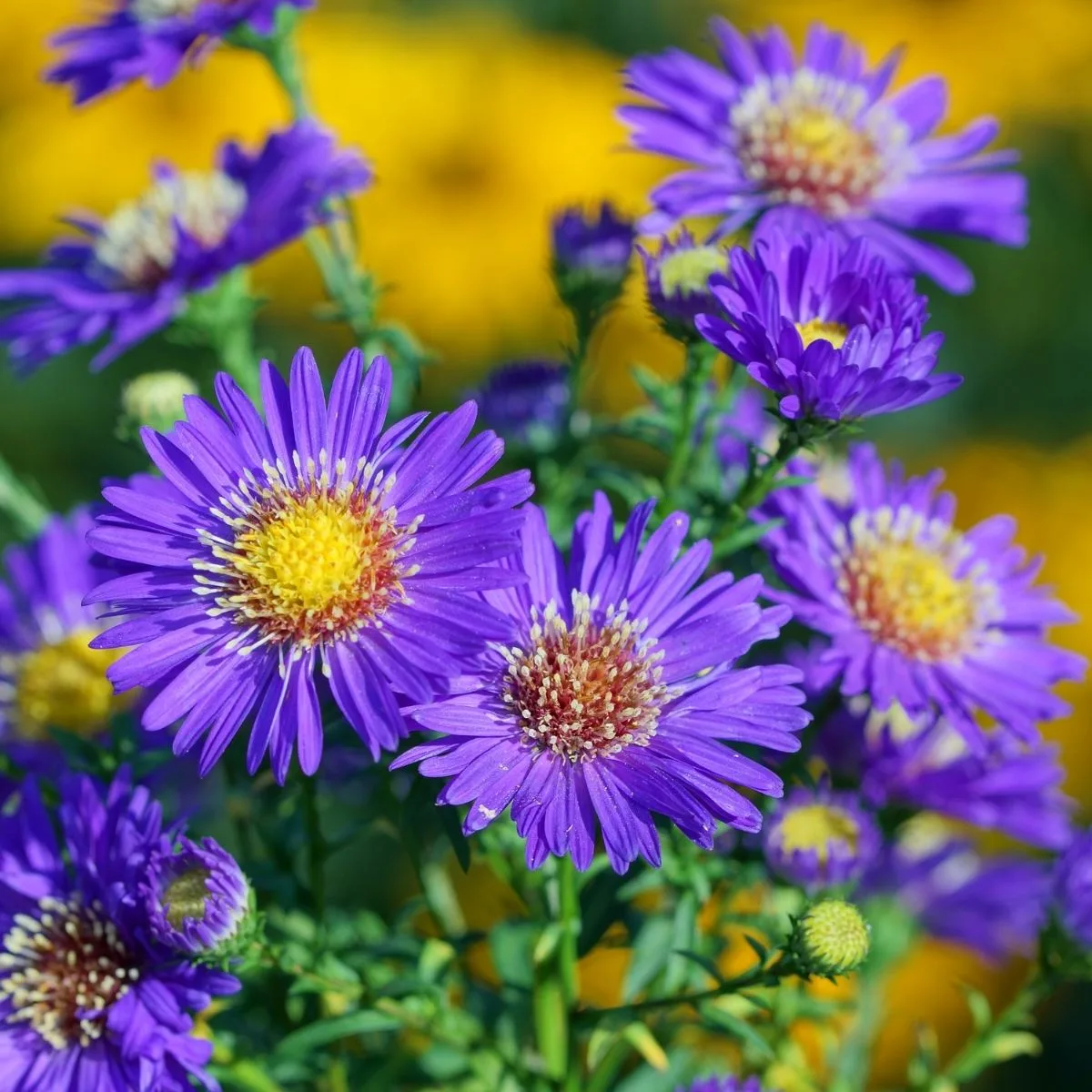 Blue wood aster
Brookside hardy geranium
Brunnera

(Siberian Bugloss)

Jacob's ladder
Lungwort

(Pulmonaria)

Liriope
Monkshood
Phlox stolonifera
Phlox divaricata
Rocky Mountain columbine
Toad lilies
Scilla siberica
Virginia bluebells
See more purple shade perennials. And if you like blue, here's a list of blue perennials for shade.
Pink-flowered perennial shade plants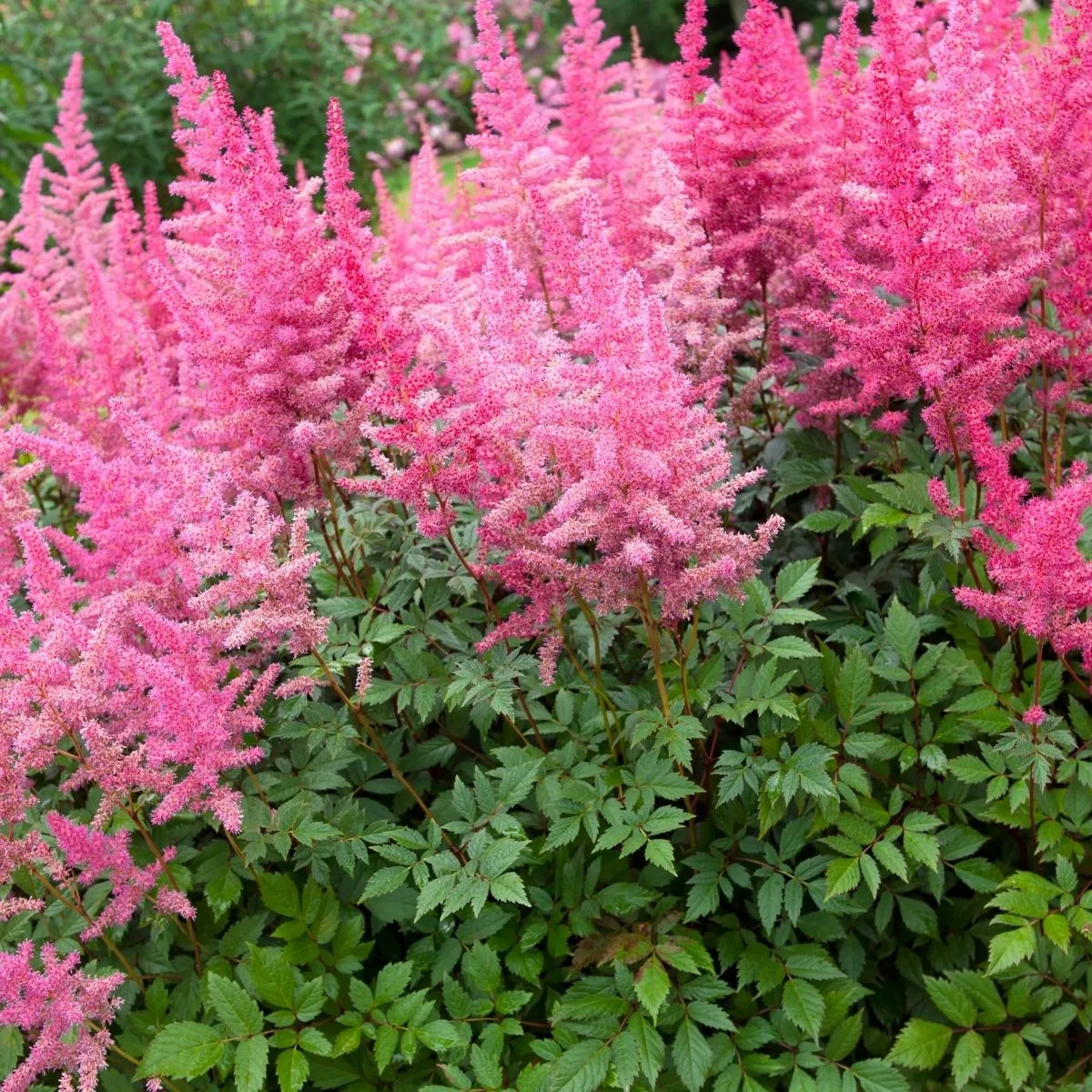 Astilbe
Hellebore
Bleeding heart (

Dicentra)

Fern-leaf bleeding heart
Foxglove
Winter cyclamen Geranium cinereum 'Ballerina'
Check out my list of pink shade perennials (with pictures)
Red-flowered perennial shade plants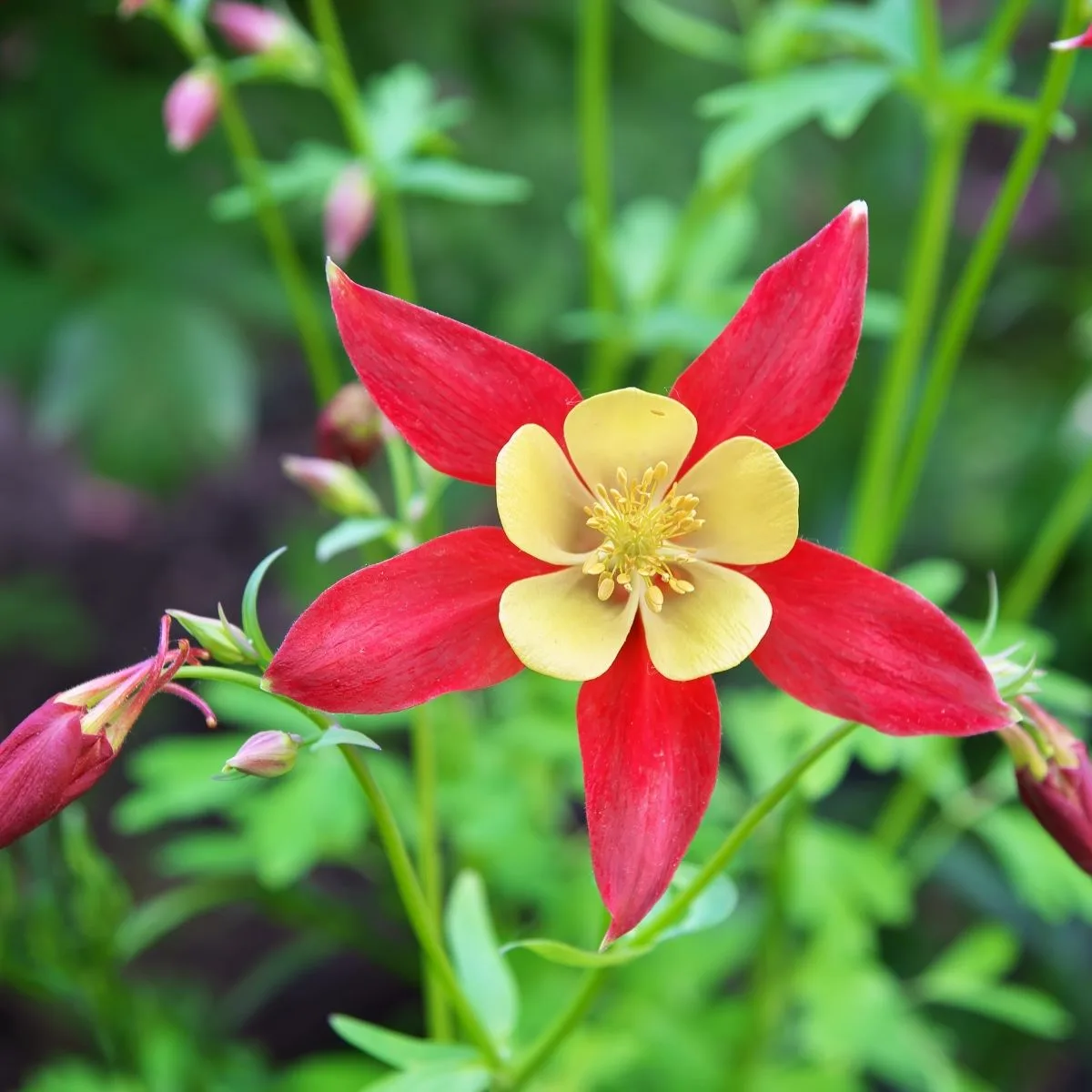 Astilbe
Western and eastern red columbines
Fire pins
Indian Pink (Spigelia marilandica)
Here are 5 red shade perennials with pictures.
White-flowered perennial shade plants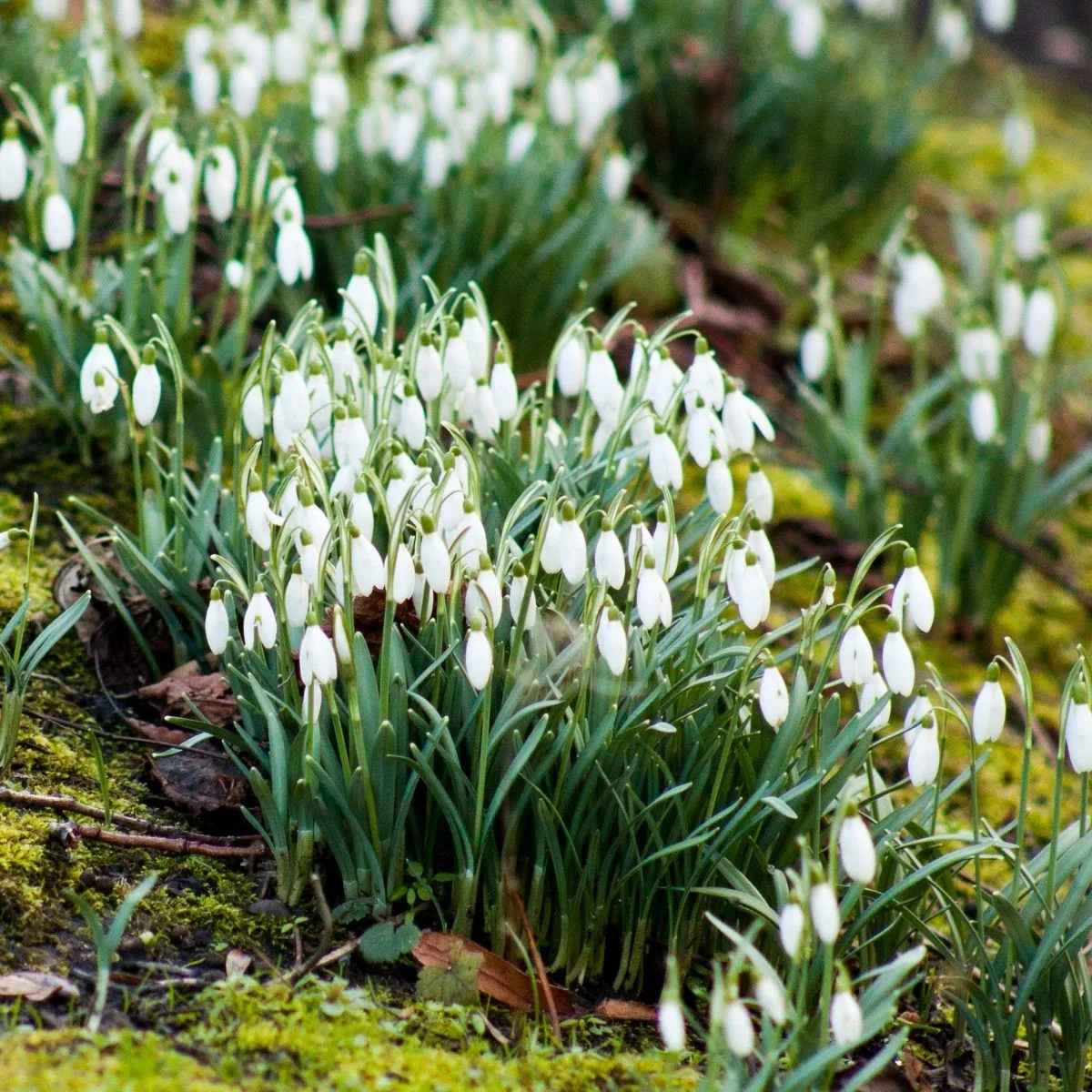 Astilbe
Bear's-breeches
Hellebore
White Nancy Lamium
Biokovo hardy geranium
Snowdrops
Lily-of-the-valley
Tiarella
White wood aster
See pictures of these 9 pristine white shade perennials.
Yellow-flowered perennial shade plants
Lamium Hermann's Pride
Ligularia
Kirengeshoma
Woodland sunflower
Wood poppy
Yellow corydalis
Check out this list of 10 yellow perennials for shade.
Now, consider some of the most versatile perennials for growing in the shade.
Best Shade Perennials
1. Barrenwort (Epimedium)
Winter-Hardy in Zones 4 through 8
This hardy plant draws attention to itself with its dainty, two-colored, fuzzy heart-shaped leaves. As a bonus, it produces white, pink, yellow, or purple blooms in the spring. Barrenwort thrives in both dry shade and wet soils.
2. Bee balm (Monarda)
Winter-Hardy in Zones 3 to 8
Bee balm blooms abundantly in full sun. Its spiky red, pink, or purple blossoms are irresistible to bees and butterflies. It won't bloom as abundantly when planted in the shade, but it will still be colorful.
3. Bellflower (Campanula)
Winter-Hardy in Zones 3 to 9
Bellflowers come in various flower colors and sizes, but the ground-hugging Serbian bellflower, with its purple flowers, is the best known. It's a great ground cover for areas of partial shade.
4. Brunnera (Brunnera macrophylla)
Winter-Hardy in Zones 3 to 8
Brunnera grows a dense cover of heart-shaped textured leaves with dark veins and a silver foliage sheen. Deer find it unpalatable.
5. Coleus (Coleus scutellarioides)
Winter-Hardy in Zones 10 and 11, grown as an annual in places where there are frosts and freezes every winter
Few plants offer a greater variety of colorful, attractive leaves than the coleus. This reliable house plant also makes a great shade plant in warm climates, although you will have to replant it every spring if you live in a climate that gets freezing temperatures in winter.
Coleus grows in either shade or sun but prefers shade. Various coleus offer every foliage color you can think of, from purple leaves to golden leaves and leaves of green and burgundy.
6. Columbine (Aquilegia)
Winter-Hardy in Zones 3 to 9
Hummingbirds love this powerhouse of nectar production. These 2- to 3-foot (50- to 75-cm) perennials bear blue, purple, orange, red, or yellow flowers. They are fussy about soil, needing rich, well-draining soil. If you love orange flowers, look at these gorgeous orange shade perennials.
7. Coral bells (Heuchera)
Winter-Hardy in Zones 3 to 9
The sumptuous apricot, caramel, lime-green, plum, or rose leaves of coral bells are a real showstopper in a shade garden. Their tiny flowers attract hummingbirds, too, and make a great cut flower.
8. Elephant ears (Alocasia)
Winter-Hardy in Zones 9 to 11 can be treated as annuals in colder climates.
Elephant ears have a bland foliage color but an interesting foliage shape. The broad leaf of this plant resembles an elephant's ears.
These plants thrive in shady, damp corners. If you live where the ground does not freeze during the winter, they will return from tubers every year.
9. Geranium (Geranium species)
Winter-Hardy in Zones 3 to 8
Bush-like geraniums are easy to grow in the shade. Their five-petalled blue, purple, or pink flowers are easy for butterflies to find throughout the growing season.
10. Hosta (Hosta species)
Winter-Hardy in Zones 3 to 9
Hostas offer striking yellow and green foliage that grows abundantly in the shade. Some varieties also produce long stems of white or purple flowers. Plant next to red flowers for an abundance of bees, butterflies, moths, and other pollinator insects.
11. Indian pink (Spigelia marilandica)
Winter-Hardy in Zones 5 to 9
Indian pinks aren't really pink. They produce trumpet-shaped flowers of red or yellow. Hummingbirds love them. Indian pinks from colorful clumps in shady locations and stand up to drought well.
12. Japanese painted fern (Anisocampium niponicum)
Winter-Hardy in Zones 2 to 9
Ferns now come in a lot of colors besides good old green. This species of fern boasts several colorful cultivars:
Brilliance starts copper-pink in the spring, turns green when the weather heats up, and then puts on a show of fall color
Crested Surf has frilly tips on every frond
Lady in Red has blood-red stems and lacy fronds
Pictum has blood-red stems and fronds of silvery gray
13. Ligularia (Ligularia dentata)
Winter-Hardy in Zones 4 to 8
Plant ligularia for a variety of leaf shapes and sizes. For a butterfly garden, choose Bottle Rocket with its tall spires of yellow blooms or Britt Marie Crawford for its masses of daisy-like golden flowers.
14. Lobelia, also known as cardinal flower (Lobelia cardinalis)
Winter-Hardy in Zones 3 to 9
If you have a well-watered, shady location, lobelia is a great choice for a pollinator garden. Its deep, tubular blooms in pink or red are too deep for bees, so they give hummingbirds a food source with less competition. Deadheading will give you a second showing of beautiful flowers.
15. Sun king Japanese spikenard (Aralia cordata)
Winter-Hardy in Zones 3 to 9
This shade-loving bush with chartreuse leaves grows up to 3 feet (75 cm) tall and 6 feet (150 cm) wide. It's an excellent choice for gardeners who are looking for deer resistance.
16. Turtlehead (Chelone lyonii)
Winter-Hardy in Zones 3 to 8
Turtlehead, as you might guess, got its name from the resemblance of its flowers to turtles with their mouths open. The turtlehead attracts butterflies to its bright white, purple, or pink blooms. It is an excellent choice for damp locations. It is deer-resistant.
17. White wood aster (Eurybia divaricata)
Winter-Hardy in Zones 3 to 8
This decidedly non-fussy drought-tolerant plant grows 1 to 2 feet (30 to 60 cm) tall, decking with daisy-like flowers from mid-summer to late summer. Plant white wood aster where you want to attract butterflies.
How Do You Choose the Right Plants for Shady Areas?
There is no need to get overly technical when choosing plants for shady areas in your landscape. Most shade plants are adaptable concerning how much shade they prefer, although all plants need to receive at least a few hours of indirect sun every day.
If you guess wrong about the best location for your shade plants, they will let you know. Shade plants that need more sun will grow leggy and start looking weak. Plants that start looking crisp or curled are getting too much water, and bleached leaves are a sign you need to move your plants to a sunnier location.
Every gardener learns through trial and error. Don't force a plant to grow where it is not happy. It's OK to move plants and start all over.
Frequently Asked Questions About the Best Plants for Shade
Is there any shade perennial that grows in complete shade?
It is important to understand that "complete shade" doesn't mean "no sun at all." All green plants need at least minimal sunlight to survive. However, some plants don't need direct sunlight. Reflected sunlight or just a little sunlight coming through a canopy of leaves for as little as three hours a day can be enough.
Within that definition of complete shade, many plants can survive and thrive in very low-light conditions. We have already mentioned astilbe and coral bells. You could also consider dead-nettles, foam flowers (foamy bells), Japanese forest grass (hakonechloa), and primroses (primula).
Can hostas grow in full shade?
There are three kinds of hostas that thrive in full shade.
The Brother Stefan variety has chartreuse leaves with blue edges.
The Paradigm Hosta has streaked chartreuse leaves with dark green borders.
Touch of Class has yellow centers on a field of blue.
Can hydrangeas grow in full shade?
Hydrangeas like afternoon shade. They can grow in dappled shade. But they will not bloom in full shade, and their growth will be spindly and pale.
Is there any perennial for shade with cobalt-blue blooms?
Try hardy plumbago. It has cobalt-blue blooms followed by red foliage in the fall.
What shrubs do best in the shade?
Just about any woodland plant can be adapted to shady garden spaces. Need small shrubs? Check out my list of small evergreen plants for shade.
Camellias need deep, rich, acidic soil, preferably moist soil and partial to full shade. If you prune them every year, they keep producing blooms season after season.
Euonymus grows vertically. This foliage plant is a good choice for a wall cover.
Hydrangeas grow well in partial shade, but you need to prune them to keep them from becoming leggy. 'Hydrangea aspera 'Villosa Group' has interesting large, pointed leaves. It produces blue flowers when grown on chalky or alkaline soils and pink flowers when grown on acidic soils. Too much water gives them yellow leaves.
The Japanese or spotted laurel, also known as aucubia, produces graceful foliage of variegated leaves in the spring and bright red berries in the fall. The more shade it gets, the more variation it develops in leaf color. Since this plant quickly reaches a height of 15 feet (5 meters), it is also valuable for hedges.
Mahonias are dwarf shrubs with evergreen foliage that produce upright racemes of white or yellow flowers that can brighten up any shady area in the spring. The flowers give way to blue-black berries in the summer.
Paper Plant (Fatsia japonica) is a fast-growing, shade-loving shrub that thrives in neglect. It has unusually indented leaves and bears panicles of sphere-like flowers in the fall, followed by blue-black berries all winter. The flowers provide food for beneficial insects, and the berries are a winter treat for birds and squirrels.
Photinias are a great choice for changing leaf color throughout the year. They don't need a lot of care if they are planted in deep, fertile soil.
Rhododendrons and azaleas are a great choice for spring bloom. They need shade, dependable moisture, and acidic soils.
Silk tassel bush is an easy-to-grow evergreen shrub that is tolerant of most types of soil, but needs to be out of the wind. It makes a great backdrop for many other plants.
Sweet box (Sarcococca hookeriana) tolerates shade and will grow where other shrubs will not. It has glossy evergreen leaves, white flowers in the spring, and berries in the summer.
Tree peonies, also known as moutan, grow into tall trees bearing the same familiar blossoms as their more compact relatives.
What are the best varieties of astilbes to plant in the shade?
There are dozens of varieties of astilbes. An Astilbe Mixture Super Pack is the best way to discover your favorite variety. Or start with Chinese astilbe and add a new variety every year.
Astilbe-hosta and astilbe-rhododendron combinations make great companion plants.
I hope I've inspired you to plant some of these beauties in the shady spots of your backyard.