Add a pop of color to your shady garden by planting a few of these orange shade perennials. From small, low-growing groundcovers to large, upright plants, these flowers will keep your garden looking amazing. And they'll return year after year with no extra work.
Vibrant orange perennials for shade give pollinators a nectar source and create a beautiful and inviting environment. Here's a list of my favorite orange perennials to plant in a shade garden.
Best Orange Shade Perennials
Whether you're looking to add some texture and interest to an outdoor space or create a cheerful focal point, these sunny blooms are just what you need.
1. Coral bells (Heuchera 'carnival watermelon')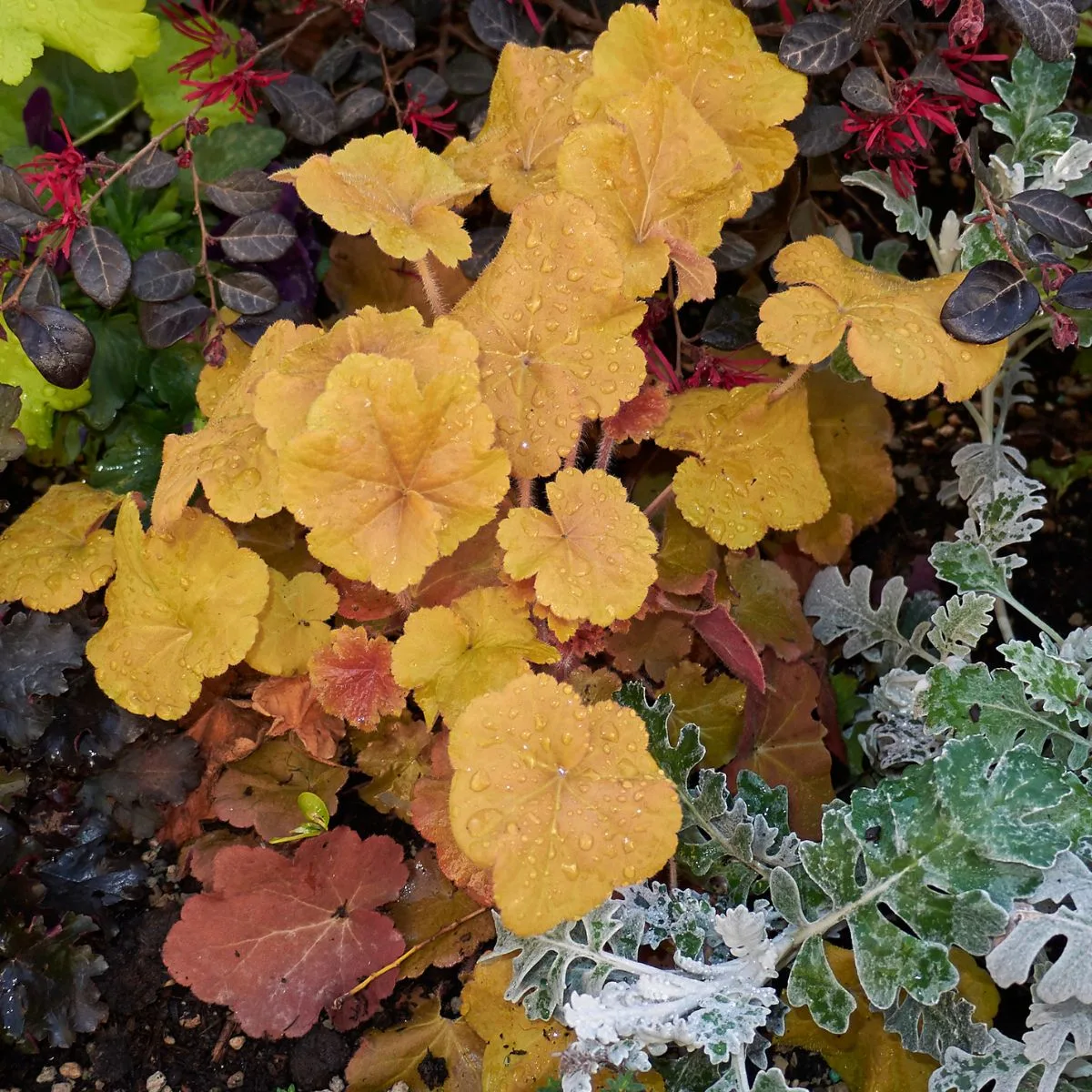 One of the most popular types of orange perennials for shade is coral bells, also known as Heuchera. These plants feature heart-shaped leaves with a vibrant orange hue and tall spikes of bright flowers that bloom in the summer months. They are low maintenance and relatively easy to plant. Another great option is coreopsis, which produces small yellow flowers surrounded by deep orange petals throughout the growing season. Lastly, daylilies come in a range of colors from pink to yellow but there are also varieties with cheerful orange blooms that can provide an eye-catching contrast against other plants in your garden.
This perennial, mounding evergreen has vibrant orange foliage. As it matures, it produces bell-shaped white flowers. This cultivar grows in zones 4-9. It reaches a width between 12-14 inches.
2. Crown imperials (Fritillaria imperalis)
Crown imperials grow bell-shaped orange flowers on long stalks. Native to Central Asia and the Middle East, this plant can reach heights of up to 44 inches, and the flowers bloom for a few weeks in the spring.
3. Orange globe globeflower (Trollius x cultorum)
The globeflower produces striking blooms, and it is native to Europe. It's well-suited for mountainous climates and grows best in zones 3a to 7b. It has round flowers that bloom from June to September, attracting plenty of butterflies.
Orange Perennials For Partial Shade
While not many orange perennials grow in full shade, there are many that grow well in partial shade conditions.
4. Cinquefoil (Potentilla)
There are more than 300 varieties of Cinquefoil. A hardy shrub popular because it is low maintenance and has beautiful flowers, the Cinquefoil grows in zones 2 to 8. It has a spread of six inches up to five feet. It can also grow up to four feet tall, making it a nice background for smaller plants. It does well in a sunny location but can also grow in partial shade.
5. Summer ragwort (Ligularia dentata)
Summer ragwort is a wildflower that can make an excellent feature in your garden. It grows through rhizomes, so it can potentially spread. The summer ragwort grows from 2 to 3 feet wide and can be up to 4 feet tall, in zones 4 to 8.
Its flowers attract hummingbirds, bees, and butterflies. It loves a sunny location but does well in partial shade too. It gets its name because summer is its growing season, and it stops producing flowers in the fall. The foliage has a deep green and even purple color.
6. Sneezeweed (Helenium)
Sneezeweed is a type of daisy that has many showy varieties. It can grow up to five feet tall when it has reached full maturity. The Sneezeweed grows in zones 3 to 8, and while they do well in full sun, they need moist soil to grow and can tolerate some light shade. Some Helenium has ombre petals that change from yellow to orange, which look fresh and vibrant.
7. Black-eyed Susan (Rudbeckia hirta Cherokee Sunset)
Black-Eyed Susan is a popular and easy-to-care-for plant that can be found in zones 3 to 10. It flowers bright blooms from June to September, can grow up to 3 feet tall, and the bushes can be dense. The Cherokee sunset variety has bright orange double flowers that can tolerate partial shade but it will stretch toward the light.
8. Bird of paradise (Strelitzia)
The bird of paradise plant is an impressive topical ornamental that can reach massive stature. The plant can grow up to 30 feet tall, so it can provide plenty of shade in your garden. Its width varies from 3 to 5 feet and can grow in zones 10 and 11.
Strelitzia flowers can be white, orange, or yellow. There are five species of bird of paradise, but S. reginae, S. juncea are the easiest to grow as garden plants. They like to have plenty of sun, but direct sunlight might burn their leaves, so some afternoon shade will e welcomed.
9. Daylily (Hemerocallis)
Daylilies can grow up to four feet tall. They are rugged plants that can do well with little to no additional care. Over the years they will spread and create a beautiful, dense bush.
The plant is named daylily because each one of the flowers only lives for a day. Newer varieties can have different growing patterns. Daylilies are very popular, and there are more than 35,000 cultivars. While these plants can tolerate shade, they need about 6 hours of sun daily.
10. Orange lantana (Lantana camera)
This beautiful plant is a perennial in zones 10 and 11, but it grows as an annual in cooler zones. It has little bouquets of flowers that can be in many colors. You can find varieties that are pink, purple, orange, yellow, and white. While lantana can tolerate shade, it makes it more susceptible to insects or disease. but if all you have is shade, give it a try: it's so beautiful!
11. Persian buttercup (Ranunculus asiaticus)
The Persian buttercup flowers resemble poppies, but it grows from tubers. Each tuber can grow up to 10 flowers. As long as their roots are cool, they can grow in a variety of climates and conditions. The flowers have a beautiful ruffled appearance and can vary in color, including orange. They're best suited for zones 8-11. Ideally, ranunculus should grow in full sun but can also grow in the shade.
Orange shade perennial flowers are an excellent choice for gardeners who want to add a splash of color while still enjoying the benefits of low-maintenance plants. With just a few simple steps, you'll have beautiful flowers every year with minimal effort on your part. So don't hesitate to incorporate some orange perennials into your garden today!
Need More Ideas For your Shade Garden?
If you need more help creating a beautiful garden in a shaded area of your yard, you'll love these:
Adriana Copaceanu is a passionate nature lover living in the country on her dream property where she grows vegetables, lavender, and wildflowers that she shares with the wildlife they attract. When she's not in the garden, she loves spending time with her chickens and planning her next nature project.