New Hampshire is known as The Granite State because it has many extensive granite formations and quarries. Don't let that make you think it doesn't also have an abundant amount of plant life, though. One of the first 13 colonies, it was also the first state to form its own declaration of independence.
This New Hampshire native plants list will help you learn more about the plants in your area and also help you plan a native landscape. There are many benefits to the local ecosystem when you choose to add a native garden or landscape. Native plants are also easier to care for and don't typically require fertilizers. They require less water and pesticides than traditional lawns. And as an added bonus, they can even help prevent erosion. It's a win-win all around when you choose to go native.
Understanding New Hampshire's Climate
To help you better understand the types of plants that are native here, let's take a look into the typical climate of this state. New Hampshire has a humid continental climate. It has warm, humid summers and long, cold winters with lots of snow. Precipitation is evenly distributed throughout the year and the average temp is around 58.8 degrees. The state gets an average of 45.86 inches of rain a year.
This means native plants have adapted to this climate and know how to survive in the conditions New Hampshire experiences. They have also adapted to the area's pests and diseases, so they are built more resistant to them.
New Hampshire Native Plants List
Let's take a look at some New Hampshire natives.
1. Bunchberry (Cornus canadensis)
Bunchberry, also called Canadian bunchberry, is a special flowering plant from the dogwood family. The flowers will look very similar to the flowers on a dogwood tree. This deciduous shrub is found in zones 2 to 6 and grows about .25 to .75 feet tall. It can spread from half a foot to a foot.
It blooms from May to July and makes a great groundcover. It likes part shade and medium water, and it's very low maintenance. This can make a great addition to your native garden or landscape. It has showy flowers that attract birds and butterflies. The fruit is also showy and edible.
2. Painted trillium (Trillium undulatum)
Painted trillium is from the lily family and pretty flowers grow on the end of an 8-16 inches tall, slender stalk. It has large, blue-green leaves and the flower is white with purple markings. It is easily recognizable by the pink splash of color in the center of the bright white flowers.
It blooms from April to June and likes full sun or part shade and moist soil. It's regularly commercially available and the seeds do best when planted soon after the fruits have ripened. This is a long-lived, woodland perennial that tends to be hardy and low-maintenance.
3. Partridgeberry (Mitchella repens)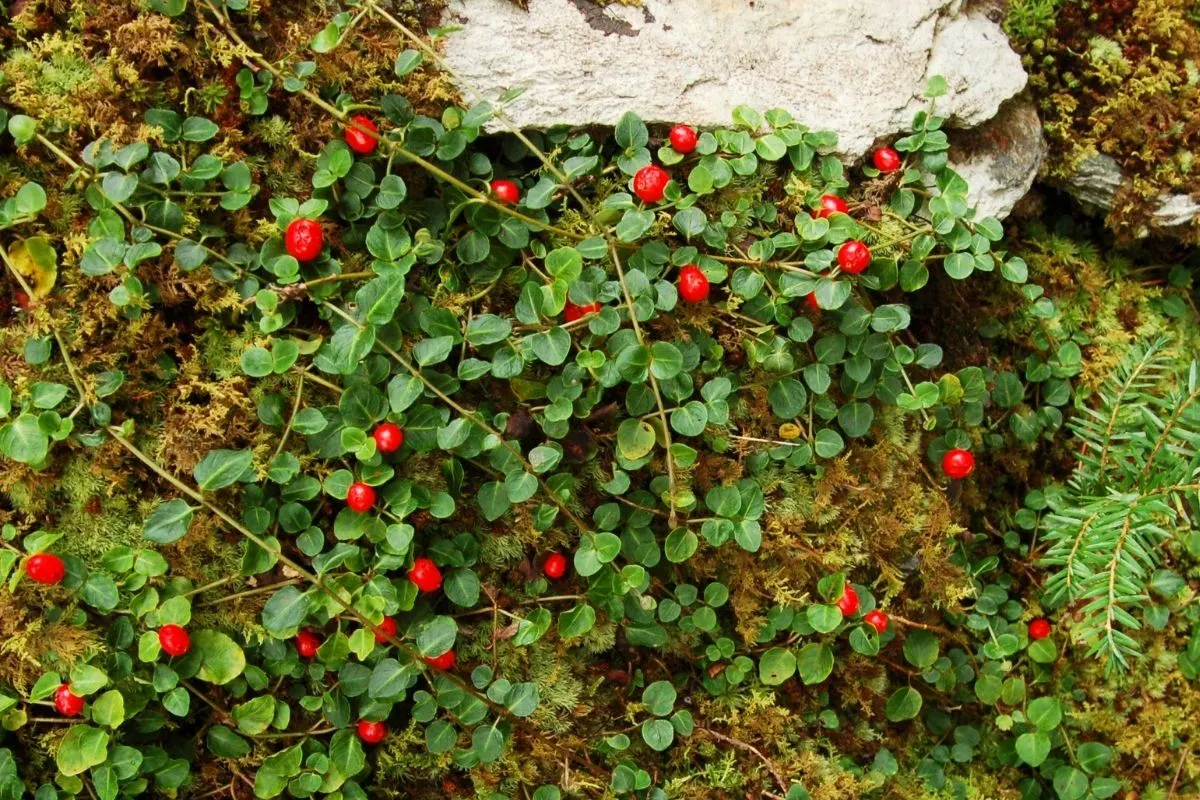 Partridgeberry, or partridge berry, is part of the Madder family and is a small, woody, trailing vine. It has 6-to-12-inch slender trailing stems, and it doesn't climb like some vines. Instead, it lays across the forest floor. These trailing stems will root at nodes that touch the forest floor. They can then spread into colonies that are several yards in width.
It has fragrant white flowers that show up in pairs and are about ½ to 2/3 an inch long. These flowers are tubular with four lobes each and fringed inside. They bloom in June and July. This plant gets its common name for the bird that likes to feed on its berries.
Because it creeps instead of climbing, it makes a perfect ground cover.
4. Sheep laurel (Kalmia angustifolia)
This flowering shrub is in the family Ericaceae and is sometimes also called lambkill. It grows about 3 feet tall and as much as twice as wide. It's evergreen, with small, deep pink flowers that form in dense clumps. The leaves are green above and pale green below. The fruit is brown.
The flowers are about 3/8 an inch in diameter. The blooms can also be shades of red and purple. They bloom in June and July and will attract birds and butterflies.
Sheep laurel likes part shade and wet, acidic soil. Be aware that all parts are highly toxic, and it may be fatal if ingested. Do not eat any parts of this plant.
5. Common foxglove (Digitalis purpurea)
Common foxglove is a short-lived perennial with stunning, showy purple flowers. It goes by many names, including purple foxglove, bloody bells, bloody finger, dragon's mouth, fairy bells, fairy fingers, fairy thimbles, witch's bells, and many more.
Foxglove has such a distinct look, it is not confused with other flowers. This plant is easy to grow and is deer and rabbit resistant. It does best in full sun to part shade and in average, medium moisture, well-drained soil.
This is a great choice for your flower beds and borders, for city gardens, or in other naturalized areas. For best results, plant your foxglove in groups of three or four plants.
6. Tall corydalis (Corydalis sempervirens)
Tall corydalis is known by several names, including rock harlequin and pale corydalis. This delicate, lacy biennial grows from 1-2 feet on average. The blooms are pink, yellow, and purple and they bloom from May to September.
This plant likes part shade and dry soil. It also likes acidic soil around pH<6.8. It is easily propagated from seed and fairly low maintenance, particularly once established.
In its natural environment, you'll usually find it in dry woods, rocky ledges, or around recent clearings. The delicate flowers will make a bold statement in your garden or landscape.
7. Wild columbine (Aquilegia canadensis)
Wild columbine is part of the buttercup family and once you see the flowers on this herbaceous perennial, you will likely see the resemblance. It grows about 1-3 feet tall, and it has just a few branches. The stems are round and usually green to reddish-green in color.
Each flower grows to about 1 ½ inches long and they hand down from a long stalk, giving it a very unique appearance. The flower has five petals, and five sepals that resemble petals.
Wild columbine prefers light shade to partial sun and moist to dry conditions. It likes soil that is rocky, loamy, or slightly sandy. However, mature plants can handle full sun. You should keep the young plants shaded from too much sun until they become established.
8. Rough-fruited cinquefoil (Potentilla recta)
Rough-fruited cinquefoil is also called sulfur cinquefoil, and it is a stout, leafy, hair perennial that often grows in large colonies. The flowers have five slightly notched petals, and they are longer than the calyx lobes. It grows erect, from 16 to 32 inches high. The stems are also hairy.
The flowers are typically a pale yellow with a deeper yellow color in the center where the petals attach.
This plant likes full sun and tolerates heavier soil that is more alkaline. Once established, it is a fairly low-maintenance plant that will look beautiful blooming in your garden.
9. Common yarrow (Achillea millefolium)
Common yarrow makes it on a lot of these lists because it's native to many parts of the United States. It's also very hardy and low maintenance, making it a great choice for gardens and landscapes.
This flowering plant grows up to three feet tall and only has branches near the very top. The flowers are typically white or pink and they bloom from April to September.
Common yarrow likes medium water and full sun to part shade. It does well in dry soil, and it is very drought-tolerant. Overall, it makes a great garden plant.
10. White baneberry (Actaea pachypoda)
Also called "doll's eyes" because the berries look like little eyes, this perennial is a popular choice for gardens because it has such a unique appearance. It can grow up to 2 feet tall, and the white dense raceme flowers grow in the spring.
The white baneberry grows best in wooded areas, and the white flowers have a lacey appearance to them. They do best in untreated soil with a lot of natural organic matter. They also like full shade. Too much sun can burn them.
They will need consistent watering and well-draining soil. While it's not the most low-maintenance plant on the list, white baneberry can be worth the extra effort because it's such a beautiful plant.
11. Butterflyweed (Asclepias tuberosa)
Butterflyweed is a showy flower that that does well when grown from seed in home gardens. It gets its name for the fact that butterflies love it, so you will attract a lot of pollinators to your garden with this one.
It blooms long-lasting, bright orange flowers that grow in mounds. It's an important host plant for monarchs as well as other butterflies. Unlike other milkweeds, the leaves are alternate and butterfly weed does not have a milky sap. It is sometimes also called pleurisy root or orange milkweed. It does best in full sun with dry to medium soil moisture.
12. American bellflower (Campanula americana)
The American bellflower is sometimes called the tall bellflower. It's in the bellflower family and grows about 3-4 feet tall and has leafy stems. The upper portion of the stem has showy, lavender-blue flowers with five petals. They will sometimes grow in clusters.
The flowers are usually flat and not bell-shaped, despite the name. The blue to purple flowers bloom from June to August. This plant likes medium water and part shade, with moist, rich soil. This is a great plant for attracting hummingbirds to your garden.
13. Trumpet creeper (Campsis radicans)
Another option to consider in your garden is trumpet creeper. As the name implies, this is a creeping vine. Some other names for this hardy vine are trumpet climber, trumpet honeysuckle, cow vine, foxglove vine, hellvine, and Virginian trumpet flower.
It thrives in full sun but can also do well with part shade. It can spread from 5-10 feet in length and can be trained around a fence or trellis. It doesn't require a lot of water and likes moist but well-drained soil.
The showy flowers bloom from early to late summer. It is heat, cold, and drought tolerant which means it can thrive through many different weather conditions.
14. Bluebell bellflower (Campanula rotundifolia)
The bluebell bellflower is a tall, delicate perennial that has graceful, slender stems. The flowers do grow in a bell shape, unlike the American bellflower.
Some other common names for this one are bluebell, harebell, witch's thimble, and bluebell of Scotland. It grows from about 1 to 3 feet tall and blooms blue to purple flowers from June to September. It does best in full sun or part shade and dry soil. A sandy, well-drained soil is preferred.
It will also attract hummingbirds and can make a good choice in rock gardens, too.
15. Purple clematis (Clematis viticella)
Purple clematis is another great option for your garden or landscape. Clematis is sometimes called the queen of all vines. Purple clematis is one of the most popular colors and it can yield deep purple blooms from 4-6 inches that stay from June to September.
The petals are veined and have a golden stamen that stands in bright contrast to the purple petals. It likes moist, well-drained soil, and full sun to part shade.
For best results, keep the roots in the shade but the flowers in the sun. This makes a great choice for a trellis or fence since clematis can be trained to climb.
New Hampshire native plants list FAQ
Here are some questions people commonly ask about native plants in the state of New Hampshire.
Where can I buy native plants?
You can find native plants in your area at a local plant nursery that specializes in native species. There are also wholesale and retail nurseries that will specialize in native plants. You can also find native plant sales hosted by co-ops and non-profits throughout the year. There are many directories located online to help you search for nurseries with native species close to you.
Why are native plants important?
Native plants are essential to local ecosystems because they help remove carbon from the air, promote biodiversity, preserve natural heritage, and even increase scenic values. They are good for the environment because they require less water, they help you save time and money in upkeep, and they provide habitat and sometimes food for birds and other native species of wildlife.
Is purple lilac native to New Hampshire?
Syringa vulgaris, or purple lilac as it is commonly known, is the state flower of New Hampshire, but you might be surprised to know that it is actually not native to the state. While it is an ancient shrub, it is not native. It was believed to be introduced around the mid-1500 and was brought from Turkey to Austria. Europeans then brought it to the United States when they settled here.