Missouri is a Midwestern state with more than six million residents. The state was named after a tribe of Sioux Indians called the Missouris. It's known for its barbecue, the pawpaw fruit, the famous Gateway Arch, and much more. Something else that Missouri has is a lot of beautiful native wildflowers.
This Missouri native plants list will help you get started choosing low-maintenance plants for your garden or landscaping. There are so many benefits to choosing native plants that it just makes sense to create a native wildflower garden over other non-native choices.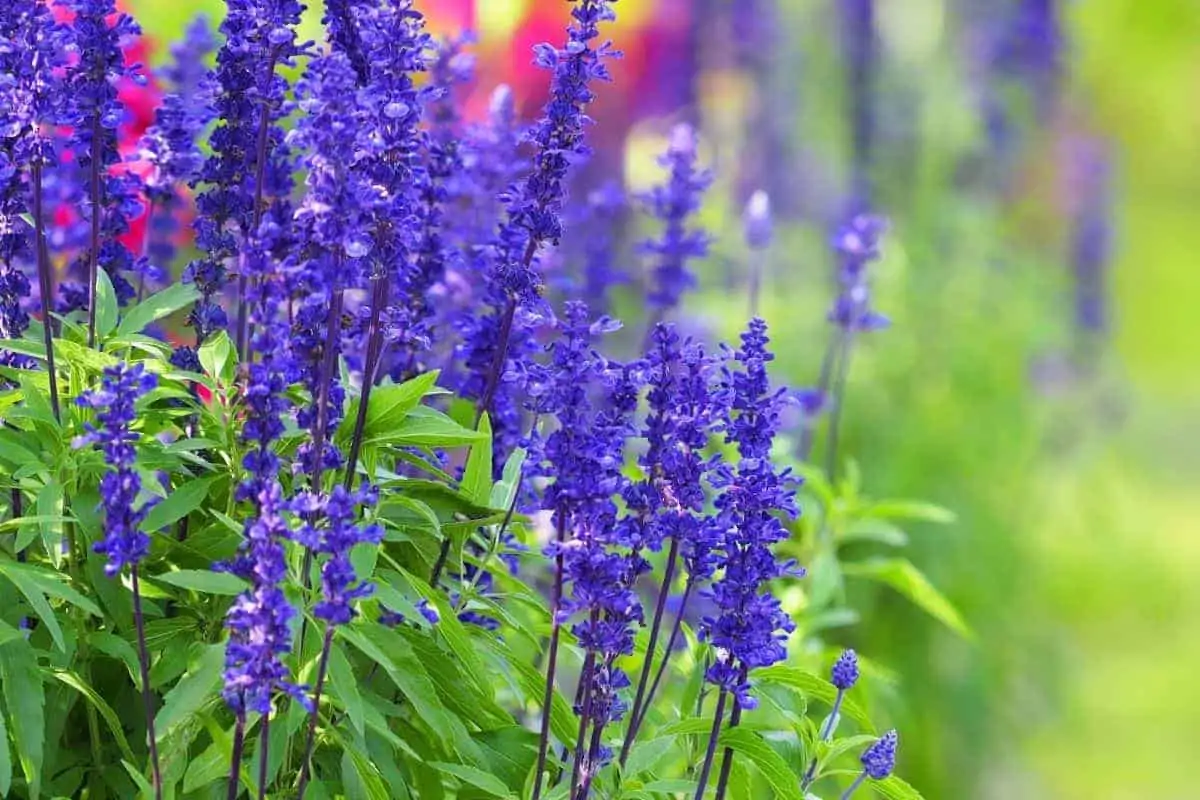 Missouri native plants list
Let's take a look at 15 amazing wildflowers that just so happen to be native to the state. If you have any of these Missouri invasive species, replace them with one or more o the plants below.
1. Rose turtlehead (Chelone obliqua)
Rose turtlehead is a good choice for flower beds with moist soil and is located near water. It's a great plant to attract hummingbirds and bumblebees. Butterflies also like it.
It will do great in rain gardens.
Rose turtlehead grows from 30-48 inches, on average. And it can spread from 18-24 inches. It blooms from September through October, and it likes full sun to medium shade. They get their common name from the turtle head shape the rose-colored blooms grow in.
2. Yellow coneflower (Echinacea paradoxa)
Yellow coneflower is another great choice for your native garden or landscape. The yellow flowers are very fragrant and also work well for cut flowers or arrangements.
Butterflies, bees, and other pollinators like this one. It's reported as deer resistant but some reports of deer eating it have happened when they were very hungry. You could deter by planting something else that deer will eat instead.
Yellow coneflower loves the full sun and will grow up to 26-36 inches tall and 16-20 inches wide. It needs dry to average soil.
3. Cardinal flower (Lobelia cardinalis)
The stunning cardinal flower will stand out in any garden or landscape. The bright red flowers bloom from August to September and attract hummingbirds, butterflies, and other pollinators.
They can grow from 2 to 4 ½ feet tall and 12-18 inches in spread, and prefer full sun to medium shade and average to moist soil conditions. They germinate from seed fairly quickly and are one of only a handful of native red flowers.
4. Purple beardtongue (Penstemon cobaea)
Purple beardtongue is a unique-looking flower that is sure to get attention anywhere it blooms. It has many violet to rose-purple, snapdragon-like flowers that grow on the top of the stems that can be from 16-24 inches tall.
It likes full sun and dry to average soil. When the soil is too wet, the plant can rot. A good companion plant is Missouri primrose. It makes a great nectar source for butterflies, hummingbirds, and moths, and it is drought tolerant. It blooms from May to June and is deer resistant.
5. New England aster (Symphyotrichum novae-angliae)
New England aster is a favorite plant for migrating monarch butterflies. It can grow from 3-5 feet but if you want shorter plants, you can just punch off the top buds until early summer.
This is the perfect wildflower for rain gardens and also for attracting butterflies and hummingbirds to your yard. It likes full sun to medium shade, and average to moist soil.
6. Rosinweed (Silphium integrifolium)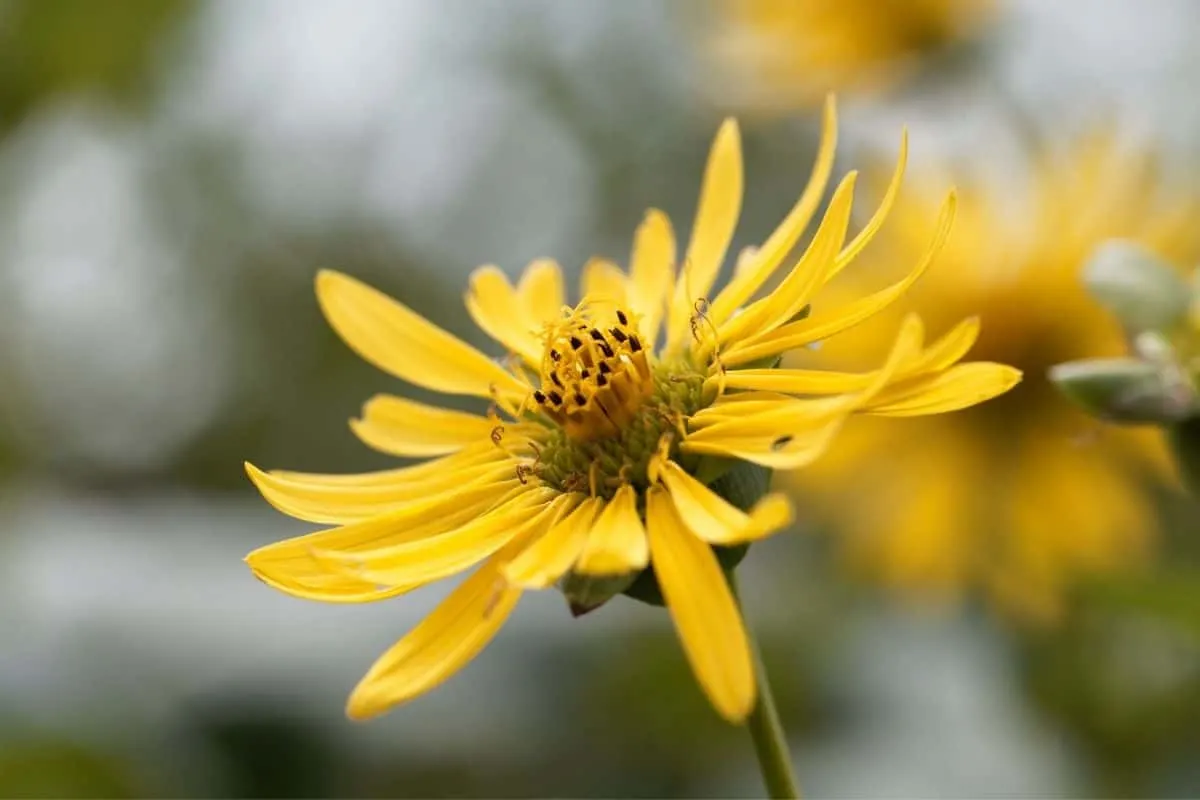 Rosinweed is a beautiful, tall, yellow flower that is great in wildlife and prairie settings. Finches love to eat the seeds as fast as they ripen. Butterflies, birds, and other wildlife will be attracted to it.
They grow from 5-8 feet tall and have a spread of 2-3 feet. They like full sun to medium shade and dry to average soil. The yellow flowers bloom from July to August.
7. Barbara's buttons (Marshallia caespitosa)
Here's another very unique and beautiful wildflower. It has short, compact foliage that is green all throughout the winter, too. The fragrant flowers are white with a purple or pinkish tinge and will attract bees, butterflies, and also beetles.
It blooms from May to June and is drought tolerant. Usually grows about 8-14 inches tall with a spread of 6 to 8 inches. They like full sun to light shade and dry to average soil but can tolerate very dry soil.
8. Bird's foot violet (Viola pedata)
Bird's foot violet is another purple/violet flower. It's a short but showy plant that you might find in woodlands or on a spring hike in the wild. They like full sun to light shade and dry, well-drained soil.
They can be found in places that are too harsh for other wildflowers, like dry, rocky slopes. When watered every day, they will rot. They can grow up to 6 inches tall and 4-8 inches of spread.
9. Black-eyed Susan (Rudbeckia hirta)
Black-eyed Susan is an easily distinguishable flower because of the yellow petal-like rays that come out around a circular black or dark-brown central cone (the "eye"). It is a relatively large wildflower in comparison to others.
Rudbeckias will attract bees and butterflies, and bloom best in June. They can grow from 2-3 feet tall and 16-24 inches apart. They like full sun to light shade and average soil moisture.
This plant is one of the best you can choose for bees and some people even have success growing it in pots.
10. Blue lobelia (Lobelia siphilitica)
Blue lobelia is very similar to the cardinal flower, but with blue to violet color blooms instead. It also makes a good choice for a rain garden, and it will attract bees, butterflies, and hummingbirds.
It blooms from September to October and grows up to 18-30 inches tall. It can spread from 10-16 inches. It likes full sun to light shade and average to moist soil. It germinates from seed fairly easily.
For best results, plant with flowers that like the same soil conditions.
11. Blue sage (Salvia azurea)
Blue sage makes a good color companion to sweet coneflower. It has beautiful blue flowers that grow upwards on the stalk and blooms mostly from August to September.
It can grow from four to six feet tall, but you can pinch them back up until around late July if you want to keep them shorter. They are deer and drought resistant and will attract bees, butterflies, and hummingbirds.
Blue sage likes full sun to light shade and dry to average soil moisture.
12. Blue vervain (Verbena hastata)
Although it is called blue vervain, the blooms on this plant often look more violet or purplish. The clusters of blue-purplish flowers grow at the tops of branching stems.
As a tall and slender plant, it looks really good blended in with other tall plants that like the same conditions. Blue vervain can grow from 36-60 inches tall and spread from 24-36 inches. It likes full sun to medium shade and average to moist soil. It will bloom from June to September.
13. Blue-eyed Mary (Collinsia verna)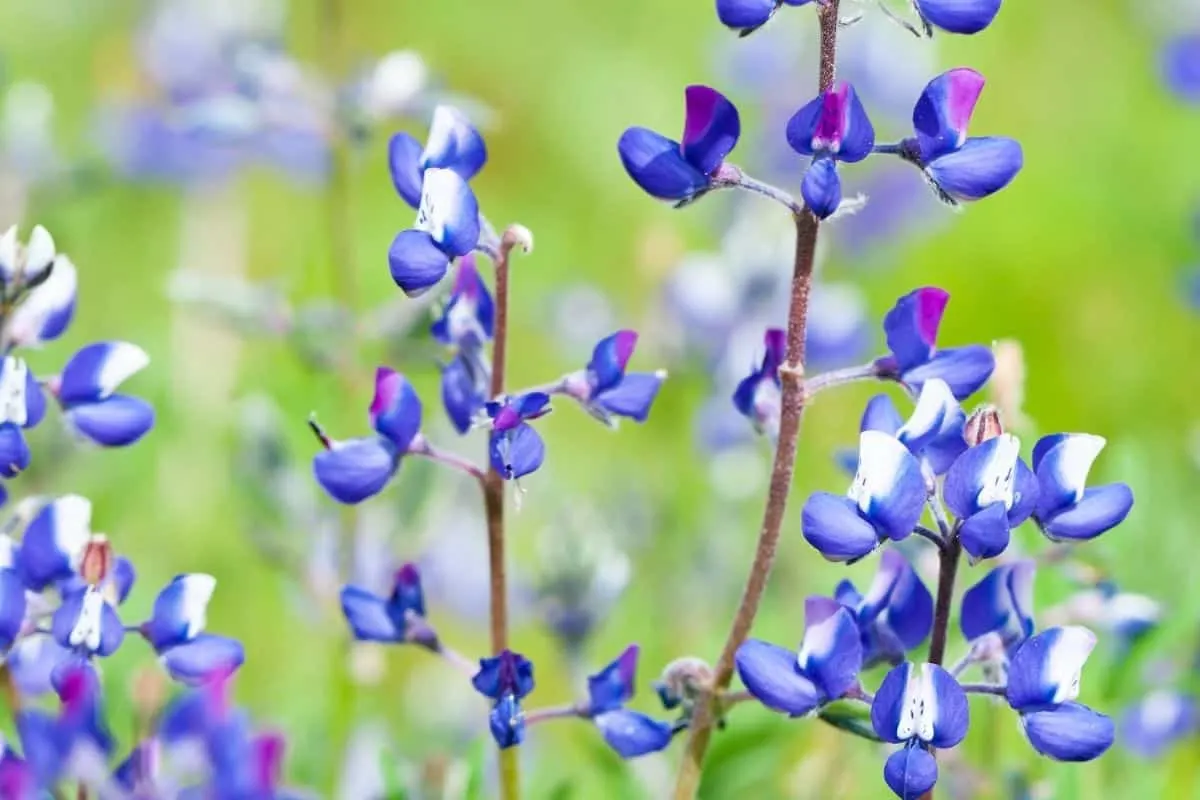 Blue-eyed Mary is another blue wildflower that will look great in your garden or landscape. This is a unique, showy, winter annual. It does well in shady sites and blooms from April to June.
The flowers are blue and white and will attract many bees and pollinators. Will grow from 4-15 inches tall, likes light sun to full shade, and average to moist soil conditions. This is a great choice for shady spots where other wildflowers will die.
14. Bur marigold (Bidens aristosa)
Bur marigold may also be known as showy tickseed, tickseed sunflower, swamp marigold, or other common names. The seeds are eaten by birds and if you walk through a field of these, they will stick to your clothing.
The pretty yellow flowers attract bees, wasps, butterflies, and beetles. They are great for rain gardens and for encouraging pollination. They bloom from September to October and can grow from 1-5 feet tall. Bur marigold likes average to wet soil.
15. Butterfly weed (Asclepias tuberosa)
Butterfly weed gets its name because it is a favorite to butterflies and other pollinators. Milkweeds specifically are great hosts to monarch butterflies and their caterpillars will eat the foliage.
Deer avoid it for the most part because it tastes bitter to them. Can grow from 2-3 feet tall and has a spread of 1 ½ to 2 ½ feet. It blooms from June to July and likes full sun to light shade. It will do well in average soil moisture. This is a very popular plant for Missouri gardens and landscapes.
If you'd like to learn about more native plants to the state, you can check out the resources at Missouri Botanical Garden. Now, let's take a look at some commonly asked questions.
Missouri native plants list FAQ
Here are some questions people often have about native plants in this state. If you have a question you don't see on this list or covered in this post, feel free to reach out.
Where can I buy native wildflowers?
A great resource for native wildflowers and other plants is the Missouri Wildflowers Nursery in Jefferson City. They offer many wildflowers, as well as native grasses, trees and shrubs, seeds, and even groundcover.
Why are native plants important?
Why should you care about whether your plants are native are not? There are many benefits to native plants, for starters. They provide habitat to native wildlife and they also provide nectar and food sources for pollinators and other native insects. Native plants also help preserve the natural diversity of the ecosystem.
What if I am new to gardening?
Native plants are actually the best choice for new gardeners because they are low maintenance and already evolved to survive in the local climate and conditions. There are many available resources to help you choose the right plants and know how to care for them, so anyone, even beginners, can appreciate it.