This easy-to-make creamy tomato soup from fresh tomatoes is a family favorite you'll love and make again and again. There's no chopping or peeling involved, and you only need a few ingredients you already have in your garden or pantry.
When I was growing up, my mom made this at least once a week and sometimes twice. We never complained: it was tasty and refreshing. We always ate it chilled, straight from the fridge and with crusty fresh bread. YUM!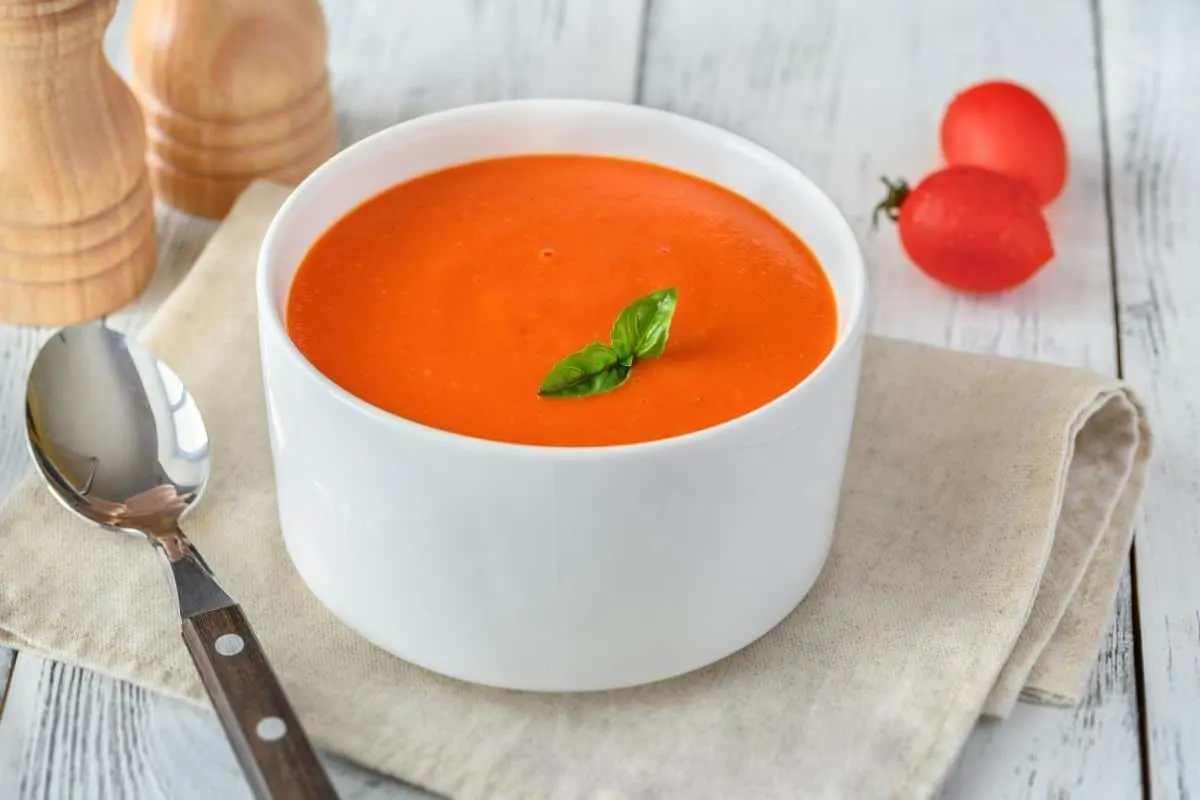 How To Make Creamy Tomato Soup From Fresh Tomatoes
I promise you, once you taste this delicious tomato soup, you'll never want to eat store-bought again. There's no comparison! And while we LOVE this soup in the summer, it's also perfect for a cold winter night. Just save some of your fresh tomatoes in the freezer, or can some tomato juice, and you can make it again and again through the cold weather months.
You need RIPE tomatoes
This soup is best made when tomatoes are overflowing in your garden. Pick the ripest tomatoes for a sweet-tasting soup. I prefer to collect a bunch of different types of tomatoes: larger tomatoes, tiny tomatoes, plum tomatoes, cherry tomatoes, some orange, some yellow, etc. for a more flavorful soup, but you can use any fresh tomato mixture you have in your garden or at your farmer's market.
If your tomatoes are not fully ripened, your soup might not be as sweet and flavorful. BUT, if that's all you have and you're in the mood for a creamy tomato soup, go for it: just add a tablespoon of sugar to the recipe to sweeten it and deepen the flavors.
If you don't grow tomatoes in your garden, you can use hothouse tomatoes from the story for this recipe. And the following year, you'll definitely want to grow tomatoes in your own garden (or a pot on the patio).
You need a few more veggies from the garden
While the tomatoes are the bulk of your soup, you need a few more vegetables:
onion
garlic
carrots
celery
green pepper
parsnip (optional)
potato
Cooking the soup only takes 20 minutes
Since this soup is going to be creamed, there's no need to do a lot of chopping. You just need to wash your vegetables (if you are using store-bought non-organic veggies, you might want to peel them), and then roughly cut them in big chunks.
Then put everything in the pot, and turn on the stove. Cook for 20 minutes until your vegetables soften up. Then blend, strain and you're ready to serve.
Tomato soup variations you may want to try
I love this soup just the way it is, but there are so many ways to tweak it for a new experience! Here are just a few ideas:
skip the potato and add noodles (this is best for cold weather months when you eat the soup warm/hot
if you'd rather have a thinner soup, again skip the potato, and blend only half of the added vegetables; then add a handful of rice after blending the soup and cook until softened, about 10 more minutes
experiment with different herbs; favorites include fresh basil, oregano, thyme, bay leaf, and lovage
drizzle some flavored olive oil when serving
garnish with parmesan cheese before serving in the winter (soup needs to be hot)
drizzle flavored olive oil on top
add some cream just before serving
sprinkle some black pepper, pepper flakes, or cayenne pepper for a spicy twist
eat it with homemade croutons you flavored to your liking
Storing homemade tomato soup leftovers
Tomato soup gets even better the next day. So, make double the amount and save some for another day. Once the soup colled off, store it in an airtight container in the fridge for up to 4 days.
Made too much soup? You can freeze it for later. Pour it into a freezer-safe container and freeze it for up to 6 months.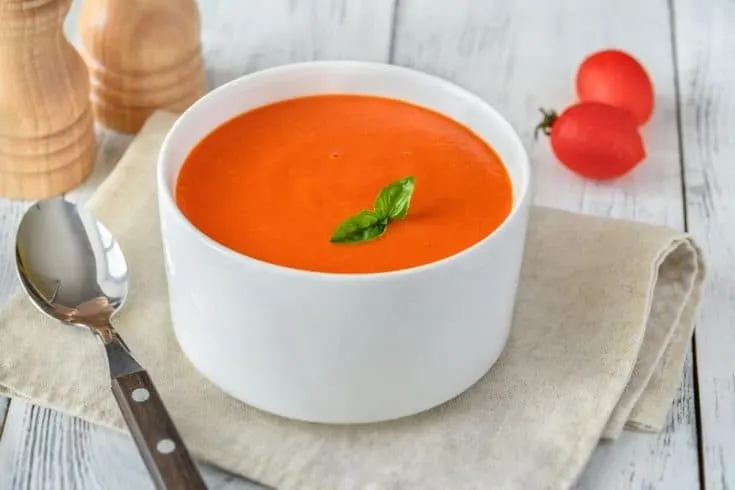 Yield:

8
Creamy Tomato Soup From Fresh Tomatoes (No Cream)
Additional Time:
5 minutes
Enjoy a bowl of this chilled creamy tomato soup in the summer, or hot in the winter. It's easy to make and so good, your family will ask for seconds (my husband ALWAYS eats at least 2 bowls when I make this)
Ingredients
4 pounds vine-ripened tomatoes
1 large (or 2 medium) sweet onion (yellow onion works just as well)
2 carrots
1 parsnip (optional, but great for making the soup sweeter)
3-5 cloves of garlic
1 large green pepper
2 stalks of celery
1 large (or 2 medium) potatoes to make the soup creamy
water to cover the vegetables by 1/2 inch
1 tablespoon salt
2 tablespoons olive oil (avocado oil works great too)
parsley to garnish
Instructions
Roughly chop vegetables
Boil all except parsley, for about 20 minutes
Blend the soup until pureed with a Vitamix blender (of your favorite blender): use smaller portions and make sure to close the blender top well to stay safe
Strain through a sieve
Add oil and garnish with parsley
Enjoy (if making this soup in the summer, it's best to chill it first)
Notes
If making this in the colder months, use frozen tomatoes, and eat it cold. I love adding homemade noodles for a comforting bowl of goodness.
Nutrition Information:
Yield:
8
Serving Size:
1
Amount Per Serving:
Calories:

113
Total Fat:

4g
Saturated Fat:

1g
Trans Fat:

0g
Unsaturated Fat:

3g
Cholesterol:

1mg
Sodium:

934mg
Carbohydrates:

18g
Fiber:

5g
Sugar:

8g
Protein:

3g
Tomato soup FAQs
Does tomato soup need to be strained?
I like the super-smooth soup you get after straining it, but if you don't mind a few little pieces here and there or a less smooth soup, you can use an immersion blender (also known as a stick blender) and call it a day. It will still be delicious: just not as smooth.
Do I need to peel tomatoes for soup?
Not for this soup. That is what I love about this creamy tomato soup: not much work, and a delicious outcome.
Do you take the seeds out of tomatoes for tomato soup?
No need to take the seeds out for blended tomato soup: the seeds will disappear and you can just strain them: much easier than peeling removing them one by one.
What can I add to tomato soup to make it taste better?
There are many herbs you can add to your tomato soup to enhance the flavor: it all depends on your favorites. Basil is an all-time favorite, but parsley, celery, thyme, and oregano are also great additions.
How do you make cream of tomato soup without curdling?
You don't add dairy. You can thicken the soup by blending potatoes with your other vegetables: comes out really smooth and creamy. You can also use rice or garbanzo beans with a similar effect.
If you love this vegan tomato soup recipe, you'll probably enjoy other creamy soups, like my roasted butternut squash soup.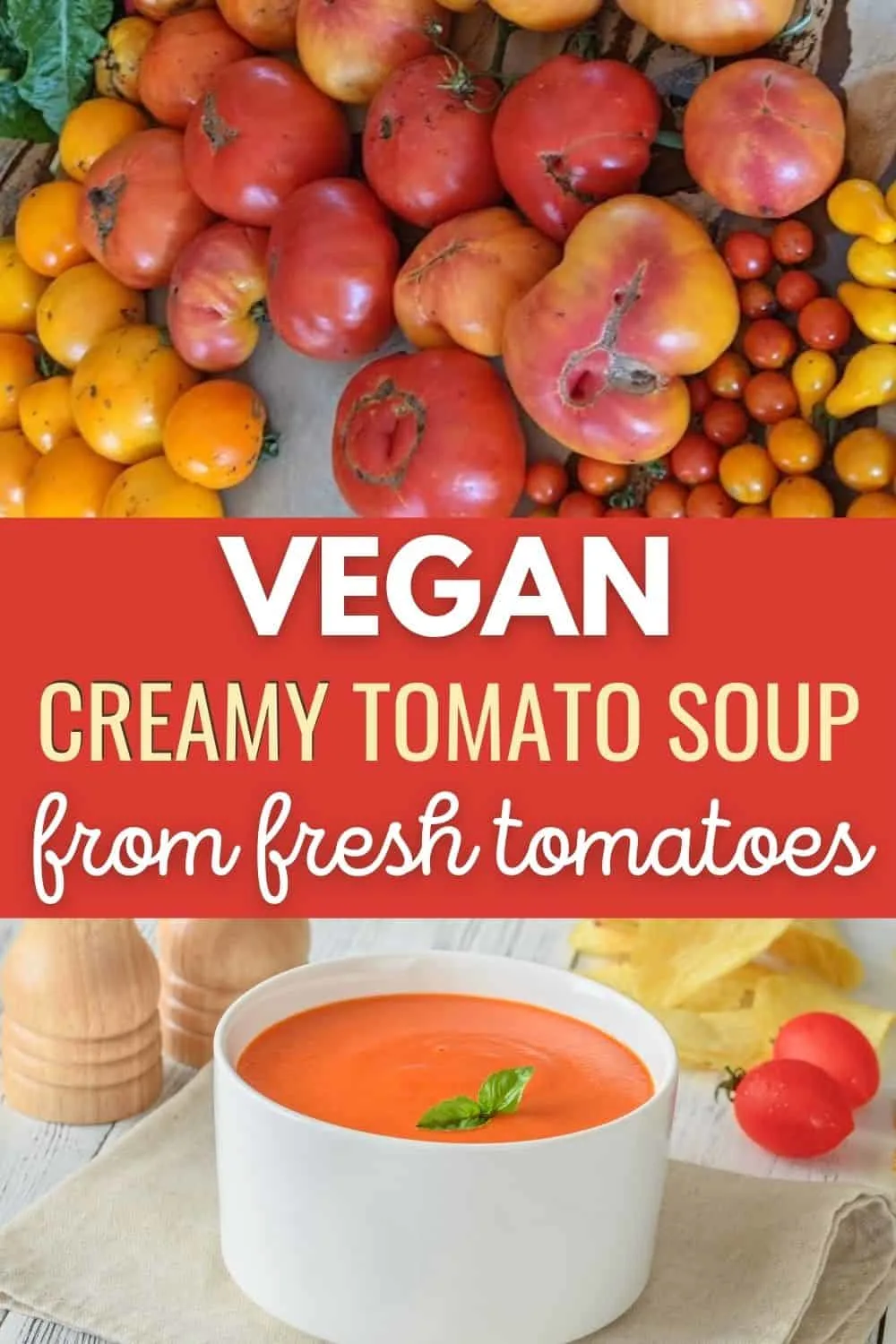 Adriana Copaceanu is a passionate nature lover living in the country on her dream property where she grows vegetables, lavender, and wildflowers that she shares with the wildlife they attract. When she's not in the garden, she loves spending time with her chickens and planning her next nature project.