Garden carts or wagons are an essential part of every gardener's experience. If you want some advice on how to shop for garden carts and wagons, you've come to the right place.
Garden carts serve a very important function of helping you carry your things around as you work in the garden. They can be used to carry soil, plants, feed, garden tools, and other items around your property and to the location you need them. These wagons or carts allow you to easily carry things, avoid straining your back, and have all of your essential supplies and tools right when and where you need them.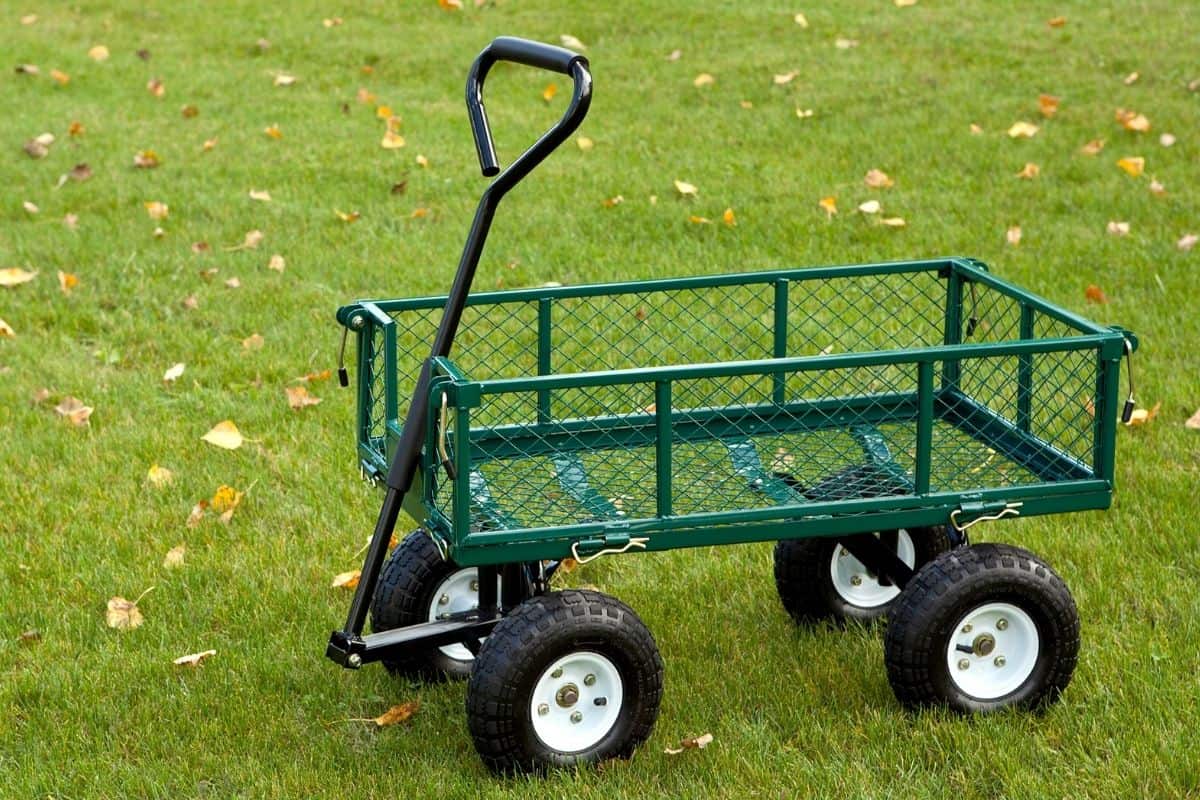 The best garden carts can carry your heavy loads with ease and also shouldn't strain your back or have the wheels get stuck in the ground as you attempt to push. From rough terrain to small spaces, there is a garden cart made for your job. Let's take a look at some important things to know about shopping for utility wagons.
Choosing Garden Carts and Wagons
When choosing your garden cart or wagon, it's important to know what to look for in order to have your needs met. What works best for someone else might not be the thing that works best for you, so it's important to create your own list of priorities. Here are some things to consider about choosing a garden cart:
the type of wheel
the bed material
the capacity/ how much you can carry with it
how durable it is
The type of wheel is important based on the terrain you will be using it on as well as the load capacity of what you're hauling. If you're carrying mostly light items like tools or some small planters, you probably don't need a heavy-duty landscape wagon with pneumatic tires. Heavier loads need a stronger wagon with stronger tires.
If you carry a lot of heavy stuff, you want to be sure you get a heavy-duty wagon. Look for a cart with pneumatic turf tires. If you plan to carry small plants for planting, then you may want one with removable sides that would make it easier for you to open them and take the plants, soil, or other items out. A small, lightweight cart might have plastic tires and some flat platform carts are a type of work wagon.
Just like those classic red wagons you had as a child, they have a flat bed that allows you to place things inside, and the wagon has four wheels and a handle so you can pull it along wherever you need it.
Still, for other people, foldable carts are the answer so you can easily store them away after. If you don't carry much weight, this could be a great choice. And a light-duty garden cart can double as a grocery cart as well. As you can see, what's right for one gardener may not be for another so a big part of the process is assessing your needs.
What you need in a garden cart
To ensure you know exactly what you need in a garden cart so that you can choose the correct one, you might start by making a list.
When you've been out in the garden and you needed help moving or transporting something, what was the greatest need? Think about the work you do on a regular basis and when and how a wagon might help make those jobs easier?
Do you have any health conditions or physical abilities that need to be considered when shopping for a garden cart?
You may also want to consider the area you're using it in. If there are large trees or stones you need to navigate. What kind of terrain will you use this cart on; grass, rocks, etc.? The terrain wheels will be important to consider.
These are all important things to put on your list.
Types of garden carts and wagons
Understanding how to choose the right one for you starts with knowing more about the types of garden carts and wagons available on the market. There are four basic types of garden carts:
utility wagons
foldable carts
dump carts
flatbeds
Once you understand the different types, what they look like, and how they function, you will be best prepared for choosing the right one for your needs. Many gardeners also have more than one cart, so they can choose the perfect one for a particular job or task.
Gorilla Carts is one popular brand for lawn and garden work and they come in a variety of shapes, sizes, and functions. For example, they have a 5-cu plastic yard card that is under $60. It's perfect for small jobs and it won't break the budget. If you want something in more of a wheelbarrow style, consider their 7-cu Poly Yard Cart that has two wheels and a wheelbarrow-style handle.
And finally, if you need something that's easier for you to pull around, there is a 4-wheel style in the 5-cu Poly Yard Card with a wagon-style handle.
Recommendations for Garden Wagons and Carts
Here are some garden carts that might work for your needs:
1. Gorilla Carts GOR4PS Poly Garden Dump Cart with Steel Frame and 10-in. Pneumatic Tires, 600-Pound Capacity, Black
This nice heavy-duty cart from Gorilla Carts has four sturdy wheels, a nice strong handle, and a flat bed that you can haul whatever you need in. I also like the sleek black color.
2. Gorilla Carts GCR-4 4 Cu. Ft, 300-pound Capacity, Poly Yard Cart, Black/Yellow
Here's another Gorilla Cart that's good for smaller jobs. It has a 300-pound capacity so you can use it for hauling soil or other heavy things. It's great for planting or mulching, weeding, and other garden tasks.
3. Heavy Duty 880 Lbs Capacity Mesh Steel Garden Cart Folding Utility Wagon with Removable Sides and 4.10/3.50-4 inch Wheels (Black)
This cart has an 880-pound capacity and strong, heavy-duty wheels. It's easy to handle and has removable sides to make heavier things easier to get out.
4. AMES 20213200 Rolling Lawn & Garden Storage Cart
This cart doubles as a storage container, which makes it unique and it may be useful for lightweight items. It has plastic wheels so it won't hold up to pulling around really heavy things.
5. VIVOSUN Heavy Duty Collapsible Folding Wagon Utility Outdoor Camping Garden Cart with Universal Wheels & Adjustable Handle, Black
This folding utility cart has many uses in the garden and around the home. It can be used when camping or for bringing in the groceries too.
6. Gorilla Carts GOR400-COM Steel Garden Cart with Removable Sides, 400-lbs. Capacity, Green
Here's a strong garden cart with removable sides and the capacity to hold up to 400 pounds. It also has a nice green lawn color.
7. Utility Steel Garden Carts and Wagons, Lawn Wagon Cart Heavy Duty, 400lb Weight Capacity, Removable Sides, Long Handle, 10 Inch Wheels and 600D Polyester with PVC Coated Liner (Green)
This one is similar to the one above and also in green but has a coated green liner inside and yellow inside the wheels. It has a long handle for easy steering as well as 10-inch wheels.
8. Garden Dump Utility Wagon Cart, Heavy Duty Folding Garden Tools Dump Cart w/4 Wheelbarrow Air Tires, Steel Frame, Adjustable Handles, Wagon Carrier for Garden, Sports, Camping, Picnic (Green)
This one has a wheelbarrow bed to it but it's on four wheels instead, giving more stability. It has many uses in the garden and around the yard and a nice green color as well.
Garden carts and wagons FAQ
Here are some things people ask when shopping for garden carts or wagons.
What is a gardener's cart called?
Many garden carts and wagons have terms that are used interchangeably. You may hear it called a utility cart, lawn cart, garden cart, garden wagon, lawn wagon, folding cart, collapsible cart, beach cart, outdoor cart, outdoor wagon, and more. Sometimes the name itself will help you understand the type of cart, but this isn't always reliable since the terms can be used interchangeably.
How wide should your garden cart be?
That is completely up to you and what you will be hauling. If you know you need to haul heavy items or a specific-sized item, you should measure to ensure the cart you purchase is the right size. Otherwise, they range from small and narrow, to large and extra wide.
How many wheels does a garden cart have?
The answer to this can also vary. In general, they have 2 or 4 wheels. If you are using a wheelbarrow-style cart, it may have only one wheel.
Where can I purchase a lawn cart?
As you can see from our list above, Amazon has a variety of garden carts to choose from and many are on Amazon Prime, so you get free shipping. You can also find them at your local garden center or from a gardener's supply store. Your local hardware store like Ace, Home Depot, or Lowe's will also have them.
Your yard work can feel like a breeze when you choose the right tools. Choose your utility cart based on your specific needs and you're sure to win.
These garden carts have an infinite amount of uses and will more than earn their money's worth in even a short time. That said, if you're brand new to using this type of tool, you don't have to splurge on the latest and greatest model with all the bells and whistles. Something simple and practical could be just what you need to get the job done.
Do you have a favorite type of garden cart? Tell us about it in the comments.