Cucumbers seem to always be in abundance once summertime hits and those gardens start blooming. If you have more cucumbers than you know what to do with, here are some simple and amazing cucumber salad recipes that can help!
Not only are cucumbers easy to create with, they are refreshing to eat as well. In fact, combining them with other ingredients (tomatoes pair up really well) is a perfect way to eat a new cucumber salad recipe dish each and every day.
If you re looking for a few recipes to get your cucumber creativity started, here are some delicious and simple cucumber salad recipes to help!
Best Cucumber Salad Recipes
Do you find that you are always on the go during the summer months? This fast and simple Easy Cucumber Salad with Dill and Red Onions is perfect for a healthy and quick meal!
Salad bowls
Honla 48-oz Pasta/Salad Bowls,Set of 4,Unbreakable Plastic and Wavy Rim,2-Tone,Light Blue and White
Lipper International 1174 Acacia Wave Serving Bowl for Fruits or Salads, Large, 12
Premium Ceramic Set of 6, Colorful Meal Stoneware (Pasta and Salad Bowls)
This Sweet Chili Tail Cucumber Salad is perfect because it combines the taste of onions and cilantro as well. Give your taste buds a treat with this delicious salad! You can even use overgrown cukes in this recipe.
Who knew that pineapple and cucumber were the perfect pair? With this Pineapple Cucumber Salad, you'll love the sweet and fresh taste with each and every bite!
Looking for a unique twist for a summer salsa? This Cucumber Tomato Avocado Salad not only tastes great on its own, but pairs well as a dip, too!
During the summer months, having a light and refreshing sweet option is a must. Look no further than this Cucumber Honeydew Salad!
Next time you fire up that BBQ grill, make this delicious Creamy Crunchy Cucumber Salad as the perfect side dish.
Thinly sliced and perfectly seasoned, this German Cucumber Salad will be a hit each and every time. It's the perfect dish to take to potlucks or outdoor summer gatherings.
This Italian Tomato Cucumber Salad is every gardener's dream! Head out to your garden area and pick the tomatoes and cucumbers to take this recipe from good to great!
Awaken your taste buds with this Japanese Cucumber Salad. It's always fun to try new flavors that you can create with ease!
If you've ever wondered if cucumbers and noodles pair perfectly together, they do! Give it a try with this delicious Tenderstem Cucumber Soba Noodle Salad!
It takes no time at all to combine the ingredients of this Creamy Cucumber Salad! The longer it marinates, the better it gets!
With all these amazing cucumber salad recipes, you'll have dinner plans and side dishes galore for days! What are you waiting for?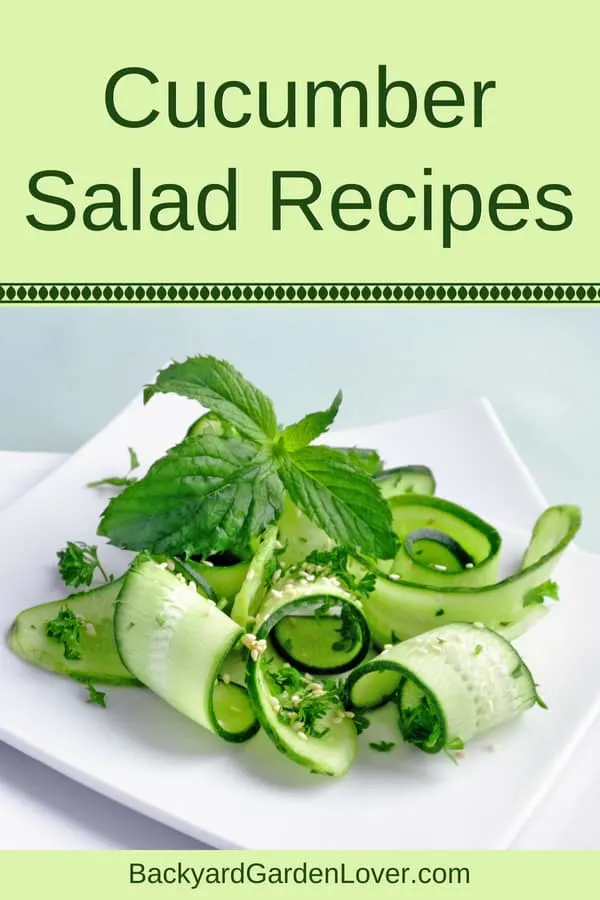 Adriana Copaceanu is a passionate nature lover living in the country on her dream property where she grows vegetables, lavender, and wildflowers that she shares with the wildlife they attract. When she's not in the garden, she loves spending time with her chickens and planning her next nature project.