I recently went to pick some apples from a local farm, and they had a beautiful harvest of butternut squash displayed. I couldn't resist: just had to have a couple to make a savory roasted butternut squash soup. YUM!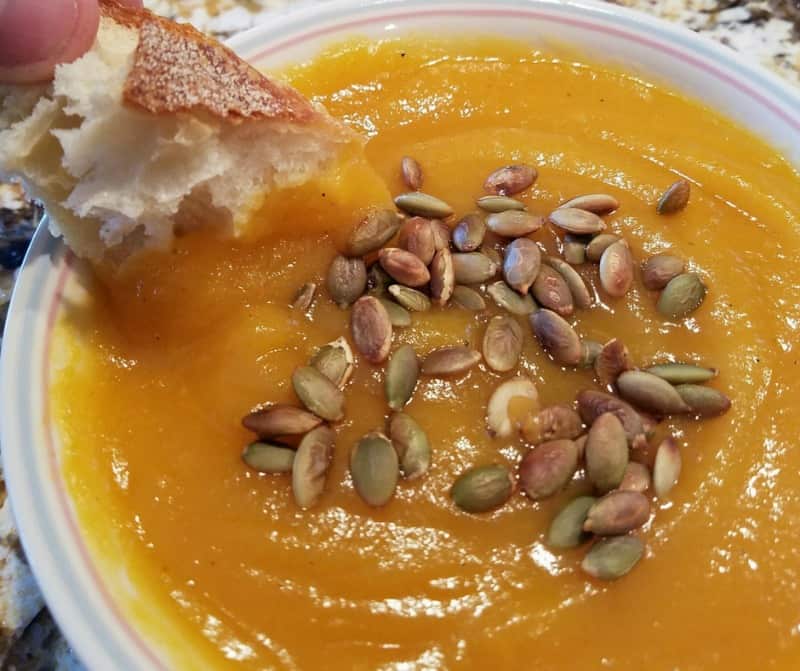 The weather has chilled and what could be better than a smooth, creamy soup at the end of the day?
It takes about an hour to make this soup, but it tastes just as good (if not better) the next day, so it's easy to make a double portion and enjoy it for two days.
This recipe also goes well with your Thanksgiving meal. And with it coming up pretty soon, making this roasted butternut squash soup a day before Thanksgiving day could save you some stress 😉
I like to add some roasted pumpkin seeds to this soup for a bit of crunch. Of course, the taste blends well with the soup too. Sooo good!!!
Savory Roasted Butternut Squash Soup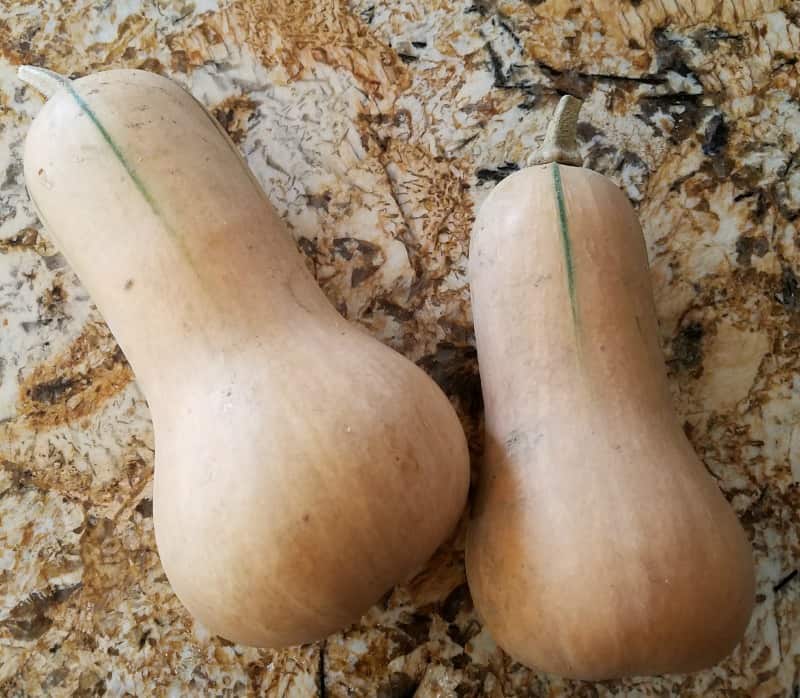 Terrasoul Superfoods Organic Pumpkin Seeds, 2 Pounds
Once you buy the butternut squash for this recipe, you probably have all the ingredients in your fridge or pantry.
To make this delicious soup, you'll need onions, garlic, celery, carrots, potatoes, salt and pepper.
And if you happen not to have one of the ingredients, just skip it (as long as it's not the onion or garlic).
The roasted butternut squash takes center stage on this recipe: the others just add to the flavor.
Tips for roasting butternut squash
Butternut squash is a tough vegetable to cut and peel. Be careful while handling these little buggers.
Start out by slicing the ends, and then position the squash on one of the flat surfaces you created by cutting off the end. Use a sharp knife and make sure to keep your fingers out of the way.
And if your butternut squash doesn't end up cut to perfection, don't fret. Here's how mine came out 😛
It still roasted to perfection.
And it still made delicious soup 😉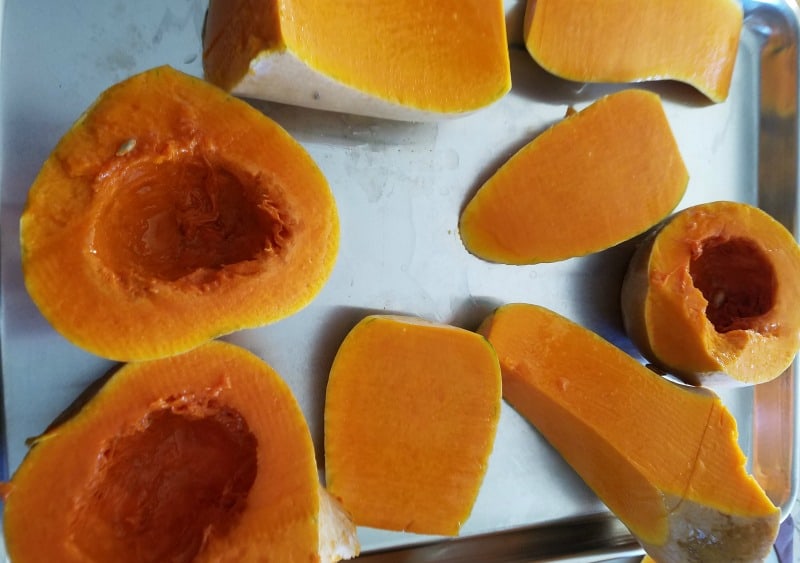 Once you cut your butternut, brush some oil on it, sprinkle a bit of salt, and lay it on the cut side for roasting.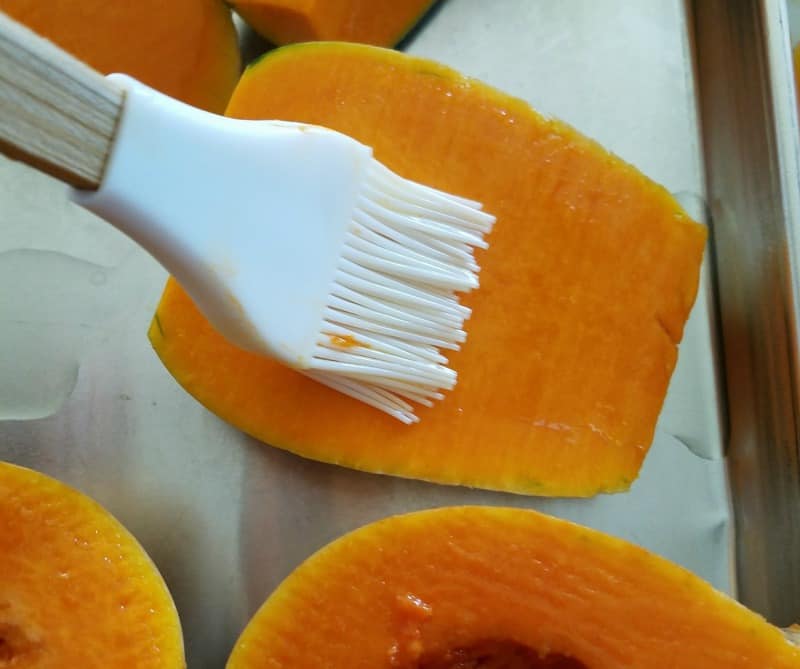 Roast on 425F for 35 to 45 minutes. Let it cool for a few,minutes before scoping it out.
TIP: If you hate"squash hands" as much as I do, you might want to wear a pair of food-safe plastic gloves.
Love Roasted veggies? Try these oven roasted red peppers. They are delicious!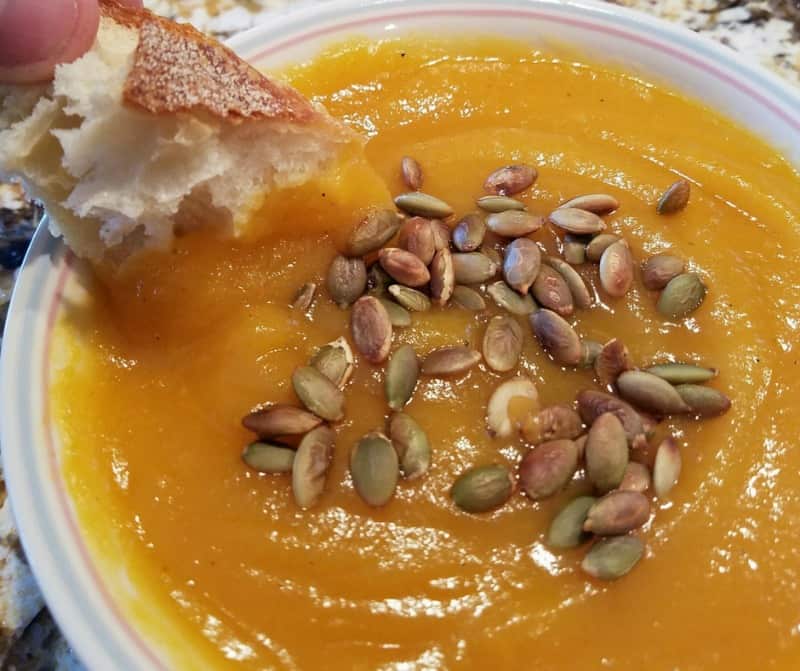 Yield:

4
Savory Roasted Butternut Squash Soup
This roasted butternut squash soup is one of the best I've ever tasted! Super creamy (without dairy), simple, and delicious, this is the perfect comfort food. Plan for some leftovers: this soup tastes just as good (if not better) the next day 😉
Ingredients
2 medium butternut squash halved and seeded
1 large chopped onion
3 cloves crushed garlic
1 medium carrot
1 stalk celery
2 medium potatoes
1 tsp salt
2 tbsp olive oil
1/2 cup pumpkin seeds for some crunch and decoration
Instructions
Preheat oven to 425F
Prepare the butternut squash: wash it, slice it in half, take the seeds out, brush with some olive oil and place face down on a baking tray. Place it in the oven for about 45 minutes until soft.
In the meantime clean the rest of your vegetables and prepare them.
Chop the onion, add the salt and olive oil and sauté mixing often, until translucent (about 5 to 7 minutes).
Add crushed garlic and cook for another minute or two
Continue by adding the vegetables (potato, celery and carrots) to the pot.
Add 5 cups of water, bring to a boil, then reduce the heat to medium and let it simmer for about 15 minutes, partially covered.
By this time, the squash should be roasted. Take it out of the oven, let it cool off for about 10 minutes, then scoop it out.
While waiting for the squash to chill, roast half a cup of pumpkin seeds. There's no need for oil: just use a non-stick pan and mix often until golden brown (3 minutes or so)
Scoop up the roasted squash and add it to your pot of cooked vegetables.
Blend in small batches for the perfect creaminess.
Serve in bowls garnished with roasted pumpkin seeds. DELICIOUS!
Nutrition Information:
Yield:
4
Serving Size:
1
Amount Per Serving:
Calories:

242
Total Fat:

9g
Saturated Fat:

1g
Trans Fat:

0g
Unsaturated Fat:

7g
Cholesterol:

0mg
Sodium:

616mg
Carbohydrates:

39g
Fiber:

8g
Sugar:

5g
Protein:

5g
Nutrition information isn't always accurate.
Creamy Vegan Roasted Butternut Squash Soup Variation
The recipe above is vegan, and it's creamy without the cream. But if you're looking for a soup with some "vegan cream", I have a solution for you.
Blend 1/2 cup of raw cashews with a cup of water, and add to your soup. It will lighten it up a bit, and give it that cream smoothed look all from a healthy vegan fat. You'll need a good blender, and about a minute of blending to get the creamiest consistency.
Here's my version of it!
Have fun making this delicious soup!