As gardeners, we can find ways to tuck plants into almost any space and turn just about anything into a flowerpot. One way to save money and upcycle what might otherwise end up in the landfill is to repurpose old tires in the garden. You can, of course, simply throw a tire on the ground, fill it with soil, and plant things in it, but you can also get way more creative and dress up your tires a bit! Stack them, hang them, turn them into furniture; here are 10 clever tire garden ideas for repurposing unwanted tires into a creative garden.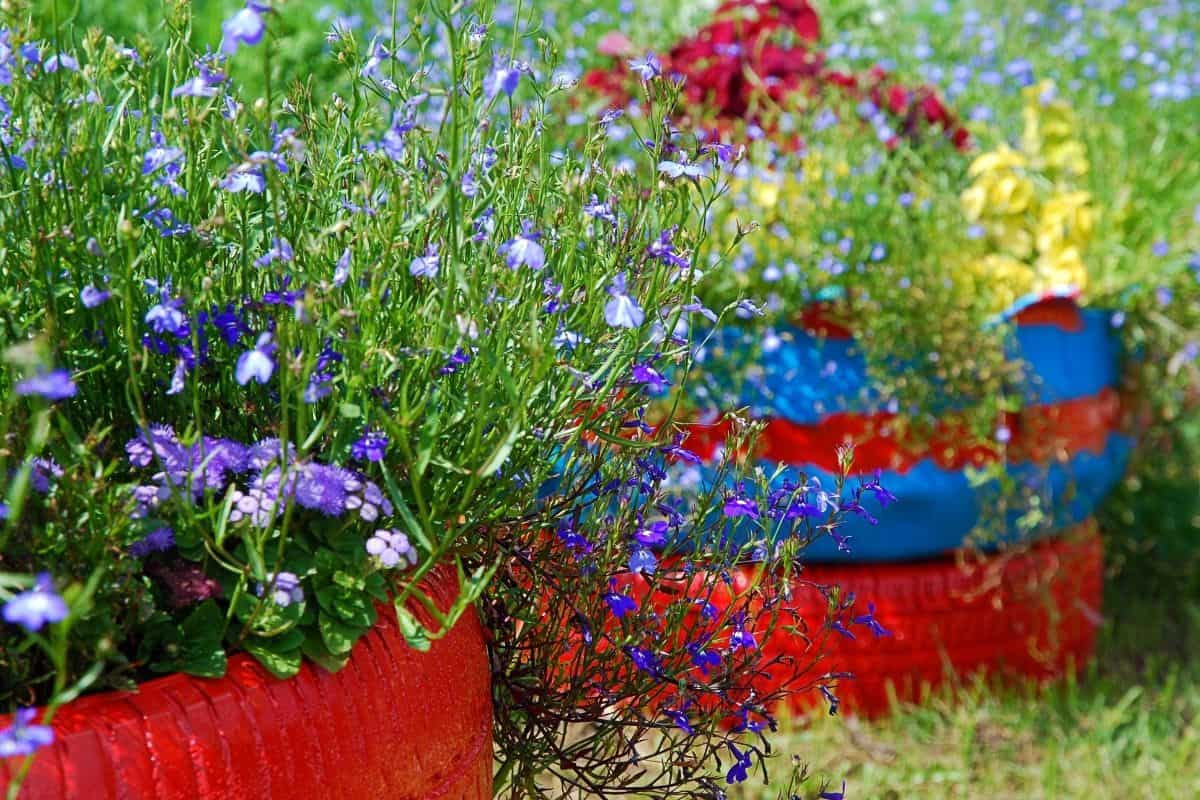 Note that tires come in a wide range of sizes, from bicycle to tractor tires. Use the type that fits your space or the desired size of the finished product, or simply use whatever you have on hand. Some projects might work better with certain sizes, though, such as a large tire for a pond or a small tire for a hanging planter.
Tire Garden Ideas
1. Tire garden safety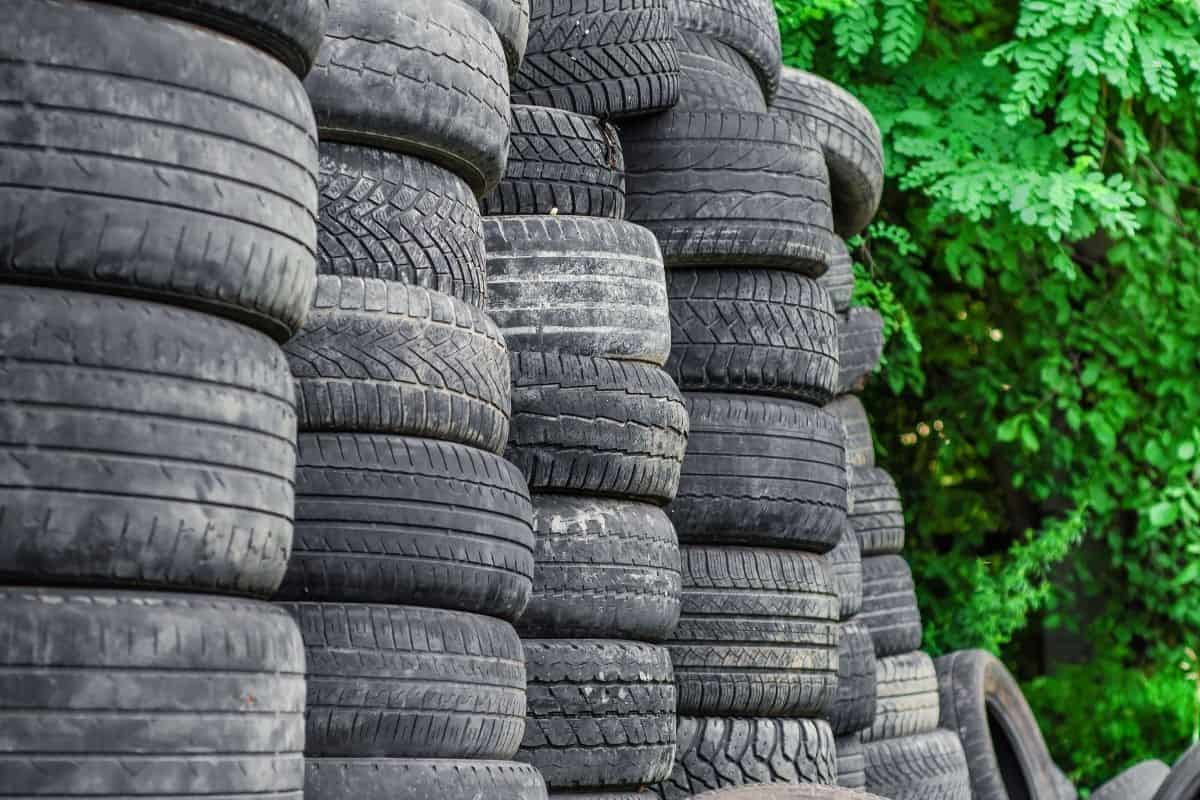 First, I'd like to acknowledge the safety concerns about using tires in the garden. While tires do contain toxic chemicals, some insist that the tires take so long to break down as to make the leaching negligible, while others argue that the chemicals can and will end up in your plants and the surrounding environment.
When it comes to toxic chemicals, I figure "better safe than sorry." Give your tires a good scrubbing with warm, soapy water before you use them, and consider using a lining both inside and underneath the tires (if they sit directly on the ground).
The plastic lining comes with its own concerns regarding chemical leaching, so you might consider burlap or coconut coir liners; a thick layer of cardboard could go underneath.
2. Decorated tires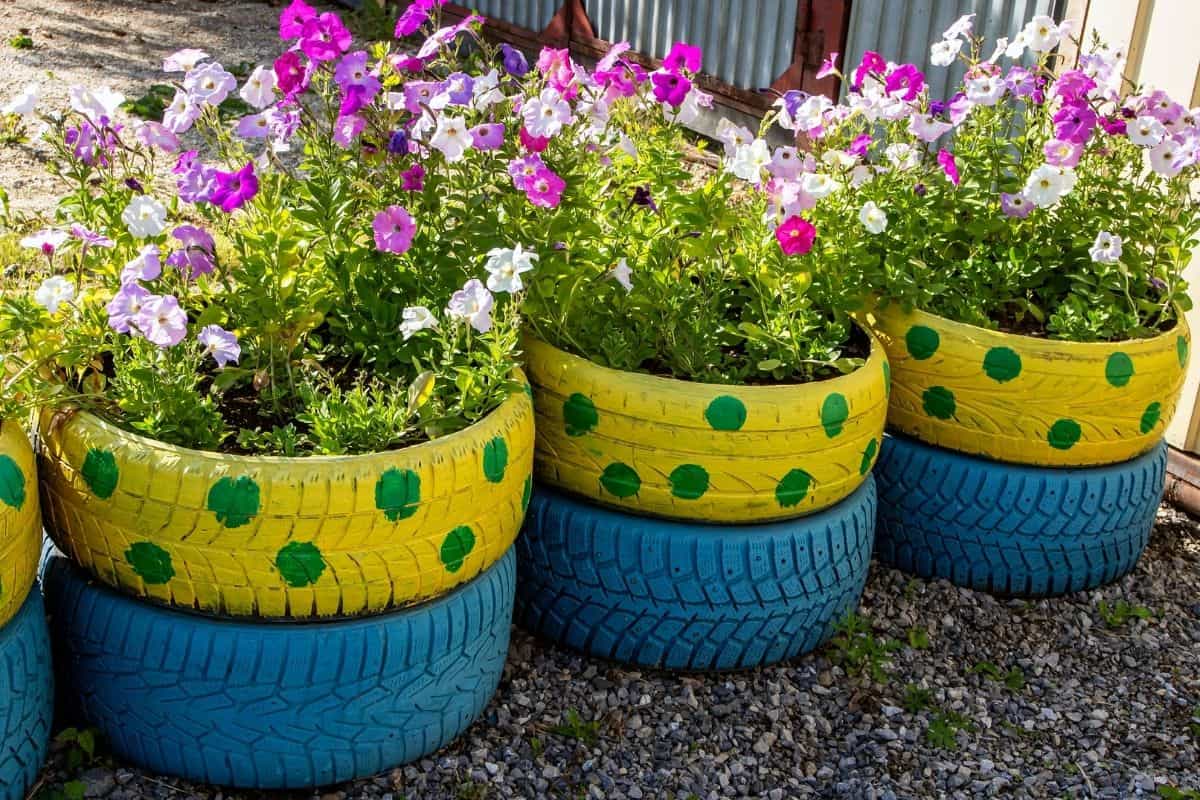 However you choose to use your tires, make them pretty! Paint them in fun, bold colors, adding stripes or other designs if you like.
Alternatively, wrap sisal rope around the outside for a more natural, basket-like appearance. No one will ever know your beautiful basket of blooms started out as an old tire! Some gardeners have gotten really creative and stacked or even cut old tires and painted them to look like different animals, like frogs or birds.
3. Tire planters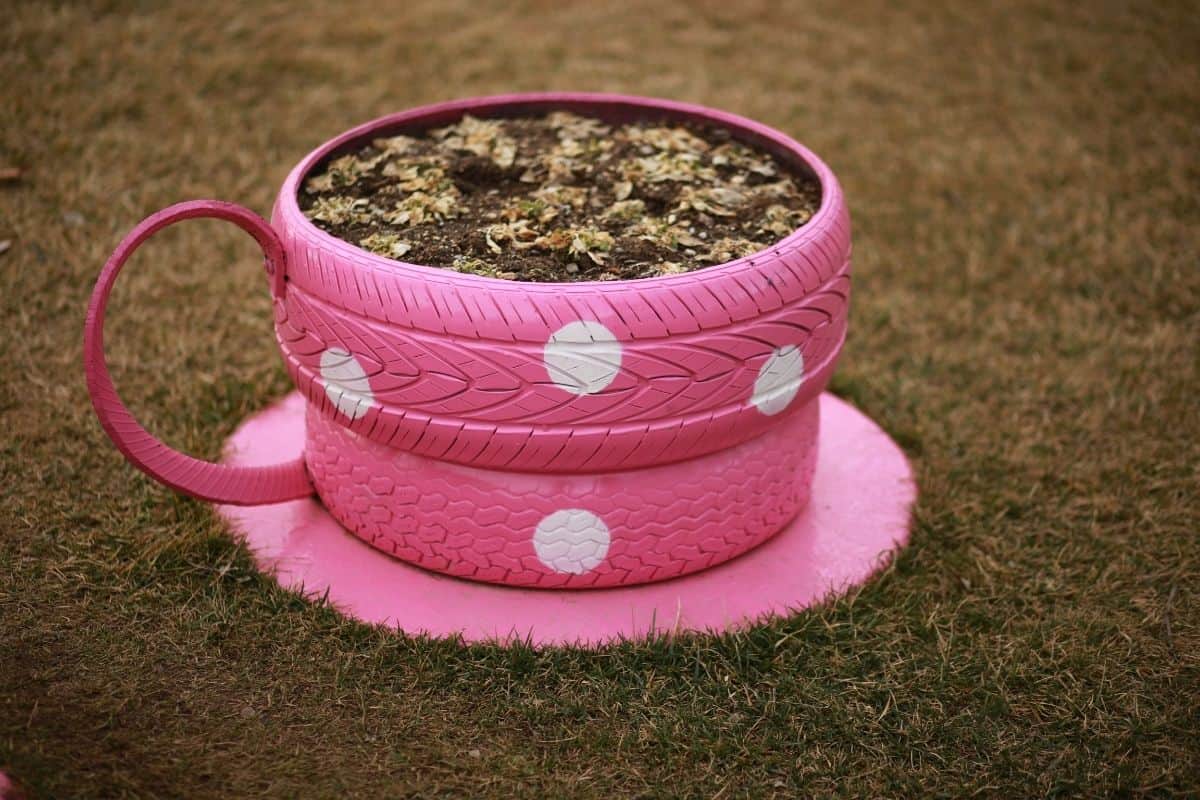 Planters might seem like the most obvious use for old tires in the garden. These are great for gardening in small spaces or with poor soil. If you're placing them directly on the ground, lay down a thick layer of cardboard first.
On a patio or other hard surfaces, this isn't necessary. Use a single tire or stack two or more for a taller planter. For a larger growing space, cut the sidewall out. Then place your desired liner and fill it with your soil mix of choice. Don't forget to make the tires pretty!
Tire planters can be used for flowers, herbs, vegetables, and even small shrubs. Some gardeners like to plant individual berry bushes in tires.
4. Raised bed tire garden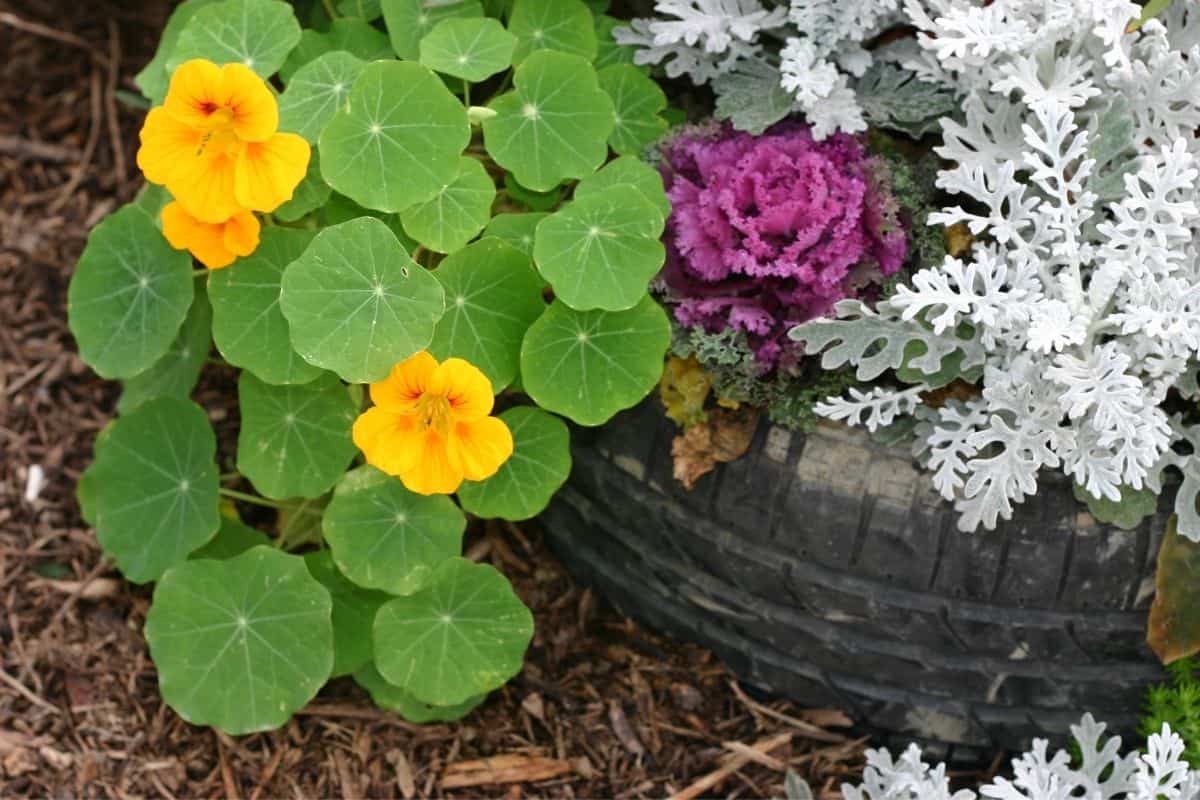 If you have lots of tires or want lots of growing space, try building a raised bed tire garden. There are many benefits to this, including fewer weeds, faster soil warming in the spring, and less bending for you.
Prepare the tires as described for tire planters, but stack and group them to create an entire garden. Tractor tires can be used singly and laid out in rows, while smaller tires would work well stacked and lined up along a fence or wall.
5. Potato tire tower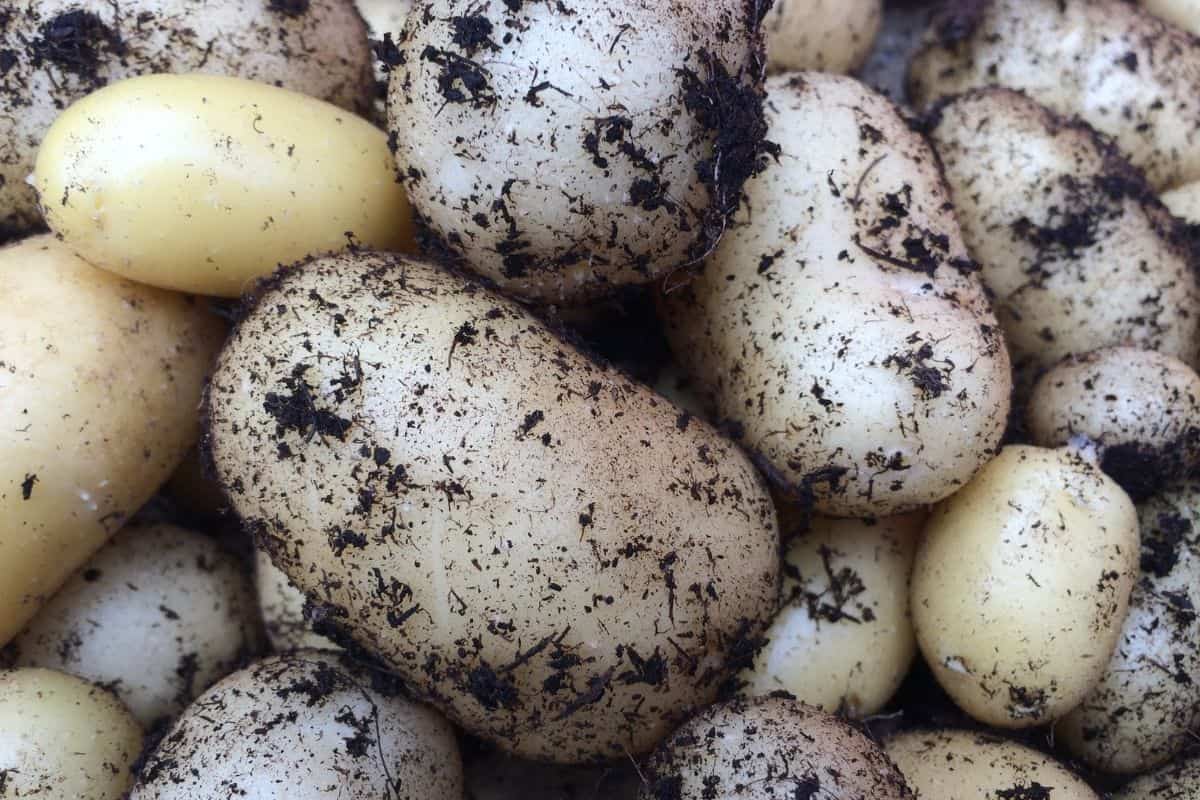 Grow potatoes in a small space by stacking tires. The most important factors are excellent drainage and as much sunlight as possible. A layer of gravel in the bottom of the tower can help with drainage, and make sure to use loose, well-draining soil.
Place one tire on the ground, add gravel to the bottom, if desired, then fill just over halfway with soil. Add your potato chunks (at least one eye per piece), cover them with a few inches of soil, and sprinkle with enough water to moisten the soil.
As the plants grow, mound more soil around the base of each. Once they grow about four inches above the rim of the tire, stack another tire and keep adding soil, repeating as necessary. When the foliage starts to die back, you can remove the tires one at a time and harvest your potatoes!
Learn more about growing potatoes in containers.
6. Hanging tire planters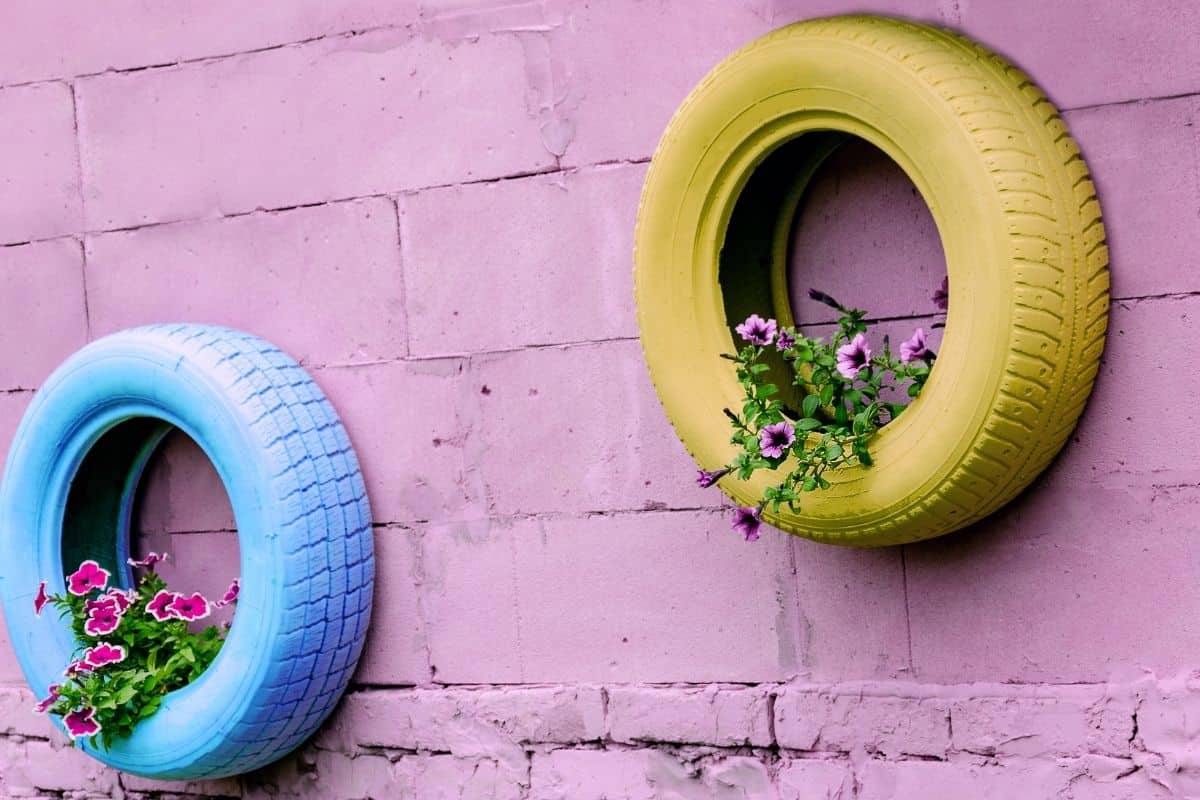 Who says tires have to stay on the ground? Hang a tire vertically on a wall, either directly or by attaching a rope or chain, add soil in the bottom, and fill it with bright flowers that spill over the edge.
Alternatively, cut the tire in half to create two planters, attaching a chain or rope to the four "corners" of each. For a horizontal planter, place an old hubcap inside the tire to form the bottom, add a liner, and hang the tire from three or four points of the sidewall. For a more decorative planter, scallop the edges like petals and turn the tire inside out.
7. Tiered tire garden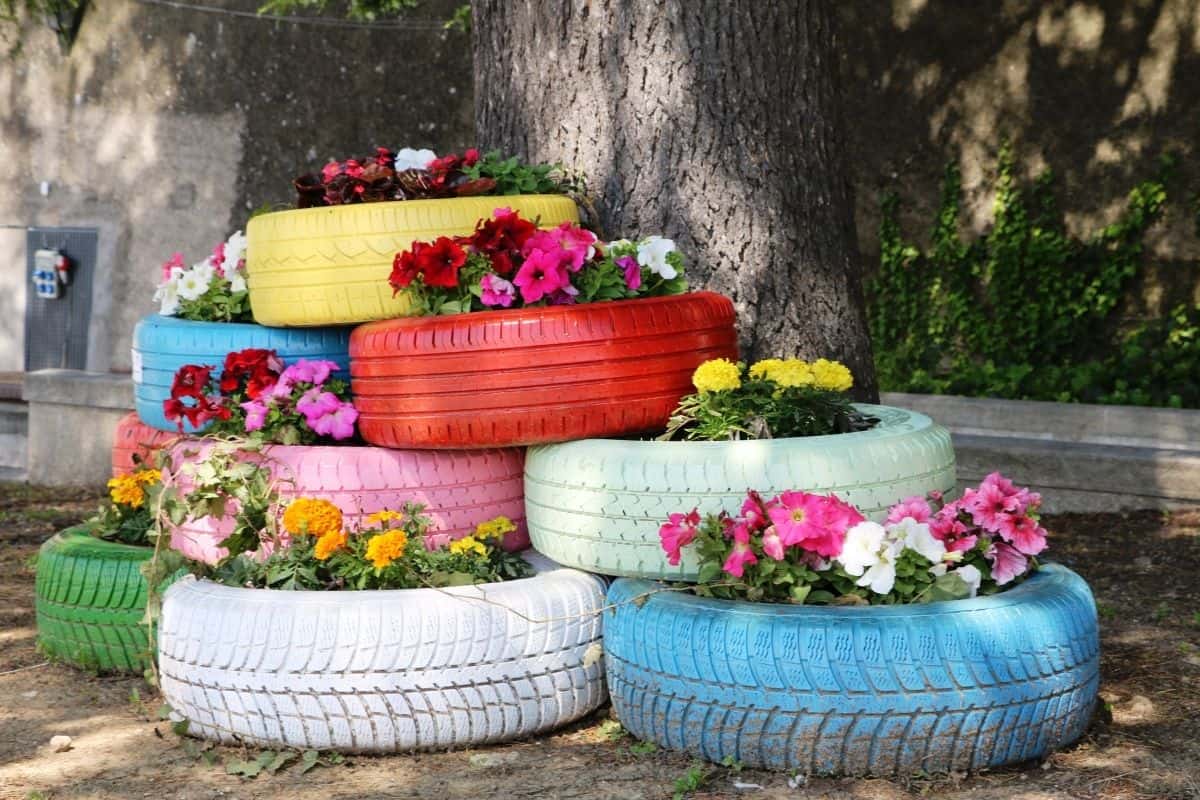 Use tires to make mini terraces on a slope, or simply use staggered stacking to increase your growing space and add vertical interest. Try using different shapes and sizes of tires painted in various bright hues for an especially fun look.
This technique could work well for an herb garden near the kitchen door or to add bright color to a patio. Kids might enjoy this colorful, multilevel garden too!
8. Tire furniture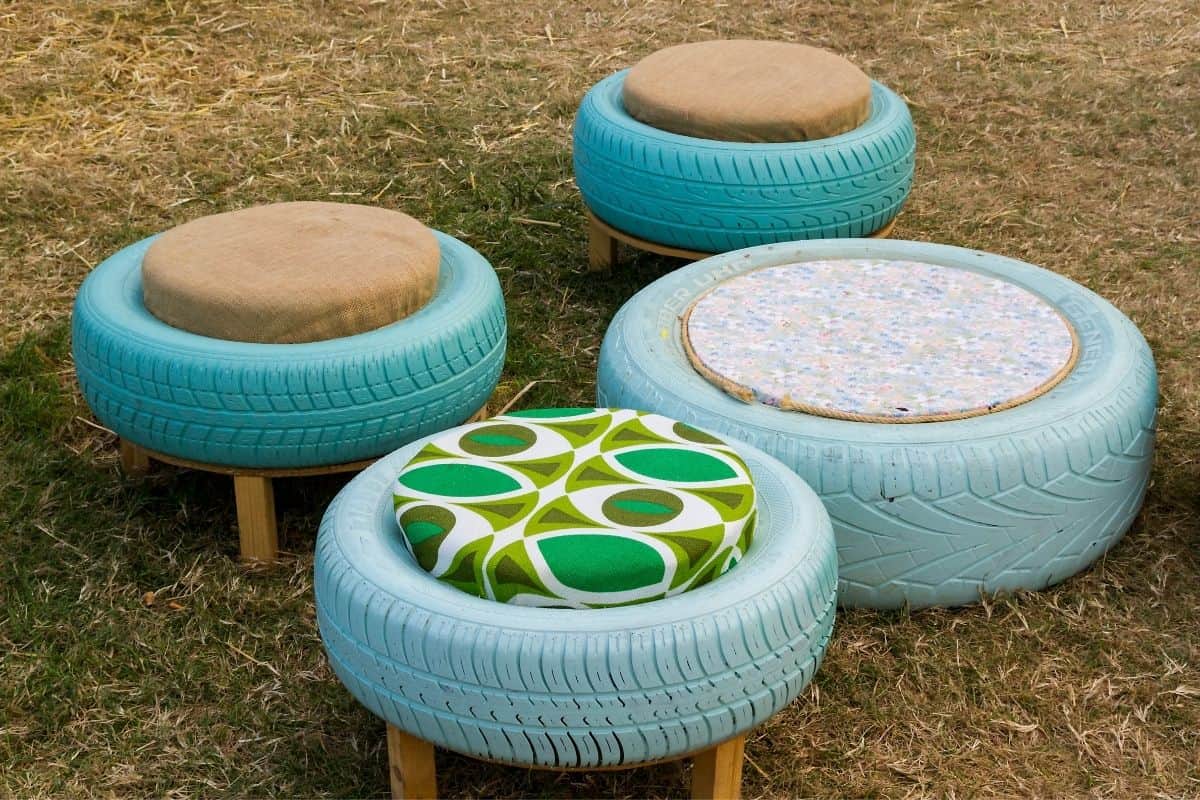 Old tires aren't only good for plants. You can use them for creative patio furniture too.
Make stools by attaching a round piece of plywood and cushion on top. Larger tires can be used individually and seat multiple people (especially kids!), while smaller tires can be stacked and used as more traditional stools.
Tires also make good ottomans. Create a matching dog bed by stuffing a thick cushion inside an appropriately sized tire. Cut out the sidewall for a wider bed, if desired. Tire furniture looks great wrapped in sisal rope!
9. Tire pond
Install a pond without digging by using a large tractor tire. Lay it down on a firm, level surface, cut out the sidewall, and add a thick plastic liner. Spreading sand under the tire first will help prevent the liner from getting punctured.
To hide the unsightly edges of the liner, use flexible black drainage tubing with a slit cut down the side so you can press it down over the lip of the tire to hold the liner in place. Then cut off the excess liner. Add a potted aquatic plant or two and even some small fish, and you have yourself a little water garden.
10. Tire hotbed
Being made of thick black rubber, tires tend to get pretty warm. This means they also warm up the soil inside them, making tires excellent for season extension. Plus, elevated soil tends to heat up faster anyway. Prepare your tire hotbeds the same way you would for a regular planter (see number 3, above).
For extra protection, leave a few inches of space at the top of each tire so you can place an old storm window on top. You may need to stack two tires to ensure you have plenty of room for the roots to grow, too. Now you can grow lettuce in November!
A tire garden doesn't have to be an eyesore. In fact, it can be a work of art! Turn someone else's trash into your treasure by using old tires creatively in your garden. Planters, furniture, ponds … the possibilities are nearly endless!
Pictures Of Tire Gardens For Inspiration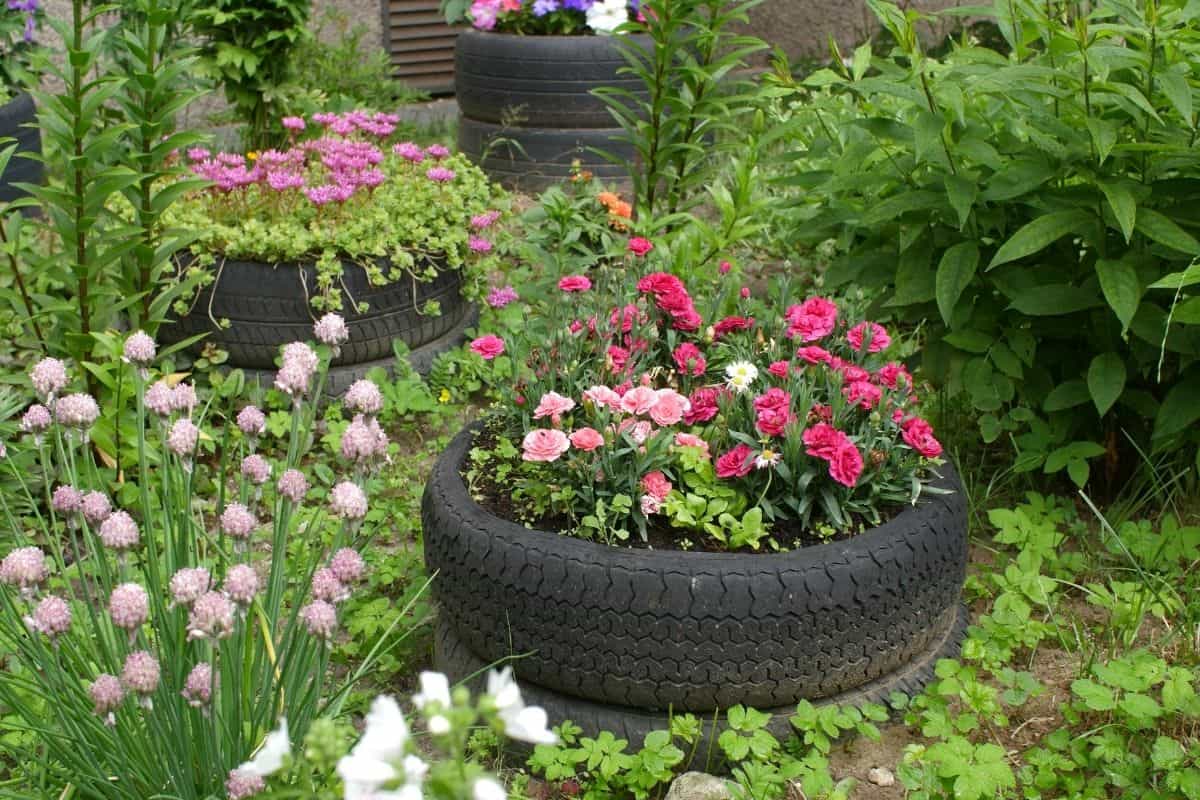 I love how these pink and red roses are popping up from the black tires!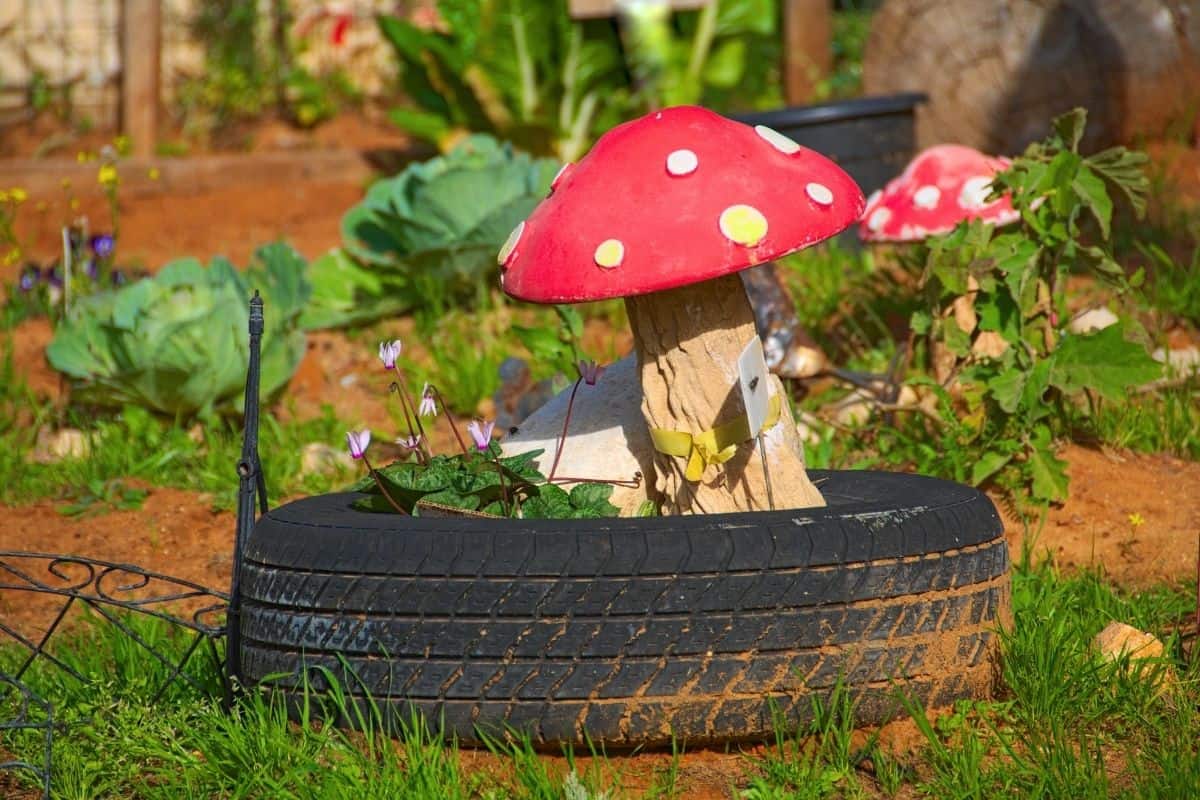 Here's a very creative use of an old tire: make it into a fairy garden 🙂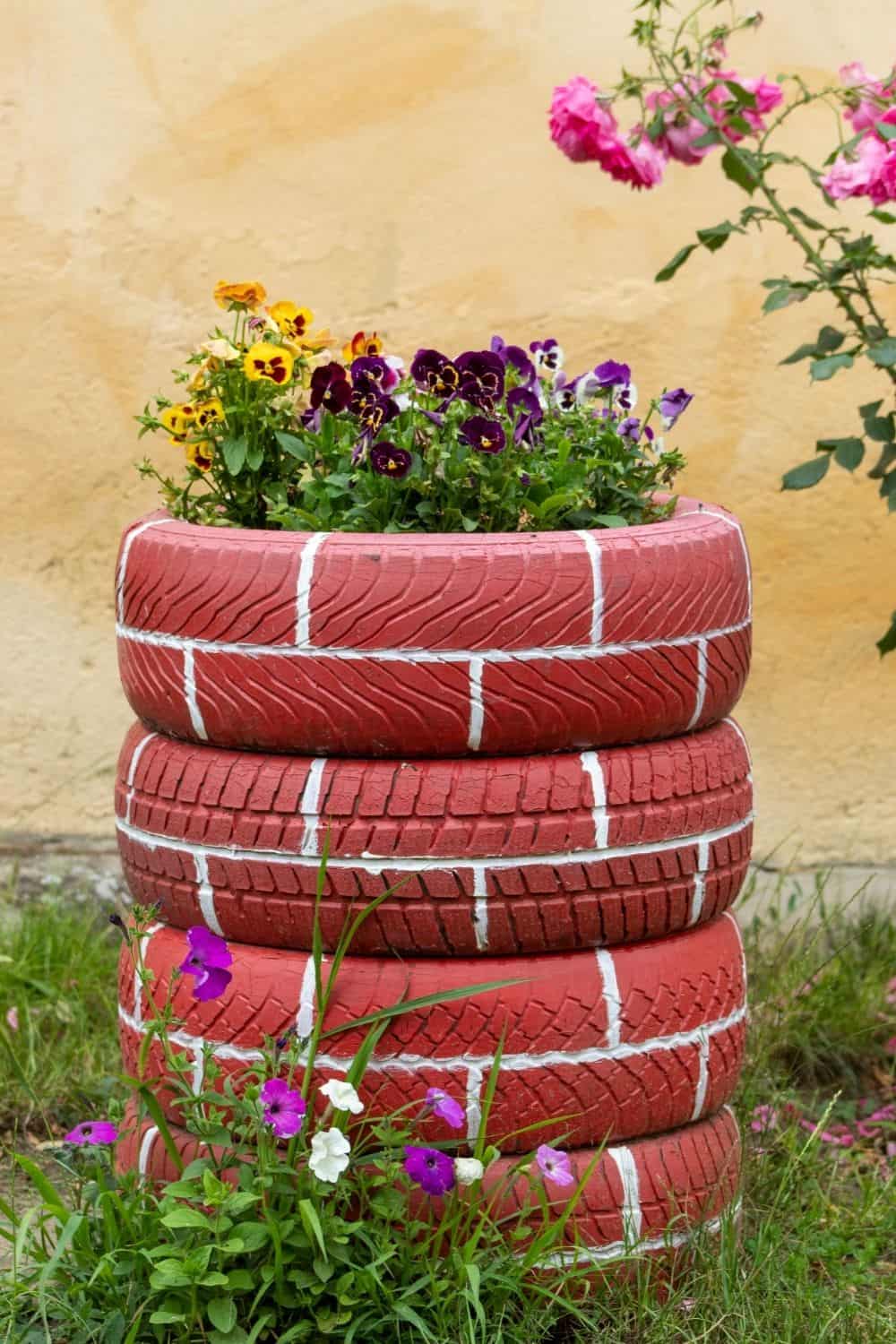 How cute! Make a tower from old tires, paint it in your favorite color or design, and plant some colorful flowers in the top tire. The pansies look happy in the tower above.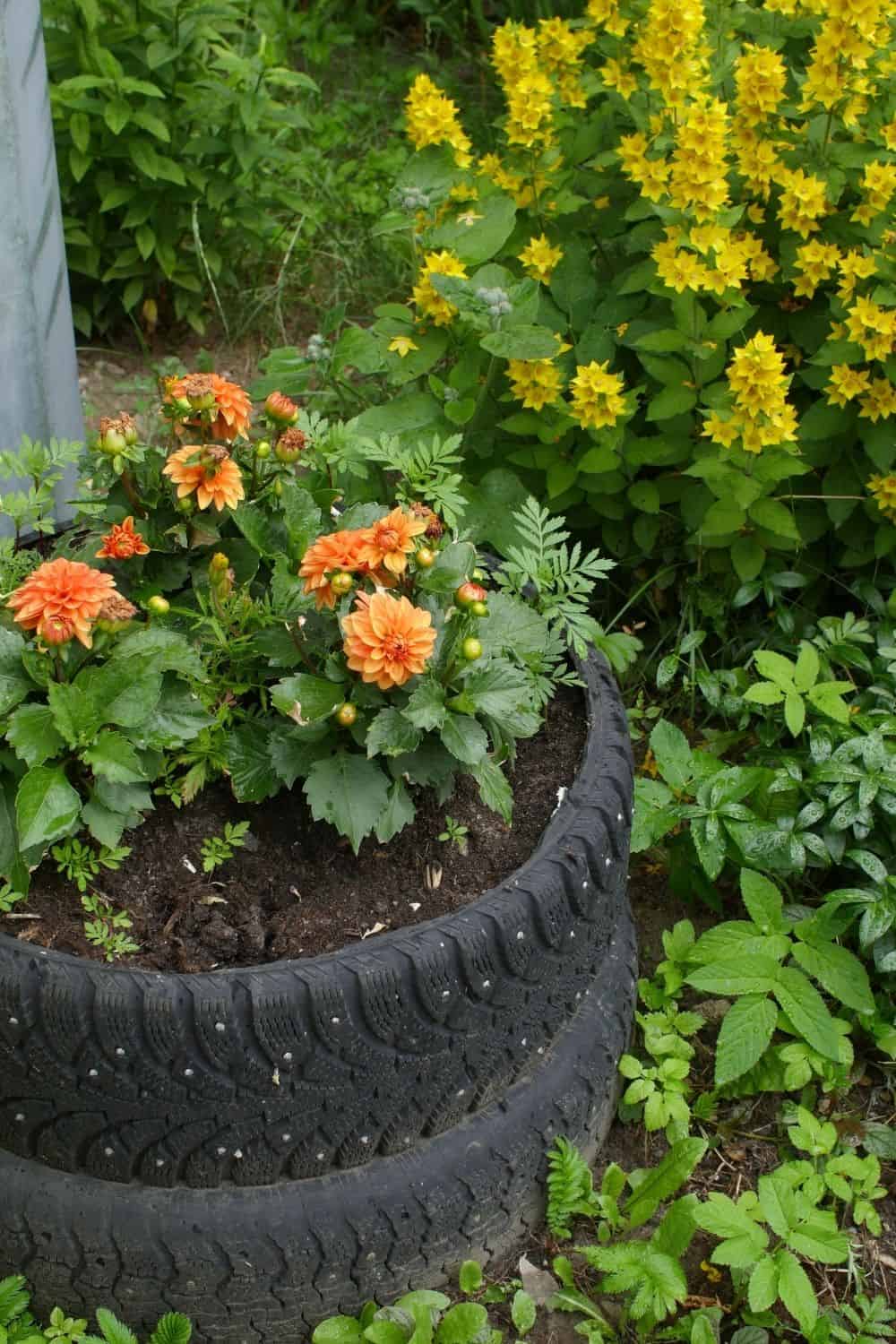 I love the contrast between the orange dahlias and the black tires!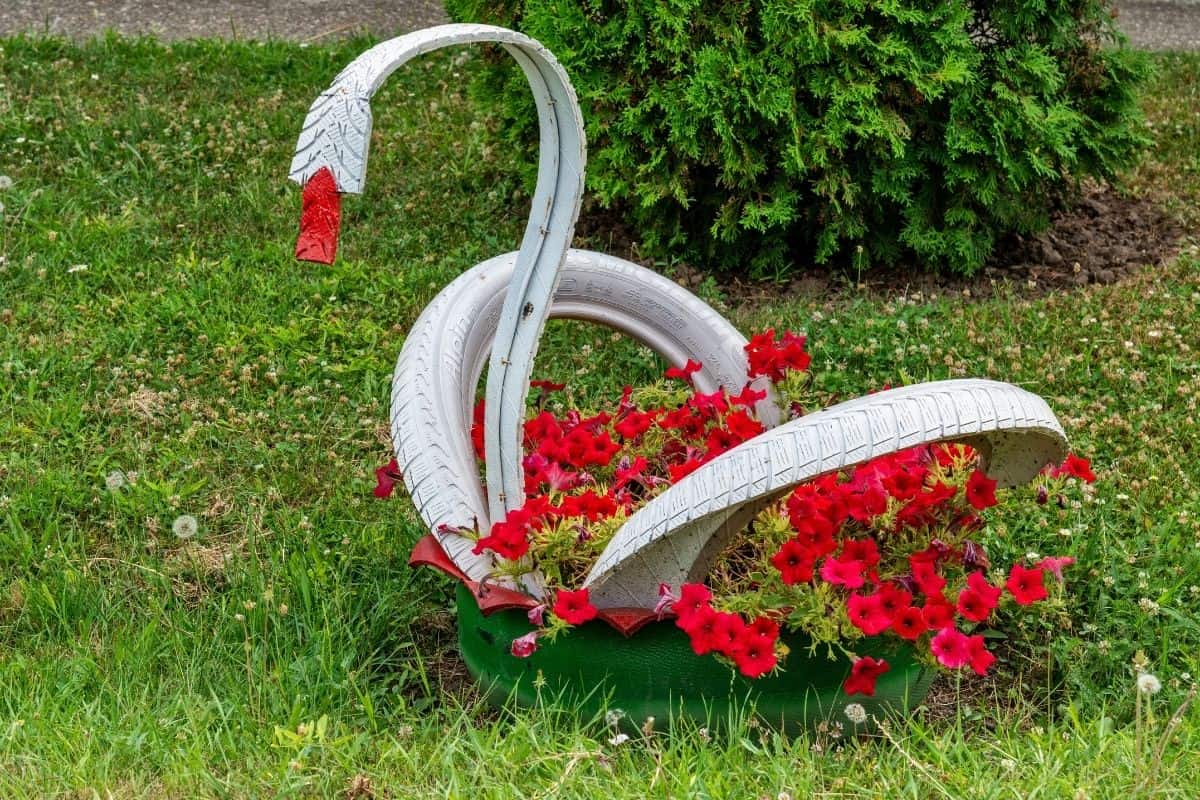 Here's a very creative way to use up old tires in your garden. Pain the tires white and make a swan. The red flowers add a nice contrast.