Tennessee is a southern state in the United States, known for many things like its mountains, the city at the heart of the country music scene, Nashville, and for being the home of the Country Music Hall of Fame and Elvis Presley's Graceland, just to name a few.
It's also a state with many beautiful native plants that work great for your home garden or landscape. We've compiled this Tennessee native plants list to help you see some of the amazing plants that are native to this state.
Why are native plants important?
Native plants are very important to the local ecosystems because they provide food and shelter for native insects and mammals. They also help purify and cleanse the air. They can assist with preventing erosion and they require less water than traditional lawns or non-native plants.
Native plants are also much easier to care for because they have adapted to the local climate and the soil conditions. They require less maintenance, little to no pesticides, and no fertilizer. Not only are they easier to care for and provide many benefits to the local ecosystem, but they are also beautiful to look at.
Tennessee native plants list
Here are some gorgeous native garden flowers you can start with. Check out our list:
1. Common yarrow (Achillea millefolium)
Common yarrow is so common, it's native to most of the United States. But it's a great, easy-going plant that's good for the ecosystem and very low maintenance.
Common yarrow grows up to three feet tall and branches only at the top. It has clusters or flower heads at the tops of the branched stems. These 20-25 flowers are typically yellowish-white with yellow disk flowers in the middle. They bloom from April to September and they like dry soil with full sun to part shade. Common yarrow is drought tolerant.
2. Scarlet buckeye (Aesculus pavia)
This is a beautiful, showy native that is also known as the firecracker plant or red buckeye. It flowers in the early spring and has red clusters from 6-10 inches long at the tops of the stems. The flowers themselves are from 1- 1 ½ inches long. They bloom from March to May and may drop their petals in the early summer in some areas.
This plant likes moist soil and part shade. It requires medium to high water usage but well-drained soil.
3. Eastern bluestar (Amsonia tabernaemontana)
Eastern bluestar is another attractive native with many names. It is sometimes called woodland bluestar, willow Amsonia, and blue dogbane. It grows 1-3 feet tall and forms large, multi-stemmed clumps.
Flowers bloom at the top of the erect, smooth stems and they form in a star shape, hence its common name. They bloom from March to May and like wet to moist soils and part shade.
4. Red columbine (Aquilegia canadensis)
Red columbine is another native classic. Also called eastern red columbine or wild red columbine, this is a unique flower that is sure to stand out in your garden. It grows about 2 feet in height and the red and yellow bell-shaped flowers bloom at the very top of the stems and drop downward.
They bloom from February to July so you can get a long-lasting appearance from this one. They like dry to moist soils, part shade to full shade, and are both cold and heat tolerant, meaning they can typically survive through changing seasonal temperatures in Tennessee.
5. Swamp milkweed (Asclepias incarnata)
There are several types of milkweed native to the area. Swamp milkweed is also called pink milkweed because it's typically pink or rose in color. It's not as milky as some of the other species in the milkweed family.
It can grow from 2-4 feet tall. The flowers bloom in clusters at the tops of the stems. They bloom from June to October, providing late-season nectar and color to your garden. This is a great plant to attract butterflies.
It likes moist to wet soil, full sun to part shade, and high water usage. You are looking for conditions to mimic the swampy areas it is found in natively.
6. Common pawpaw (Asimina triloba)
Common pawpaw is sometimes called just pawpaw, or custard apple, Indian banana, and wild banana. It's a small, short-trunked tree or multi-stemmed shrub that blooms very pretty flowers and tropical-like leaves.
It blooms from April to May and the colors are usually red, yellow, purple, and white. While it can grow up to 40 feet tall, the shrub version is usually under 20 feet. It likes moist soil and full sun to shade.
7. Butterfly weed (Asclepias tuberosa)
Butterfly weed has its name because butterflies love it. You will love it too, especially if you want to attract butterflies to your garden. It is also called butterfly milkweed, orange milkweed, chigger flower, and pleurisy root.
Butterfly weed is a bushy perennial that can grow from 1 ½ – 2 feet tall. The flat-topped flowers grow in clusters at the tops of the stems. They are typically bright orange but can also have some yellow. They bloom from May to September and like dry to moist soil and full sun. They don't require a lot of water and are very drought tolerant. This can be a great choice if you live in a dry area.
8. Wild blue indigo (Baptisia australis)
Wild blue indigo is a favorite in the pea family. It's also called blue false indigo and blue wild indigo. It grows from 2-4 feet high, and the blue-purple flowers grow on the tops of the terminal spikes. It can also spread up to three feet wide.
It blooms from April to July and likes moist soil and full sun with medium water. It's very valuable to native insects like bees and other pollinators and it will give a unique look in your garden without requiring a lot of maintenance.
9. Lanceleaf coreopsis (Coreopsis lanceolata)
Lance-leaf coreopsis is also called lanceleaf tickseed and sand coreopsis. It grows in small clumps but can form large colonies. It grows about 1-2 feet tall and the yellow flower heads and about 1- 1 ½ inches across.
They bloom from April to June, and it likes dry soil and full sun to shade. It is the most common of all the coreopsis and it is very easy to grow and low maintenance.
10. Eastern purple coneflower (Echinacea purpurea)
The eastern purple coneflower is one of the most attractive coneflowers. It is part of the aster family, grows from 2-5 feet tall, with showy purple flowers at the tops of the erect stems.
They are long-lasting, so they give you nice blooms for a long time into the seasons, and they are easy to care for.
Coneflowers bloom from April through September and like dry, well-drained soils and full sun to part shade. They will attract hummingbirds and butterflies to your garden.
11. Indian blanket (Gaillardia pulchella)
Indian blanket is also called Firewheel and sometimes girasol Rojo. It's a member of the aster family and it grows about 1-3 feet tall with flowers blooming at the tops of the hairy stems. It usually blooms from May to August but can flower for longer if there is a lot of rain that season.
The showy flowers are red, yellow, and brown, giving a great pop of color to your garden or landscape. They like dry soil and full sun to part shade. They're also very beneficial to native bees.
12. Carolina jessamine (Gelsemium sempervirens)
Carolina jessamine is also called evening trumpet flower, poor man's rope, and yellow jessamine. It's part of the logania family. This is a twining, evergreen vine that can grow up to 10-20 feet long. It can also climb trees, fences, trellises, and more. It usually blooms early in the spring but can sometimes bloom in December and then again in the fall.
This plant likes moist, acidic, well-drained soil and full sun to part shade. The beautiful yellow flowers are great for an ornamental, and you can train it to grow or climb where you want, or just let it form a carpet on the ground for an amazing-looking ground cover.
Now that you know about these great Tennessee native plants, let's look at some commonly asked questions.
Tennessee native plants list FAQ
Here are some frequently asked questions about native plants in Tennessee.
Does bee balm grow in Tennessee?
Bee balm does grow in Tennessee. It is native to the state, and it attracts butterflies and hummingbirds, making it a great choice for your garden.
How do you know if a plant is native?
To know if a plant is native, you should check verified sources of native plants in your state and specifically in your region of the state.
What are some benefits of having native plants in your yard?
When you have native plants in your yard, they require less maintenance, use fewer resources (including water) to upkeep, and they provide many benefits to local wildlife.
How do you know what natives you should plant?
You should always choose natives that match the conditions of the area you plan to plant in. Make sure the soil conditions, lighting, and other factors all line up with the plants you were thinking of. You can also cluster natives that have similar care requirements together in the same area.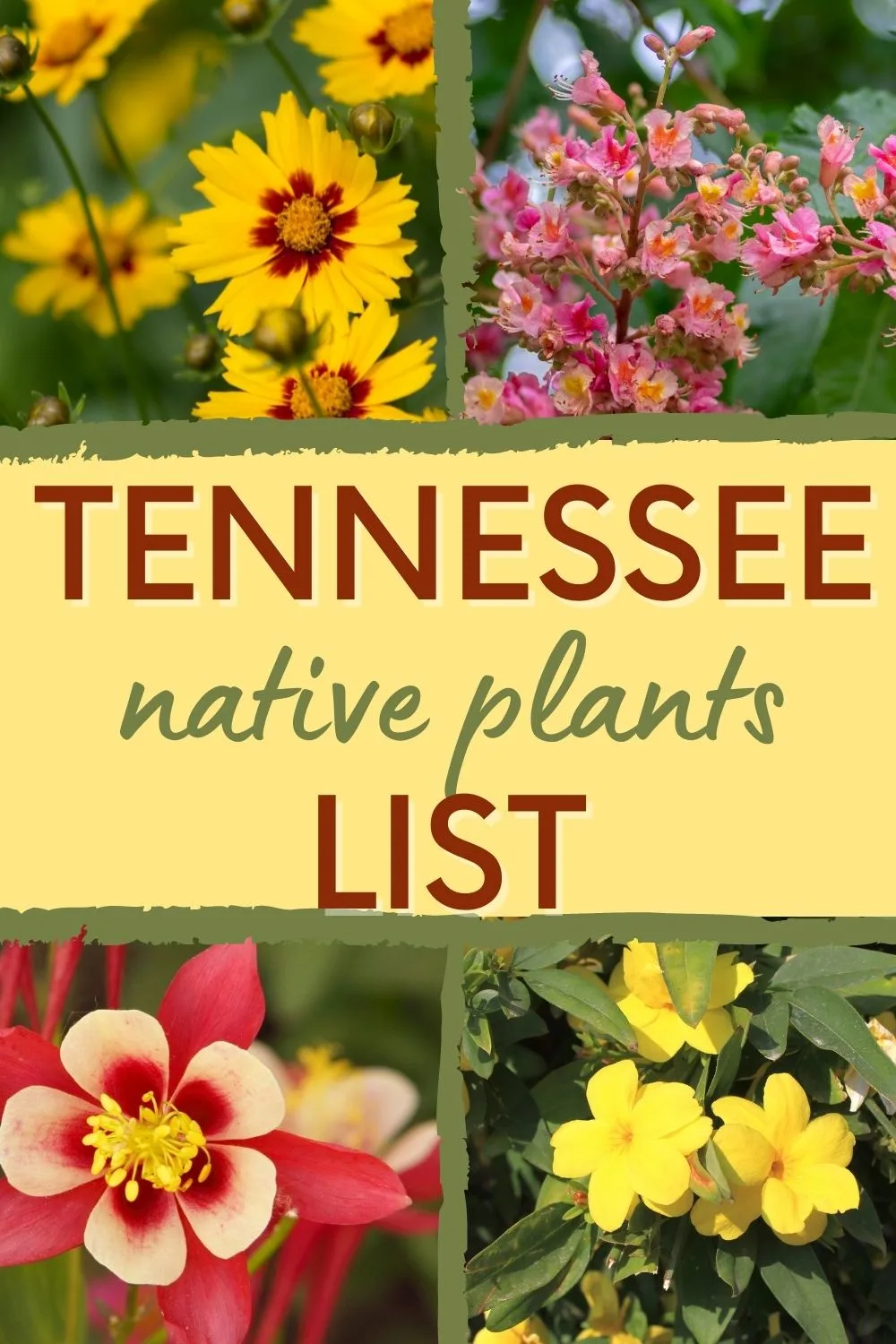 Lisa Clark is a freelance writer who grew up on farmland, then moved to the city, and has now retired back to her rural roots. She's having fun teaching her kids about gardening, planting flowers, and collecting houseplants.