Are you looking for the best succulent wall planters to display your burro's tail or string-o-pearls? Here are the 20 best wall planters for an instant vertical succulent garden.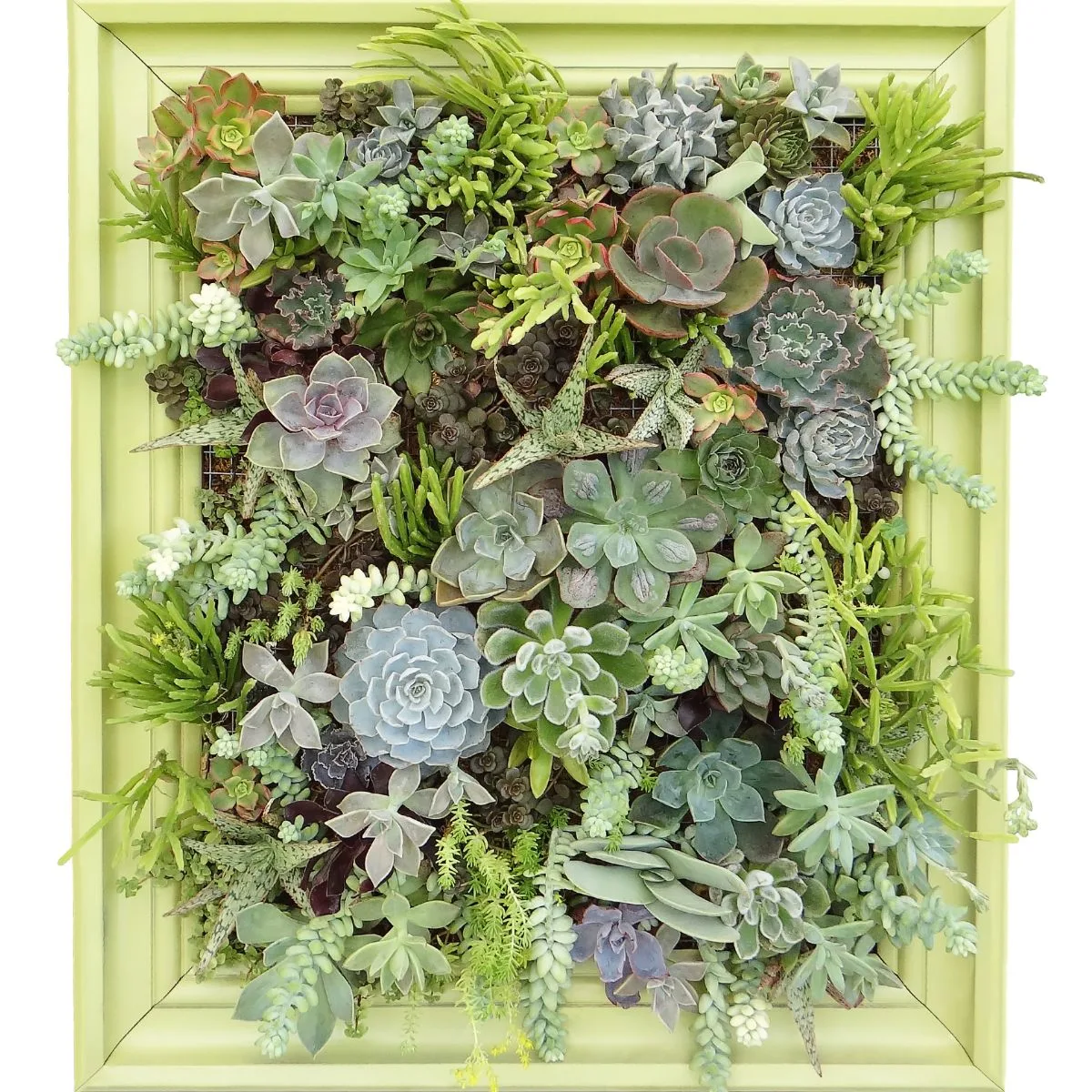 Succulents are perfect for displaying directly on a wall since they can tolerate such minimal watering. Their wide variety of textures and rainbow of colors add tons of visual interest wherever they are planted.
Plus, vertical gardening is the ultimate space saver! Add these succulent planters anywhere without minimizing an inch of floor space.
Before planting, make sure you know how often to water your succulents so your plants will thrive. To keep your succulents in your home, learn how to grow succulents indoors to make sure your plants are happy and healthy.
Things to Consider Before Growing Succulents on a Wall
Although wall planters can be placed indoors or outdoors, consider the plant's ideal growing conditions for best results.
Location
Most succulents require full sun and bright sunlight. How will you ensure they have sufficient light?
Temperature
These plants love dry, temperate conditions and are naturally inclined to survive in a desert. If you're growing your succulents on outdoor walls, consider how to bring your plants indoors during the winter.
Water
Although succulents don't require much water, they also can't live without it. Does your planter have drainage holes, or how will you water your plant without drowning it?
Soil
It's best to use a well-draining potting mix made for cacti, especially indoors.
Can succulents grow in pots without drainage holes?
If you fall in love with a container that doesn't have a drainage hole, one great way to keep your plant from getting too soggy is to add a layer of sphagnum moss, pumice, or small pieces of gravel to the bottom of the container.
They will keep the roots of the succulent out of the wet soil, allowing excess moisture to evaporate naturally. Add small amounts of water at a time and stop when the potting soil feels slightly damp.
20 Best Succulent Wall Planters for a Vertical Succulent Garden
There are many beautiful and functional planters to fill any wall space, ranging from rustic farmhouse to modern minimalist.
1. Picture frame succulent living planter
These antique zinc-style planters each contain 12 pockets, creating a natural frame around a wall of living succulents. Get two for an impressive wall feature.
2. Hexagonal wall garden planter
This gorgeous wall planter has a modern geometric design with copper piping for added detail. The best feature is the drainage shelf at the bottom to help catch any drips from the drainage holes (and prevent watermarks on your wall).
3. Rustic wood and metal wall planter
Add rustic charm to your succulent gardens with this three-tiered wooden planter. It's meant for indoor use only and would add a touch of warmth to any farmhouse kitchen or living room.
4. Modern industrial planter rod
This industrial-style vertical planter has a metal rod at the top and three containers that hang down at different lengths. It's eye-catching and would look attractive on your exterior wall or in front of your kitchen window.
5. Geometric ceramic wall planter
These modern, angular planters would look amazing at the end of a narrow hallway or in a sunny, warm bathroom.
6. Wooden herb planter shelf
Although intended for herbs, this 3-shelf wooden hanging display is perfect for succulents as it has real plant pots and room between each row to accommodate taller types of plants. It's ideal for a kitchen wall!
7. Metal moon wall planter
This rustic, moon-shaped planter truly pops off the wall! It has a lovely organic shape that softens a small space.
8. Matte black pouch planters
This trio of planters is a good fit for most decor styles. The matte black finish draws in the eye, while the rope handle detail gives it a rustic, natural appearance.
These weatherproof pots are safe for indoor or outdoor use.
9. Macrame planter set
These bohemian-style planters are made to hang from the wall or the ceiling and can hold a variety of pots. Since there are so many planters, you can easily cover a blank wall with your plant collection!
Plus, the hangers can accommodate large containers, perfect for showing off the bigger plants in your collection.
10. Teardrop ceramic wall vases
This set of three tear-drop-shaped ceramic wall vases is simple and elegant. They're perfect for showcasing a single succulent or creating a custom wall arrangement.
11. Wall-mounted test tube planter
Expand your succulent collection by propagating new plants in this modern, laboratory-inspired planter. It's perfect for displaying small succulent cuttings and watching them take root.
12. Copper wire wall planter
These minimalist planters make the plant look like it's floating as the leaves of the plant hide the pot.
13. Galvanized metal wall planters
This durable, weather-resistant planter set has a rustic appearance that works indoors or outside. There are two individual pots with different sizes to catch the eye.
14. Hanging glass terrarium
This teardrop-shaped terrarium is stylish and elegant, allowing you to create a miniature succulent garden in a compact space. This container is best suited for indoor use.
15. Transparent succulent wall planter
Get a peek below the surface with these planters! Formed in a black circle with transparent glass to expose the roots, they're fascinating to watch and beautiful, too.
16. Stained glass terrarium
Your succulents will pop against the bright colors in this set! They come in a set of blue, green, and yellow with brass detail, which will pair perfectly with a small hedgehog aloe or iconic echevaria.
17. Dangling pots
Add these dangling pots to any outdoor area for a really rustic appearance and watch as your succulents drape down the wall over time.
Be sure to choose a set that is frost resistant if you live in a cold climate, and bring this planter indoors during the winter.
18. Wall mounted face planter
Grow some hair with this fun face-shaped planter! Choose a succulent that cascades down to add some personality to this creative planter.
19. Set of 10 wall pots
Create your own living wall with this set of 10 white wall pots. They're smaller, so they're perfect for succulents, and you can add as many as you'd like to your wall for a unique display.
20. Wooden vertical wall planters
For a more simplistic, customizable option, try these wooden planters. They come in various shapes and sizes and are especially perfect for displaying your air plants.
What are the best types of succulents for wall gardens?
Although technically, all succulent types can be planted in these containers, some fare better than others. Succulents with thick stalks or tall leaves may be too much for a small wall planter.
Air ferns
Burro's tail
Echeveria
String-o-pearls
Sedum
Zebra plant
Living stones
For more inspiration, check out these colorful succulent garden ideas. These flowering succulents will add color and texture to any living space.
If you've been on the fence about growing succulents on your walls, take this as your sign. It's a simple way to display these plants, adding a touch of whimsy to any space. Order a planter, then visit your garden center to find the right plants!