Bonsai trees are a wonderful addition to any garden, and they can be enjoyed by beginners and experts alike. Are you considering adding outdoor bonsai trees to your landscape? There are many reasons these make great outdoor plants. Let's take a look.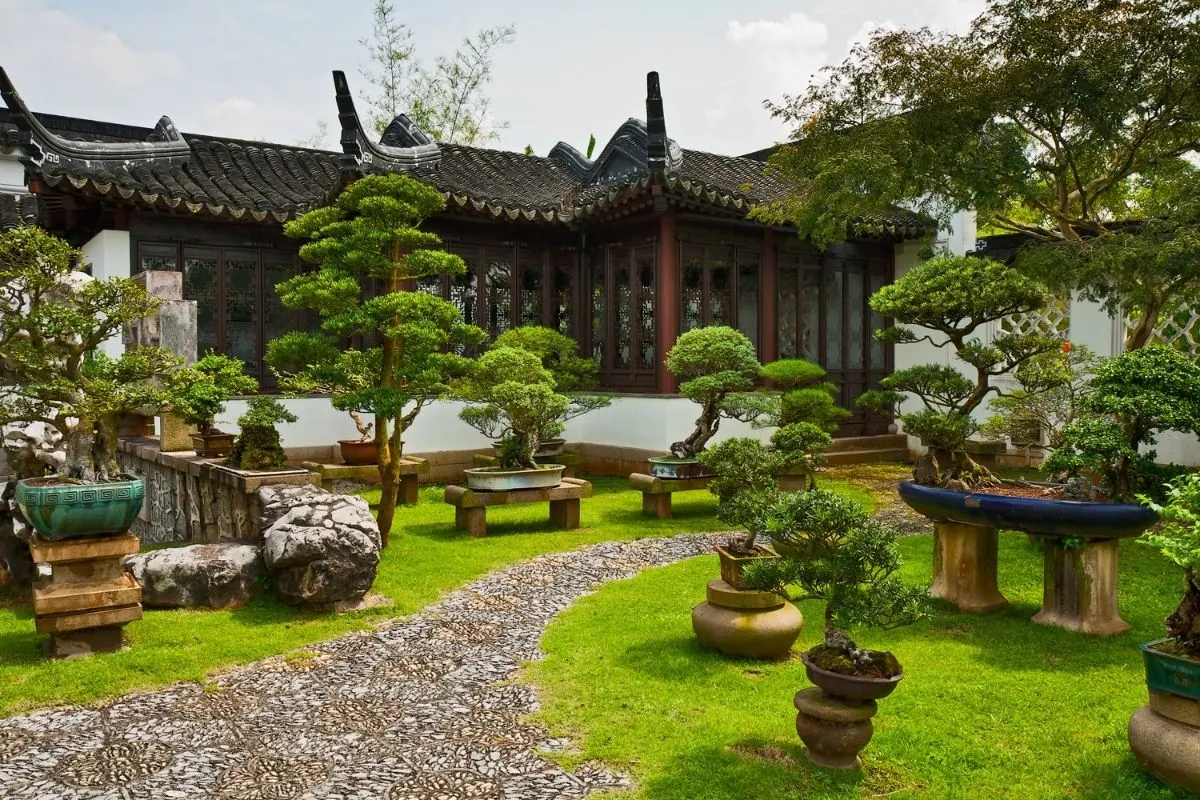 There are many different types of bonsai trees available, and each has its own unique characteristics. In this post, we will discuss the best types of outdoor bonsai trees for beginners. We will also provide tips on how to care for these trees properly. So, let's learn more about outdoor bonsai plants!
In a hurry? This camellia bonsai tree (Camellia Japonica) is my favorite outdoor bonsai tree. Its eye-catching, bright rose-pink, double blooms are displayed against glossy, dark green foliage. It blooms in late winter or early spring.
What is Bonsai?
Before we get into the details of what you should know about outdoor bonsai, let's do a quick review of what bonsai is. The word "bonsai" means a tree or shrub that has been dwarfed and is grown in a container or a pot and trained to produce a specific shape or effect.
Bonsai is a Japanese art form that involves growing miniature trees in containers. Bonsai trees can be created from any type of tree, but the most popular varieties used for bonsai are maples, pines, and junipers (read our article on how to care for juniper bonsai trees). Bonsai trees are typically grown outdoors, as they require sunlight and fresh air to thrive.
Indoor vs outdoor bonsai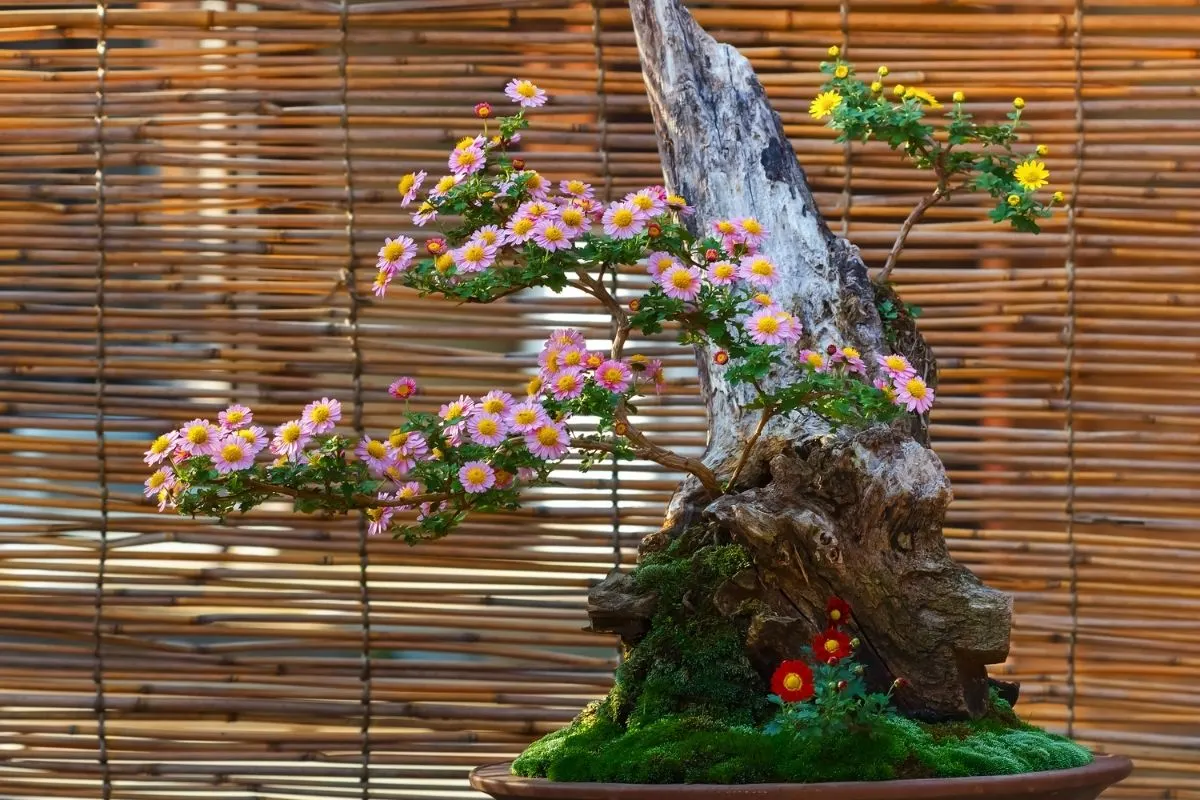 A common misconception people have about bonsai is that it must be kept indoors. Actually, there are many bonsai that do well outdoors.
Traditionally, the practice involved keeping the trees outside. Most trees need to be placed outside and exposed to all four seasons to be healthy. Wherever you keep yours, they need high humidity and sun, but not too much direct sunlight.
Over time, and with the growth of bonsai as a hobby, people have started to bring their bonsai inside. These tiny trees make a beautiful addition to any room. For indoor varieties, you will often see miniature versions of the outdoor bonsai, such as dwarf jades (this baby jade bonsai tree with a fisherman figurine is adorable!), ficus, and other dwarf trees.
Where to put your outdoor bonsai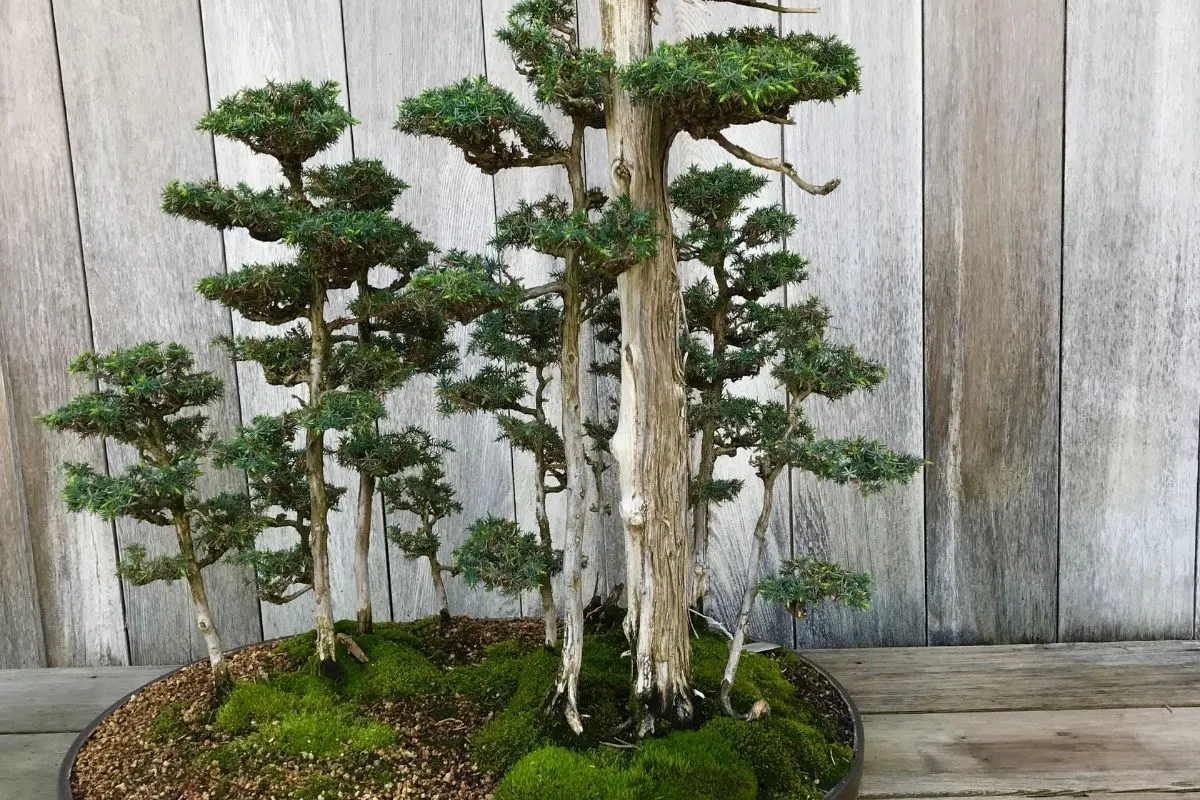 You can place your outdoor bonsai anywhere you want, but great places are on a balcony or patio. You can show off your bonsai collection at your front door, or in a seating area that you use to entertain guests. You could place a small or medium-sized one on a coffee table
If you live in a subtropical climate, you'll be able to keep many species outside. However, in areas where the temps get cold, you may need to bring your bonsai in for the cold months. If you need to move your bonsai, this may impact where you decide to place them as well.
The Best Outdoor Bonsai Trees for Beginners
When choosing an outdoor bonsai tree for a beginner, it is important to select a species that is hardy and easy to care for. Outdoor bonsai are usually deciduous trees and they do well in a sunny spot but can't take direct sunlight all day long. Indirect light is better, so you may need to move your pots around some.
Some of the best outdoor bonsai trees for beginners include:
These four species of bonsai trees are all easy to care for and can tolerate a wide range of environmental conditions. If you are new to growing bonsai trees, we recommend starting with one of these four varieties.
Juniper bonsai trees are also very popular, as are ficus trees.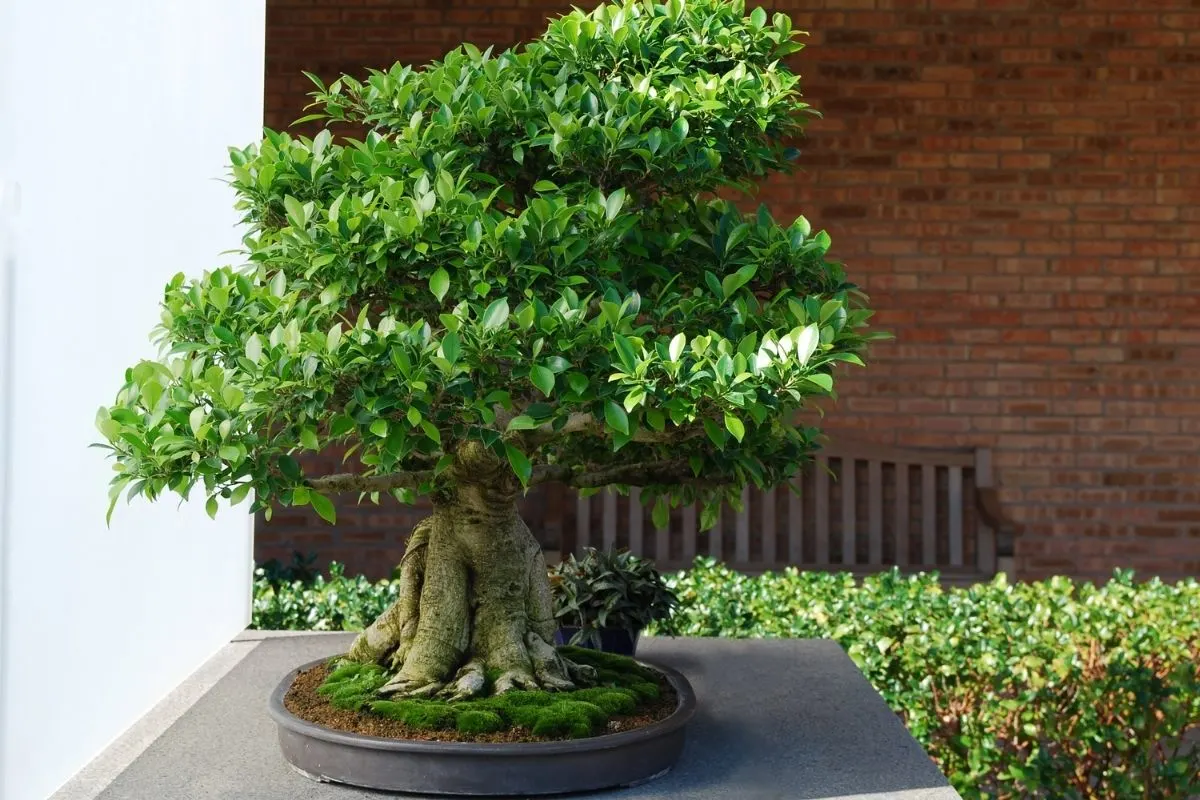 Caring for Outdoor Bonsai Trees
These small trees will need to be planted in a bonsai pot. Usually, you start with a small pot but since some of these outdoor bonsai plants will get bigger, you may need to re-pot as they grow.
If it gets cold where you live, you may need to bring your outdoor bonsai inside for the winter months. Or, if you have a greenhouse, that could be sufficient until the freezing weather passes.
If you live somewhere with a temperate climate, then you may not need to bring your bonsai inside at all. It also depends on the species of tree.
Once you have selected the perfect outdoor bonsai tree for your garden, it is important to learn how to properly care for it. Outdoor bonsai trees require regular watering, fertilizing, pruning, and repotting. Good, quality bonsai soil is also important to the health of your tree.
How you care for your tree will vary according to the type of bonsai tree you choose. While we can provide some generic tips, it's essential to learn more about the species of tree you get so that you can care for it best.
For example, some outdoor bonsai can take direct sun whereas others will die in full sun. Some thrive in a cooler climate and others prefer tropical temperatures. The most important thing is to learn about your specific plant so you can care for it properly.
Tips for outdoor bonsai care
Your outdoor bonsai will need the same type of care as indoor bonsai varieties. You'll need to manage water and lighting, as well as prune and keep the soil healthy. You will need to be sure excess water can drain from the pots, so your plants don't get root rot.
You'll also need to do some structural pruning from time to time. How much you need to do will depend on the species of tree and your desired look. Even bonsai beginners can learn to care for outdoor bonsai.
Here are a few tips to help you get started:
Water your tree every day, or as needed to keep the soil moist.
Fertilize your tree every two weeks with a slow-release fertilizer.
Prune your tree regularly to shape it and encourage new growth.
Repot your tree every two years, or as needed.
By following these simple tips, you can ensure that your outdoor bonsai tree will thrive for many years to come.
When you invest in your bonsai properly, it will reward you many times over with its beauty. Whether you keep it indoors or out, bonsai is such a wonderful hobby for garden enthusiasts.
Reasons to keep bonsai
Here are some reasons people enjoy keeping bonsai:
They look beautiful
Tending to them can be soothing
They can help with anxiety and depression
They help teach patience and bring on a sense of calm
Outdoor Bonsai Trees – Conclusion
As you can see, there are many great reasons to keep outdoor bonsai and there are many varieties of trees to choose from for this purpose. With so many great benefits to bonsai, it's no surprise that so many gardeners enjoy keeping these beautiful trees.
Outdoor bonsai trees make wonderful additions to any home or office and can provide years of enjoyment. With proper care, they will last for many, many years.
Do you think you'd like to try some outdoor bonsai for yourself?