Home of the Chesapeake Bay and the city of Baltimore, Maryland is an amazing state with a lot to offer. In addition to sights to see and shores to explore, there are also many great native plants and animals to experience. If you want to create your own home garden or freshen up your existing landscape, it always pays off to choose native plants instead of invasive species.
This Maryland native plants list will help you learn more about the plant options available to you in your own home state. It's always a smart idea to go native – it's best for you and for the environment – so check out these great native plants below.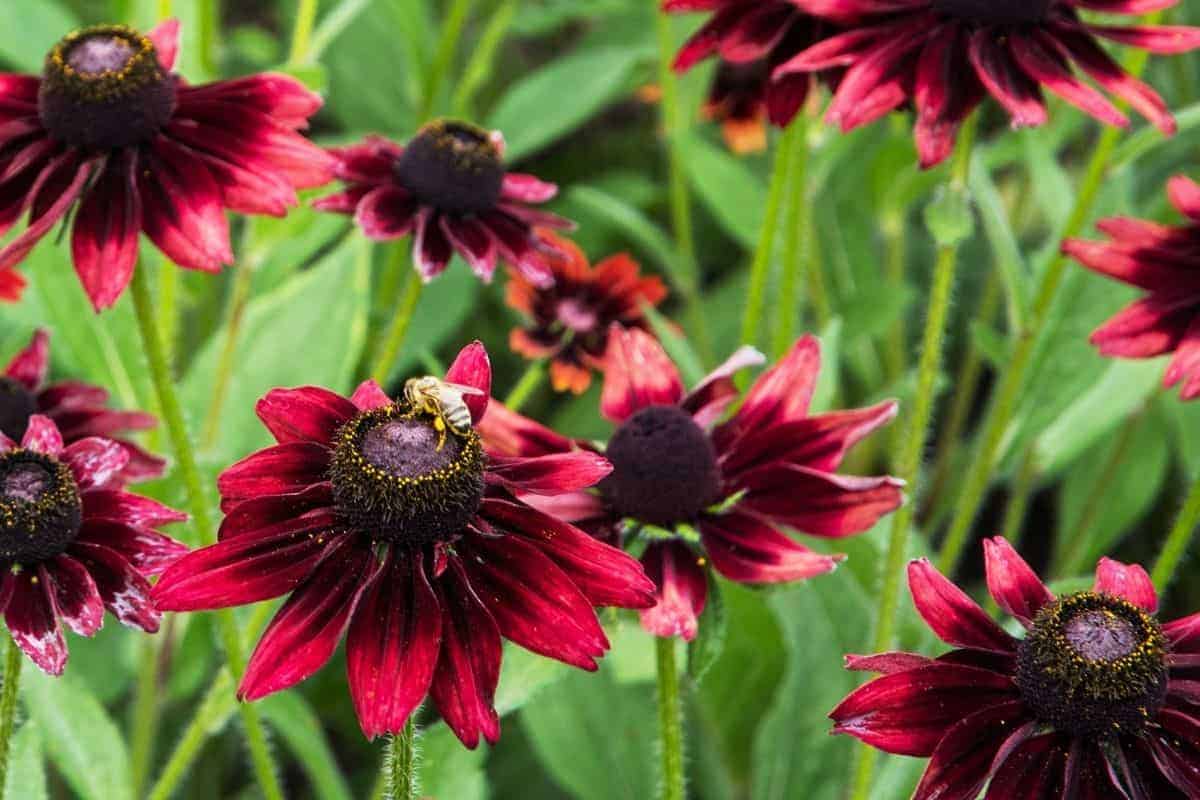 Maryland Native Plants List
Here are some native plants to Iowa that you can consider for your garden:
1. Great blue lobelia (Lobelia siphilitica)
Great blue lobelia is a perennial forb that is found naturally in wet meadows all throughout the state. It grows 1-4 feet in height and likes full sun to partial sun. It prefers moist to wet soil of any texture. The stunning blue to purple flowers bloom from August to October.
The flowers of this plant will attract bumblebees and also swallowtail butterflies making it a great choice for butterfly gardens, rain gardens, wet or moist meadows, or perennial beds. It's longer-lived than similar perennials, so you can enjoy these beautiful blooms for longer.
2. Black-eyed Susan (Rudbeckia hirta)
Black-eyed Susan is a flowering plant native to Maryland and the northeastern United States that is very popular in native gardens for its striking appearance and low maintenance care requirements.
In the wild, you may see them blanketing open fields by roadsides. They can grow over three feet tall and have leaves as big as six inches. The stalks are over 8 inches long, on average, and the flowers grow from 2-3 inches in diameter, with yellow petals and dark brown insides that give it its common nickname.
They bloom from June to October, and they can be a bit invasive (often squashing out plants next to them, so give them space). Butterflies, bees, and other insects are attracted to their nectar. They do well in flower gardens, borders, or even in container gardens or for use as cut flowers.
3. Wild bergamot (Monarda fistulosa)
Wild bergamot is another perennial forb, and it's part of the mint family. In Maryland naturally, it likes poor dry soils in the meadows or woodland edges. It will grow up to four feet tall and it likes light shade to full sun.
Well-drained soils that are low in organic matter will suit it best. If the soil is not dry enough, the stems cannot support the growth of the plant or the large blooms that come from July to August.
Monarda will attract many pollinators native to the area, including swallowtail butterflies and hummingbird moths. It's also deer and rabbit resistant.
4. Turk's cap lily (Lilium superbum)
Turk's cap lily is a species of true lily, native to Maryland, and sometimes also called swamp lily, turban lily, lily royal, or American tiger lily. It has a tall, flowering stem that blooms the iconic flowers at the top in a somewhat drooping manner. They're orange or red, with yellow on the inside and a green streak at the base of each flower segment, forming it in a "star" pattern.
These lilies bloom in July, August, and September, and they like full sun and medium water. A moist soil that is acidic will help it to perform its best. They occur naturally in wet meadows, swamps, and woodlands. This will absolutely be a conversation piece in your garden.
5. Cardinal flower (Lobelia cardinalis)
The cardinal flower is a species of flowering plant in the bellflower family. This perennial grows from 1-6 feet tall and has large, red flowers about 8 inches long on terminal spikes. Each flower has three lower petals and two upper petals forming into a tube at the base. It's a very unique flower that will really pop in your garden.
The red flowers bloom from May all the way until October so it's long-lasting. Natively, it is found in ditches, ravines, wood edges, stream banks, roadsides, prairies, plains, and more. However, over picking has caused this common wildflower to be found less often naturally. It likes sun or part shade, medium to high water, and it is drought and cold tolerant.
The aromatic blooms will also attract hummingbirds when in bloom.
6. Golden groundsel (Packera obovata)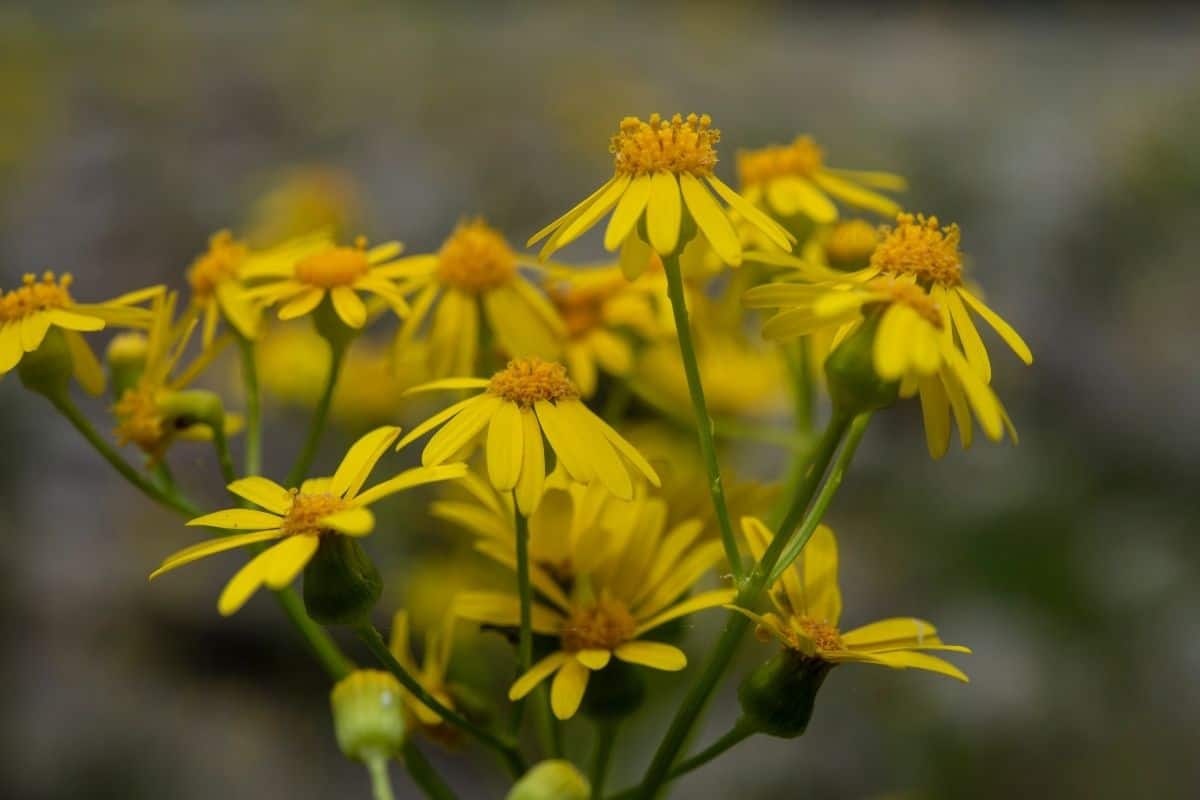 Golden groundsel is a rosette-forming perennial that is native to Maryland and can work well in your garden. It's sometimes also called roundleaf groundsel or roundleaf ragwort.
The yellow flowers grow in clusters at the tops of the stems, and this is a perfect plant to bring some color to a shady spot in your landscape. It grows about 1-3 feet and the flowers are just under an inch wide.
The yellow blooms appear from April to June and are fairly long-lasting. Golden groundsel likes low to medium water and part shade to full shade. It attracts bees and butterflies and it's also deer resistant.
7. New York ironweed (Vernonia noveboracensis)
New York ironweed is a tall, clump-forming perennial plant that can get as tall as 5-8 feet and has slightly rough stems with lance-shaped green leaves.
The red or purple blooms arrive in August and September and attract butterflies. The seed heads also attract birds. These make a perfect ornamental plant, and since it is tall and narrow, can work well at the back of the border, or in tight spaces in your garden or landscape.
8. Christmas fern (Polystichum acrostichoides)
The Christmas fern is a bit different from the flowers we've included on the list so far, but as a robust, leathery fern, we think it makes a great addition. It has glossy green fronds all year round and it will bring something beautiful to your garden, even when the flowers of other plants are not in bloom.
This perennial evergreen can be up to 3 feet tall but is usually no more than 2 feet tall. It is not a flowering plant, so it reproduces with spores. It has medium water use and likes shade or part shade. Direct sunlight will score the fronds of the fern. It can be used for ground cover or borders or even accent pieces in the landscape.
9. Butterfly milkweed (Asclepias tuberosa)
Also called butterfly weed, chigger flower, orange milkweed, and pleurisy root, this milkweed species is a busy perennial of about 1 ½ to 2 feet in height. It's easily recognizable when in bloom because of the flat-topped clusters of large, bright-orange flowers at the top.
It easily grows from seed in home gardens. The blooms of orange or yellow come from May to September, bringing long-lasting color to your garden. It uses low water and likes dry to moist soil, and direct sunlight. It can tolerate drought conditions.
It attracts butterflies and hummingbirds and is pretty low maintenance.
Plants of the Chesapeake
Maryland is more than just the Chesapeake Bay, but this area is famous for hosting some unique and interesting plants, so we'd like to take a minute to address those. Some of the most common native plants of the Chesapeake are:
wild celery, which is found in freshwater
sago pondweed
widgeon grass that is found in more brackish water
eelgrass found in saltier waters of the lower Bay
Eastern purple coneflower
If you're looking for more flowers and not grasses, you can also find sweetbay magnolia, common boneset, and some of the plants from our list above in the Chesapeake.
Local wildlife like birds, insects, and even small mammals depend on native plants for survival. These plants provide shelter, food, nectar, and more.
Next, let's cover some of the most commonly asked questions about using native plants in your garden or landscape.
Maryland Native Plants List FAQ
Here are some questions people often ask about plants in Maryland or starting a native garden in the state.
What bushes are native to Maryland?
Some bushes and shrubs native to Maryland include:
southern arrowwood
dwarf azaleas
northern bayberry
blackhaw
deerberry
silky dogwood
black huckleberry
and more
Some shrubs are very poisonous and need to be handled properly. Be sure to learn about the shrubs you're working with and take the necessary precautions.
What herbs are native to Maryland?
There are quite a few herbs native to Maryland. Some to consider are:
skunk cabbage
hairy alumroot
royal fern
sticky catchfly
broadleaf cattail
Adam's needle
Botanically, herbaceous plants are defined as "any seed-bearing plant that does not have a woody stem and dies down to the ground after flowering."
What hardiness zones are found in Maryland?
Maryland has hardiness zones are 5b to 8a, which is -15 to 15°F depending on where you live within the state. It definitely pays to learn which zone you're in before starting a garden or new landscaping project.
Where can I buy native plants in Maryland?
You can get native plants from a local nursery or grower in your area. You should never rip up or dig up plants from the wild. Many native plant species are now endangered because of this, plus certain plants will not survive when transplanted in this way because you're taking them away from vital soil fungi that were in their natural habitat. The Maryland Native Plant Society can help you find native plants to purchase.
What plants are invasive in Maryland?
Some plants that are invasive to Maryland include:
the Japanese angelica tree (Aralia elata)
Scotch broom (Cytisus scoparius)
Fig buttercup (Ficaria verna)
shining cranesbill (Geranium lucidum)
and more.
You should avoid all invasive species in your native garden and if some already exist on your property, you can have them removed before starting a new landscape.