Living in a climate where landscaping with palm trees is possible offers many possibilities to beautify your home. Palm trees give the feeling of a sunny vacation spot to live in, every day.
Palm trees are tall, slender trees with a distinctive crown of feathery or fan-like fronds. Their trunk is often smooth and unbranched, with a distinctive bulge at the base.
Some species have spiky fronds, while others have more delicate, graceful fronds that sway gently in the breeze. Their leaves are usually a rich green color and grow directly from the trunk's top.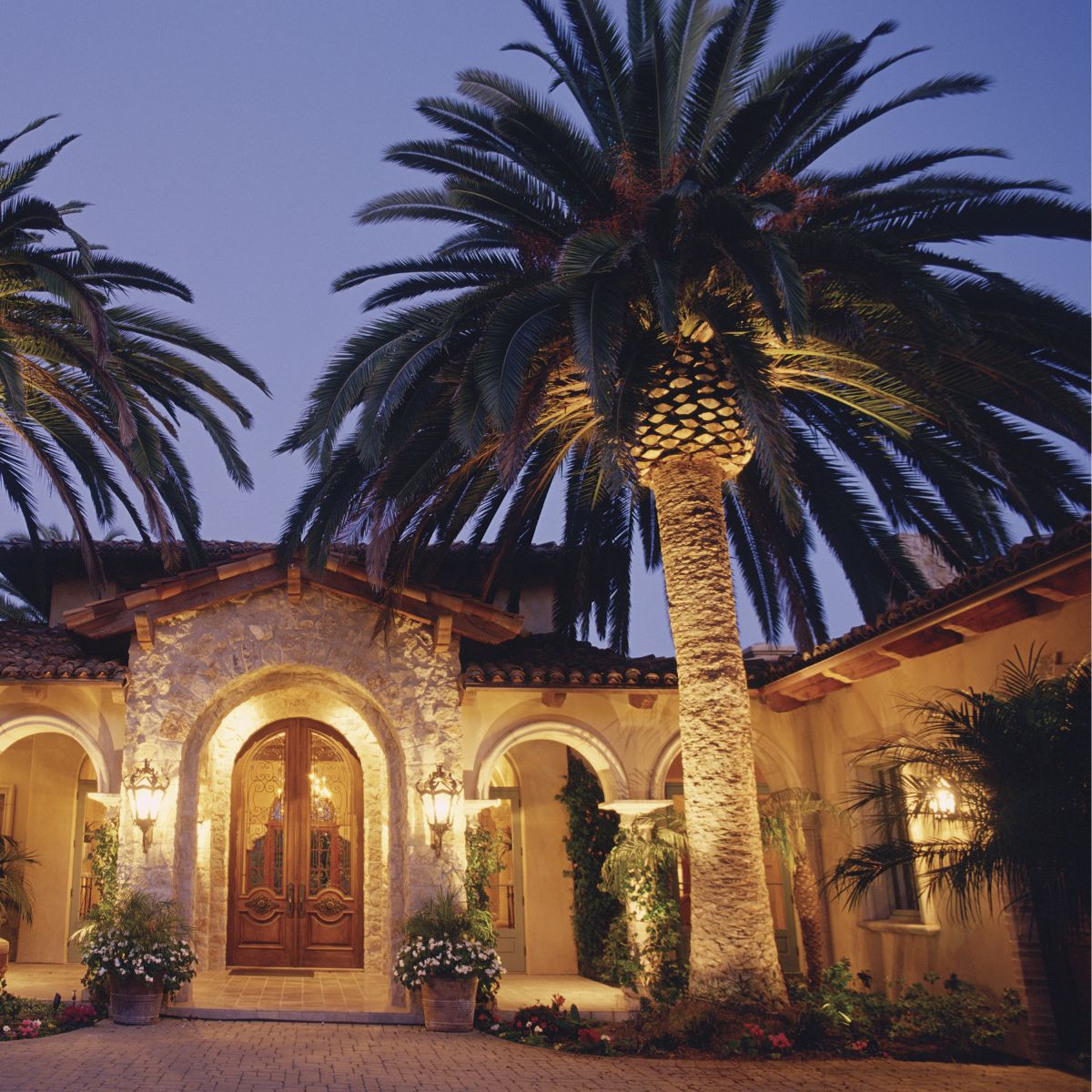 In the right conditions, many species of palm trees produce bright, showy flowers and fruit. From dwarf varieties like the Dwarf Palmetto Palm to the magnificent Royal Palm, you have many options to make your landscape magnificent.
Florida has a number of palm trees that grow well in the state. You don't need to live in Florida to grow their varieties of palm trees, but you do need to live in USDA Agricultural zones 7 to 9, and if you want coconut palms, you must live in zone 10a.
Landscaping With Palm Trees
Landscaping with palm trees can add a touch of tropical beauty to any outdoor space. Whether you live in a hot, humid climate, or just want to bring some vacation vibes to your backyard, palm trees are a versatile and attractive option for landscaping.
With a wide variety of species to choose from, there is a palm tree to fit every garden style and need.
You can plant a single palm tree as a focal point in your landscaping, or you can plant them in groupings.
Alternately, however, you can use different varieties for different sizes, textures, and visual displays. All it takes is a little planning and some imagination.
Learn all you need to know about palm trees.
1. Landscaping with palm trees in groupings creates shade/windbreak
Small or tall, palm trees work well alone in your landscape or in a collection with one or two other palms.
Any palm tree can be planted in a grouping for visual impact. However, placing two or three trees together gives them a broader reach when they mature.
Covering a larger area with foliage can help you keep sun where you don't want it and shade where you do.
The extra expanse of a palm tree grouping can help you create shady areas and add visual impact to your landscape. You can use any palm tree in a bunch, and smaller varieties are started with three plants in a pot that may intertwine as they grow,
Shorter palms can even be planted at the base of larger varieties for added texture and color.
2. Food from your landscape with palm trees
Growing any food on your property is terrific (check out my edible landscaping ideas). These trees can provide a seasonal bounty, whether a date, coconut or cabbage palm. Other varieties of palm trees offer fruit. However, they are not native to the United States or are rarely propagated here.
Date palms (standard and dwarf)
Dates are an excellent addition to desserts and entrées alike. They can be harvested when fresh, then dried for later use. So, when you plant a date palm, you have landscaping and food resources too.
It would make sense to plant dwarf varieties of the Date Palm, not the full-size type, which can reach 100 feet high unless you have space for such a giant species.
Reaching a size at maturity up to 12 feet, the dwarf date palm will begin producing fruit between four to eight years of age. The larger variety follows the same pattern and will produce fruit before reaching its monstrous height.
Like the Dwarf Date Palm, the larger variety takes four to eight years before bearing fruit.
Coconut palms as landscaping
Native to the Tropics of the Western Pacific, Coconut Palms have been imported to the United States and elsewhere around the globe.
However, they only grow well in USDA hardiness zone 10A. Therefore, the coconut palm is predominantly grown in Florida when grown in the United States.
The Coconut Palm can only handle short cold snaps that stay above freezing. Due to their size, one would need a vast greenhouse to grow a coconut palm indoors.
The Coconut palm is one of the tallest varieties grown and can reach 100 feet high. So, plant your tree now if you want a coconut, within the next decade, because it takes a Coconut Palm eight to ten years to produce fruit.
Do you have cabbage palms or saw palmettos?
Although they may have a different name, the Sabal Palm is Florida's state tree and is locally called swamp cabbage. Yet, in South Carolina, a similar tree is called the Cabbage Palm.
Whatever you call it, food can be derived two ways from a cabbage palm.
Getting to the palm's heart of edible, cabbage-like insides requires taking a tree to the ground. (This practice is illegal in Florida unless you are on private land).
However, the Sable Palm produces flowers in mid-summer, yielding plump purple fruit.
Although the fruit is a favorite of foxes, squirrels, and birds, native Americans depended on the fruit of the Sabal Palm for food.
3. Size matters when landscaping with palm trees
As with any landscaping project, you need to consider the size of the palms you are planting and where they are going. As they grow, your palm may become too large for the space you cultivate once they mature.
Consider the size your palm tree will become once fully grown, not its size when you plant it.
The smallest palm tree, the Dwarf Palmetto, reaches a height of seven to ten feet when fully grown. The three- to four-foot-long fronds (branches) of the Dwarf Palmetto Palm give them a bushier appearance than other palm trees.
The Royal Palm, on the other hand, is majestic and can reach heights of 80 feet or more. In addition, they have a notable bright green stretch of the trunk, just below the fronds. This feature makes them distinctive from other palm tree varieties.
15 Types Of Palm Trees
There are many types of palm trees. Here's a list of a few.
African Oil Palm (Elaeis guineensis)
Areca Palm (Dypsis lutescens)
Bismarck Palm (Bismarckia nobilis)
Canary Island Date Palm (Phoenix canariensis)
Chinese Fan Palm (Livistona chinensis)
Coconut Palm (Cocos nucifera)
Date Palm (Phoenix dactylifera)
Fishtail Palm (Caryota spp.)
Kentucky Coffeetree Palm (Gymnocladus dioicus)
Queen Palm (Syagrus romanzoffiana)
Raffia Palm (Raphia spp.)
Royal Palm (Roystonea regia)
Sabal Palm (Sabal palmetto)
Sago Palm (Cycas revoluta)
Travellers Palm (Ravenala madagascariensis)
Palm trees also come in different shapes:
canopy palms
fan-shaped palms
feather palms
needle palms, also known as porcupine palms
Consider your options before landscaping with palm trees
Whether you are landscaping a small lot or 40 acres, there is a wide variety of palm trees to choose from. As you see, some are squat, while others will reach for the clouds when they mature. What you need, though, is what appeals to you, and the more land you have, the further you can take your vision of living amid an oasis.