If you've ever come across a well-grown wisteria vine, you might remember how breathtaking it was! The lavender blue flowers cascade from the branches in a spectacular display of beauty combined with a lovely sweet fragrance. Learn how to grow Wisteria in your own garden.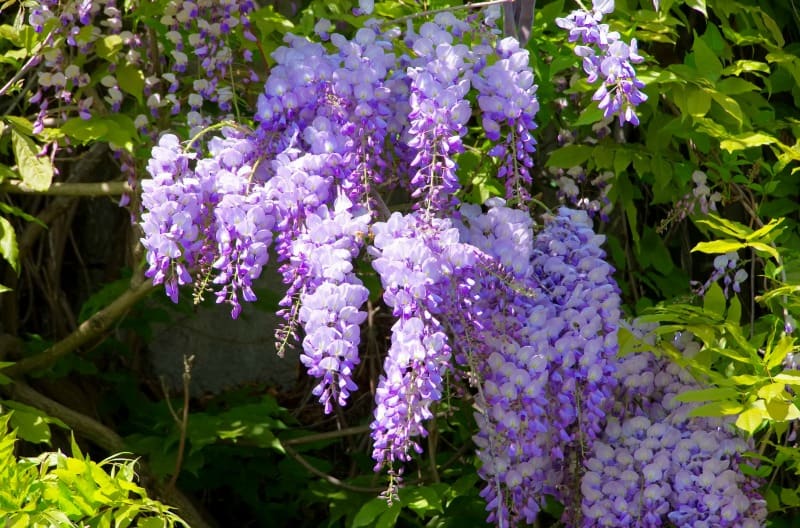 How To Grow Wisteria
What You'll Be Needing:
Wisterias: A Comprehensive Guide
A Comprehensive Guide for growing your wisterias
Giantex 85" Wood Arbor Arch
Wooden arch that does not rust and gives your Wisterias a place to climb and grow
Plow & Hearth Metal Garden Arbor
Metal arch that provides a place for your Wisterias to climb and grow
Backyard Discovery Cedar Pergola 12' by 10'
Use this to provide a place for your Wisterias to climb and grow
Wisteria Floribunda
One of the many good Wisteria varieties and hybrids
Longissima Alba
An incredibly long flower cluster that can be up to 5 feet long
Safer Brand Garden Fungicide
Use this fungicide to treat your Wisterias when you see black patches on leaves
Pink Wisteria
Wisteria that gives a delightful show of beauty
Wisteria thrives in sunny south or west-facing exposure where it climbs by using its twining shoots. Every spring it produces cascades of lovely lavender flowers.
Wisterias: A Comprehensive Guide
One of the loveliest of all the hardy climbing plants, Wisteria is also the earliest to Bloom. From the south to the north, cascades of blue flowers appear in early spring to tell us warm weather is on its way.
Although Wisteria sinensis is native to the warmest provinces of China, it is quite hardy and will grow in much cooler climates. It is hardy to -10 to – 20 degrees Fahrenheit.
It is most successfully planted in a warm, sheltered spot facing south or west.
Wisteria can grow to en enormous size. Left unchecked, it can grow to a height 15 feet or more.
The older it gets, the better it blooms.
Wisteria is invasive if not pruned properly and often. Remember to plant it AWAY from paths and house foundation. Remove fresh shoots throughout the summer, to keep them under control. Or, plant it in a large pot to contain it easier.

Wisteria needs help to climb
Wisteria climbs using its strong, twining shoots, but it cannot grip a wall by itself and needs support in the form of a strong trellis, pergola or arbor.
The compound, pinnate leaves can have 9 – 19 leaflets, depending on the species. Wisteria is deciduous and the leaves appear either at the same same time or just after the flowers. There is often a second flowering in late summer, but it is never as profuse as the first.
It may take years for a Wisteria vine to bloom, but being patient is worth the wait. Most wisterias need to reach a certain age (3 to 5 years or more) before they will bloom.
Flowering can be encouraged by planting Wisteria in a rich fertile soil, although it can grow in sandy soils too.
Giantex Outdoor Wooden Garden Arbor Arch Trellis Pergola Trellis Providence Arbor
Metal Garden Arbor with Tree of Life Design
Backyard Discovery Cedar Pergola 12′ by 10′
There are many good wisteria varieties & hybrids
Chinese wisteria has a Japanese relative, Wisteria floribunda. It requires similar conditions, but the flower color is more lavender-purple, and the flower clusters are longer.
Japanese Wisteria opens its flowers gradually from the top of the clusters to the bottom, whereas Chinese wisteria open this flowers nearly all at once. Japanese Wisteria also comes in white and pink flowered forms, plus the spectacular "Longissima" and "Longissima Alba" varieties which have incredibly long flower clusters. Given ideal conditions, these clusters can be up to 5 feet long.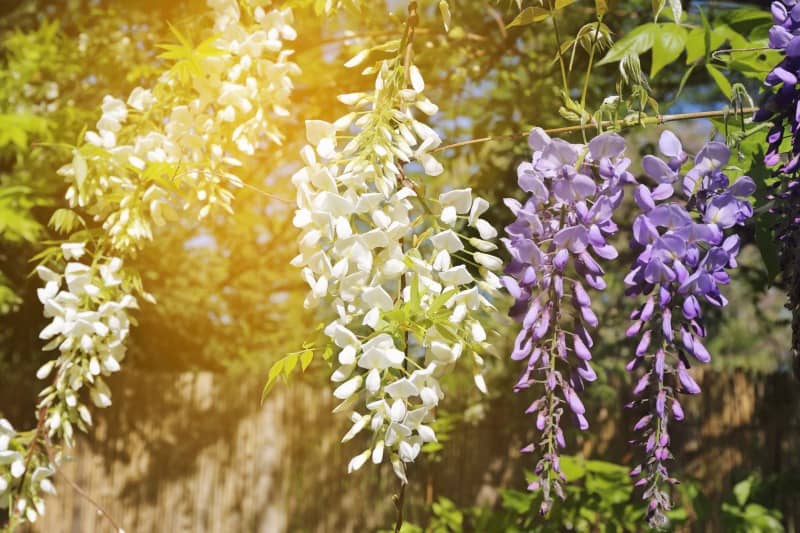 Buy and plant wisteria in the spring.
Wisteria's Special Needs
When buying a Wisteria, remember that it can become quite large and needs plenty of room. This goes to the roots too. They are very long and like to grow deep into the ground. If you plan to grow wisteria in a pot, make sure you use a container as large as possible.
Good, rich garden soil is best. If the soil is hard and clayey, mix in some compost.
Wisteria care and grooming
August is the month for cutting back the Wisteria. Use this time to remove unwanted or overly long stems: otherwise it will develop rampant, tangled growth and few flowers the following year. Cut the side shoots back to about 10 inches. This will encourage the growth of flowers from the same side shoots the following year.
Feed with a balanced fertilizer two or three times during the season.
Move the plant only if it's really necessary, since this will usually set it back a bit. This should only be done toward the end of the winter dormant period.
Young plants may take a few years to settle down and start growing. There is nothing wrong if there aren't any flowers for the first couple years.
Watering and feeding
If planted against the warm sunny wall, wisteria must be watered well. Never let it dry out. Plants which grow on hot walls get reflected heat and lose more moisture through evaporation than other plans in the garden, especially in dry weather.
Less water is needed in winter, but once the flower beds begin to form, regular watering is again needed. Feed with a good balanced fertilizer to to 3 times a year.
Propagating wisteria
It is very easy to get Wisteria seeds to grow: just soak them overnight and plant them in a seed tray. However, one can never be sure that the resulting plants will flower well. Wisteria grown from seed may never flower, and in most cases, even if it does, it may take years (up to 20) to do so.
A better way is to plant hardwood cuttings in late winter before the flower buds swell, or graft on root-stocks which can be grown from seed.
Wisteria flowering and fragrance
In a sheltered spot, wisteria can bloom quite early in the spring but it usually takes 3-5 years from planting before it is of mature "flowering age".
The long hanging cascades of flowers are mostly in various shades of lavender-blue but there are also pink and white varieties. The flowers have a lovely sweet scent.
If you like sweet smelling flowering vines, you'll love growing honeysuckle.
Wisteria vine problems
The flowers may fall off if the weather is too cold and stormy.
Yellow leaves and weak growth is probably the result of poor soil. Feed with a balanced fertilizer.
Aphids and other insects may occasionally visit the wisteria, but rarely, if ever become a problem.
Fungus diseases are rare on Wisteria, but if you see black patches on the leaves, treat the plant with a fungicide.
Wisteria Pictures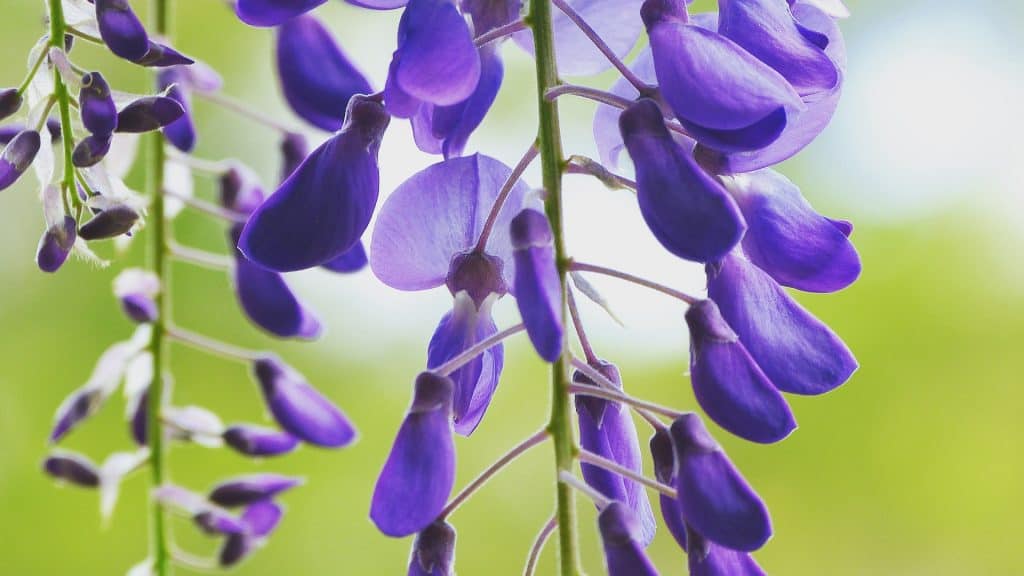 It's nice to see the beautiful wisteria flowers gathered together in stunning displays, but I love looking at the individual flowers as well. So pretty!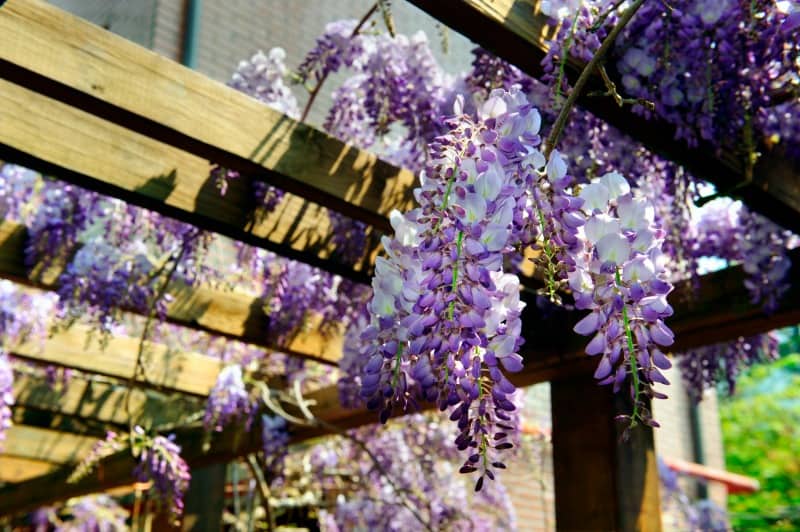 I can only imagine sitting under this wisteria vine with a good book on a late spring afternoon! Dreams….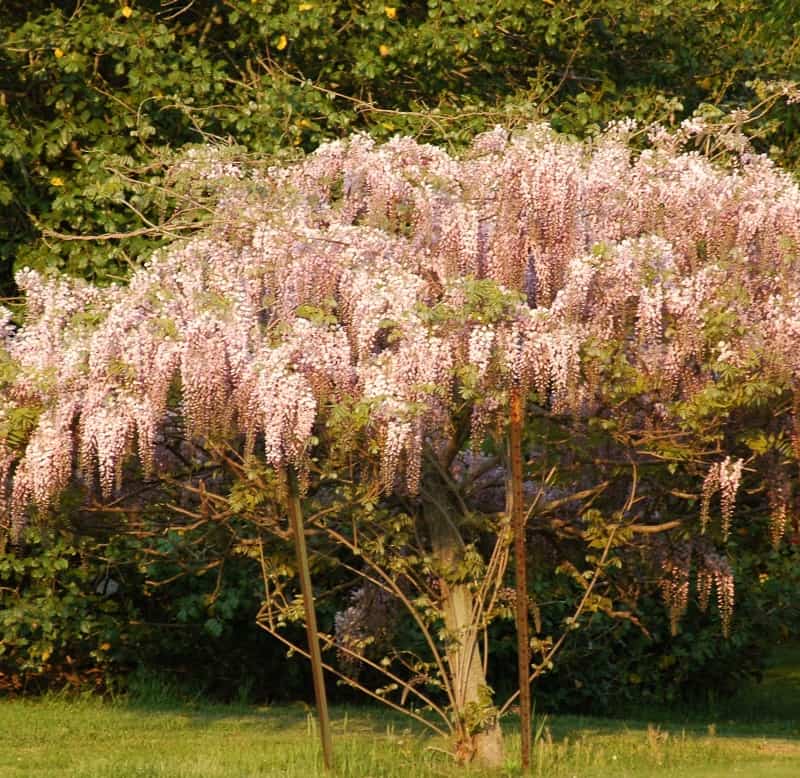 Wisteria is usually purple, but occasionally you'll see a pink wisteria. What a delightful show of beauty!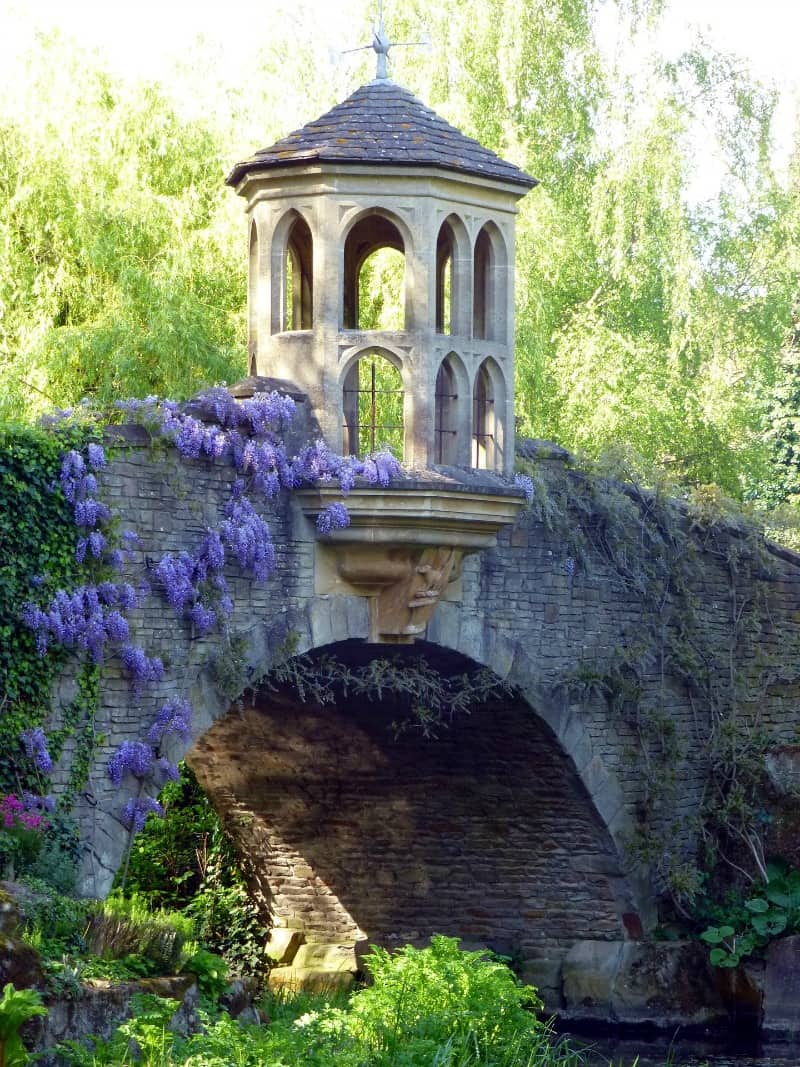 This wisteria vine growing in the wild creates a beautiful scene.
Are you ready to plant a wisteria vine in your garden?
Now that you know how to grow wisteria (and let's be honest: it's quite easy), are you ready to plant one in your yard? An excellent climber to grow on a wooden pergola or arbor, the wisteria vine can add real beauty to your front yard.
It can also create the most enchanting quiet spot in your backyard, where you can escape to read a book or just listen to the birds and enjoy a quiet afternoon.
Remember that wisteria can overgrow if not pruned on time. Its roots can also grow quite big, so remember to plant it where it won't disturb your house foundation or a nice path to your front door.
One last suggestion: since it's a rather overwhelming plant, give it room and keep it as a solitary plant rather than mix it with other plants.